Jaipur is a great place to visit for traditional culture, historical places, Amber fort, Jantar Mantar, Govind dev Ji temple, Galtaji temple, Jal mahal, Nahargarh fort, and many other as well traditional it is also famous for party places, resorts, fun, adventure and waterparks and food. There are many places to visit in Jaipur, India's pink city. The City Palace, Hawa Mahal, and Amber Fort are the most popular. Other notable attractions include the Jantar Mantar, an astronomical observatory, and the Albert Hall Museum.
Have Fun in the World of Water (Jaipur)!
When getting bored in summer, choosing to visit water parks is the best decision. The best water park in Jaipur is a great place, as this includes many slides, fun, and entertainment.
For elders, it is a way to get back into their child's life. It is the best possible place to get out of the hectic schedule.
Enjoying the slides and other fun aspects of Water Park is the best to revive the energy and get back to working life again.
There is the best waterpark in Jaipur, and some are specially made for kids. So go there and have an adventurous time with family and friends.
If you plan to visit a water park, and want to come to know them, then don't worry. Our forthcoming paragraphs of this post will help you to know about those different waterparks to visit.
Best Water Park in Jaipur
If you are looking for a place to enjoy some water-based fun and excitement in Jaipur, you should check out some of the city's many wonderful water parks! From thrilling water slides and rides to gentle pools and lazy rivers, these parks have something for everyone to enjoy. So, whether you are seeking a day of adventure or a relaxing afternoon by the pool, check out one of Jaipur's great water parks!
Jaipur's most popular water parks include Pink Pearl, Appu Ghar, and many others. These parks offer a wide variety of attractions and activities for visitors. In addition, many of these parks also offer a variety of dining and shopping options, so you can make a day of it!
So, if you are looking for a fantastic way to beat the heat and have some fun, check out one of Jaipur's water parks! You won't be disappointed!
Pink Pearl Resort and Fun City
The best water park in Jaipur, Pink Pearl Resort and Fun City is located around Ajmer City. Don't worry about accommodation here.
There are exclusive rooms available which are good enough to stay there. The Per day cost for those rooms is near about 2000 per night. Check-in at the place is very smooth. It does not end here.
We used to see at different waterparks that the environment is a little dirty, but cleanliness is their priority. One can enjoy it as there is a fine environment.
Appu Ghar
Appu Ghar is a must-visit place in Jaipur to enjoy and to transfer a boring day into a full-fun day. This place is replete with many adventurous activities, and also, you will find a water park here.
The water park is open all day from 10 AM to 6 PM. In this water park, you can enjoy the water rides, and slides, swim in the pool, and enjoy the wave pool.
You can book a room nearby if you are not done with the entire place. Yes, you can find luxury villas or hotels near Appu Ghar, like hotel red fort and Kherwadi farm is nice to stay nearby.
Angel Resort & Amusement WaterPark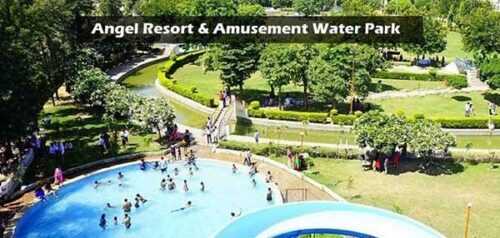 The best water park in Jaipur, Angel Resort & Amusement WaterPark, is a pleasant place to spend an entire day. Here one can enjoy their entire day with lots of entertaining aspects.
The staff of the park is helpful and fully professionalized. This place is best for gaining immense experience in life. The services of this park promise to provide an efficient facility.
It is an excellent place to choose for the holiday. So come here and feel the peaceful aura of the place with such a mesmerizing natural beauty.
You can also read Adventure Sports in Los Angeles.
Fun Gaon Resort & Water Park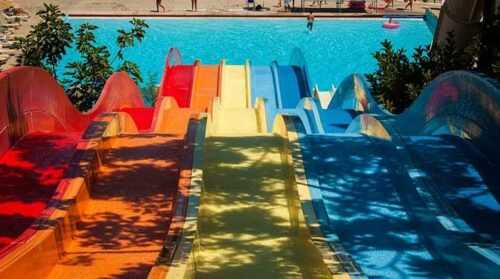 This place is value for money. The amenities are lovely at this place. Staff members are the best at their service parts. Fun Gaon Resort & Water Park is near Ramgarh Dam, an excellent location to reach.
You can find different slides, pools and many other things to have fun over there. So make sure to reach there and make your day full of fun and entertainment.
If you judge the place from its location, you might feel it is small in size but is actually a loving space. It's a perfect place for family and friends and is budget-friendly too.
Check our list of the best street food in Jaipur.
Mauj Mahal Water Park and Fun Resort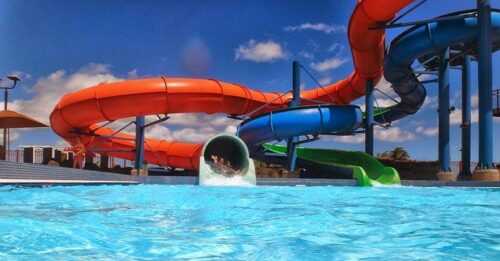 Hotel Mauj Mahal Water Park and Fun Resort are opposite Sun City on Sikar Road. Mauj Mahal is a prestigious place; the best part is that it is budget-friendly. The facilities and rooms provided at this hotel are very good-looking.
When one enters the room, the royal reception describes the upcoming facilities and the fun one will have. The cleanliness, cuisine, and excellent service are well-framed, as no one will feel like they are in a low-class arena.
Sunrise Naturopathy Health Resort
The best water park in Jaipur, Sunrise Naturopathy Health Resort, is the best place for relaxation and rejuvenation. The environment is tranquil and offers inner peace to the person.
It is surrounded by lush green plants, flora, and fauna. You can even take a spa break over there to relax your mind. The place is an excellent combination of tranquillity, fun, and luxury.
Staying at this place is also quite comfortable for anyone. Reaching the place will take only about 25 minutes. It is a kind of alternative to health therapies.
You can also read Tao Experience – Entire Day Adventure Activities.
Hotel Apno and Water Park
Hotel Apno Park is an excellent place to enjoy a recreational water paradise. It's a beautiful place where one can enjoy it with their friends and family.
All age groups can appeal to this place as it suits everyone. The waterPark is also a fun aspect of this place where one can enjoy it fully.
Jaipur is not only a historical place to visit but also has some other elements to cover, which are good for fun and entertainment.
So these are the waterparks, choose anyone, and make up your boring day into a full, exciting routine.
You can also read Enjoying River Rafting in Leh.
Assuming you would like a guide on what to bring on a waterpark trip:
Get ready to relax and have fun: sit back, enjoy the sun, and take a dip in the pool! Remember to reapply sunscreen often to protect your skin.
Bring a swimsuit, sunscreen, towel, and waterproof goggles. You may want to bring a swim cap if you have long hair. You might also want to bring a beach ball or other toys to play with in the pool. Don't forget to bring a change of clothes for after the pool!
If you are planning to spend time in the sun, be sure to bring sunscreen with a high SPF. Apply sunscreen generously and often reapply, especially if you are swimming.
Be sure to drink plenty of water to stay hydrated. You might want to bring a water bottle with you to the pool. Have a fun and safe trip!!
Best swimming products:
Best Adventure visit: