Govind Dev Ji Temple Lord Shree Krishna is known for "Kalyug Ke Bhagwan," Which now lives in his seven various characters "GOVIND DEV JI JAIPUR" is one of them.
About Govind Dev Ji Temple
It is also called Govind dev Ji Mandir, Banke Bihari Mandir, Govind Dev Ji, Thakur Ji and "Aradhya Dev Of Jaipur", etc.
People who come here belief that In the character of Govind Dev Ji, Lord Shree Krishna is living here taking breathing, pujari of the temple is give him food at fix time with art. Many visitors come here and enjoy Arti and taking prasad.
Legend of Temple
This temple is also known as "Bajrakrit" which means "Akriti made by Bajra"(meaning image created by Bajra), Bajranabh was the grandson of Lord Krishna.
It is a belief that when Bajranabh was 13 years old, he asked his mother(she was daughter in law of Lord Shree Krishna) about Govind Dev Ji she suggests her son and he sketch this image of Govind Dev Ji Temple.
Famous For
God Lovers Experience Seekers, Maximum tourist, comes here to visit this temple and known for reason of its popularity.
Special Festivals of Temple

Shree Krishna Janmashtami
This is the most significant festival of the year of this famous temple because everyone knows about "Janamashtmi", which is the birthday of Govind Dev Ji.
The pujari gives a bath to Govind Dev Ji with milk and rose water with 5-7 holy rivers water also after that, he wears a new dress to Radha Govind, and the deity of Govind Dev Ji is put on a gold swing, and people take part to give swing the Govind Dev JI. It is a single day of the year on which Govind Dev Ji is not live in his daily living place.
Basant Panchami
According to historical sources, on this day there was celebrated the first time "Tilak or Abhishek" of Shri Radha Govind Ji deity Maharaja Swai Jai Singh II. That's why still this day counts in the big festival of Govind Dev Ji.
Navratra
According to Hindu months in Ashvin, there is celebrate "Navratra" and "Dashahara" with 7 "Kheer Bhog."In the same month, there is an additional "Jhanki" after the rising moon on"Sharad Poornima."
Radhashtmi
This is the 8th day of the Hindu month, "Bhadrapad", and the birthday of Shree Radha Ji. This day is also celebrated with "56 Bhog"(56 various dishes with sweets and some species dishes).
Diwali
This is the most prominent festival of Indians; Govind Dev Ji, full of happiness, also celebrates this. After Diwali, there is a celebration, a day which is known as "Annakut," on this day again, 56 dishes offered to Govind Dev Ji and distributed in people.
Fagotsava (Holi)
Holi is also a special festival of this temple, On this day, Bhog is offered to the devotee. And in the evening, "Holy Bath"(Abhishek) is given to the idol of "Thakur Ji" and "Panchamrit"( a liquid mixture of milk, curd, sugar, Tulsi leaves, Gange's water by which Thakur Ji takes a bath).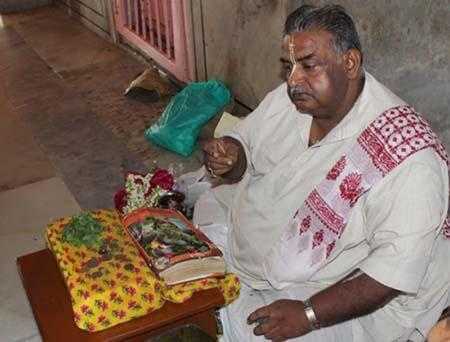 Govind Dev Ji Temple Jaipur was Constructed by
Place selected by Mughal Badshah Akbar.
Temple Established by Maharaja Swai Jai Singh II.
Complete finish by Maharaja Pratap Singh and Swai Madho Singh II.
Govind Dev Ji Temple Time-Table
Mangla 4:30 to 5:00 AM
Dhoop 7:45 to 9:00 AM
Shringar 9:45 to 10:30 AM
Rajbhog 11:15 to 11:45 AM
Gwal 17:30 to 18:00 PM
Sandhya 18:30 to 19:45 PM
Shayan 20:45 to 21:15 PM
Govind Dev Ji Temple History
Many sources of this temple prove that temple established in the 16th century by Mughal Samrat Badshah Akbar,
He stayed a red stone there, but it will be strange to say after a century Maharaja Jai Singh II has seen a dream in which he saw an image of Lord Shree Krishna in Surya Mahal and that image was destroyed by Mughal Badshah Aurangzeb who was grandson's son of Badshah Akber.
So, let's talk about Govind Dev Ji Temple Vrindavan history, Maharaja Jai Singh II was gone from Vrindavan and brought this image and put it in its City Palace that's why the Govind Dev Ji Temple is part of The City Palace.
After his reign, Maharaja Swai Pratap Singh II and Swai Madho Sing II gave a new design to their area and made Mandir Pariser, Satsang Bhawan, Sabha Bhawan, etc.
Some facts say Chaitanya Mahaprabhu Ji wants to make a holy place which, remarked in Geeta related to Shree Krishna.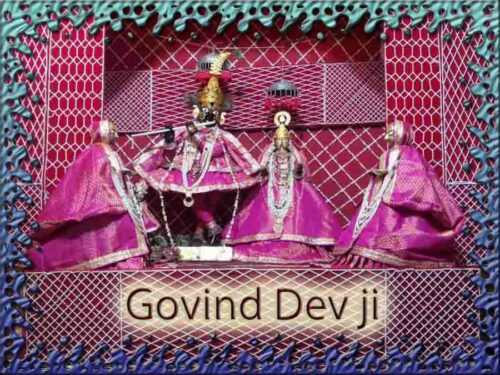 He visited the Vrindavan Dhaam for this task, At that time, Vrindavan was a wild area, He selected this area for work, and the deity of Lord Krishna brought it from Vrindavan, which is also a reason for its popularity.
Also, in Jaipur, "Bhagwad Geeta Paath," this place is the best point for people because its Sabha Bhawan, Mandir Pariser, and basement Satsang Bhawan are huge in the area.
Many people complete the "Bhagwad Geeta Path" in this temple, which is the holy book of Hindu Dharma.
Govind Dev Ji Jaipur Architecture
The temple spread over a vast area with Pariser, Sabha Bhawan, Garden, and many stoles around the temple area.
It's Sabha Bhawan, and Satsang Bhawan is huge in the area, one of the largest halls of the world that stayed on minimum pillars.
And its basement is also the world's largest basement of the temple, constructed of marble. The interior of Govind Dev Ji is a beautiful and adorable beauty.
There is some Indoeuropeon design, and many traditional paintings are printed here on the walls and pillars of the temple. Every portion is apart in this area is a separate area for Prasad distribution, for Arti, for drinking water, and for the shoe store means all service areas are separated.
Jai Niwas Garden surrounds the complete courtyard of a temple. The temple ceiling with gold coat layer. The idol of Govind Dev Ji and Shree Radhe Ji is black colour in gold ornaments.

Fast Track Details about Govind Dev Ji Temple, Jaipur
Address:
Jalebi Chowk, Badi Chopade, J.D.A. Market(302002), Jaipur, Rajasthan, India
Govind Dev Ji Timings
All days of the week, 4:30 AM – 11:30 AM, 5:45 PM – 9:30 PM.
Visit Duration
30 Minutes to 1 Hour.
Camera Charge
Free for all tourists.
Videography
Free for all tourists.
Special Remarkable Thing
The idol of Lord Krishna which situated in Mandir Pariser.
Food
Everyone knows that Jaipur's famous food is "Daal Bati Churma."
But you also can get some street food like pav bhaji, Chole bhature, panipuri, lassi, etc., in species test.
Govind Dev Ji Time Table
Devotees can visit the temple during summer from 4:30 AM to 12:00 PM and 5:45 PM to 9:30 PM and during winter from 5:00 AM to 12:15 PM and 5:00 PM to 8:45 PM.

Want to see the Govind Dev Ji Live Darshan today?
click here, govind devji
Govind Dev Ji Aarti Time today
Morning Time = 5:00 AM
Evening Time = 6:45 PM
Govind Dev Temple Vrindavan was built by
With its distinctive architecture, Govind Dev Temple is a highly coveted sacred destination in Vrindavan. Originally built in 1590 by King Man Singh of Amer, the temple's construction cost a staggering ten million rupees. Unfortunately, the temple was looted during Aurangzeb's reign in 1670, leaving only a three-story structure that remains to this day.
Special Facts about Temple
The deity of Lord Krishna is real because his grandson sketched it.
This temple's name is fed in the "Guinness Book of the World" for its structure because its hall is the most prominent in the world and stands on minimum pillars.
How to Reach Govind Dev Ji Jaipur
Air: Jaipur Airport is almost 13.4 km away from this castle. It takes nearly 38 minutes by car to reach.
Rail: Jaipur railway station is nearly 6.0 km away, and it takes almost 29 minutes by car to reach Jaipur Palace.
Road: the best way is by road, approached by cab, auto, E-rickshaw, bus and personal vehicle to reach the palace
Nearby Attractions with a Distance
City Palace: is nearly 140 m away, and it takes just 2 minutes to reach.
Hawa Mahal: is nearly 1.1 km away. It takes approx 6 minutes to reach by car.
Jantar-Mantar: is nearly 900 m away. It takes approx 5 minutes to reach by car.
The pink city's cultural shopping market is near this temple. You can buy a lot of Rajasthani dresses.