The City Palace Jaipur lies in the heart of central Jaipur city built between 1727 to 1732, have credit to attract the tourist in Jaipur for their best trip in Rajasthan.
City palace captured for a most significant historical building in Jaipur which cover 1 of the 7th part of old Jaipur city. Maharaja Swai Jai Singh established its outer wall and completed by Maharaja Jai Singh II.
Chandra Mahal of Jaipur City palace constructed by Maharaja Man Singh II who was adopted son of Maharaja Madho Singh II who was last Maharaja of Jaipur.
City Palace Jaipur Address
Jaleb Chowk, Near Jantar Mantar, Tripolia Bazar(302002), Jaipur, Rajasthan.
Jaipur Palace History
Would you like a luxury destination in which everything is nearby you like a courtyard, temple, dining hall means everything is luxury a level in 19th & 20th century.
A beautiful historical monument in which these all lavish facilities are available that place is known as "The City Palace Jaipur" of the pink city which is the too famous historical museum of Jaipur palace.
The initiator of this beautiful building was Maharaj Swai Jai Singh II; he just gives the envelope to this palace because in his rein Amber palace was the excellent spot for their every activity relates to the royal event.
But after a duration due to increment in the inhabitants and a shortage of water in the Amber Maharaja Jai Singh II was make up one's mind to shift in the seat of Rajasthan government at Jaipur palace in 1727.
History
He planted about six blocks partitions of Jaipur divided by full broad ways on the principle of Vastushastra and ancient classical dissertation in the way of that time famous constructive guidance Vidhyadher Bhattacharya.
Maharaja Jai Singh II died in 1757 there was a ruinous tussle between Rajput kings of that area from which next Maharaja of Jaipur was lime known as Maharaja Ram Singh who had good terms with the British government.
Maharaja Ram Singh has the credit of proper stabilization Jaipur palace and name of "Pink City."He did complete the work of the city palace and painted each palace or all monuments with pink colour that's why Jaipur is also called "Pink city palace" or "Gulabi Nagari."
He made an attractive part of City Palace with an adorable interior name as Chandermahal. About which tourist gives site reviews for its design and a 2nd beautiful dot of this famous spot is its City Palace Museum.
In other words, City Palace is a too much famous historical palace of Jaipur places which is the root of Jaipur's history, Jaipur stabilization and unforgettable historical place of "Gulabi Nagari."
Jaipur palaces are proud of "Aapno Rajasthan," "Padharo Mahare Desh" or "Khamba Ghani" types welcome words which you can show at any historical monuments in Rajasthan also at Jaipur palaces.     
Architecture
The city palace situated in the heart of northern Jaipur city, in its front, deep way passes which connect it's all historical monuments. City Palace is a considerable multiplex of the pink city which occurs several apartments like "Chander mahal," Mubarak Mahal" and Museum, etc.
The biggest captured temple of Jaipur city "Govind Dev Ji" is also a part of the city palace. The architecture of the city palace is the combination of "Indo-European, "Bhartiya Kala,"'Mughal Kala" and "Rajput Kala" etc.
The city palace of Jaipur is the best example of ancient art, design, and creativity or show the intelligence of our independent designer and painter who constructed this beautiful building.
Entrance Gate
Udai Pol at Jaleb Chowk, Virendra Pol and Tripoliya Gate(triple gate) are the entry gate of The city palace Jaipur. But these barriers are also divided for entry of people.
Tripoliya Gate is always given entry to royal peoples or any celebrity. Visitors or ordinary peoples taken an entry from Virender Pol and Udai Pol those are also called stabled gate.
Mubarak Mahal (Royal Palace)
Mubarak Mahal is also called "Museum of The City Palace," which is a sign of all lavish royal material of City Palace. The real world clothes and other costumes of Maharaja Madho Singh are shows there.
Guides beliefs that Mahara Madho Singh have weighed 250 kg that's the reason his clothes are also too large, in first look no one believes that there is any men costume because every tourist has opened their eyes for a moment after seeing this dress.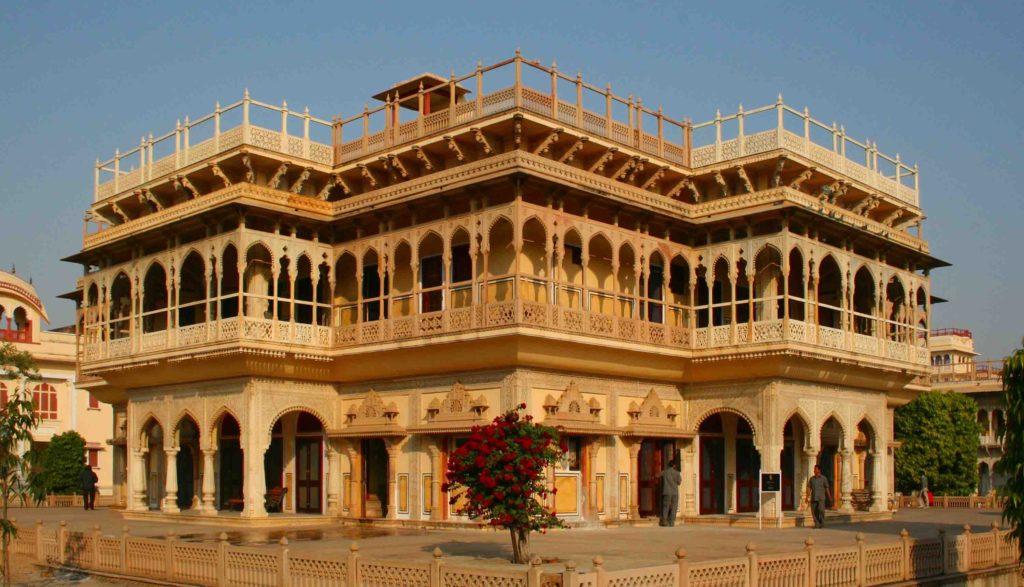 Chandra Mahal
It is also known as Chandra Niwas which have seven several floors with the specific name as like "Sukh Niwas," Rang Mandir,"Pritam Niwas,"Chibi Niwas,"Shri-Niwas" and "Mukut Mandir" are its several building floors. In current time there are lives the royal family of former rulers of Jaipur palace.
Chandra Mahal Take entrance with peacock gate of mahal it has concealed portico and a dome on the surface from where you can enjoy the scenic sight of Jaipur city palace.This mahal among between foreground beautiful lake and laid out gardens.
Sukh Niwas
It was the dining room of Maharaja also use for taking rest means "Visharamgarah" of the palace. There is silver or glass dining table of Mughal duration.
Rang Mandir This portion is decorated with small or large glasses on its walls make it remarkable.
Pritam/Shobha Niwas
It is the "Hall of Beauty."Because its all walls are entirely adoring with mirrors and blue tiles and embellish with mica and gold metal leaf. This part of the city palace is under the way of present Maharaja of Jaipur city palace.
Shri Niwas It is the 6th portion of the palace, but there is not any remarkable thing.
Mukut Mandir Mukut mandir is last 7th portion of Chandra Mahal which has a crown designed end.
Pritam Niwas Chowk
This is the beautiful courtyard of palace outside of Chandra Mahal with four small gates name as Ridhi Sidhi Pol. Its north side peacock gate and south side Lotus gate gives it an adorable sight. Its all four barriers are significant for four seasons such as:-
Peacock Gate It represents the autumn season.
Lotus Gate It is significant for a Summer season.
Green Gate It depicts the spring season.
Rose Gate It is a sign of winter season and dedicates to Devi of Mahal.
Bhaggi Khana
Bhaggi Khana is a museum of palace complex which carries the collection old coaches, and some Europeans cabs which adopted baggies of Indians conditions shown here.
The baggie which remarkable point is a present by the prince of Wales to Maharaja in 1876 which is also known as "Victoria baggie."Here is a single bamboo bar which was used to carry the priest and a Ratha which used for transmitting the idols of Hindu Gods in procession on any occasions.
Diwan-E-Khas
It is also called "Sabha Bhawan" means conference hall decorated with attractive, beautiful rea and golden colours they give it vibrant looks, It is the remarkable point of Mubarak Mahal courtyard.
The art gallery of this chamber designed with the script of the holy book of India "Bhagavad Geeta" with beautiful handwriting.
Diwan-E-Aam
It is an audience hall of city palace with marble surface with an attractive art gallery. There are two silver vessels which are remarkable dots of the city palace because these are largest silver vessels in the world which held in Guinness Book of world records.
About vessels it is a belief that Maharaja Madho Singh II chiefly designs these, to carry the water of Hindu's holy river "Ganga" for a drink when he was gone to visit England in 1901. Some crystal clusters are hanging with vaulting which is shows on any special occasion.
Govind Dev Ji Temple
This is the famous temple of Jaipur city palace which dedicates to Hindu Lord Krishna has its history. But it is also a part of The City Palace. You can enjoy its original view from City Palace from the Chandra Mahal.
Maharaja Madho Singh was a big devotee of Lord Krishna that's why he gives the crown shape to Mukut Mandir of Chandra Mahal Palace also built the "Govind Dev Ji" temple.
City Palace Jaipur Timings
City Palace is opening time daily from 9:30 AM to closing time at 5:00 PM.
Best Time to Visit Jaipur City Palace
Jaipur is a hot palace, so the best time to visit city palace, Jaipur is winter session, November to April. And the rainy season is also an excellent time to visit which is Mid-July to September.
City Palace Jaipur Entry Fee
| | |
| --- | --- |
| Name | Fee(INR) |
| Student | 100/- |
| Indian | 130/- |
| Foreigners | 900/- |
| Camera Charges | 50/- |
| Videography | 150/- |
Hotels Near City Palace Jaipur
| | | |
| --- | --- | --- |
| Hotel name | Distance | Taken Time (Car) |
| Hotel Neelam | 4.1 km | 18 minutes |
| Hotel Metropolitan | 3.5 km | 18 Minutes |
| Hotel Royal Sheraton | 600 m | 4 min |
| Hotel Khandaka Mahal Jaipur | 800 m | 6 min |
Restaurants Near City Palace Jaipur
| | | |
| --- | --- | --- |
| Restaurants name | Distance | Taken Time (Car) |
| Midtown Multicuisine Restaurant | 1.5 km | 7 min |
| veenus restaurant | 650 m | 3 min |
| Sri Balaji Vegitable Restaurant | 180 m | 1 min |
| Kailash Restaurant | 120 m | 1 min |
Things to do in City Palace, Jaipur
The City Palace museum trip

Shopping, from the museum and outside the market.

Partaken activities event for children.

Take amazing photos of the Indian historical site.
How to Reach Maharaja's Palace Jaipur
Air: Jaipur Airport is almost 12.5 km away from this castle, it takes nearly 35 minutes by car to reach.
Rail: Jaipur Junction is almost 6.0 km, away, it takes nearly 25 minutes by car to reach Jaipur palace.
Road: You can approach by cab, auto, E-riksha, bus and personal vehicle reach the palace.
Nearby Attractions with Distance
Govind Dev Ji Temple is almost 140 m away from this site, and it takes just 3 minutes to reach.
Nahargarh Fort is almost 14 km away from this palace it takes nearly 33minutes by car to reach.
Amer Fort is almost 8.0 km away from this site, and it takes nearly 20 minutes by car to reach.
Jal Mahal is almost 7.2 km away from this site, and it takes nearly 18 minutes by car to reach.
Hawamahal is almost 260 m away from this location, and it takes nearly 4 minutes to reach.
Albert Hall Museum & Jaipur zoo is almost 2.2 km away from this site, and it takes nearly 10 minutes by car to reach.
City Palace Jaipur Film Shooting
Bade Miyan Chote Miyan's song "Deta Jai Jo Re."
Shakespeare Wallah.
Bhool Bhulaiya.
Sabse bada khiladi 1995's Song "Bholi bhali ladki".
Raja, Song Pool Mangoo Na Bahar Mangoo.
Bajirao Mastani.
FAQs about City Palace Jaipur
Where is city palace in Jaipur?
Jaipur palace is in the heart of Jaipur, Near Tripolia Bazar and Jantar Mantar.
Jaipur city palace visiting hours?
The timing of city palace Jaipur is 9:00 AM to 5:00 PM
Who Built city palace Jaipur?
City Palace Jaipur gates?
There are four gates:-
Udai Pol
Jaleb Chowk
Tripolia Gate
Virendra Pol
City Palace Jaipur entry fee 2017 – 2018?
City Palace Jaipur ticket price is 130/- for Indian and Foreigners 900/- rupees only
Guide availability?
Yes, many guides are available there during opening hours.
Image Credit