Significance of Jantar Mantar Jaipur
Jantar Mantar Jaipur is a location for the calculation of date and time in Rajwada's era.
Now we are in the 21st century in which everything is possible with technical and scientific support like a study of astronomy, Janam Kundli (birth details), sign(Rashi Chaker), Grah Nakshatra, Time and many astrology relate things all are efficiently knowledgeable through the internet or many scientific phenomena.
But in our ancient times, it was difficult to get any source that can provide this information.
Our ancestors got this information through the sun shadow, Amavasya(dark moon lunar which comes in a month between two lunar fortnight means Krishna Paksha) and Purnima(full moon lunar phase comes in every month between two lunar fortnights meaning Shukla Paksha).
[toc]
So in Jaipur, the ancient kings also took help from these actions for time and astronomical-related issues.
Swai Jai Singh's Jantar Mantar in Jaipur is proof of that interest.
Maharaja Swai Jai Singh II was the founder of "The Pink City."
He built many historical buildings in Jaipur now that are proud of Jaipur and nominate this place as the best tourism spot in the cultural, historical and various fields.
Jantar Mantar Jaipur Information
Jantar Mantar Meaning
Jantar-Instrument or Machine.
Mantar-Calculate, Determine.
An instrument by which we calculate some observation.
Who built Jantar Mantar Jaipur
Maharaja Swai Jai Singh II constructed it in 1734.
Why is Jantar Mantar Jaipur so famous?
The astronomical Historical Monument is also a part of the "UNESCO World Heritage Site.
Jantar Mantar Jaipur timings
Opening time at 9:00 AM to closing time at 5:00 pm (All days of the week)
Jantar Mantar Jaipur Ticket Price
Indians- INR 50.
Foreigner- INR 200.
Is there any Guide Availability for Jantar Mantar Jaipur?
Yes, you can quickly take a guide service for best waving. You can also make it easy for yourself with the mysterious trip blog.
Are Photo and Videography allowed in Jantar Mantar Jaipur?
Allow for everyone without any charge.
What was the use of Jantar Mantar in ancient times?
Knowing astronomical facts.
Food Near Jantar Mantar Jaipur
The canteen is available there.
Jantar Mantar Jaipur Images
Visiting Place Near Jantar Mantar Jaipur
Hawa Mahal
Johri Bazar
Ajmeri Gate Market
Jantar Mantar Jaipur History
Jantar Mantar in Jaipur was built by Maharaja Swai Jai Singh in the year 1734 for getting information about his future, rein duration means he wants to collect every piece of information about his life through these observatory instruments made there.
He was a brilliant Maharaja of Jaipur, and he gave many historical buildings to Jaipur, which Jaipur always captured as the best tourist destination.
"Jantar Mantar" is one of his famous five historical monuments.
Swai Jai Singh was much interested in astrological activities. He also has a collection of astronomy information due to that inspiration he built Jantar Mantar at his place in Pink city.
There are the most advanced calculating instruments with information about the universe, the sun family, the earth's orbit, and the exact locations of stars in the universe(Brahmand).
The most captured piece in Jantar Mantar is Sundial which is the world's most significant sundial named as "Samrat Yantra" at 27 meters, and its shadow movement speed is 6cm per minute.
The observatory of Jantar Mantar was built by Pandit Jagannath, who was the Guru of Maharaja Swai Jai Singh.
He made his(Swai Jai Singh) birth chart and suggested to him his signature moments like his wars, weddings and the duration of his life.
Jantar Mantar Jaipur Architecture And Jantar Mantar Jaipur Instruments
Jantar Mantar gives our eyes a relaxing view under the open sky of beautiful destinations.
Here we are explaining about signs and works of all instruments of Jantar Mantar:
Jantar Mantar Sundial(Vrihat Samrat Yantra)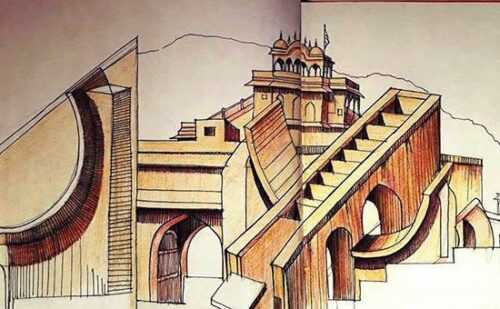 This is the world's largest stone-made sun watch which is also a part of the UNESCO world heritage site and also mentioned in the Guinness Book Of World Record. This sundial gives Indian clock time.

It is the world's largest clock built with a horologe arm 22.6 metres high and the largest quadrant with a radius of 15.5 meters.

The local time calculated through this instrument by the placement of the triangular's wall shadow, which is placed in a north-south direction with an angle equal to the altitude of this location moves at equal distance with the same time intervals.
On the east-west quadrants, which are divided into 6 hour parts each hour is parted in 15 minutes and again deviation of 1 minute part internally also.
This movement gives the local time. This one-minute separation is divided into ten subdivisions of six seconds each, and each of these six seconds is divided into three small deviations of two seconds each. This divides the clock's circulation based on Indian local time.
Small Samrat Yantra
This small smart yantra keeps time to within 20 seconds. It has no specific functions, but as you know, there are sometimes minor differences between our two clock times in our house, so the same Vrihat means big Samrat Yantra and small Samrat Yantra have the same functions.
Rajshivalay(Zodiac House)
There are 12 instruments available, which are signs of the zodiac system.
These instruments measure the astronomical latitude or longitude of celestial objects.
Unnatamsa
This instrument measures the "angular height" of an object in the sky.
Jaya Prakash Yantra
These are two instruments that have a half-circular structure that is completely a structure of the celestial sphere which presents the surface for calculating all results of celestial bodies.
Yantra Raj
This instrument is briefly the position of celestial objects during the dark age (14th century).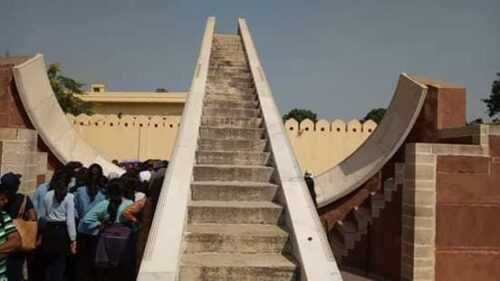 Krantivrtta:-
This instrument is used to calculate the longitude and latitude of celestial objects in the open sky, It is also useful for measuring the solar sign of the sun in the daytime. Another Kranti-written instrument was used for calculating the distance between stars and the sun's ecliptic and equinox.
Rama Yantra:
This Rama Yantra was used to measure the altitude and azimuth of the sun and other celestial objects. It was completed in 1891 by astrologer Gokul Chand Bhawan. Another Ram Yantra of this place gives the local altitude and azimuth of the celestial bodies.
Digamma
This cylindrical instrument is informed about the `particular azimuth of a celestial object. which helps the geographers to predict the correct timings for sunrise and sunsets.
Chakra Yantra
This circular ring instrument measures the declination and angle durations of celestial bodies.
Nadivalaya
These are two circular plates with a dial face of north and south directions. The walls of plates towards both north and south are like an angle that makes their position towards the earth's equator.
Now UNESCO declared the Jantar Mantar in Jaipur a world heritage site.
FAQs on Jantar Mantar
1. If any entry fees in Jantar Mantar?
Yes, for Indians entry fees are Rs. 50 and for foreigners Rs. 200. 
2. What is the best time to visit Jantar Mantar?
The best time to visit Jantar Mantar in Jaipur is at Midday. In the Afternoon, the sun is perpendicular, making clear the readings of each instrument simple. 
3. What Cameras are allowed in Jantar Mantar Jaipur?
Yes, camera and photography is permitted but there are charges for the same.
4. How Much time is enough for Jantar Mantar Jaipur?
A maximum of 2 hours is enough for the Jantar Mantar visit. 
5.How does Jantar Mantar tell time?
Jantar Mantar Jaipur is a stone sundial that was built to collect all-inclusive data. The Structure uses the position of the sun and the direction of the shadows to tell the time in ancient days.