Jaipur Wax Museum
If ever you wanted to visit Madame Tussaud's wax statue museum but you couldn't, then we have a perfect place for you that you can visit and can exactly get the feeling of being in an actual madam wax museum.
It is the Jaipur wax museum which is built at the fortress of Nahargarh; the Jaipur wax museum has been added as a crown feature in the department of Archeology & the museum of Nahargarh Fort, which is built at the highest point of the Aravalli hill.
The Jaipur wax museum is enshrined at the Nahargarh Fort in the association with the Department of Archeology & Museum and Government of Rajasthan.
The Jaipur wax museum's distinctive feature is the liveliness of the sculpted statues.
This wax museum of Jaipur exhibits the wax and silicon statues of iconic personalities who have done remarkably.
The wax museum, Jaipur is the creation of Mr Anoop Shrivastava of Entertainment 7 Ventures Pvt. Ltd. who first started this project with the Pink city Film Festival in 2006.
The wax sculpture of the legendary Amitabh Bachchan was divulged at this event.
After getting a positive response, Mr Shrivastava teamed up with several creative people including famous sculptor Susanta Ray.
After teaming up with great technicians and designers, the team spent several days of creative refurbishment that included 32 wax displays.
The Jaipur wax museum is here to enchant the visitors with its ingenious work.

Attractions Inside the Wax Museum, Jaipur
Sheesh Mahal
One can dress in the royal designer dress and get self-clicked. This feature has solely created by the creative team of the Jaipur wax museum.
The sheesh mahal is no doubt, one of the most spectacular add-one of the Jaipur wax museum making it a must-see area inside the hall.
The sponsors' visiting the place leaves with an 'appalled' moment, as the museum reminiscence of the ancient years of the Sheesh Mahal, which was built by King Man Singh in the 16th century.
The Hall of Icons
The hall of icons displays wax & silicon statues of famous personalities from all over the globe.
The hall of fame is adjoined to the Royal darbar, which exhibits the sculptures of Rajasthan's royal extraction and the collection of statues.
The Royal Darbar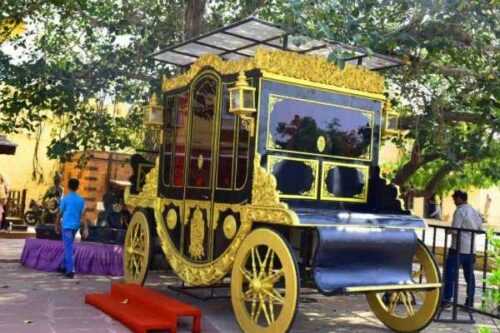 The royal darbar is a demonstration of the Rajput dynasty. The darbar is adjacent to the hall of an icon, which exhibits famous personalities around the world.
Jaipur Wax Museum Ticket Price
Wax museum and sheesh mahal( Foreigner )- 700/- per person
Sheesh Mahal and Wax museum combo (Indians) – 500/- per person
Wax museum (Indian) – 350/- per person
Jaipur Wax Museum Timing
Opening time at 10:00 AM
Closing time at 6:30 PM
Monday to Friday.
Wax Museum Jaipur Address
Jaipur wax museum, Nahargarh Fort, Jaipur- 302001
Contacts: 98750-46564, 97832-31953, 95095-03419.
References