Jaigarh Fort is a historic fortress located in Jaipur, the capital city of the Indian state of Rajasthan. The fort was built in 1726 by the Rajput ruler Jai Singh II, and it is situated on a hilltop that overlooks the Amer Fort and the Maota Lake. Jaigarh Fort was constructed to protect the Amer Fort and its palace complex and store the weapons and artillery used by the Rajput army. The fort is known for its massive cannon, Jaivana, which was once the largest cannon in the world.
The fort also has a museum with a collection of Rajput-era weapons, armour, manuscripts, and other items. Today, Jaigarh Fort is a big part of Rajasthan's cultural history and a popular place for tourists to visit.
About Jaigarh fort
The Jaigarh Fort Jaipur is situated on the hills called the "Cheel ka Teela" (hills of an eagle) of the Aravalli range; it overlooks the Amber Fort and Maota Lake near Amer, Jaipur, Rajasthan, India.
The Jaigarh Fort's structural design is similar to the Amer fort, known as Victory Fort. The wall of the Jaigarh Fort is 3 kilometres long.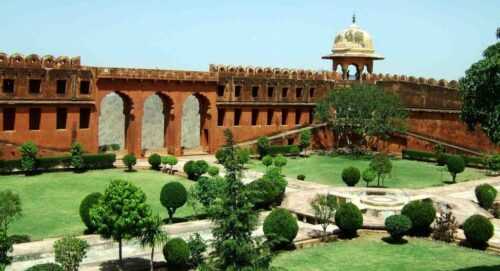 The one thing you would come across about Jaigarh Fort more often is that it is the world's most massive cannon on wheels, known as Jaivana. As huge as this was, the weird thing was that it was never used in a battle. It was only used as a test when the cannonball travelled 35 km.
History of Jaigarh Fort
Maharaja Jai Singh II built Jaigarh Fort in the early 18th century to protect the Amer Fort and its palace complex. The fort was a military stronghold and a storehouse for weapons, ammunition, and other military utilities. It also housed the treasury and several residential quarters for the royal family and army commanders.
Jaigarh Fort is as old as the Amer Fort, which was the primary defensive structure rather than the palace itself, built by the Meena's at Amer at that time.
Due to the large amount of iron ore near the Jaigarh Fort, it was seen as the most critical cannon foundry during the Mughal period.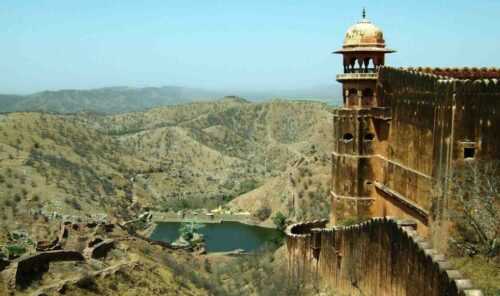 Jaigarh Fort Jaipur and Amer Fort history are connected with these rulers, as they founded their empire at Amber.
Jaigarh Architecture
Jaigarh Fort's architecture is a fusion of Rajput and Mughal styles, reflecting the cultural and artistic influences of the time. The fort's structure is primarily red sandstone and was built to withstand enemy attacks and harsh weather conditions. Fort is a magnificent structure that lies on the "Cheel ka Teela" hills. It was designed and built by the talented architect known as Vidyadhara, more like a jewel on a crown.
The fort's extensive walls, ramparts, and watchtowers are some of its notable architectural features. The ramparts are broken up by watchtowers called bastions, and the fort's walls are up to three meters thick in some places.
The Laxmi Vilas, Lalit Mandir, Vilas Mandir, and Aram Mandir are just a few of the residential areas and courtyards that make up the palace complex inside the fort. The complex also includes several gardens and water tanks.
The fort was named after King Jai Singh II. The fort has a watchtower from which you can enjoy a fantastic view of the surrounding area. You can take a tour of Nahargarh Fort view there.
Dungar Darwaza is the main entrance of the Jaigarh Fort, consisting of two temples within the fort boundary. One is the Ram Harihar temple of the 10th century and the Kaal Bhairav temple of the 12th century.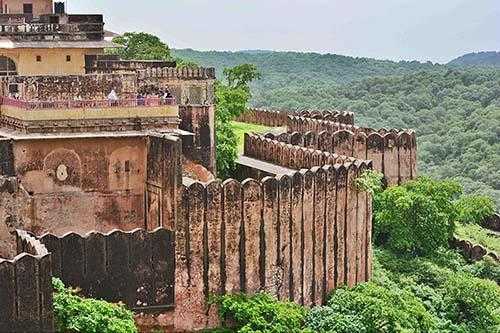 Facts About Jaigharh Fort
Jaigarh Fort is home to the world's largest cannon on wheels, the Jaivana cannon, which was never used in battle.
The fort is also known for its unique water harvesting system, including several large water tanks that store rainwater.
Any enemy force never captured the fort, and its extensive defences and strategic location made it an essential stronghold during times of war.
The fort's palace complex included several residential quarters, gardens, and temples and was once home to members of the royal family and army commanders.
Jaigarh Fort is connected to the nearby Amer Fort by an underground passage, which the royal family used to escape during the war.
The fort's architecture is a blend of Rajput and Mughal styles, reflecting the cultural and artistic influences of the time.
Today, the fort is a popular tourist attraction known for its scenic views of the surrounding hills.
After India became a republic, Sawai Bhawani Singh and Man Singh II, former emperors of the fort, served as top officials in the Indian army.
Due to the richness of the iron ore mines in the adjacency of the fort, the Jaigarh fort became one of the wealthiest cannon foundries during the reign of the Mughal emperor Shah Jahan.
The fort's foundry has numerous fascinating stories. It was constructed strategically that draw air from the mountains to achieve high temperatures, melting metals used to make cannons.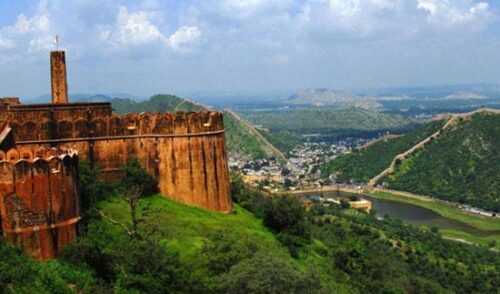 Jaivana Cannon in Jaigarh Fort
The Jaivana Cannon is a massive cannon located in Jaigarh Fort. It was commissioned by Maharaja Sawai Jai Singh II, the founder of Jaigarh Fort, and was built in the 18th century by skilled craftsmen. The cannon is made of brass and was designed to fire cannonballs weighing up to 50 kg over a distance of 35 km. It is believed to have been fired only once during a test firing, which destroyed a large portion of the fort's wall. The cannon is considered one of the world's largest cannons and is a popular tourist attraction at Jaigarh Fort.
Jaigarh Fort and Indra Gandhi Controversy
Jaigarh fort found itself in the limelight in 1977, when prime minister Indira Gandhi searched all the buildings on a tip-off that the fort's precincts and its water tanks had a treasure belonged to then Kachwahas rulers.
However, after months of search, an army carried by the unit proved to be worthless and was called off. People believed that the Jaigarh fort treasure if there was any, was used by King Sawai Jai Singh II to construct the city which we now call Jaipur!
Jaighar Fort Address:
Devisinghpura, Amer, Rajasthan 302028
Jaigarh Fort Timing
The fort is open from Jaigarh Fort cannon from 10.00 am to 5 pm.
Jaigarh Fort Fee (INR)
Jaigarh fort entry fee for Indians is 35/-, for camera 50/-
Jaigarh Fort entry fee For Foreigners is Rs. 85/-, for camera 200/-
Note: parking charges 50/- & English guide charges 150/-, Hindi guide charges 100/-
Nearby Attractions with Distance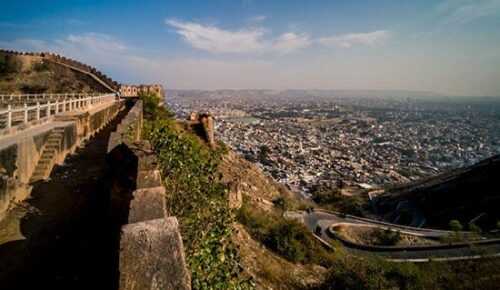 Amber fort to Jaigarh Fort is just 7 km away you can reach just in 15 minutes by car.
Jaigarh fort to Nahargarh fort distance is 6.0 km; Car takes 13 minutes to reach.

Jaigarh fort to Hawa Mahal is 10.00 km away and takes 23 minutes by car to reach this palace

Fort to Jal Mahal is just 11.0 km and the time made by car is 25 minutes.
How to Reach Jaigarh Fort Jaipur
Air: Jaipur International Airport is almost 25.2 km away from this castle, and it takes nearly 52 minutes by car to reach. Jaipur International Airport Location
Rail: Jaipur Junction railway station is almost 14.6 km away, and it takes nearly 48 minutes by car to reach Jaipur Palace.

Road: You can approach by cab, auto, E-Riksha, bus, and personal vehicle to reach the palace.
Many private and government buses from Jaipur city are available to the Jaigarh fort. Jaigarh Fort is around 15 km away from Jaipur.
You can quickly access private cabs and taxis from Jaipur to the Jaigarh Fort, which will charge less than 500/-.
However, to reach Jaigarh Fort from Amer Fort, you need to hire a private vehicle or take one of the local buses. Amer Fort to Jaigarh Fort distance is 7 km.
Hotels Near Jaigarh Fort Jaipur:
Jaigarh Fort Jaipur Trip With Mysterious Trip & Advice
Comfortable cotton clothes and if you are a girl you can wear women's shorts here along with flat pairs of sandals are advisable
Try not to get lost, as the passage within the palace is quite sinuous and confusing.
The place is not as crowded as the Amer Fort; here, you can find some books to learn about Jaigarh Fort's history.
Even books in multiple languages link Jaigarh Fort history in Hindi, Jaighar Fort history in Tamil, Jaigarh Fort history in English, and many others. The best books on Jaigarh fort are recommended by us.
Hence, try not to get lost and try being in the main areas, and if you have kids with you, remember to keep a hold on them. Also, you must have an essential travel product for kids.
If you want to know about Rajasthan culture and the history of Rajputana, you can read about Chittorgarh Fort.
Jaigarh Fort Jaipur Film Shooting And Jaigarh Fort Wedding
Mard movie shooting at Jaigarh Fort
Ajnabee's Song Meri Zindagi Mein Ajnabee shoot in Jaigarh Fort.
Humraaz: the climactic fight scene in Humraaz shot at Jaigarh Fort in Jaipur.
Tumko Na Bhool Paayenge song shoot in this fort.
If you are interested in Travel, You Can Buy the Best Travel Products for You:
FAQs about Jaigarh Fort Jaipur6.15 m (20.2 ft), and it weighs 50 tons.FAQs about Jaigarh Fort Jaipur
Is the tunnel name connecting amber fort and Jaigarh Fort?
Ghat ki Guni Tunnel.
Jaigarh Fort ticket?
Indian- Rs. 35, Foreigners- Rs. 85.
Size and Wait for Jaivana cannon Jaigarh fort?
6.15 m (20.2 ft), and it weighs 50 tons.
Who Built Jaigarh Fort Jaipur?
Jai Singh II (the king Of Jaipur) Built Jaigarh Fort Jaipur
May I know What Is Jaigarh Fort entry fee for 2018
100/- INR For the student to entry in Jaigarh Fort Jaipur, you can also get tickets from the city palace Jaipur to save time.
What is the Distance From Jaigarh Fort To Amer Fort?
The distance is only 7 km
Jaigarh Fort distance from Jaipur
The distance from jaipur to Jaigarh Fort is 15 km.