I still remember working from home (WFH) or even work from mountains was a fantasy. Between waking up with that annoying alarm or getting stuck in the crowd, WFH was a dream we all wanted to live.
The pandemic made the 'dream' a reality, and we converted our bedrooms into our offices. But we never knew life could be so monotonous as we work from home.
Today, we find ourselves enclosed within four walls, attending virtual and missing our tea breaks at the roadside tapri. It is high time to adopt the concept of 'Work From Mountains.'
The concept has gained much attention from people in the past few months. Here, you spend your vacations in the mountains and 'work' simultaneously.
Additionally, you get some respite from the boiling heat too. Today, almost all the hill stations are backed with high-speed Wi-Fi, electricity, and your workstations to serve you better.
Here, we have filtered out India's top five hill stations where you must plan to go on a 'workcation.' Let's explore them!
Top 9 Places To Work From Mountains
The mountains are becoming attractive destinations for work as well as visual inspiration. Professionals believe calm surroundings and clean mountain air are ideal for concentrated work and creative thought.
However, reliable internet access is crucial in our digital age. This compilation showcases the top nine workcation in India that combine stunning views with dependable internet access to guarantee uninterrupted work experiences.
Dharamkot
Tirthan Valley
Kasol
McLeod Ganj
Bir
Rishikesh
Darjeeling
Sikkim
Ooty
Dharamkot
Dharamkot is a peaceful village in Himachal Pradesh, India, hidden away in the Himalayas. Its relaxed ambience, expansive panoramas of the mountains, and ethereal aura enchant guests.
Perched at around 2,100 meters, it has drawn visitors from various cultures as a centre for yoga, meditation, and holistic health.
A haven for environment lovers, peace seekers, and adventure seekers alike, Dharamkot offers hiking paths and easy access to treks like Triund.
Hostels in the Dharamkot
Nearby Dharamkot, numerous hostels provide cozy lodging for tourists. Among the well-liked hostels in nearby areas are:
Internet Connectivity
Compared to more isolated locations, Dharamkot often has better internet connectivity, and many hostels and cafes offer Wi-Fi.
Food Places in the Dharamkot
There are several different restaurants nearby Dharamkot that serve a variety of cuisines to suit diverse tastes. Popular choices include:
Places to explore near the Dharamkot
Many fascinating places offer a blend of adventure, culture, and natural beauty close to Dharamkot. The following locations are accessible from Dharamkot: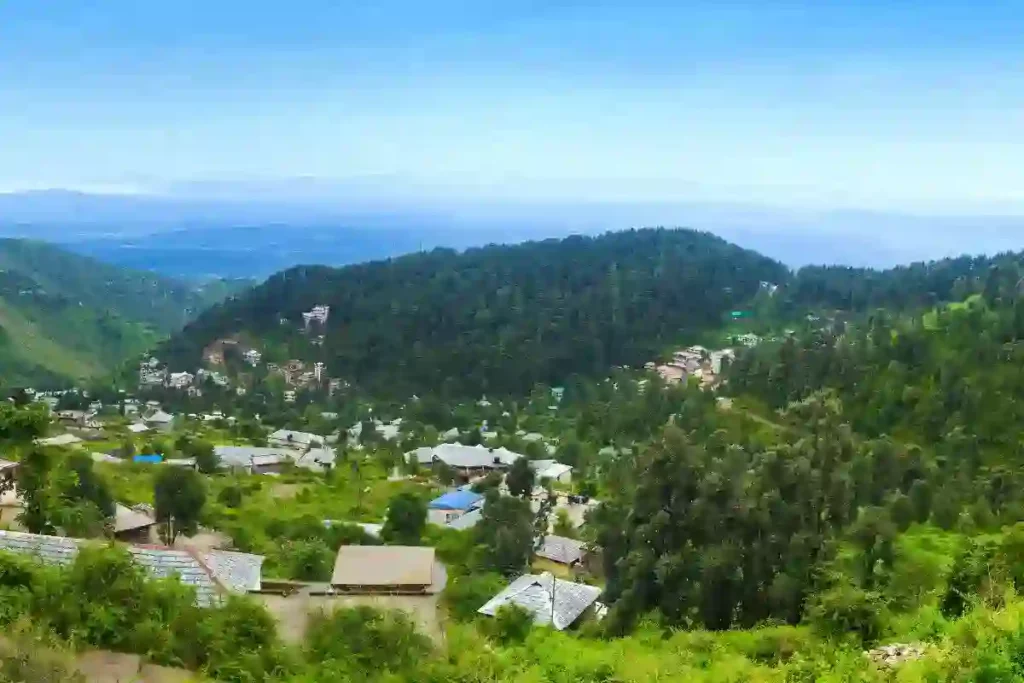 Tirthan Valley
Tirthan Valley is a captivating haven of natural beauty tucked away in the unspoiled landscapes of Kullu, Himachal Pradesh, India. It's one of the places for work from mountain destinations.
Known for its biodiversity within the Great Himalayan National Park, this hidden gem—named for the flowing Tirthan River—offers animal lovers and hikers a haven.
Tirthan Valley offers activities for all kinds of interests, including trout fishing in the glistening river, trekking and exploring secret waterfalls, and taking in the peace of the alpine winters.
Hostels in the Tirthan Valley
Himachal Pradesh's Tirthan Valley offers a peaceful break in nature. Despite the valley's natural beauty, adjacent hostels and motels provide easy access to Tirthan Valley's attractions. Here are Tirthan Valley hostels:
Internet Connectivity
Tirthan Valley frequently offers robust internet access compared to more remote areas, and many hostels and cafes provide Wi-Fi. It's a fantastic idea to work from home in Kullu.
Food Places in the Tirthan Valley
There are a range of regional eateries, cafes, and restaurants serving different cuisines in Tirthan Valley and the surrounding areas. You can try the following restaurants nearby of Tirthan Valley:
Places to explore near the Tirthan Valley
With abundant neighbouring exploration options, Beautiful scenery surrounds Tirthan Valley. The following are a few of the well-known locations and attractions you can go to: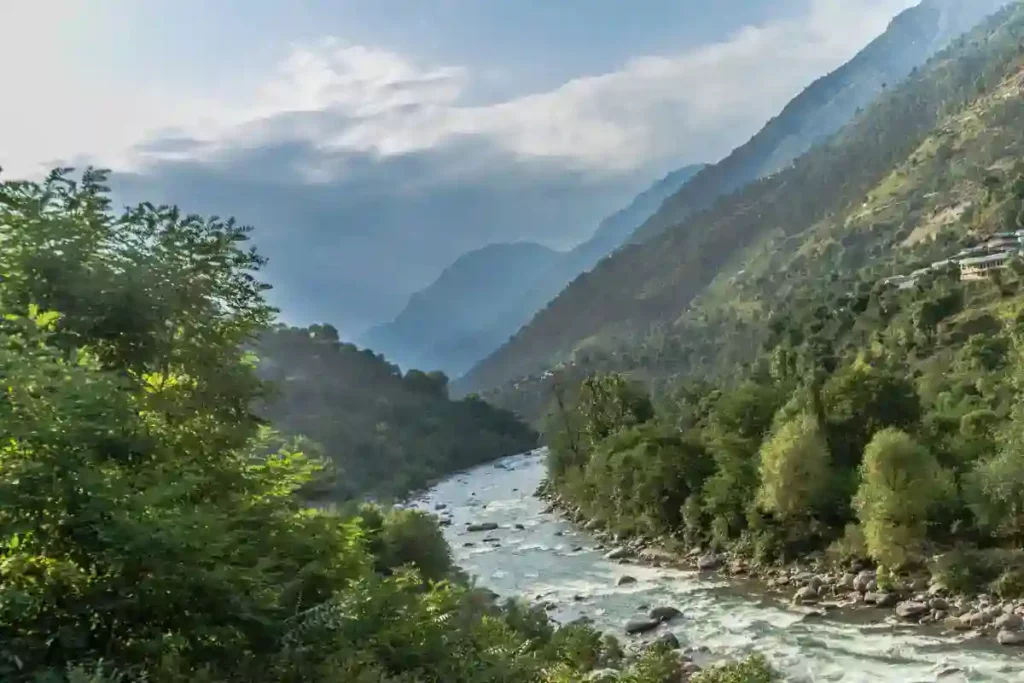 Kasol
Hidden away in the Parvati Valley of Himachal Pradesh, Kasol attracts hikers and outdoor enthusiasts with its tranquil Parvati River surroundings, making it a popular destination. Kasol is a place where you can do work from mountains under 15,000.
Nestled in verdant surroundings, it provides an array of global and Indian food specialities, serves as a starting point for Himalayan excursions, and features a vibrant alternative music scene.
The best time to visit Kasol is when it transforms into a Himalayan haven, offering an in-depth exploration of nature and culture, all complemented by its charming natural appeal and preserved by its modest guesthouses and luxury resorts.
Hostels in the Kasol
Numerous hostels near Kasol, Himachal Pradesh, provide tourists with reasonably priced lodging. Here is the best place to live in Himachal Pradesh:
Internet Connectivity
Compared to more rural locations, Kasol usually has decent internet access, and Wi-Fi is available in many cafes and hostels.
Food Places in the Kasol
Kasol and the neighbouring environs are home to various local eateries, cafes, and restaurants offering a variety of cuisines. You can check out the following eateries that are close to Kasol:
Places to explore near the Kasol
Extensive opportunities for nearby exploration exist in the stunning landscape surrounding Kasol, making it one of the best places to visit. Some of the well-known places and attractions you can explore are as follows: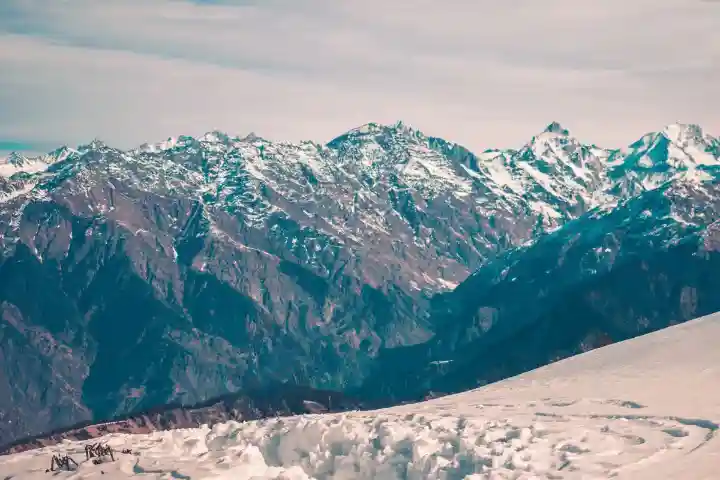 McLeod Ganj
McLeodGanj combines Tibetan culture with Himalayan tranquillity in Himachal Pradesh's Dhauladhar range. It is one of the best hill stations for work from home.
Home to the Dalai Lama, it provides spiritual exploration through monasteries, breathtaking scenery, and multicultural cuisine and art, making it an intriguing destination.
Hostels in the McLeod Ganj
Budget travellers and backpackers can explore this peaceful area at several hostels and motels around McLeod Ganj. Famous McLeod Ganj hostels:
Internet Connectivity
Cafes and hostels in McLeodGanj offer internet, but speeds may vary during busy seasons. Airtel, Vodafone Idea (VI), and Jio give coverage.
Food Places in the McLeod Ganj
McLeod Ganj and nearby areas have several local restaurants, cafes, and eateries serving many cuisines. These restaurants are near McLeod Ganj:
Places to explore near the McLeod Ganj
McLeodGanj, a place of meditation in Himachal Pradesh's Dhauladhar range, is a gateway to the region's natural beauty. From scenic treks to cultural exploration, the local areas provide various activities.
Bir
Peeking out of Himachal Pradesh, Bir is the "Paragliding Capital of India," offering thrilling rides over the Dhauladhar range. It's one of the best places for mountains work.
With its Tibetan settlements and monasteries, this tranquil location also embraces spirituality. Hiking routes and the Bir Tea Factory offer opportunities to engage with nature.
Bir offers a unique combination of adventure, peace, and local culture, ensuring a memorable vacation.
Hostels in the Bir
Several affordable hostels and lodging options exist for backpackers and travellers near Bir, Himachal Pradesh. Here are a few well-liked choices:
Internet Connectivity
Internet is available at Bir hostels and cafes, though speeds can change during peak times. Jio, Airtel, and Vodafone Idea (VI) provide connectivity.
Food Places in the Bir
There are many local eateries featuring a variety of cuisines in Bir and the surrounding environs. Bir has easy access to these eateries:
Places to explore near the Bir
Tucked away in the scenic Himachal Pradesh, Bir is an entry point to various fascinating locations that appeal to multiple interests. Discover the rich tapestry of experiences that await you in the areas surrounding Bir, ranging from serene getaways to thrilling adventures.
Rishikesh
On the Ganges River, Rishikesh is a spiritual retreat in the Himalayas. Capital of yoga, it welcomes seekers from all over the world with ashrams, meditation, and peace.
With options for trekking and rafting, the adventure also abounds in this place. Rishikesh promotes reflection among breathtaking scenery, resulting in an experience that combines spiritual tranquillity with pure splendour.
Hostels in the Rishikesh
There are several reasonably priced hostels and places to stay for travellers and hikers in nearby areas of Rishikesh, Uttarakhand. Knowing about work from mountain package before settling in that place is a good idea. Here are some popular options:
Internet Connectivity
Rishikesh has different speeds for internet access. Wi-Fi is available in cafes and hostels, and mobile data is available (though signal strength varies).
Food Places in the Rishikesh
Along the Ganges River in the Himalayan foothills, Rishikesh is known for its spirituality and diverse cuisine. Local Indian and international cuisines satisfy varied tastes in the town. Restaurants are easily accessible in Rishikesh:
Places to explore near the Rishikesh
Situated between the Ganges River and the Himalayas, Visitors can explore Rishikesh, a spiritual destination that offers access to various fascinating neighbouring locations.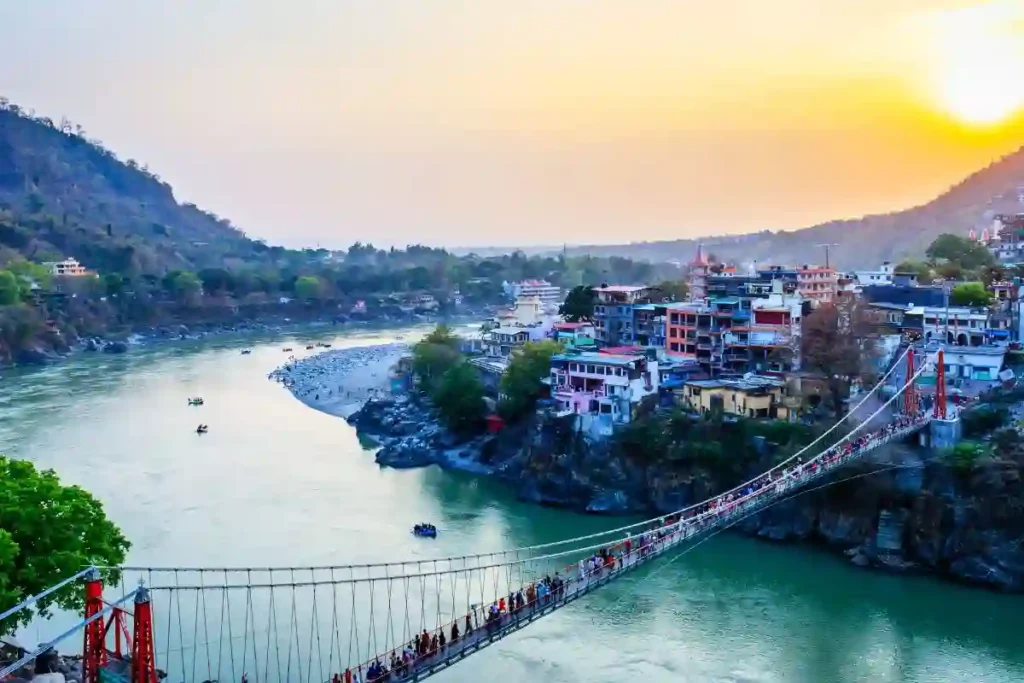 Darjeeling
Renowned for its verdant tea gardens and expansive views of the Himalayas, which include Kanchenjunga, it is hidden away in the Eastern Himalayas.
Diverse festivals and markets are a result of the numerous cultures that have shaped the region, and the UNESCO-listed Darjeeling Himalayan Railway is a reminder of its colonial past.
Adventurers can hike, paraglide, and do other things. Darjeeling provides a calm getaway, cultural diversity, and an appreciation of the beauty of the natural environment.
Hostels in the Darjeeling
In the Eastern Himalayas' breathtaking scenery, Darjeeling provides a lively cultural scene and stunning natural surroundings. This offers a variety of hostels for visitors looking for affordable lodging and an opportunity to meet other adventurers.
Internet Connectivity
Enjoy free Wi-Fi in hotels and cafes, use mobile data with fluctuating signals, use public Wi-Fi in places with poor coverage, use local SIM cards, and use offline navigation to explore while staying connected in the peaceful surroundings of nature.
Food Places in the Darjeeling
In the Eastern Himalayas, Darjeeling has stunning scenery and diversified cuisine. This lovely hill station has restaurants for every taste, from local to international.
Places to explore near the Darjeeling
Darjeeling offers access to spectacular natural surroundings and exciting locations in the Eastern Himalayas—Discover Darjeeling's mysteries beyond its beautiful landscapes and ancient landmarks.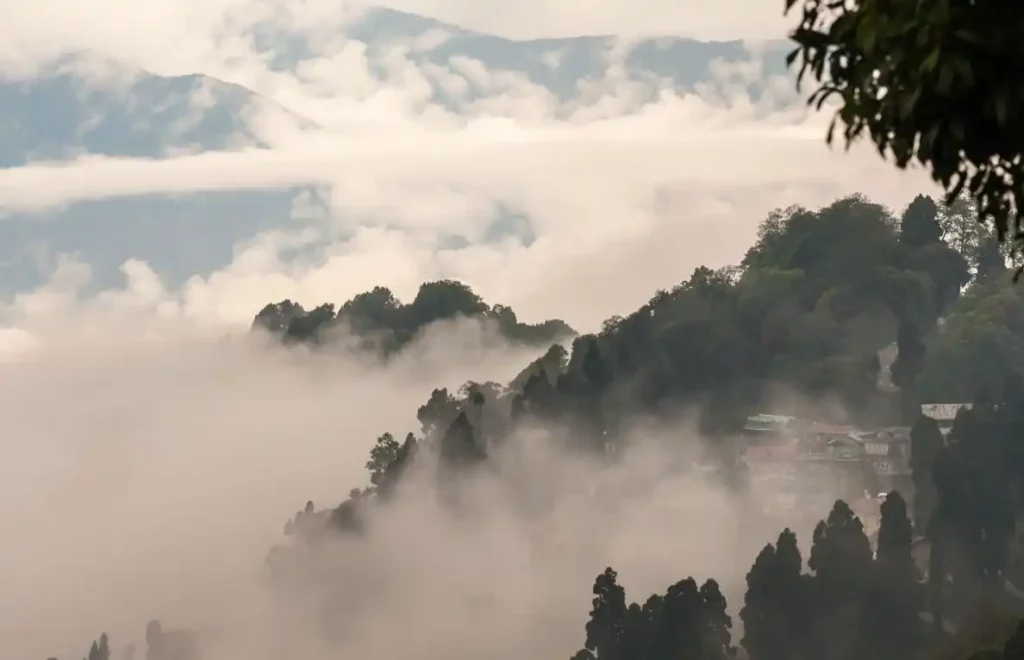 Sikkim
Sikkim's stunning scenery and varied culture are in the Eastern Himalayas. Magnificent Kanchenjunga, peaceful lakes, and vivid valleys captivate.
Rumtek Monastery is spiritual—biking, rafting, and trekking are famous thrilling activities. Himalayan beauty and cultural appeal combine with Sikkim's eco-friendliness as India's first agricultural state.
Hostels in the Sikkim
Various mountain homestay are accessible for tourists on a limited budget who want to discover this Himalayan treasure. These accommodations offer a chance to meet other travellers and experience Sikkim's charm.
Internet Connectivity
Internet coverage may need to be better in rural regions, although it is reliable in significant cities like Gangtok. For dependable connectivity, especially in less populated areas, consider local SIMs instead of using accessible mobile networks.
Food Places in the Sikkim
In addition to its fantastic scenery, Sikkim, a gem of the Indian Himalayas, provides a diverse range of culinary experiences. Tasty Sikkimese cuisine is available for all preferences, from traditional to international dishes.
Places to explore in the Sikkim
Sikkim, tucked away in the foothills of the Himalayas, provides a unique combination of breathtaking scenery, vibrant culture, and calm spirituality. This state in northeastern India is a haven for people who love the outdoors, are looking for adventure, or want to taste different cultures.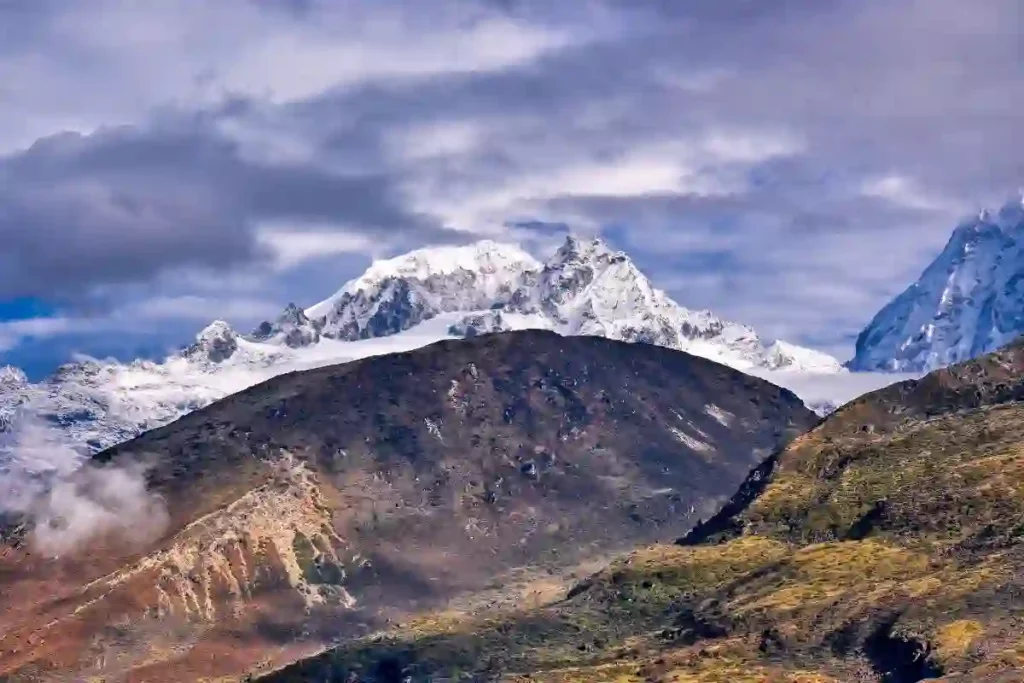 Ooty
Ooty sits in the Nilgiris. Its Rose Garden, Botanical Gardens, and Tea Gardens exemplify its natural splendour. The peace of Emerald Lake and the breathtaking views of Doddabetta Peak enchant.
Ooty Lake, the Nilgiri Mountain Railway, and colonial architecture are remnants of the past. Cuisines, marketplaces, and adventurous activities are unique draws.
Ooty offers a fantastic retreat with a combination of culture and environment.
Hostels in the Ooty
In southern India's Nilgiri Hills, Ooty (Udhagamandalam) is a popular hill station famed for its cool climate, beautiful vistas, and colonial charm. Hostels provide a comfortable stay and a chance to meet other adventurers for budget-conscious visitors to the town's natural features.
Internet Connectivity
Wi-Fi is available in hostels and cafes; mobile data coverage is there, but signal quality varies with location; and limited free Wi-Fi is available in specific public spaces.
Food Places in the Ooty
From traditional South Indian flavours to international food, Ooty has something for everyone, making dining an essential part of the experience.
Places to explore near the Ooty
Even though Ooty is a well-liked holiday destination, being close to several fascinating sights makes the trip even more enjoyable. It offers a variety of experiences beyond the natural beauty of the place.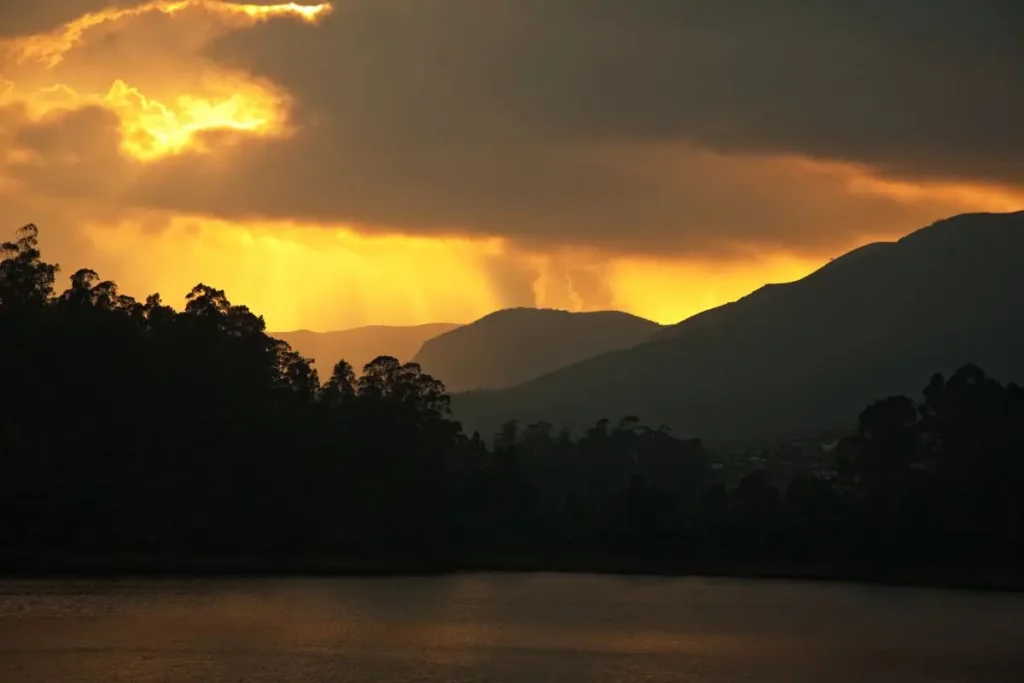 Work From Mountains Packages Himachal Pradesh
Enjoy the ideal fusion of work and play with the creative "Work from Mountains in North India" packages from Himachal Pradesh Hostels.
These work from mountains monthly packages include peaceful workplaces, work from mountains cheap place rates, fast internet, and cosy lodgings amidst the stunning Himalayan scenery. Explore attractive hill villages, lush valleys, and unspoiled forests to unwind after work.
Enjoy the peace of nature while remaining mindful of your work obligations.
What is the cost of workation in Himachal? Check out the Work from Mountains packages monthly in Himachal Pradesh with the Work from Mountain location.
| | |
| --- | --- |
| Name of hostels with location | Package (₹) |
| Young Monk Hostel, Dharamkot | Price Starts At ₹ 300/Night |
| Mitra Hostel, Dharamkot | Price Starts At ₹ 600/Night |
| Alt life, Dharamkot | Price Starts At ₹ 600/Night |
| The Hosteller, Tirthan Valley | Price Starts At ₹ 850/Night |
| The Whispering Woods, Tirthan Valley | Price Starts At ₹ 2800/Night |
| Tirthan Valley Wooden House | Price Starts At ₹ 2800/Night |
| The Hosteller, Kasol | Price Starts At ₹ 600/Night |
| Nomads Hostel, Kasol | Price Starts At ₹ 500/Night |
| Hogwartz Hostel, Kasol | Price Starts At ₹ 550/Night |
| The Hosteller, Mcleodganj | Price Starts At ₹ 800/Night |
| Zostel Mcleodganj | Price Starts At ₹ 900/Night |
| Mitra Hostel 2.0, Mcleodganj | Price Starts At ₹ 400/Night |
| The Hosteller, Bir | Price Starts At ₹ 800/Night |
| Whoopers Hostel, Bir | Price Starts At ₹ 350/Night |
| Zostel Plus, Bir | Price Starts At ₹ 950/Night |
| Madpackers, Bir | Price Starts At ₹ 250/Night |
| The Trippy Tribe Extended, Bir | Price Starts At ₹ 550/Night |
Note: These rates are for one adult and one room; Changing priority may lead to price variations. These prices include taxes and charges.
Hotels in the Mountains
With their stunning views and opportunities to lose yourself in the peace of nature, hotels and mountain resorts in India tucked away in mountain settings provide a relaxing haven from the bustle of everyday life.
These accommodations and the best resorts in hills India offer a memorable stay in scenic surroundings, appealing to adventure and relaxation seekers.
11 Must-Have Items for Work From Mountains
Going out to work from the mountains offers a unique blend of efficiency and adventure. You must have the necessary items to get the most out of this experience.
These 11 vital items, which include everything from comfort to technology, will make working from the mountains a smooth and joyful experience.
Conclusion
It is high time when we must ditch the practice of working from home and adapt ourselves to work from the mountains.
The method not only relieves you physically but mentally. We must vent the accumulated stress as we regularly maintain the Xcell sheets.
The saying "Mountains are calling, and I must go" was probably made for today only!
FAQs
What is work from mountains?
The practice of "working from the mountains" combines the natural beauty and tranquillity of work and mountain scenery. This method provides people with fun, focused work and creative ideas.
Which is the best mountain place to work from home?
With its natural beauty and tranquillity, Kasol is one of the best mountain destinations in India for work from home from mountains.
Can we work from Manali?
You can work from mountains Manali while enjoying the breathtaking scenery and handling business-related responsibilities.
1 month stay in mountains
Enjoy a month in the mountain regions with peaceful scenery and outdoor activities. This immersive retreat will restore your spirit, reconnect with nature, and create lasting memories.
Is Kasol good for work from home?
The relaxing mountain scenery makes Kasol a good for work in mountains spot. Get reliable internet and appropriate conveniences for an enjoyable "work from home" experience.
Work from hills place
As a pleasant mountain retreat, Kasol is a good choice for working from hills station. Adequate amenities and reliable internet are essential for efficient "work from home in the mountains" experiences.
What is the cost of living in Himachal Pradesh?
Although it varies depending on lifestyle and region, living in Himachal Pradesh is typically less expensive than in large cities.
How do you make money in the mountains?
You can work as a mountaineering guide or instructor if you possess the necessary abilities and knowledge of the local terrain.
Best Hill Stations in USA
Park City, Utah and Aspen, Colorado, are the best hill station in USA.
Also Read:-