Jaipur boasts many lovely parks. The Government of Rajasthan has constructed the City Park Jaipur in the new city.
With the help of Rajasthan Chief Minister Ashok Gehlot ji, the Rajasthan Housing Board transformed Jaipur Metro's 52-acre scrapyard into Mansarovar City Park Jaipur. It is one of the famous Mansarovar Jaipur parks.
The initial phase of City Park Jaipur Rajasthan included horticulture, civil engineering, and a running circle.
Unlike the first phase, the second they included a sizable fountain square, three grand entry plazas, a botanical garden, an upper lake (water body), and parking.
The Jaipur Mansarovar Park also has plenty of benches for anyone who would like to sit and take in the scenery while doing nothing more than relaxing.
New City Park Jaipur Mansarovar is a beautiful place to escape the hustle and bustle of the city for some tranquility, a pleasant stroll, or an exciting family adventure.
It is the best park in Jaipur. The park photoshoot has been increasingly popular in recent months.
The Architecture of City Park Jaipur
City Park boasts excellent architecture, with over 17 sculptures made of metal and stone, along with a vast green space that adds to its attraction.
They installed six lights and one hundred and twenty modern benches to build a park here. They're placed strategically around the venue to help make it feel more homely and welcoming, encouraging guests to slow down and relax.
They've set up water fountains with fun things to do so visitors can have something to do while waiting! The park beautified its flowering sections by planting 32 tiny trees and plants.
The park will have an outstanding fountain with a music player at the entrance.
Most Popular Features of City Park Jaipur
Tourists favor City Park in Jaipur for its captivating features and charm. Large green areas offer a tranquil haven, enhanced by thoughtfully planned pathways winding through verdant gardens. Now it comes to the list of the famous park of Jaipur.
Playgrounds full of children's laughter are a source of delight for families, and well-kept picnic spots encourage neighborhood get-togethers.
The park demonstrates its dedication to sustainability with its eco-friendly efforts, such as recycling bins and energy-efficient lighting. Now, we will learn about the most popular features of the Park:
Grand Entry Plaza
Jogging Track
Sculptures
Lush Greenery
Rock Fountain
Grand Entry Plaza
The beautiful Grand Entry Plaza of the Garden greets visitors. The plaza's architecture is lovely and decorated with creative details.
Most trips to Mansarovar Park Jaipur start at the Grand Entry Plaza. Next to the Grand Entry Plaza is a monumental fountain. The entire entrance appears magnificent and spectacular when lights and greenery surround it.
Jogging Track
A 3.5-kilometer long and 20-foot wide jogging trail is available to visitors to the Garden. Jogging paths often have music systems installed nearby to add variety to your workout.
Additionally, they have constructed a play area for children here. The path has been well-maintained, and the rest spots include seats and other amenities.
The Park is the best city park in Mansarovar Jaipur. It has a wide track that's great for walking and jogging. You can also enjoy music and lights. Mansarovar Jaipur City Park is an excellent place to go whether you want to exercise or relax.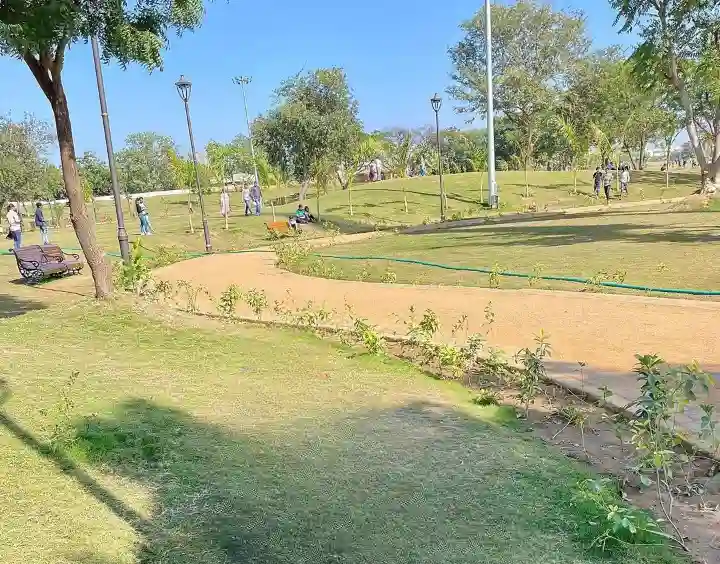 Sculptures
At the entrance area, there are as many as 17 beautiful sculptures to greet people. There are 17 metal and stone statues in different places around the park.
The CityPark Jaipur Park Mansarovar sculpture gives the park a touch of elegance and artistic charm. It makes an impact that lasts and is a big part of the park's overall appeal.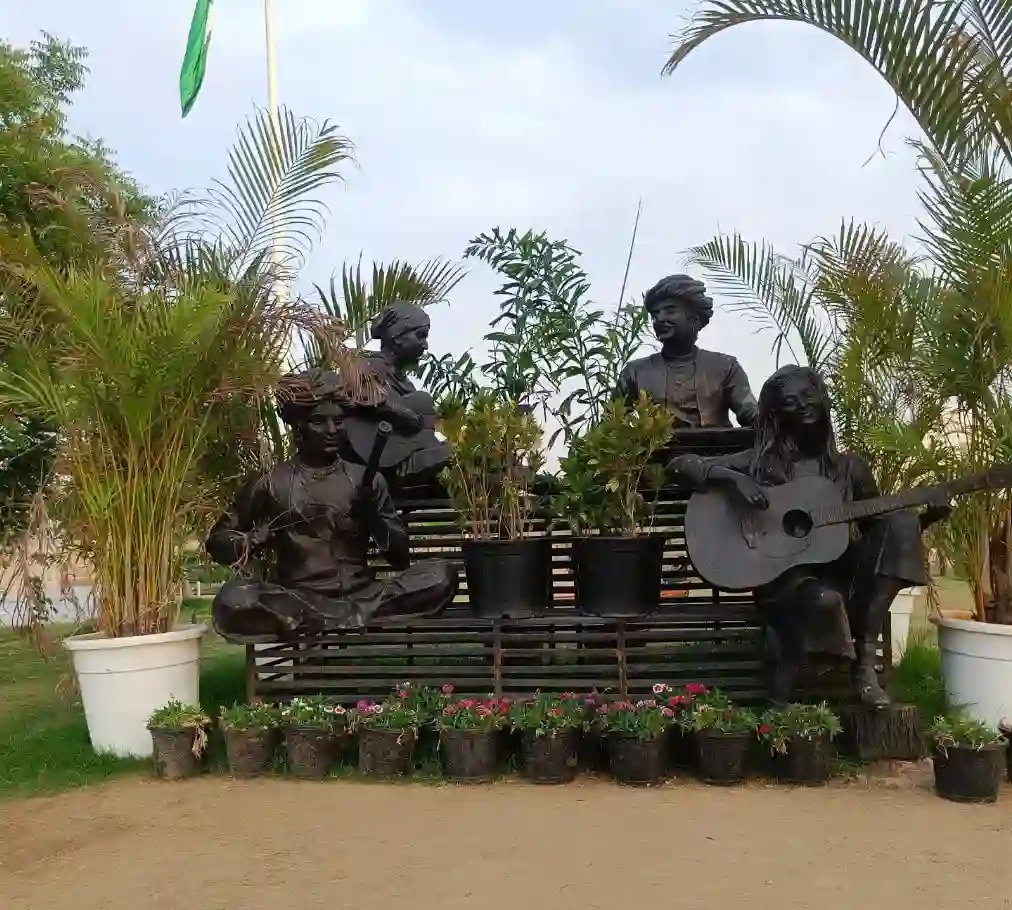 Lush Greenery
After entering Madhyam Marg, a space of 2000 square meters has been planted with various vibrant flowers. The park's floral areas have been made more attractive by installing 32 miniature trees and plants.
Another attraction of the Jaipur new park Mansarovar is its stunning landscape gardens, completely covered in greenery and surrounded by sparkling lights.
Rock Fountain
The breathtaking natural beauty of Rock Fountain is a sight not to be missed. It has become a popular destination for people, particularly kids, to spend their time.
The rock fountain has been enhanced with various dazzling lights, each producing a unique design. When the reflection of these glittering lights and vibrant fountains falls onto the pond, it transforms the environment into a magical and enchanted one.
For the crowd gathered around the rock fountain to better appreciate the moment, they have set up comfortable seating options.
Some Interesting Facts about the City Park Jaipur
Mansarovar's City Garden Jaipur is a magnificent urban getaway with exciting information. It is a nature lover's dream with many flora and birds and culturally significant artwork and sculptures.
The park also acts as a focal point for the locals, providing a range of activities and health initiatives. It is one of Jaipur famous parks. Let's now discover some of the park's well-known facts:
Destination for Pre-Wedding Photoshoots: Jaipur City Park Mansarovar is now one of Jaipur's most popular choices for pre-wedding photo sessions.
Extensive Grounds: The city park area is 52 acres in size, this park is second only to Central Park in Jaipur when it comes to parkland.
Jogging Track: The park contains a well-maintained 3.5-km jogging track. Jogging routes often have music systems to spice up workouts, but they're shorter than Central Park's 4 km track.
Statues: It is home to 17 metal and stone statues spread across the area, enhancing the surroundings with artistic and visually attractive sections.
Grand Entry Plaza: The beautiful Grand Entry Plaza features impressive architecture and is embellished with clear creative embellishments, welcoming guests to Mansarovar new park Jaipur.
Rich Plant Diversity: To add to the Park's vibrant and diverse flora, the Rajasthan Housing Board meticulously planted 32 different varieties of plants.
City Park Jaipur Location
The Park sits in the central hub of Jaipur's bustling city. It shows the delicate balance between modernization and nature by providing a peaceful retreat in the city.
The park near Mansarovar, Jaipur, is a getaway from the city. City Park of Jaipur, near Fun Kingdom and surrounded by greenery, blends city life with nature. This area provides relaxation, comfort, and a serene connection to Jaipur's natural beauty.
Here is a new City Park Mansarovar Jaipur Map that may assist you in finding the park. If your question is, where is the city park located?
Here is the location of the Park: City Park Ward 27 Mansarovar Sector 6 Mansarovar Jaipur Rajasthan 302020. Below, we have provided the city park Jaipur timings and ticket prices.
City Park Jaipur Timings
Jaipur Mansarovar City Park's hours invite you to enjoy nature and pleasure. The park welcomes locals and visitors from sunrise to dusk, offering a variety of activities.
These considerate schedules help families bond, fitness fanatics reach their goals, and nature lovers enjoy the park's tranquility—CityPark Jaipur Jaipur, Rajasthan's inclusive wellness and nature in the city's bustling center.
Below, we have provided the city park Mansarovar timings:
City Park Jaipur opening time: 6:00 A.M.
City Park Jaipur closing time: 9:00 P.M.
Monday to Sunday
City Park Jaipur Ticket Price
The Park's minimal tickets attract people of all backgrounds to its many attractions.
The management has carefully set ticket prices to make the park affordable for families, individuals, and groups. Everyone, whatever their income, can enjoy the park's tranquility and recreational activities.
Visitors can also hire a guide, who will offer helpful guidance on the park's history and attractions.
| | |
| --- | --- |
| PARTICULAR | CHARGES |
| City Park Jaipur Entry Fee | Rs. 20/ Person |
| Annual Pass | Rs. 999 Per Year |
| Two Wheeler Parking Charges | Rs. 20 for 3 hours |
| Four Wheeler Parking Charges | Rs. 50 for 3 hours |
| Pre-Wedding Shoot Charges | Rs. 10,000 per day |
Table of the City Park Mansarovar Jaipur Ticket Prices
Places To Visit Near the City Park Jaipur
Jaipur's City Park provides a great starting point for a voyage of discovery, with several charming destinations around.
This park, amid the dynamic city, has charm and easy access to many spectacular sites worth admiring.
The Garden's position allows tourists to easily explore the city's numerous amenities, producing an enriching and appreciated experience. There are several Best Places to Visit in Mansarovar Jaipur:
Patrika Gate
Smriti Van
Jawahar Kala Kendra
Jaldhara
Jhalana Safari
Patrika Gate
The Rajasthan Patrika Group of Publications built the Patrika Gate in 2016. It is a colorful and eye-catching building that displays the history of Jaipur, popularly known as the Pink City of India.
The gate symbolizes the area's rich culture and legacy due to its elaborate artwork, vibrant design, and traditional Rajasthani elements.
Patrika Gate Jaipur timings:
Smriti Van
As part of the Green Rajasthan initiative, the Rajasthan government recognized the forest's value and created it as a unique forest.
Chief Minister Mrs. Vasundhara Raje laid the foundation stone on October 8, 2005; on December 8, 2007, it officially opened its doors to the public.
Jaipur, Rajasthan, features a tranquil park known as Smriti Van. After a flood in 1981, individuals planted trees in memory of their loved ones, creating the area.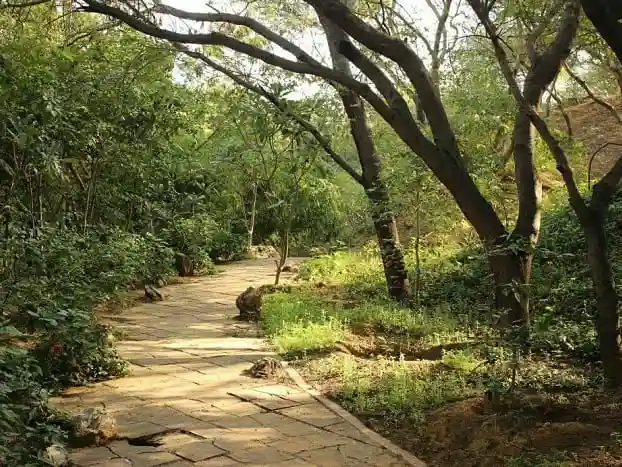 Jawahar Kala Kendra
Jawahar Kala Kendra hosts numerous cultural events, including art exhibitions, plays, concerts, and workshops
Additionally, there is a theater, a café, art galleries, and a library. This location offers opportunities for artists, performers, and visitors to take in and participate in art and culture.
In Jaipur, Rajasthan, there is a unique site called Jawahar Kala Kendra. Its development began in 1986, and the public could enter it in 1992. Renowned architect Charles Correa created it, and today, it serves as a hub for various artistic endeavors.
Jaldhara
The water park, which the Jaipur Development Authority (JDA) considered a significant undertaking, was formally inaugurated in 2010.
Officials claim that Jaldhara's position close to the University, Jhalana, and Jawahar Nagar's hills makes it a sensitive and essential area.
Jaldhara Japur, a beautiful water feature in Jaipur, Rajasthan, mesmerizes with its flowing waterfalls and charming beauty. It provides guests a tranquil and enchanted vacation with finely sculpted water jets and vibrant lights.
Jhalana Safari
Leopards and other wildlife live in Jhalana Safari. Birdwatchers love the reserve's plentiful birdlife. The safari walk features peafowls, owls, and migrating birds. Striped hyenas, desert foxes, and golden jackals provide curiosity to the safari.
Jhalana Safari is a magical way to connect with nature and witness leopards and other wildlife. It's a sanctuary that gives guests a thrilling safari experience.
Jhalana Safari in Jaipur offers a thrilling and unique wildlife experience. Jhalana Safari is famous for its leopard population. The tour lets guests witness these amazing big cats in their natural habitat.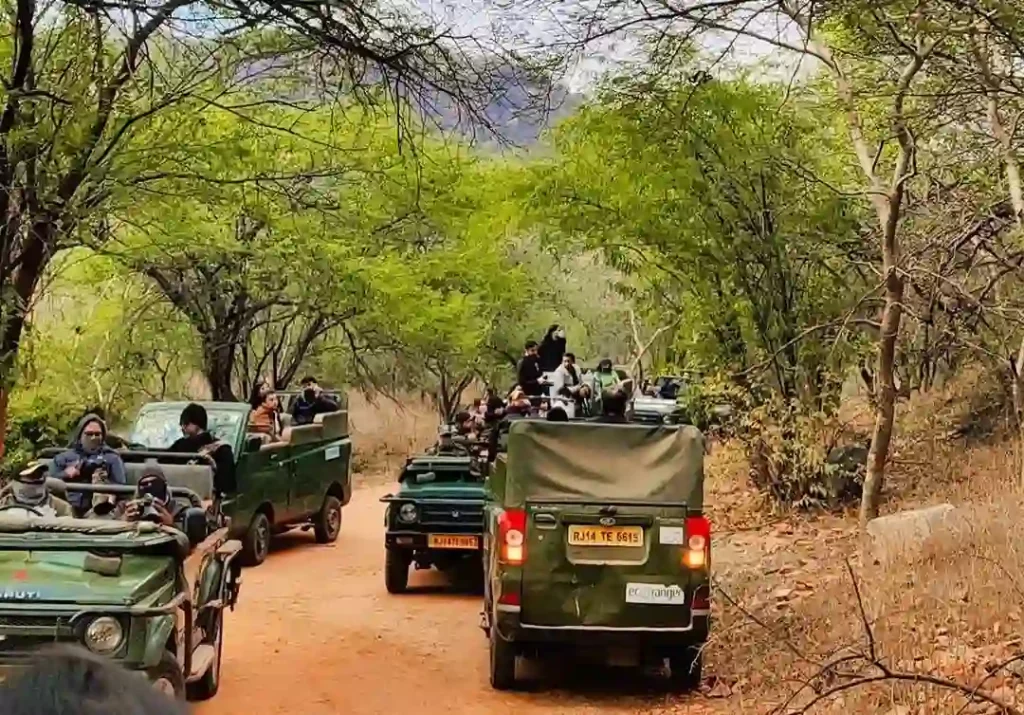 City Park Jaipur Activities
City Park Jaipur is a paradise for all ages with its many activities. The park's careful design and well-maintained facilities allow visitors to enjoy various outdoor activities, promoting a respect for nature.
The Garden caters to every passion, from the joyful laughter of children playing on the perfectly constructed playgrounds to the tranquil ambiance of the walking trails that promote wellbeing to the exciting athletic venues that draw athletes and fitness enthusiasts.
The park offers several popular activities:
The Park provides a vast sports and fitness area. Football, cricket, basketball, and volleyball are played in teams or with friends. The park has well-maintained paths for runners & walkers.
Picnic in the park is an everyday activity for families and friends. The park has benches and grassy areas for picnics and leisure. The park picnics promote family time.
In the park Jaipur, birdwatching and nature exploration are great. Visitors can see plants and flowers in this park's botanical gardens. Birdwatchers can witness birds in their natural habitat.
The park includes a playground and recreational space for kids. The garden offers a swing, slide, and many more to keep kids safe and entertained.
How to reach City Park Jaipur
Traveling to Park Jaipur mixes with the lively cityscape. Its accessibility makes the park a favorite among residents and visitors. The Park is accessible by many kinds of transport. Access to this urban retreat is impressive, whether by public transit, car, or walk.
The park's tranquil beauty, cultural activities, and recreational opportunities are accessible to city residents from all corners. The Park and the Jaipur Airport are more nearby than the Railway Station. It is 7 km away from the airport.
From Mansarovar to city park distance is 1.5 km. The Jaipur Junction to City Park distance is 10 kilometers. Mansarovar Metro Station is the metro stop closest to the Park. Mansarovar metro station to city park distance is 4 km.
Things to do near City Park Jaipur
Not only is City Park Jaipur a calm haven, but it's also a bustling entryway to an exciting world full of amazing adventures just waiting to be explored and enjoyed. This park encircles numerous sights that invite discovery and admiration.
Visitors may easily immerse themselves in the city's myriad attractions thanks to Park's strategic position, resulting in an enriching and genuinely appreciative experience. Here are some well-liked activities you can take part in:
If you're in Jaipur during the Jaipur Literature Festival, go. Book readings, panel discussions, and cultural performances are available.
Take a history tour through Old Jaipur's small streets and lively bazaars. Explore Jaipur's rich history, gorgeous architecture, and natural lifestyle by talking to people.
Jaipur's cuisine is delicious. Traditional Rajasthani foods such as Dal Baati Churma, Gatte ki Sabzi, and Ker Sangri are available nearby.
At Jhalana Safari Park, you may see leopards, deer, and many bird species. It's a great chance to watch wildlife in its natural habitat.
If you want to shop, visit World Trade Park, an elegant shopping center near the Park. Shop at a variety of stores and eat at the complex's restaurants.
Jawahar Circle, near the Park, is a popular public park. Stroll around the circular garden, admire the rose garden, or relax.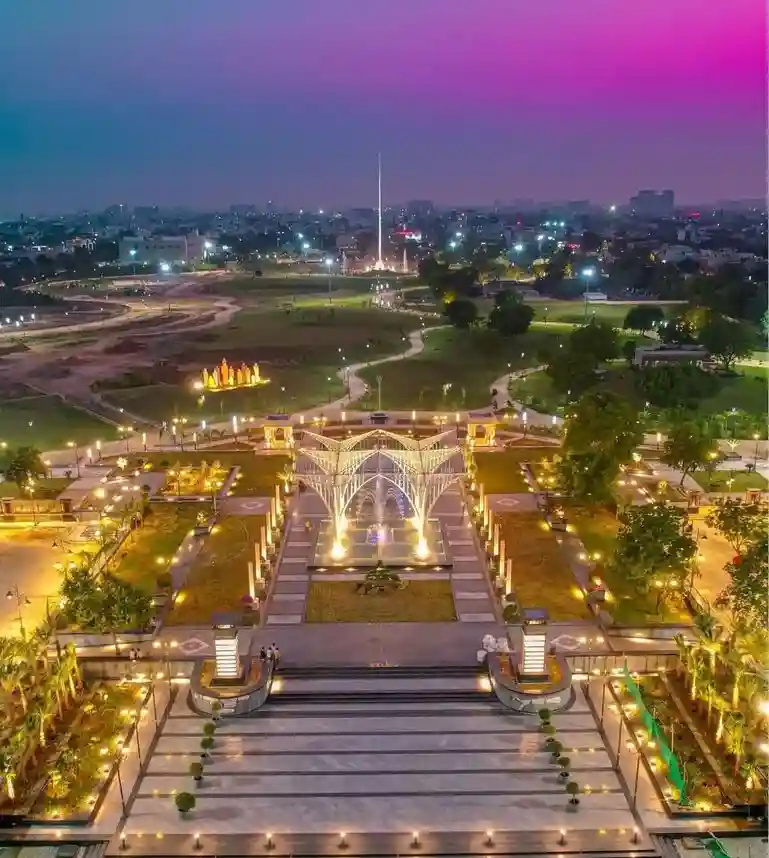 Hotels near City Park Jaipur
Hotels around City Park Jaipur offer more than just lodging. These carefully placed establishments demonstrate the city's warmth and dedication to making guests' stays memorable.
From magnificent hotels that pamper you to cozy hotels that offer an intimate setting, the choices are plenty and deserve our attention. The hotel's proximity to the Garden allows guests to enjoy the park's tranquility and recreational activities effortlessly.
These hotels' ease and friendly hospitality enhance the experience of experiencing and appreciating Jaipur. It is also the Best Hotels in Mansarovar Jaipur.
Restaurants near City Park Jaipur
Outstanding eateries surround the City Park Jaipur, each one a culinary treasure. These restaurants guarantee a sensory experience that will captivate your senses.
They deliver a fantastic eating experience with their varied cuisines and flawless service. However, what really makes them stand out are the menu items, which are hidden gems that are likely to surprise and excite diners.
Gastronomic mysteries lie in wait, promising to captivate your senses amid the verdant surroundings of Garden. It is also one of the Best Restaurants in Mansarovar Jaipur.
Parks in Mansarovar Jaipur
Mansarovar Jaipur's parks are a magical haven. They reveal a peaceful and beautiful world with every daybreak.
A gentle breeze, rustling leaves, and beautiful bird music invite research. These parks allow people to unwind from everyday life's stress and enjoy nature's beauty in the center of Pink City. So, here is the list of that parks in Jaipur:
Dwarkadas Park Jaipur
Stone Park Jaipur
Landscape Park Jaipur
Technology Park Mansarovar Jaipur
Mansarover Garden Jaipur
FAQs:
What is the city park Mansarovar ticket price?
The Park Mansarovar Jaipur entry fee is Rs. 20.
Which is the biggest park in Jaipur?
The largest park is Central Park. And here is the Central Park Jaipur map.
What is the City Park Mansarovar Jaipur address?
Below, we have provided the address:
Ward 27 Mansarovar sector 6 Mansarovar, Jaipur, Rajasthan 302 020 India.
Which is the new park in Mansarovar Jaipur?
The city park is the Jaipur new park.
Is City Park worth visiting?
Yes, the city is a fantastic park, and it is worth visiting. You can engage in various activities, including strolling, bird watching, etc.
What is the parking fee for City Park?
The Park Ticket Parking is Rs 20 for two-wheelers and Rs 50 for four-wheelers.
Who developed the city park, Jaipur?
The Rajasthan Housing Board developed the Park.
Is a pre-wedding shoot allowed at City Park?
Yes, pre-wedding shoots are permitted.
City Park Jaipur Reviews
Visitors enjoy the Park's tranquility. The well-kept garden, walking paths, and seating areas offer city inhabitants a relaxing escape. People praise the park's scenery and family-friendly activities. The Park is calm and beautiful.
City park Mansarovar Jaipur contact number
Visit the park's official website to contact them.
What is the Pink City Water Park Mansarovar?
The name of the Mansarovar water park is Pink City Water Park Jaipur.
What are Mansarovar City Park Timings Jaipur?
The city park opening time is 6:00 a.m., and the park closes at 9:00 p.m.
City Park opening date
On October 21, 2022, CM Ashok Gehlot opened the park, which the Rajasthan Housing Board had built. It is a famous park in Jaipur.
Mansarovar City Park Location
The government has located the park in Mansarovar, Jaipur, Rajasthan. Here, we provided the City Park Mansarovar Jaipur Directions.
What time does City Park close?
The closing time of Mansarovar Garden is 9:00 P.M.
City park near metro station
The closest metro station to the park in Jaipur, Rajasthan, is Mansarovar Metro Station.
City Park Jaipur Budget
It costs Rs 110 crore to build this public garden on 52 acres. After Central Park, this public garden became Jaipur's second largest or Jaipur best park.
Is City Park open today?
The garden is open daily from 6 a.m. to 9 p.m
What is Mansarovar Jaipur famous for?
Mansarovar is a Jaipur neighborhood in the southwest. In 2010, it was named Asia's most prominent residential colony.
Is City Park bigger than Central Park Jaipur?
No, the central park is more extensive than that park because it covers 129 acres.
Also Read:
8 Hidden Places To Explore In Jaipur
Jaldhara Jaipur: The Water Theme Park in the Pink City