If you are looking for a fun day out with your friends or family, Jaldhara Jaipur, Rajasthan, is the place for you! This water theme park in Jaipur, or theme park Jaipur, is located in the JLN Marg and offers a variety of attractions.
Is Jaldhara open in Jaipur? For nature protection, the Jaipur Development Authority built Jaldhara. The 2019 rains forced a 4-year shutdown, but now it's open to the public. It has a 500m fountain and fascinating sculptures.
Jal Dhara Jaipur is the perfect place to cool off in the summer heat. Jal Dhara in Jaipur is the ideal place to take a break from the hustle and bustle of city life.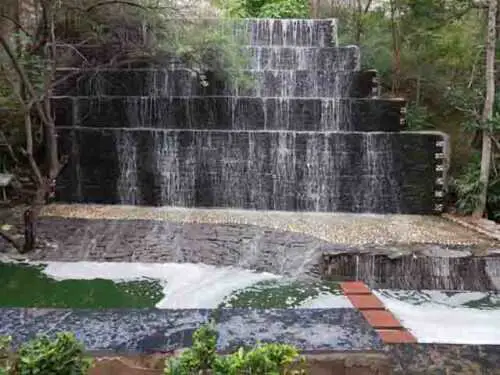 Unique Water Theme Park – Jaldhara Jaipur
Jaldhara Water Park is one of the best places to visit in Jaipur if you are looking for a fun place for your family and friends.
The water park has a lot of attractions that will keep you entertained all day.
If you want a place to cool off in the summer heat, then Jaldhara water park is perfect.
The water park also has a lot of restaurants and cafes where you can get something to eat or drink.
Overall, Jaldhara water park is a great place to visit if you want a fun day with your family and friends.
5 Interesting Facts about the Jaldhara Jaipur
Jaldhara, in Jaipur, Rajasthan, India, is recognized for its natural beauty and tranquility. It is a relaxing getaway from the city's hustle and bustle. Jaldhara welcomes guests seeking a peaceful escape and a chance to reconnect with nature.
Humankind was responsible for creating the 500-meter-tall waterfall.
To improve the whole experience, Jaldhara is illuminated with bright lights at night, which creates a magical ambiance for visitors to take in its beauty.
Trees, plants, and colorful flowers surround Jaldhara. The green surroundings create a peaceful and relaxing atmosphere for nature lovers and photographers.
Jaldhara is a birdwatcher's paradise, offering serene waters and vibrant bird species for capturing stunning photos.
Jaldhara is a paradise for photographers, offering breathtaking views, vibrant flora, and serene reflections on the water.
Jaldhara Jaipur Address
One of the most popular tourist spots in Jaipur is Jal Dhara. Where is Jaldhara in Jaipur? The Shiksha Sankul Gate, Jawahar Lal Nehru Marg, is located nearby. It is the perfect place to enjoy the beautiful views of the city.
JalDhara Park Jaipur is also a great place to take pictures and capture the memories of your trip.
Below, we provide the JDA Jaldhara Jaipur location:
Jawahar Lal Nehru Marg, Near Shiksha Sankul Gate, Mahesh Nagar Phatak, Bajaj Nagar, Jaipur, Rajasthan
Jaldhara Jaipur Entry Fees
Jaipur Jal Dhara is worth visiting this weekend. Bring your camera, because you'll want to take lots of pictures! JalDhara Garden is a great place to relax and enjoy nature. Trust us, and you won't be disappointed!
Jaldhara Park in Jaipur is a must-visit place for those looking to escape city life's hustle and bustle. The entry fee is very reasonable, and the scenery is simply beautiful.
For an extra Jaldhara Jaipur Guide Fee, visitors may hire a guide to provide valuable information on the park's history and attractions.
Below we have provided such information:
Jaldhara Jaipur ticket price
Jaipur Jaldhara ticket price
Jaldhara water park ticket price
Jaldhara tickets
Jaldhara ticket price Jaipur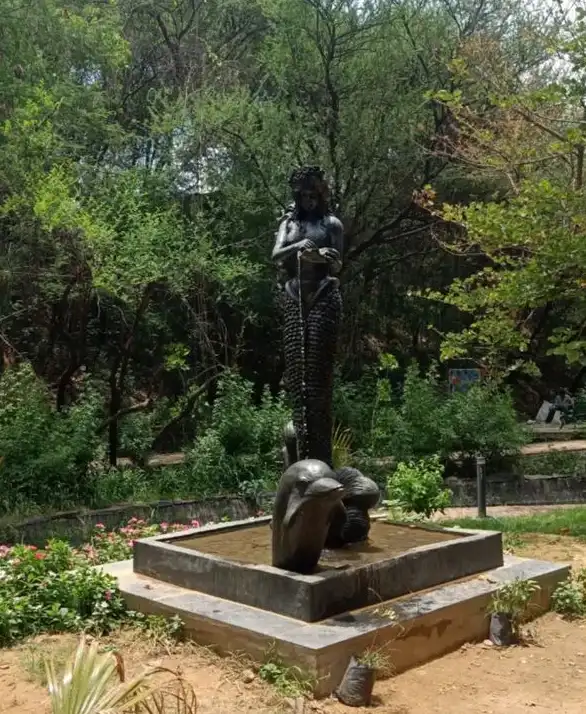 Jaldhara Jaipur Opening & Closing Time
Both tourists and locals visit Jal Dhara. The timing of Jaldhara JLN Marg Jaipur makes it the ideal place to cool off after a full day of sightseeing, giving guests plenty of time to explore and enjoy the activities and services available at Jaldhara Water Park Jaipur throughout the day.
Jal Dhara is a must-see for anyone visiting Jaipur!
Below, we provide the Jaldhara timings, Jaldhara time or Jaldhara Jaipur timings:
Jaldhara Jaipur opening time: 10:00 A.M.
Jaldhara Jaipur closing time: 10:00 P.M.
Monday to Sunday
How to reach Jaldhara Jaipur
JLN Marg, Jaipur, is where it is located. The distance from Jaipur Junction and Jaipur International Airport to Jaldhara is 7.5 kilometres. To get there, you can take a cab or public transportation.
Gandhi Nagar Railway Station is the nearest to Jaldhara. You can take a taxi or rickshaw to reach the park from there.
6 Famous Places near Jaldhara Jaipur
The Popular water park Jaldhara is situated in Jaipur, Rajasthan, India. Jaldhara, which is well-known for its family-friendly attractions, provides incredible relief from the hot climate of Jaipur.
You'll have the chance to visit various surrounding sites in Jaldhara. The following is a list of attractions close to Jaldhara in Jaipur:
World Trade Park
Gaurav Tower
Patrika Gate
Jawahar Kala Kendra
Smriti Van
Nehru Garden
World Trade Park
On JLN Marg in Jaipur, India, there is a renowned shopping and entertainment complex called World Trade Park. It is an architectural wonder that combines both luxury and modernism.
Various domestic and foreign brands are housed in the expansive complex, providing a satisfying shopping experience.
Visitors can browse various retailers, keeping up with the newest trends and enjoying a luxurious shopping experience, from fashion boutiques to electronics stores.
The property also has a multiplex theatre where movie buffs may see the most recent blockbusters in an innovative setting. The building also has a food court that offers a selection of cuisines to suit different tastes.
Numerous dining alternatives are available to satisfy every appetite, covering everything from regional specialties to international cuisines. The food court provides various options for guests searching for a quick snack or a leisurely meal.
With its ideal mix of shopping, entertainment, and leisure pursuits, World Trade Park has proven itself as an attractive option for visitors and locals.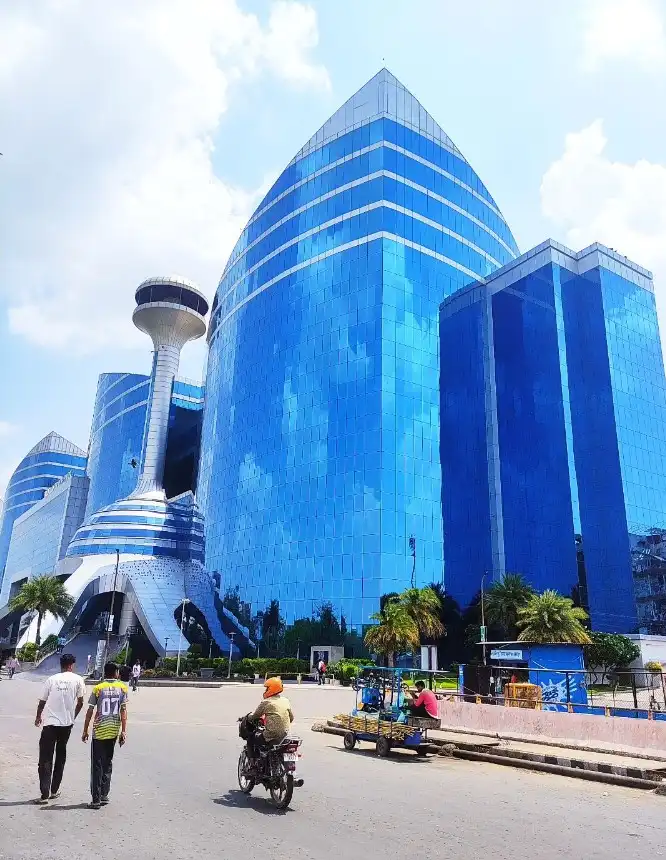 Gaurav Tower
In Jaipur's Malviya Nagar, the Gaurav Tower is a well-known marketplace and a notable landmark. This multi-story structure has come to be associated with an exciting shopping environment.
Gaurav Tower meets the needs and tastes of customers with an extensive selection of shops and retailers providing a wide range of items and products. Tourists can find an array of goods, from electronics stores to fashion stores, ensuring an extraordinary purchasing session.
Visitors can enjoy an eating experience at the tower's numerous eateries and restaurants.
Gaurav Tower has established itself as a must-visit location for locals and visitors looking for a stimulating dining and shopping experience in Jaipur due to its bustling atmosphere and energetic ambiance.
Patrika Gate
The Rajasthan Patrika Group of Publications constructed the Patrika Gate in 2016. It is a vibrant and magnificent structure depicting Jaipur's history, also called the Pink City of India.
The gate's beautiful artwork, bright design, and traditional Rajasthani components symbolize the region's rich cultural heritage.
Due to its artistic appeal and elegance, the Patrika Gate, situated at the entrance of the renowned park Jawahar Circle, attracts travellers.
It is a well-known landmark, proudly displaying Jaipur's enormous artistic and cultural significance.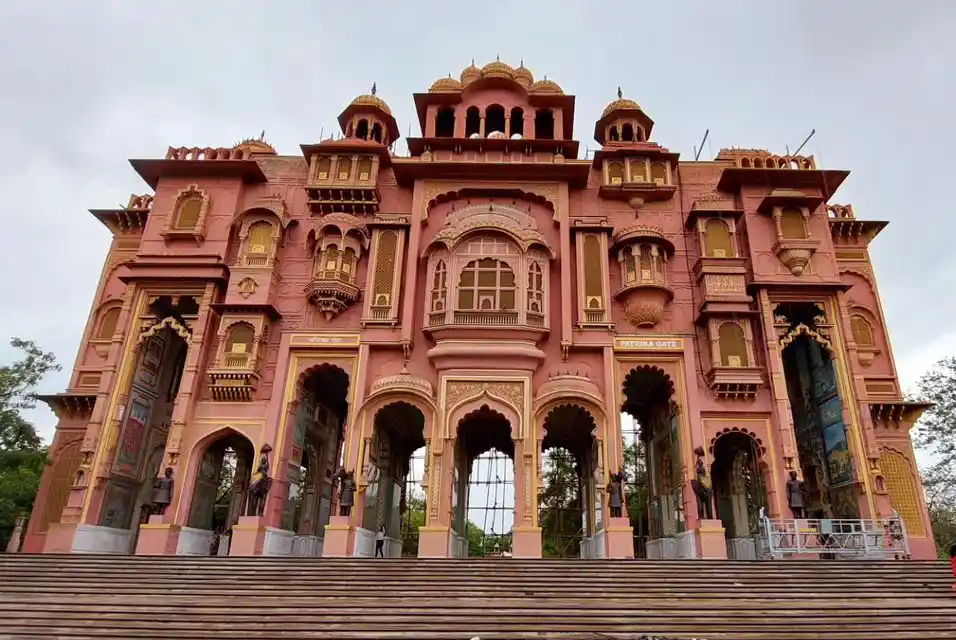 Jawahar Kala Kendra
It is a unique location named Jawahar Kala Kendra in Jaipur, Rajasthan. Its construction started in 1986, and the public was allowed access in 1992. Renowned architect Charles Correa designed it, and it now acts as a focal point for several artistic activities.
It is well known for its cultural significance and lively atmosphere. The building has Rajasthani-inspired shapes, patterns, and traditional and contemporary design elements.
Jawahar Kala Kendra hosts various cultural activities, such as plays, concerts, workshops, and art exhibits.
A theatre, a café, art galleries, and a library are all present. Artists, performers, and visitors can all enjoy and participate in art and culture at this location.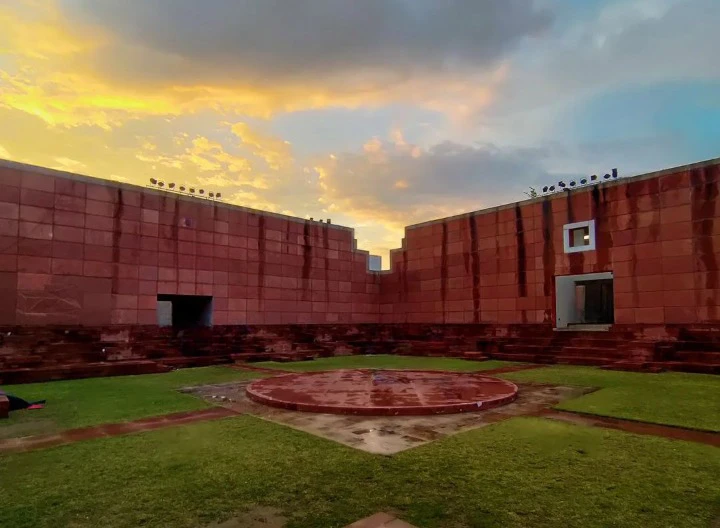 Smriti Van
Smriti Van, a serene park, is located near Jaipur, Rajasthan. Despite a flood in 1981, people planted trees there to honor those who died.
The Rajasthan government recognized the forest's worth and designated it as a particular forest as part of the Green Rajasthan initiative.
On October 8, 2005, Chief Minister Mrs. Vasundhara Raje laid the cornerstone; on December 8, 2007, it publicly welcomed guests.
The park has several trees, gorgeous gardens, and walking paths. The abundance of birds that reside in Smriti Van adds to its natural charm.
For Families seeking a quiet retreat from the city, Smriti Van is drawn to by joggers and nature enthusiasts.
Nehru Garden
The peaceful and attractive park known as Nehru Garden in Jaipur, Rajasthan, bears Jawaharlal Nehru's name, who served as India's first prime minister. The Nehru Garden is a tranquil haven from the bustle of the city because of its vast size.
Nehru Park Jaipur offers a tranquil setting for strolls and picnics with its well-kept grass, vibrant flower beds, and a central pond with fountains.
In addition, the park hosts cultural activities and a children's play area. Locals and visitors looking for a tranquil escape amidst Jaipur's natural elegance regularly visit Nehru Garden.
The garden provides visitors with a tranquil setting to unwind and take in the beauty of nature with its greenery, center pond, and recreational amenities. Nehru Garden offers a peaceful shelter in Jaipur, whether for a family picnic or a brief moment of isolation.
For Nehru Garden Jaipur ticket prices or Nehru Park Jaipur ticket prices, visit this Nehru Garden Jaipur page.
5 Interesting Things to do near Jaldhara
The popular area of Jaldhara is located in the vibrant city of Jaipur and is renowned for its scenic beauty and soothing atmosphere. Jaldhara provides a revitalizing getaway for both locals and visitors.
Greenery and peaceful water features are all around it. There are countless things to enjoy close to Jaldhara that offer a wide range of interests and preferences due to being so close to numerous attractions.
JLN Marg's World Trade Park and Gaurav Tower malls offer a variety of shops for fashion, electronics, and home goods.
JLN Marg boasts a variety of dining options, from Rajasthani to international cuisine, catering to all dining preferences.
Enjoy the latest blockbusters at JLN Marg's multiplex theatres. Sit back and enjoy the movie.
JLN Marg's parks, like Nehru Bal Udyan and Smriti Van, offer peaceful nature retreats for picnics and walks.
Visit JLN Marg wellness centers and spas to relax. De-stress with massages, spa treatments, and wellness therapies.
7 Must-Have Items for Your Trip to Jaldhara Jaipur
Jaldhara Jaipur is a lovely place renowned for its natural beauty and cultural legacy. There are a few essentials you should carry when organizing your trip to Jaldhara Jaipur to guarantee a relaxing and happy experience. Seven necessities are listed below:
5 Best Hotels to Book near Jaldhara Jaipur
It provides a tranquil getaway from the town. Locals and visitors alike enjoy it for its greenery, quiet walking tracks, and stunning scenery.
Convenient and lovely hotels surround this tranquil retreat. From these hotels, you can easily reach the park's scenic natural areas and fun opportunities: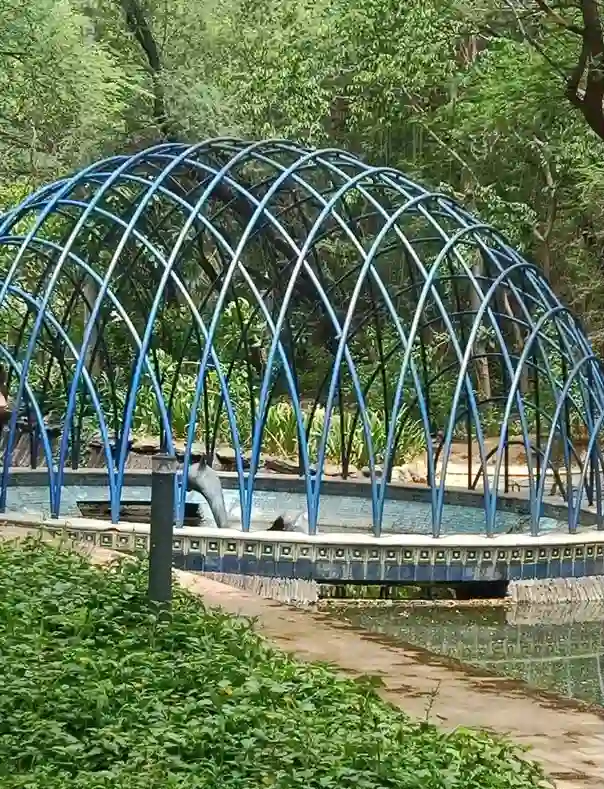 FAQs:
Ticket Jaldhara Jaipur, ticket price Jaldhara Jaipur or Jaldhara price?
Jaldhara tickets price or Jaldhara water park price on a weekday is Rs. 15, and its weekend pricing is Rs. 30.
Is Jaldhara water park open, Timing Jaldhara Jaipur, or Jaldhara Water Park open today?
Jaldhara Jaipur open today from 10 A.M. to 10 P.M.
Jaldhara location, Jaldhara water park location, or Jaldhara distance
Below, we provide the Jaldhara address, Jaldhara in Jaipur location, or Jaipur Jaldhara location:
Jaldhara Jawahar Lal Nehru Marg Near Shiksha Sankul Gate Mahesh Nagar Phatak Bajaj Nagar Jaipur Rajasthan
Jaldhara Jaipur distance to Jaipur
The distance between these two places is 7 kilometres.
Jaldhara water park online booking, Jaldhara Jaipur contact number, or Jaldhara water park contact number
Jaldhara's contact information or their website is not publicly available.
Jaldhara Jaipur reviews, or Jaldhara reviews
Families and groups visit Jaldhara Jaipur Rajasthan. It's great for sunbathing and chilling. Avoid crowds by visiting the park on weekdays. A family trip to Jaldhara in Jaipur is excellent. It is a simple method to relax.
Jaldhara opening time, Jaldhara closing time, and Jaldhara timings
Below, we provide the timing Jaldhara Jaipur, Jaipur Jaldhara timing, or Jaldhara timing Jaipur:
Park open time: 10:00 A.M.
Park close time: 10:00 P.M.

Jaldhara Jaipur reopen date
In the first week of April, the Jaipur Development Authority reopened the Jaldhara Water Park on JLN Marg after almost four years.
Jaldhara timing and ticket price
It is open from 10 A.M. to 10 P.M. (jal dhara timing). The Jaldhara Jaipur ticket price 2023, or Jaldhara Jaipur price, is weekday entry 15 rs and weekend entry 30 rs.
Patrika gate ticket price
There is no ticket fee to visit this place
Restaurants or eateries near Jaldhara Jaipur
These are some famous restaurants near this park:
1. The Magnolia
2. Art cafe Tibara by Tea Tradition
3. Kehwa Kitchen & Banquet
4. Chaat n Chutneys
5. पधारो सा (दाल बाटी चूरमा रेस्टोरेंट)

Jaldhara water park ticket booking
Jaldhara's website is not publicly available.
Can you See: