Places to Visit in Jaipur
Jaipur is the capital of the Indian Desert. Jaipur is referred to as India's pink city because of the pink buildings of the old Jaipur with the bygone era. The ancient forts and places to visit in Jaipur are the most famous tourist attractions of Jaipur.
The forts and historical places in Jaipur with the beautiful architecture reminds of the royal heritage of the country.
You will get to know about many of such ancient forts and places in Jaipur like Hawa Mahal, City Palace, Amber Fort, Nahargarh Fort, Albert Hall Museum, Jantar Mantar, Chokhi Dhani, Jal Mahal, Galta Ji Temple, Birla Temple, and many other places to visit in Jaipur. They are –

Amber Fort Palace
Amber fort sits on the top of the hill which is over Malta Lake. Until the pink city was constructed, it was home of Rajput rulers.
The mirror work inside the temples and the palace add to the grandeur. There is a sound and light show in the Amber fort every evening, which brings Fort's history.

It is an awe-inspiring scene. Workshops held in the Anokhi Museum of Block Printing is the other attraction near the Fort.
You can plan your visit to Amber Fort with the complete and proper guidance.
There is only Rs. 100/- entry ticket for Indians and Rs. 500/- for foreigners.
If anybody wants to enter at night in the Fort, then have to pay Rs. 100/- each person. This is one of the most famous places to visit in Jaipur.
City Palace
You will see that the royal families of Jaipur were the wealthiest families of India by visiting the City Palace in Jaipur.
There are huge courtyards, gardens, and buildings of both Mughal and Rajasthani architecture. You can even access the private rooms there for an additional cost.
There is a museum, exciting displays of Old weapons, costumes, and art galleries in the City Palace. Old photos of the women of the palace were recently added.
City Palace is a famous place to visit in Jaipur. Now. You can also visit there at night and can see the exciting sound and light show in the castle.
City Palace is situated in Chokri Shahd, Pink City. You can enter the City Palace from 9:30 am to 5:00 pm on day and between 7:00 pm and 10:00 pm for night time.
There are different options for an entry ticket, depending upon how much the person wants to see the Place.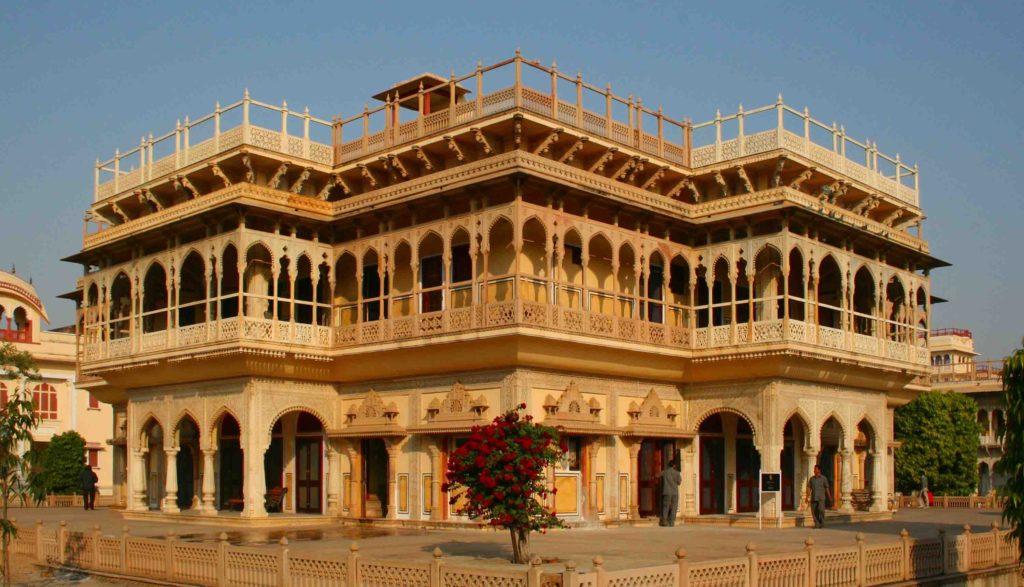 The cost of the entry ticket for Indians starts from Rs 130/- and Rs. 500/- for foreigners.
The entry ticket to visit the museum at night Rs.900/- for foreigners and Rs. 450/- for Indians.
Hawa Mahal
Hawa Mahal is the most recognized building of Jaipur with its intricate and fascinating facade of the Winds.
This building was constructed in the year 1799 with five floors. There are all over small windows and screens.
Wind flows through the windows giving Hawa Mahal the name to this palace. As most of the windows are sealed, so, the wind has gone away from the Mahal.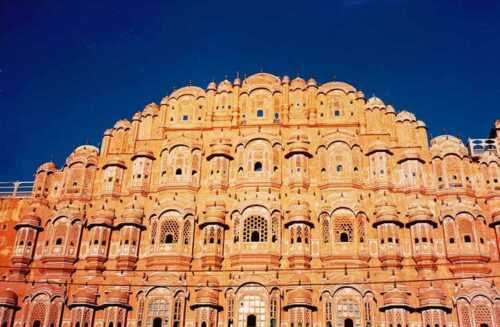 This Palace or Mahal is located in the main street of Pink City. This building got built so that women of the royal families could watch the streets from their Palace.
Indians have to pay Rs. 50/- as its entry ticket and foreigners have to pay Rs. 200/- for its entry.
You can enter the Hawa Mahal from 9:00 am to 4:30 pm.
Jantar Mantar
It means "Calculation Instrument," which has been built by King Jai Singh I. This building was constructed from 1727 to 1734.
It took over seven years to build this building. There are total of 14 structures at Jantar Mantar Observatory for the calculations of sculptures.
These structures measure time, track stars, and predict eclipses. Samrat Yantra Sundial is the most impressive structure of all the structures.
This structure makes the shadow at the height of 90 ft, which moves roughly with the width of the person's hand after every minute.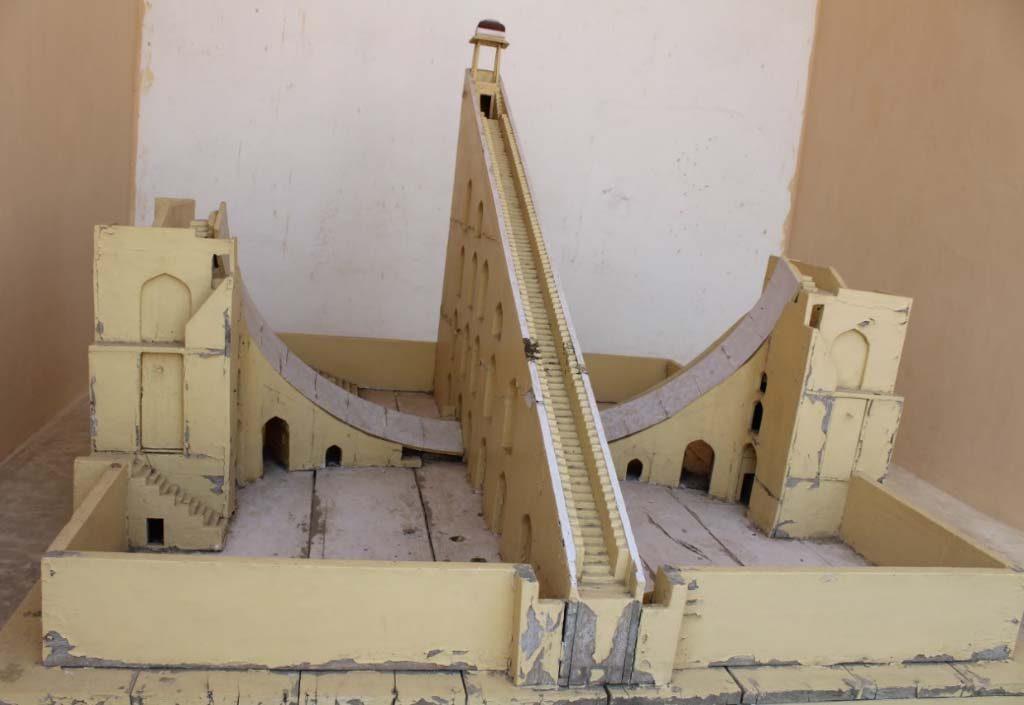 You can visit Jantar Mantra from 9:00 am to 4:30 pm daily.
Indians have to pay Rs. 50/- to enter, and Foreigners have to pay Rs. 200/- to enter Jantar Mantra. It is located just next to City Palace Jaipur.
Nahargarh Fort
We also call Nahargarh Fort as Tiger Fort, which is situated high on the Aravali Hills. Nahargarh Fort was built in the year 1734 to defend the city from attacks.
This fort became popular in 2006 when so many scenes were shot here of the movie "Rang De Basanti." This Fort offers spectacular views at the time of sunset.
Several attractions were recently opened at Nahargarh Fort, like a Jaipur wax museum, fine-dining restaurant, and sculpture park.
There is a cafe which is owned by the government on the premises. This cafe serves snacks and alcohol until 10 p.m.
This Fort looks attractive, particularly at night when the fort is lit up. Nahargarh Fort is located in the NorthWest of the Center of the Pink City.
You can visit there through the local bus, taxi, or a half-hour trek way up the hill.
There is an entry charge of Rs.50/- for Indians and Rs.200/- for foreigners.
You can visit the Fort daily within the timing of sunrise to sunset from 10:00 am to 5:30 pm.
Jaigarh Fort
Jaigarh Fort holds the unique appeal for the military lovers, which got built in the year 1726. There is the world's most massive cannon on wheels.
Towering watchtowers and gateways flank this Fort. This cannon has never been used to fire, and neither this fort has got captured by someone.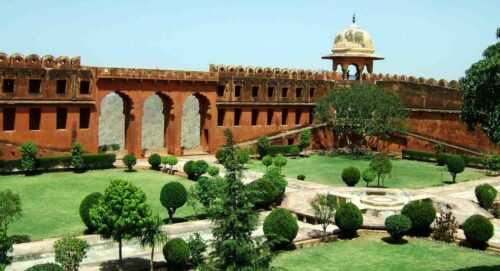 As a result of which, this Fort remains intact for a long lifetime. According to these sayings, this Fort is the best-preserved fort out of medieval India's military structures.
Jaigarh Fort appears as a real fortress because it does not beautiful interiors like other forts. You can climb over the Diwa Burj watchtower of Jaigarh Fort to get a fantastic view over the plains.
This Fort is located in the North of Jaipur, just behind the Amber Fort. It is very near to Amber Fort, and you can visit by walking through Amber Fort.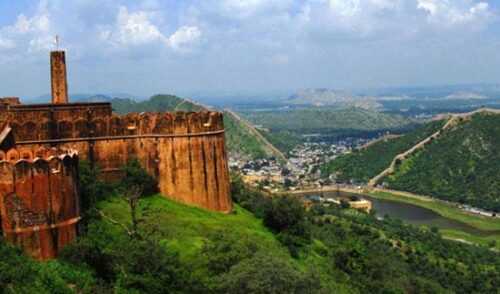 Indians have to pay Rs. 35/- as an entry ticket of Jaigarh Fort and foreigners have to pay Rs. 85/- as an entry ticket.
It is open for seven and a half-hour daily from 9:00 am to 4:30 pm.
Galtaji Temple
Visiting Galta Ji temple is quite an adventure which is nestled in peaceful surroundings. It is completely worth to visit the temple.
It is the central part of the more massive temple complex of Jaipur which has three scared water pools.
Thousands of monkeys have taken over one pool to swim and bathe there. These monkeys are friendly, and people love to feed them.
However, this area of the temple is not well maintained. While visiting there, you should be prepared to encounter the trash and dirty things over there. Even the priests and pseudo holy men coerce people for money.
Rather than local people, you will get to see more tourists there.
The Galta Ji temple is also known as Monkey Temple, located far away at the eastern side of the Pink City near the Agra road. Galta Ji temple is situated outside the Galta Pol.
You can take a rickshaw to visit there and then you have to walk up the hill to reach the White Sun Temple.
After reaching White Sun Temple, go through the steps downhill to the gorge.
There is no entry fee to visit the Galtaji Temple. You can best visit the Monkey temple in the late afternoon when it is the time of sunset. At this time, the monkeys flock to the temple.
Albert Hall (Government Central) Museum
It is the oldest and famous Jaipur museum, which was modeled like the Victoria and Albert Museum in London. It was modeled with the fusion of Neo-Gothic and Islamic architecture of that time.
This museum was established for the public in the year 1887. There is a vast collection of portraits of local kings, woodcarvings, costumes, paintings, art, and crafts.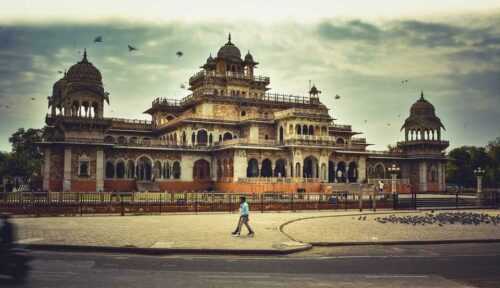 Albert Hall Museum is especially notable for the Egyptian mummy, which belongs to the Ptolemaic dynasty. However, photography is not allowed in the museum.
After the dark, the museum is beautifully illuminated which was opened for the night view in the year 2015.
Albert hall museum is located in Ram Nivas Bagh in the south of the Pink city.
There are different charges of the entry ticket for the day entry and the night entry. In the day, Indians have to pay Rs. 40/- and foreigners have to pay Rs. 300/- to enter the museum.
Everyone including Indians and Foreigners has to pay rs. 100/- for the night entry.
For the day time, the museum is opened from 10:00 am to 5:00 pm. And for the night time, it is open from 7:00 pm to 10:00 pm.
Albert Hall Museum is the first place that most tourists places to visit in Jaipur.
Chokhi Dhani
Chokhi Dhani has existed since 1994 in Jaipur. Several tourists visit there from all over India and outside. It served people through its 5-star hospitality.
You can enjoy everything like food, style of living, fabrics, crafts, and artifacts, sculptures, paintings, dance, folklore, singing, and other traditional aspects in Choki Dhani, which come alive with the true Rajasthani spirit.
It is located away from the Pink City and offers 5- star resort treatment based on the Rajasthani Village experience to all tourists.
Tourists can enjoy popular sports like camel rides, boat rides, elephant riding, horseback riding, and bullock cart riding at Choki Dhani.
The performance of the battle of Haldighati is the prominent attraction of it.
Also, the huts and shacks of Registan, Mewar, and Jaisalmer are present in Chokhi Dhani, which presents the real Rajasthani experience to all tourists.
At the same time, the scene gives a chance to the tourists to explore the vast history of this excellent desert state.
You can also visit Vaishno Devi Temple, Tejajji temple, and Jungle Devta temple, along with Chokhi Dhani.
There is also a National Museum at Chokhi Dhani, which displays India's states like Maharashtra, Tamil Nadu, Gujarat, Rajasthan, Kerala, Jammu & Kashmir, and all others.
All of you can participate in exciting games like "Bhool Bhulaiya" in Chokhi Dhani.
Other games include Gufa Jharni, forest safari, dart games, shooting, archery, etc.
Enjoy the delicious snacks and food at the Chaupad Dining Hall. It is best to visit Chokhi Dhani from October to March.
Birla Temple, Jaipur
Birla temple is famous for its history and holy sightings. It is great for religious significance, and you can seek religious experience over there. It is a highly-regarded pilgrimage for the Hindus.
This temple has a beautiful structure which speaks about its beauty in all the ways. This beautiful temple is built up of marble.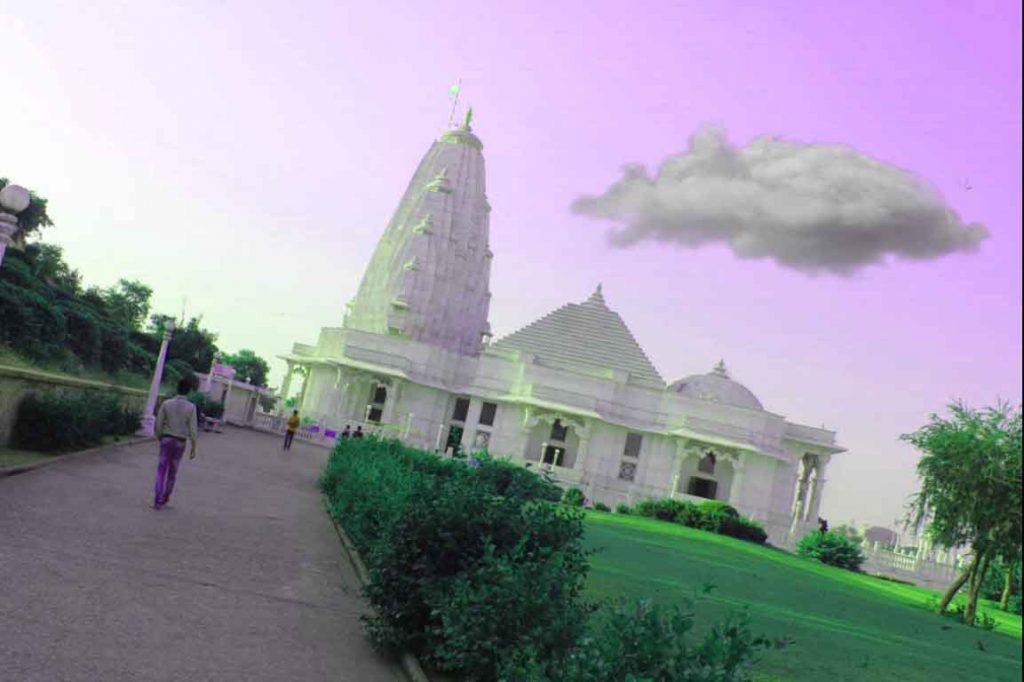 Thousands of devotees visited this temple every day. Lush gardens from all the sides surround it. You can see such colorful flowers in one place.
There are beautiful carvings and drawings all over the three domes of Birla Temple. The walls of this temple are entirely covered with sayings and quotes from well-known preachers.
The temple believes in the equality of all regions. This temple is a landmark of Jaipur. It would be best if you visited Birla Mandir Jaipur whenever you visit Jaipur.
The walls of the Birla temple offer a lot to the visitors who believe in mythology.
You can best visit the temple from 8:00 am to noon and from 4:00 pm to 8:00 pm any day.
There is an entrance fee of Rs. 150/- per person to enter the temple.
As there is a big crowd, so you must visit the temple in weekdays. You can best visit the temple during the Diwali festival.
Govind Dev Ji Temple, Jaipur
This temple is a famed Hindu Pilgrim centre which is heavily adorned by legends and myths.
Govind Dev Ji Temple is inside the City Palace Complex, renowned for its "Mangala Aartis." These Aartis take place every day.
This temple is well connected to the Pink City because of a religious hub. It would be best if you took plenty of water with you while visiting there.
There are at least 20 temples near this temple. As Jaipur is a dry city, you should visit there between November and February.
This religious institution is famous for its history, photography, and architecture.
There is no entry fee for visitors.
Govind Dev Ji temple is open from 4:30 am to 12:15 pm and from 4:30 pm to 8:00 pm.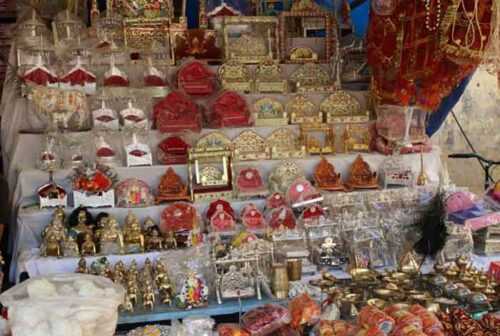 It is believed that there is a replica of the face of Lord Krishna which is modelled by Bajranabh.
At least 5000 people per day have witnessed the Mangala Aarti, which is the central ritual of this temple.
This temple has formerly resided in Vrindavan, but the Aurangazeb emperor destroyed it then was shifted to Jaipur, which was shifted by Raja Sawai Jai Singh.
Jal Mahal
Jaipur is the capital of Rajasthan. It is unmatched with any other city because of its beauty and charm.
Jaipur is home to Jal Mahal with the numerous wonders. Jal Mahal is situated in the centre of Man Sagar Lake.
Maharaja Madho Singh constructed Jal Mahal in the year 1750 for himself and his companions.
It was constructed to rest down during their duck hunting endeavors. Later, in the 18th century, Maharaja Madho Singh II has developed its interior and exterior.
It is the most popular tourist destination in Jaipur. There takes place romantic boating trips across the lake. Through the boating, the visitors take a look at Jal Mahal in the lake.
It gives a spectacular view to visitors. It is famous for its scenic beauty, monuments, and photography.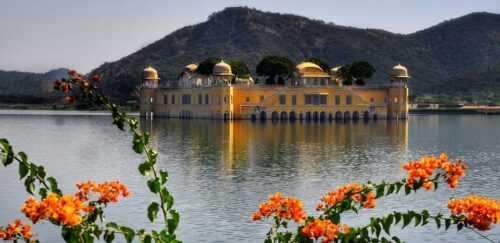 There is no entry fee.
You can visit there between 9:00 am and 5 pm. It is a five-story building which is built up of red sandstone.
You can only see the top most floor and others are submerged under the lake.
Panna Meena Ka Kund
This place is famous as Panna Mian Ki Napoli in Jaipur. You will get a memorable experience if you visit there during Monsoons.
Panna Meena Ka Kund is situated near the Anokhi Museum which was constructed during the 16th Century.
A Brahmin had designed this Kund, and Craftsmen and engineers had constructed this Kund with unique architecture and styling. This Kund was especially utilized as a social meeting place.
Ram Niwas Garden
It is a royal garden that was built in the year 1868 by Maharaja Sawai Ram Singh. This garden occupies around 30 acres of land.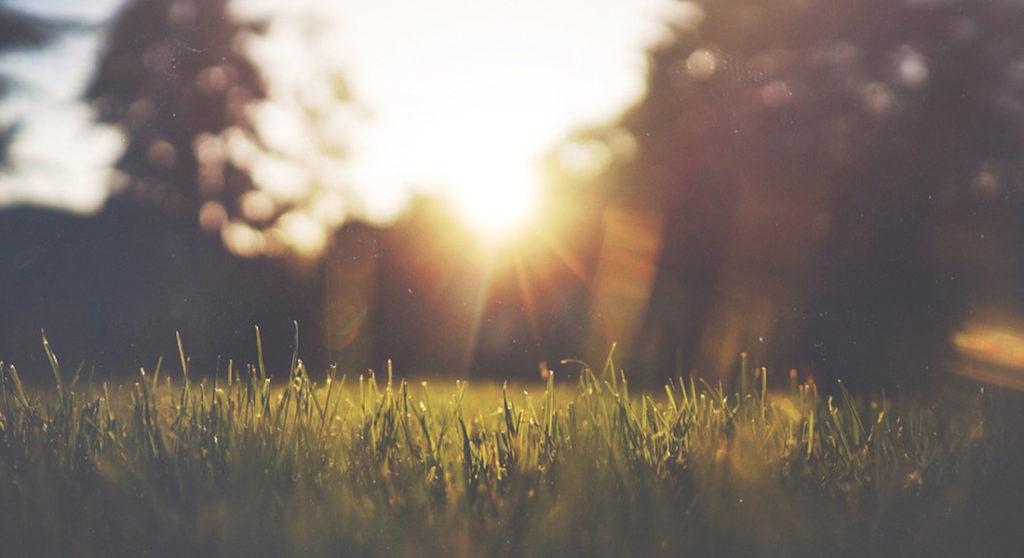 There are lush green gardens, the Bird Park, theatre, Jaipur Zoo, and the Art Gallery in the Ram Niwas Garden.
This is the perfect picnic spot to visit there with family and friends.
Moti Dungri Temple
Moti Dungri Temple is situated at the foothills of the hilltop Palace which is called the Moti Dungri Palace.
Seth Jai Ram Paliwal constructed this temple in the year 1761.
This temple is dedicated to Lord Ganesh, which has three domes. Beautiful latticework and stones are carving in the temple.
Newly married couples can start the first day of their married life by visiting this temple.
This temple opens at 5:00 am to 1:30 pm and from 4:30 pm to 9:30 pm in the evening.
World Trade Park
World Trade Park is the biggest and best mall in Jaipur. Shahrukh Khan inaugurated this park in the year 2012. This is the best tourist attraction.
Everything in the Water Trade Park is well maintained from adequate parking, fantastic ambience, to Great air-conditioning.
There are large and wide open areas, theatres, separate corridors for clubs, conference halls, and many more in this park.
You will get all types of food courts in the Water Trade Park like Dunkin Donuts, Dominos, KFC, Pizza Hut, Kebabs, vegetarian, and all.
Its building is so beautiful and attractive that you will love it. Its construction is of worth Rs. 350 crores.
Akshardham Temple
This beautiful temple of Jaipur is situated in the colony area. It looks like the temple of the old historical period.
Akshardham temple is a series of "Swaminarayan temple" in India. These temples are situated outside India like Melbourne, Sydney, Western Australia, etc.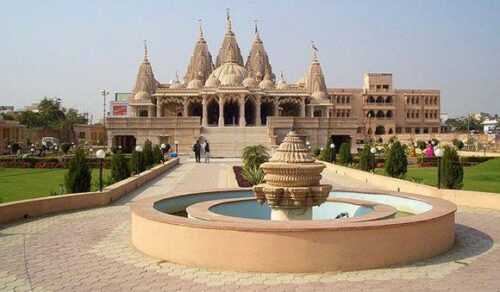 You can visit Akshardham Jaipur on all the week's days except Monday from 7:30 am to 12:00 pm in the morning and from 4:00 pm to 8:15 pm. It is best to go there in the early morning and after sunrise.
Sisodia Rani Garden
It is the royal garden of Jaipur, which was built in the year 1728. There are several cascading levels in the landscaped gardens of it.
The garden has a large central water fountain with more and more channels running through it. You do not need much time to explore this garden.
Sisodia Rani Garden is an entry fee of Rs. 50/- for Indians and Rs. 200/- for foreigners.
You can visit and explore this place from 8:00 am to 5:00 pm. It is an ideal venue for marriage parties and other functions at the best and affordable cost.
Khole Ke Hanuman Ji Temple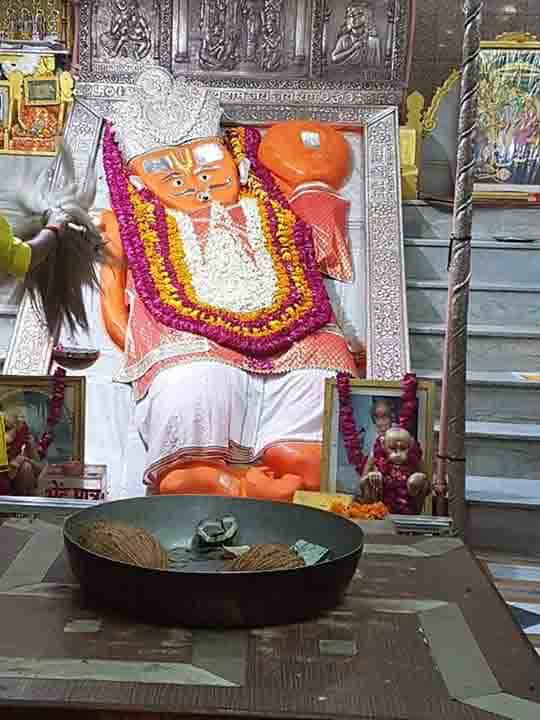 This temple is the ancient temple of which is situated at Laxman Dungri. This temple is dedicated to Lord Hanuman.
There is an attractive entry in the temple.
It is best known for its magical power. You can see the natural view of the Aravali hills from this temple.
There are also separate temples for Lord Shiva and Lord Ganesha in Khole Ke Hanuman Ji Temple.
Central Park
Central Park is situated in the heart of Pink City. It was constructed in the year 2006 by the Jaipur Development Authority.
It is the largest park of Jaipur. There are big gardens, the Rambagh Golf Club, and Rambagh polo ground.
There is also a 5 km long jogging and walking track. The migratory and native birds visit the park around a large number in the year.
There are big stone figures and musical fountain which are the main attractions of the Park.
Kanak Ghati
Kanak Ghati is a peaceful place with all over greenery in Jaipur. You can get a foresight view of Amber Fort and Nahargarh Fort from Kanak Ghati.
This place provides peace to your mind so that you can visit there with your family and friends.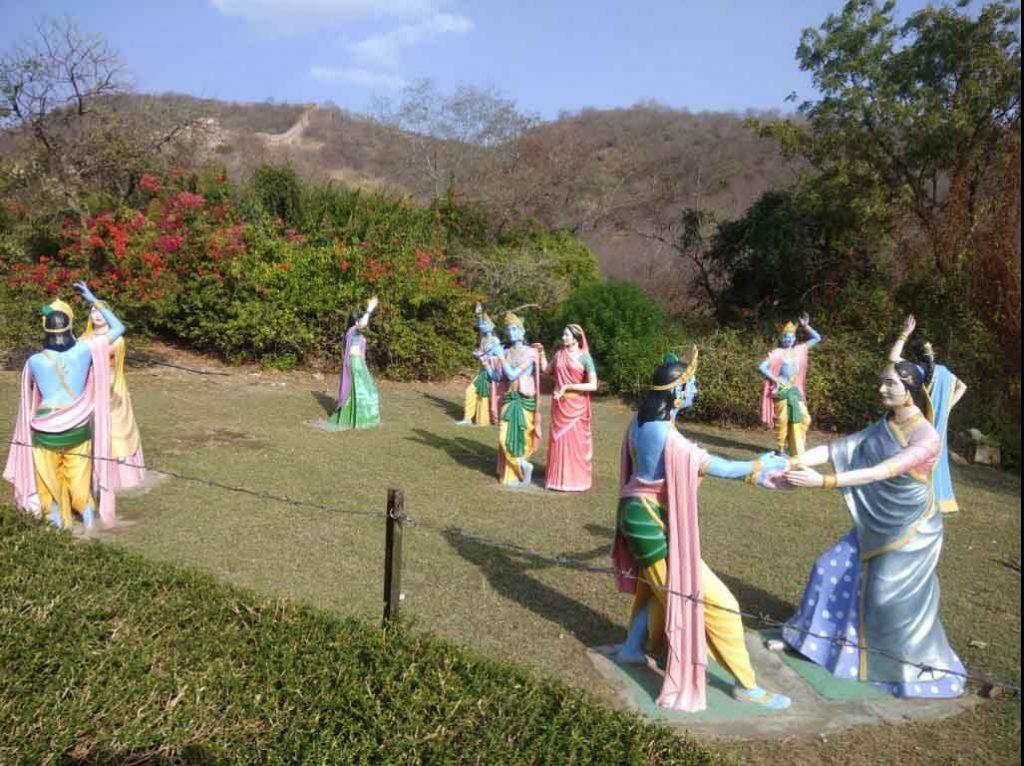 There is a small pond in the Ghati in which there are sculptures of Lord Krishna with Gopiya.
Kanak Ghati opens at 9:00 am and closes at 5:00 pm. Everyone has to pay Rs.35/- as the entry fee to visit Kanak Ghati.
Digamber Jaipur Mandir Sanghiji
The ancient Shri Digamber Jain Temple Sanganer is the ancient temple which is 16km away from Jaipur.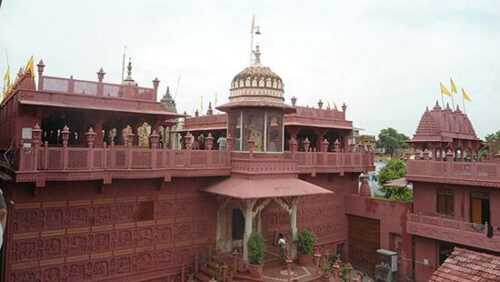 This sacred temple has seven underground floors, but visitors cannot see them because they are closed due to some religious beliefs.
This temple is also equipped with all modern facilities like Bhojanalaya.
Garh Ganesh Temple
Garh Ganesh Temple is devoted to Lord Ganesha. In this temple, Lord Ganesh is established in the statue of Viagra Purushatriti without a trunk.
This temple is very close to the Nahargarh hill at the top of Aravali hills. Maharaja Sawai Jai Singh has built this temple.
You can best visit this temple from 7:00 am to Noon in the morning and 4:00 pm to 9:00 pm in the evening.
These are some of the Jaipur special places to visit here are many more ancient and historical places to visit in Jaipur.
frequently asked questions about jaipur places
Is Jaipur tourist places closed for few days due to coronavirus effect?
Yes, almost all tourist places in Jaipur are closed due to the corona lockdown period, even temples, mosques, Gurdwara are closed at this lockdown time in Jaipur.