I have visited Jaipur so many times but never came to know about Galta Ji Temple. When I visited Jaipur last time in June, then I came to know about it.
I have visited Jaipur for my official meeting. Also, in between, I have had two days to enjoy it there.
After listening to Galta Ji Temple, I visited there and explored it for two hours. You can read also Jaipur Travel Guide.
The temple is on the eastern side of Jaipur on the Aravali hills. The roadway is very clean, and I took 20 minutes to reach there from Amer Road in the taxi.
[toc]
As I was staying in the hotel, so I booked a cab and arrived there at the temple. You can read also Places to Visit in Jaipur.
Galta Ji Temple
Galta Ji Temple is a narrow valley on the eastern hills located on the outskirts of the Pink City. It is a prehistoric Hindu pilgrimage site.
There are many holy Kunds, shrines, pavilions, and natural springs. You can read also Monkey Temple Jaipur.
This temple is situated at the heart of the hilly terrain which attracts thousands of tourists every year. Pink-colored stones are used to built Galta Ji Temple.
The walls of the temple are beautifully carved, and beautiful paintings are drawn which makes the tourists visit Galata Ji Temple.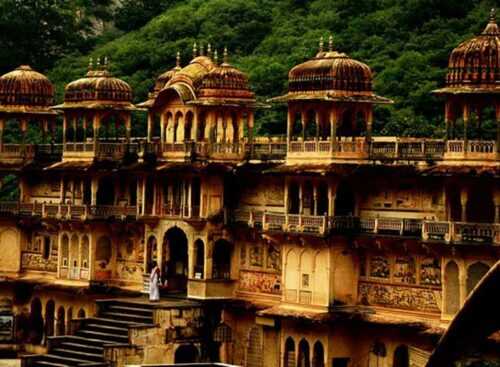 This temple has got constructed like a royal Palace with unique architecture. You can read also Jaipur Itinerary.
Thick plush trees and bushes bound the Galtaji Temple in the Aravali hills. This palace-like temple is decorated with a round roof, painted walls, and pillars.
The Hindu pilgrimage place also has temples of Lord Krishna, Lord Ram, and Lord Hanuman apart from Kunds inside the temple.
Galtaji temple is the leading tourist destination of Jaipur which boasts of freshwater springs and seven holy Kunds.
This temple never gets dry. The water into the tanks flows from the "Gaumukh" which is a rock shaped like a cow's head. You can read also Sankat Mochan Hanuman Temple.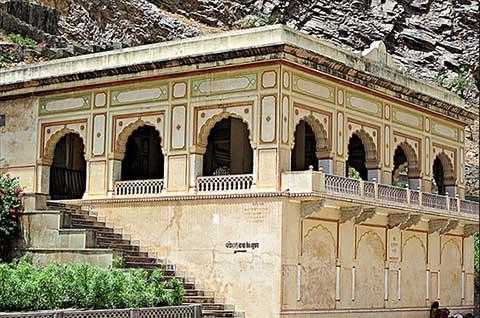 This temple is designed in such a way that it looks more like a grand palace, or we can say like a "haveli." There is a scenic landscape with rich green vegetation in the Temple.
Galtaji temple is mainly known for tribes of monkeys and the religious chants and hymns which are offering a peaceful and beautiful ambiance to visitors. You can read also Garh Ganesh Temple, Jaipur.
Way to Entrance
The temple is open for the whole day for visitors from 5:00 am to 7:00 pm. So, I have visited at 11:00 am as it was the month of June, hot days.
I have not paid any entry fee because there is no entry fee to visit Galtaji Temple. However, I have paid Rs.50/- for the photography inside the temple. You can read also Shila Devi Temple Jaipur.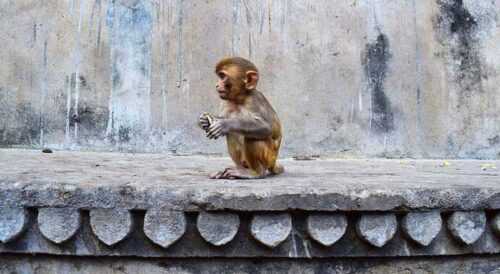 After entering the temple, I saw too many monkeys, so I called it Monkey Panchayat. There was nothing much to see on the ground floor of the temple.
I then walked to the first floor and noticed the monkeys' water tank on the starting of the first floor.
There I met a guy, but he was not the guide. I asked him to grab the monkeys in his hands. You can read also Birla Mandir Jaipur.
I called him the monkey man and I did a handshake with a monkey. Mr. monkey man has attracted the monkeys with peanuts in his hands.
Moreover, then I went to the second floor of the temple. There was also a water tank, and boys were enjoying the water. You can read also Akshardham Jaipur Temple.
And then I came to the third floor, where monkeys were doing their daily chores. From here, Sun Temple was 1 km away, and I walked there. This temple is unique.
You may be thinking that there are many more temples all over India where monkeys live, but in this temple, it seems like Monkeys are priests.
From the top of the Galtaji temple, I have seen the beautiful scenic view of the entire Jaipur city. You can read also Govind Dev Ji Temple, Jaipur.
History of Galta Ji Temple
The complete history of the Galtaji temple is not available, but I got to know that this temple was named after Rishi Galav.
He lived at the temple for 60,000 years. You can read also Famous Temples in Jaipur.
Many people were pleased with his almighty and devotion to a perennial holy water source which is believed to be the sacred water of the Ganges.
This water still flows in holy water Kunds. I have visited here many times. However, I get to know its real beauty when I started exploring this temple.
I came to know about the common belief that here, Jogis and babas used to live till the 16th century, and then one sadhu named Krishnadas Payo Hari drove them out of the temple by his spiritual powers.
Importance of Galta Ji Temple
By exploring this temple, I came to know about its importance in Indian religion. This temple is the religious center for Vaishnav Hindus. You can read also Jaipur Travel Guide.
Tulsidas has spent three years in this temple, and here, he has composed one chapter of Ramcharitramanas which named "Ayodhya Kand."
Shri Nabha Das has also composed Sri Bhakta Maal while living in Galtaji Temple. You can read also Places to Visit in Jaipur.
And also Swami Baldeo Vidyabhusan has written the philosophy of the International ISKCON movement in 1718 AD in Galtaji.
Akbar has also visited Galtaji and donated his 2592 Bigha land to the head of this temple. Galta Peeth considers this land a historical document.
Things to See in Galta Ji Temple
Galtaji temple is an essential pilgrim for locals. I saw many devotees visiting the temple from nearby villages. You can read also Karni Mata: A Temple of Rats in Bikaner Rajasthan.
It was the day of Makar Sankranti, and I got to know that on this day, people come here in the large numbers to take a holy bath in the Galta Kund.
Temples in Galtaji temple are the famous tourist attractions, but I found more locals visiting the temple.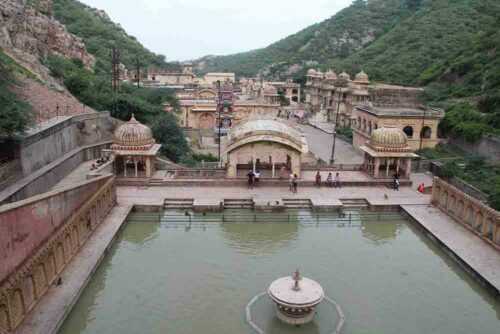 Temples in Galtaji were built at the time of Maharaja Sawai Jai Singh II in the 18th century. He was the founder of Jaipur city.
There are beautiful paintings and frescoes on the walls and ceilings of these temples taken from the Indian mythology and Hindu religion. You can read also Bullet Baba – Om Banna Temple.
Out of these, two temples have got constructed in the haveli style. Those temples are Shri Gyan Gopal Ji temple and Shri Sitaram Ji temple.
Moreover, the third one is the biggest of all temples. You can read also the City Palace Jaipur.
There are five sanctums and Idols of Lord Rama in Shri Sitaram Ji temple which depict the different life stages.
It is popularly believed that the idols of these two temples resemble both Lord Rama and Lord Krishna.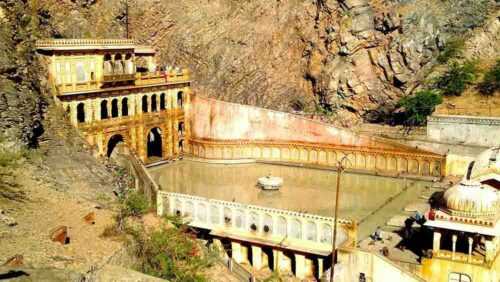 In one of the annexes of Shri Sitaram Ji Temple, there is a small temple of Lord Hanuman. You can read also Amber Fort Palace Jaipur.
It is believed that the Akhand Jyoti in this temple never gets put off since it was consecrated many centuries ago.
However, I am not sure about it because I have just listened to it, and there was no one to verify this belief. You can read also Nahargarh Fort Jaipur.
Shri Gyan Gopal Ji temple is the smallest temple and contains the idol of Lord Krishna. The place of this temple also includes a school for the students.
There are many more small temples in Galta Ji that I have seen. Sun temple is the prominent one in Galta Ji which overlooks the Jaipur city.
Galtaji was submerged due to Jaipur floods in 1981, but it was restored to its glory. You can read also Picnic Spots In Jaipur.
I have seen monkeys everywhere in the Galtaji temple. However, these monkeys are harmless unless provoked. I offered bananas to them.
As monkeys look for food in the hands of devotees, so I have stashed all my food in the bag. You can read also Places For Couples In Jaipur.
Monkeys cannot find the difference between devotees and tourists, so do not carry food with you.
Near the entrance, a new temple was constructed recently when I have visited there. This temple is dedicated to Lord Hanuman.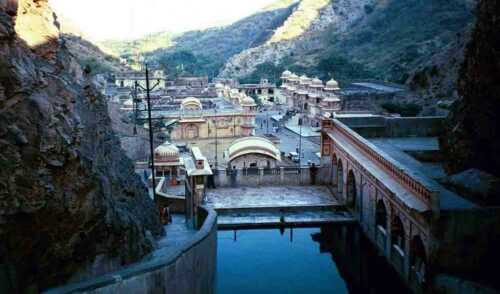 As we used to call Galtaji temple as Monkey temple but there is no direct connection of monkeys with this temple.
We call it as Monkey Temple because of so many monkeys everywhere in the temple. You can read also Cheap Honeymoon Destinations in India.
Tips for Visiting Galta Ji Temple
When you visit Galtaji temple, you need to remember these tips for your safety and better enjoyment at the temple;
Do not take any food items openly with you. Otherwise, monkeys at the temple will snatch all the food from your hands.
If you want to take food with you, then keep it in your bag.
Take some bananas and peanuts to feed the monkeys at the temple.
As Jaipur is a sweltering city, take much water and cold drinks with you to keep yourself hydrated.
Do not provoke monkeys at the temple. Otherwise, they will attack you.
Be safe from the monkeys.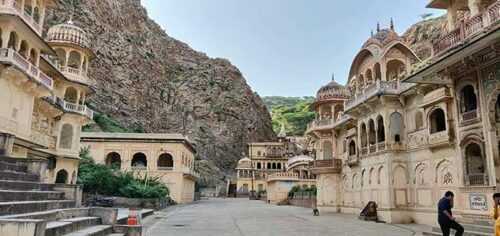 The Temple is an offbeat tourist attraction. This place is beyond the usual tourist places in Jaipur.
I have enriched the experience of the local culture and religion of Jaipur by visiting the Galtaji Temple. You can read also Best Family Holiday Destinations in India.
You must visit it once and enjoy this religious and heritage site.
You can also visit Nearby Places like Amber Fort, Jal Mahal & Nahargarh Fort.
Image Credit