Situated in the center of Jaipur, the capital city of Rajasthan, India, lies Jal Mahal, popularly called the "Water Palace," a breathtaking architectural marvel. It is a famous palace in Jaipur.
This magnificent palace is a striking example of the area's rich architectural legacy and historical significance.
Who built Jal Mahal? Built by Maharaja Madho Singh I in the 1750s, Jal Mahal is a masterwork of Rajput and Mughal architecture, exhibiting a singular mix of delicate Rajputana artistry and red sandstone.
The location of the Jaipur Floating Palace is what sets it apart. It gives the impression that it is floating on the calm waters of Man Sagar Lake, producing a captivating reflection that amplifies its beauty.
The palace has five levels, but only the top floor is visible above the water.
The other four levels are underwater. Initially, the royals intended the building to serve as their hunting lodge and summer retreat, relieving them from the intense Rajasthani heat.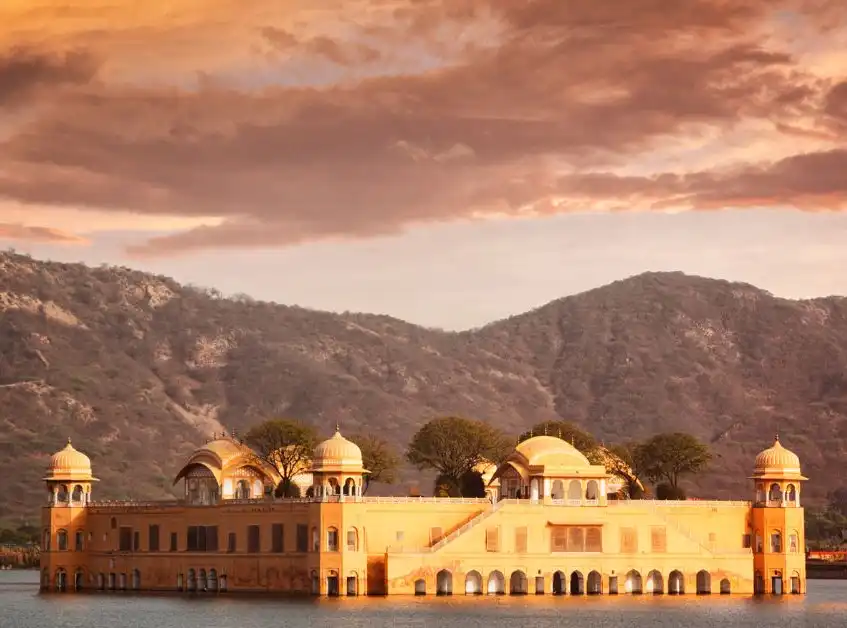 Photographers consider Jal Mahal Jaipur India a dream come true due to its exquisite details, elaborate balconies, arched gateways, and chhatris (elevated dome-shaped pavilions).
The Aravalli Hills provide a breathtaking background for the palace, adding to its allure.
Rajasthan Jaipur Jal Mahal is a well-liked tourist destination, bringing in travelers worldwide who take in stunning architecture and tranquil settings.
Is it allowed to enter Jal Mahal Jaipur, and is Jal Mahal open to public? The Answers are No. The government has banned entry into Mansagar Lake in Jaipur for the safety of the Jal Mahal Rajasthan Jaipur and various concerns.
Yet, anyone visiting the energetic city of Jaipur should take advantage of its breathtaking scenery.
Jal Mahal History
Why was Jal Mahal Built? Some claim that Maharaja Sawai Pratap Singh constructed this palace in 1799, while others assert that Maharaja Madho Singh I made it as a hunting lodge around 1750.
Afterward, the son of Madho Singh decided to renovate the palace's exterior and interior in the eighteenth century. One aspect of his renovations included the courtyard grounds.
Later, in the eighteenth century, Maharaja Jai Singh II of Amer took part in refurbishing this palace.
In Jalmahal in Jaipur, an architectural symphony of Mughal and Rajput traditions uniquely combines red sandstone and delicate Rajputana artistry.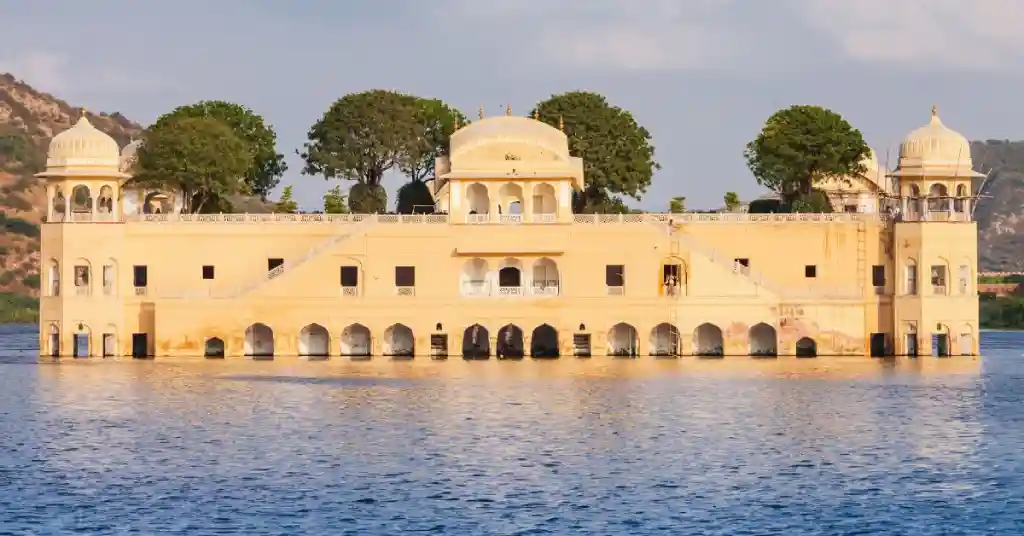 Jal Mahal Palace Jaipur has undergone repair work to maintain its architectural beauty and historical relevance.
The Jaipur Castle, with its magnificent surroundings set against the Aravalli Hills, has become a popular tourist destination, highlighting the rich history and cultural heritage of Jaipur and Rajasthan overall, even though the lowest levels are still flooded and inaccessible to the general public.
Jal Mahal Jaipur Architecture
Built-in Jaipur in 1750, Jaipur Jalmahal artfully combines Rajput and Mughal architectural elements.
Why is Jal Mahal Underwater? Perched atop the scenic Man Sagar Lake, it creates a floating sensation due to its five levels.
A clever design submerges four of them beneath the serene waters, helping to alleviate the intense summer heat of Rajasthan.
A fifteen-foot-deep lake submerges all four levels of this stunning architecture, primarily made of the region's vivid red sandstone. Below, we have provided the Jal Mahal Night View: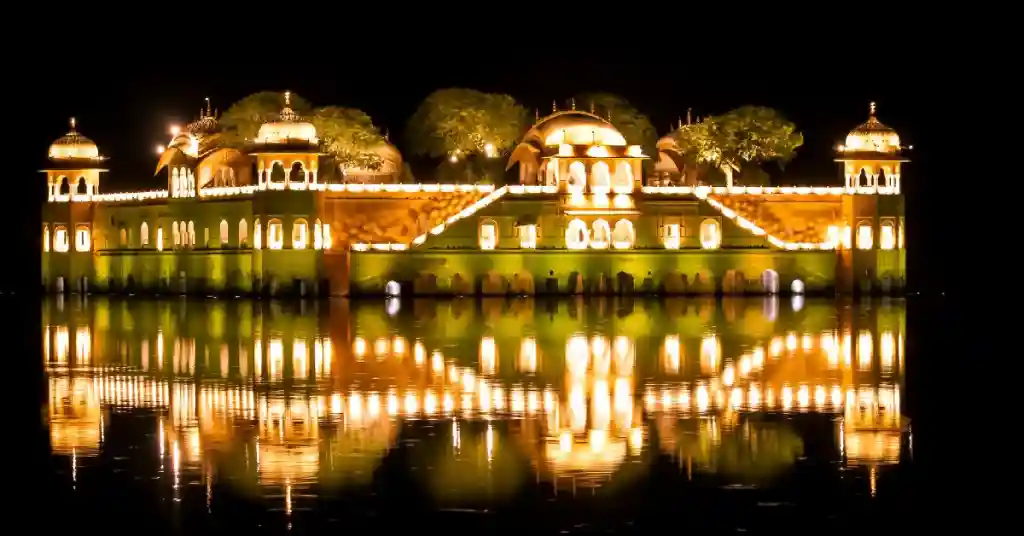 The outside of the palace displays the wealth of Rajput craftsmanship with its elaborate carvings, elegant balconies, and rectangular chhatris (elevated dome-shaped pavilions) in the Bengali style.
Jal Mahal inside view or Jal Mahal Jaipur inside is like this: it blends Rajput and Mughal architecture with mirror work and intricate frescoes. In many blogs, you can see the Jal Mahal inside photos.
The rooftop outdoor space further enhances its allure by offering stunning panoramic views of the nearby Aravalli Hills.
Jal Mahal still enthralls tourists worldwide despite its submerged lower levels and unique "Jal Mahal dry or Jal Mahal without Water" occurrence when Man Sagar Lake's water decreases, briefly revealing Jaipur's famous Water Palace to tourists.
Best Time to Visit Jal Mahal Jaipur
The best time to visit Jal Mahal, Jaipur, India water palace in Jaipur, Rajasthan, is during the winter months, from October to March.
This period offers pleasant weather with mild temperatures, making sightseeing and exploring outdoor attractions like JalMahal Jaipur comfortable.
During these months, the temperatures range from around 10°C in the early morning and late evening to about 25°C during the day, providing a favorable climate for visiting the palace and enjoying the surrounding area. Below, we have provided the image of Jal Mahal at Night: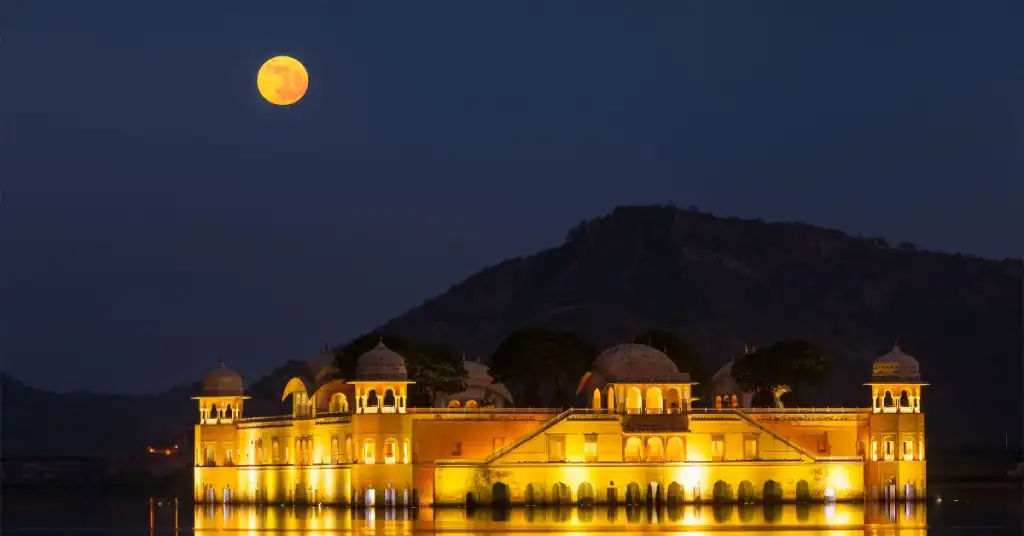 Jal Mahal Jaipur Facts
The captivating architectural treasure Jal Mahal Amer, located in the center of Jaipur, India, is an offering to both the grandeur of Rajput architecture and the city's rich cultural legacy.
This magnificent structure has long captivated visitors and students alike as a representation of Rajasthan's regal heritage.
This article offers a deeper understanding of the Jal Mahal's history and significance by delving into its fascinating Jal mahal facts and nuances.
Unique Location: Jaipur Mahal is on Man Sagar Lake. Water Palace distinguishes it from other Jaipur palaces and gives it an ethereal appearance, especially during the monsoon season when the water level increases.
Rajput Architecture: The Castle combines Mughal and Rajput traditions. Its red sandstone structure and elaborate carvings show Rajputana craftsmanship's magnificence.
Five Floors, Four Submerged: The Jal Mahal Lake Palace Jaipur resembles a five-story palace, yet only the top floor is visible. Its four hidden floors make it a fascinating architectural marvel.
Construction: Maharaja Madho Singh I built the Jal Mahal Palace in Jaipur India, as a royal hunting lodge and summer resort in the 1750s. In the summer, its lakeside position kept it cool.
Charming Garden Terrace: The palace's upper level has a charming garden terrace with arched windows and panoramic views of the lake and Aravalli hills. The royal family relaxed and enjoyed the tranquility there.
Jal Mahal Jaipur Timings
The captivating architectural marvel Jal Mahal in Jaipur greets guests with an alluring charm.
Can we go inside Jal Mahal Jaipur? Because the lower levels are submerged, the palace itself is closed to the public, but you can enjoy a lovely visit in the surrounding region and by the tranquil Man Sagar Lake.
You may appreciate this gorgeous location to the fullest during the following Jal Mahal Timings:
Jal Mahal Opening Time: 6:00 am
Jal Mahal Closing Time: 6:00 pm
Monday to Sunday
Jal Mahal Ticket Price
What is the entry fees of Jal Mahal? There will be no Jal Mahal entry fee or Jal Mahal Jaipur ticket price as now the government has prohibited entrance into it after some casualties. People now roam the outskirts of Man Sagar Lake.
However, please note that the Floating Palace Jaipur is primarily a sightseeing spot, not a place typically offering guided tours. Visitors can admire the palace and its surroundings on their own.
The Jal Mahal boating ticket price does not exist because authorities prohibit boating in Jal Mahal Jaipur.
Jal Mahal Jaipur Rajasthan has no specific guide fee because it is an open tourist attraction that tourists can explore independently. By the way, you can also visit the Jal Mahal Udaipur. Below, we have provided the Picture of Jal Mahal:
Things To Do In Jal Mahal Jaipur
Travelers are drawn to Jaipur's actual gem, Jal Mahal, by its ethereal allure. Nestled in the serene waters of Man Sagar Lake, this "Water Palace Jaipur" showcases the architectural mastery of the Rajputs.
The palace is captivating, but the surroundings provide many activities to make your stay more enjoyable. Check out this guide for the fascinating activities you can enjoy:
Admire the architecture: It is a beautiful example of Rajput architecture, with its red sandstone walls, intricate carvings, and delicate balconies. Take your time to appreciate the palace's design and construction details.
Enjoy the view: It offers breathtaking views of the surrounding hills and the water and sits within Man Sagar Lake. And take a Jal Mahal Camel Ride.
Birdwatching: Many bird species, including migratory ones like pelicans and flamingos, may be found in Man Sagar Lake. Bring your binoculars and spend some time birdwatching.
Photography: The Palace and the surrounding scenery create excellent photo opportunities. Take your camera and capture beautiful shots of the palace and the lake.
Shopping: The Jal Mahal Night Market has many handicraft shops and markets to buy traditional Rajasthani goods like textiles, pottery, and jewelry.
Picnicking: A picnic in the gardens surrounding the palace would be ideal. Pack a picnic blanket and snacks to take advantage of the quiet surroundings.
Visit nearby attractions: It is close to famous attractions like Amer Fort, Nahargarh Fort, and Jaigarh Fort. You can also arrange a day trip to visit these places.
5 famous places near Jal Mahal Jaipur
Nestled in the tranquil Man Sagar Lake, the Water Mahal in Jaipur represents Jaipur's architectural magnificence.
In addition to the magnificent Water Palace, many other enchanted locations add to Jaipur's charm. Here are five well-known tourist places near Jal Mahal Jaipur:
Nahargarh Fort
Jaigarh Fort
Jaipur Wax Museum
Amer Fort
Garh Ganesh Temple
Below, we have provided the details of places near this palace:
Nahargarh Fort
Nahargarh Fort is a famous historical place in Rajasthan, India. It is located on the rocky Aravalli hills and offers a beautiful view of Jaipur. It was built in 1734 to protect the city.
As time passed, it became a peaceful getaway for the royal families. The fort has impressive designs, big open spaces, and stunning views of the area.
When you visit the fort, you can imagine the stories of bravery and luxury that happened there in the past. By the way, the Jal Mahal to Nahargarh Fort distance is 11 km. Check out the Nahargarh Fort timing and more information on this blog.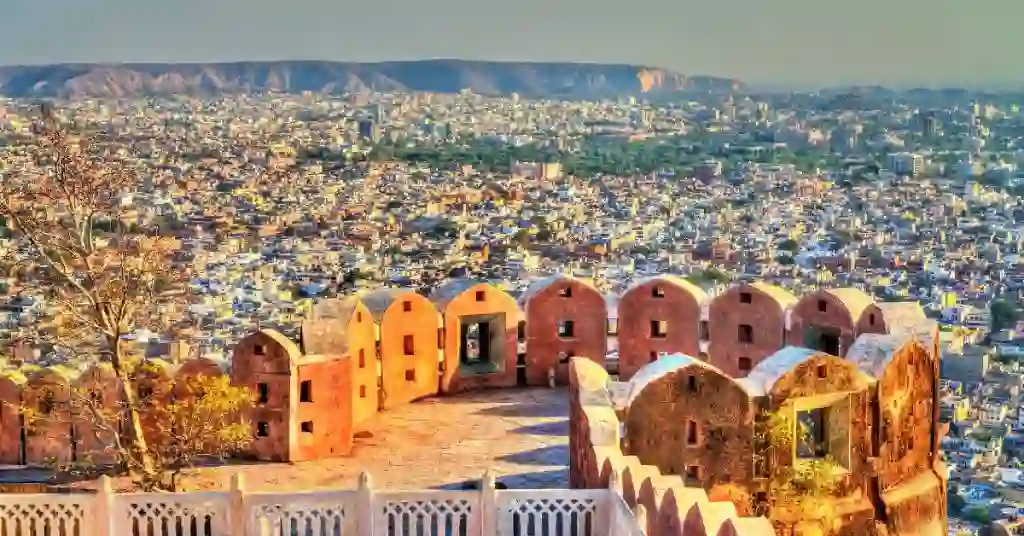 Jaigarh Fort
Jaigarh Fort is a strong and intriguing fortress close to Amer, Jaipur. Sawai Jai Singh built it in 1726 as the region's line of defense. Within the fort are two temples.
The Jaivana Cannon considered the world's giant cannon on wheels, is one of its most impressive attractions. When you visit the fort, you will be utterly amazed at the stunning views of the surrounding area.
Additionally, you can learn about the region's intriguing past and culture, closely linked to its rich heritage. Check out the Jaigarh Fort entry fee and more information on this blog.
Jaipur Wax Museum
The Jaipur Wax Museum is an exciting attraction in Jaipur, Rajasthan. It showcases lifelike wax figures of famous people from history, Bollywood, sports, and politics.
Visitors can walk around the museum, see the incredibly detailed wax statues, and take pictures.
The Jaipur Wax Museum is a fun and educational place where people of all ages can learn about and admire well-known personalities captivatingly.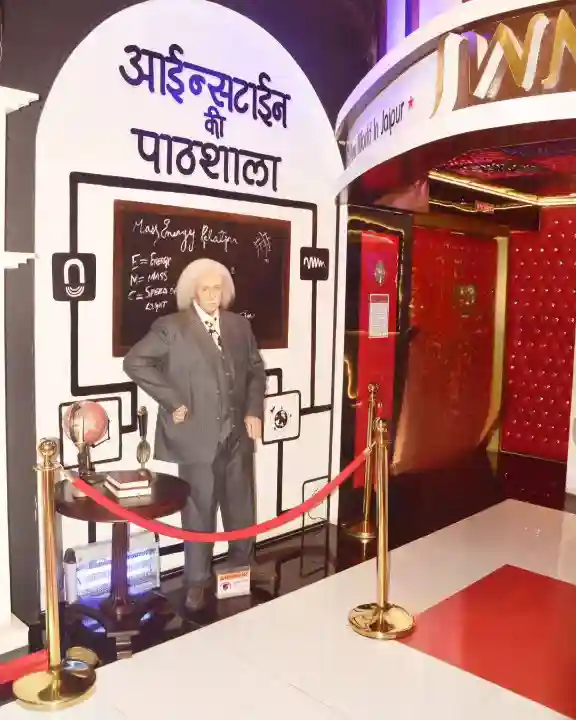 Amer Fort
Amer Fort is a stunning fortress located in Jaipur, Rajasthan. It was built in 1592 by Man Singh and offers a magnificent view of Jaipur's skyline, overlooking the beautiful Maota Lake.

The fort is famous for its elaborate architecture and beautiful decorations, notably the renowned Sheesh Mahal Jaipur, also called the Mirror Palace. Visitors can explore the fort and discover its palaces, courtyards, and gardens, each with its charm.
Jal Mahal to Amer Fort Distance is 5.5 km. Check the Amer Fort ticket price, Amer Fort timings, and other information about the fort on this blog.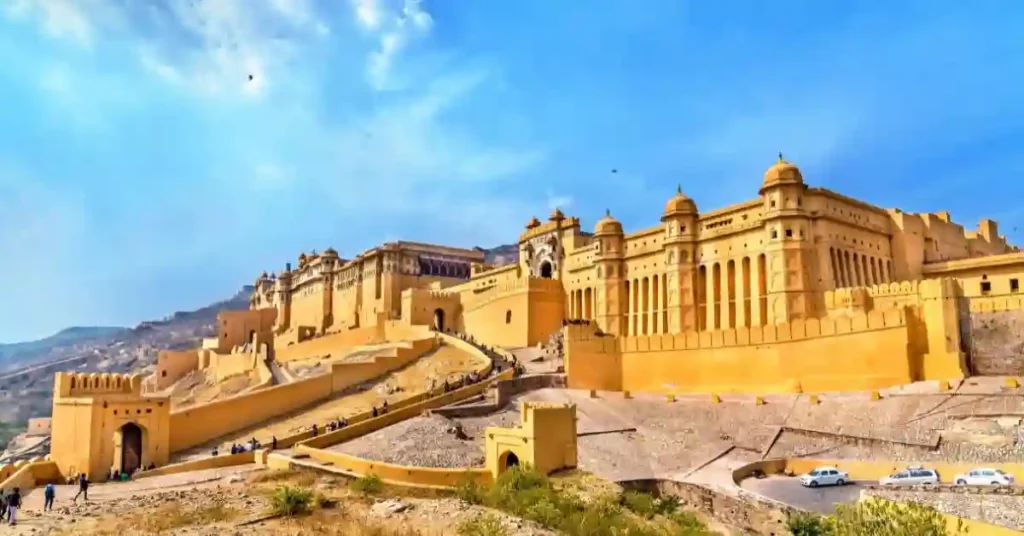 Garh Ganesh Temple
The Garh Ganesh Temple in Jaipur, Rajasthan, is a famous Hindu temple. The temple's construction took place in the 18th century under the patronage of Maharaja Swai Jai Singh II.
The temple devotes itself to Lord Ganesha, the god who helps people overcome challenges and brings good luck.
Situated on the Aravalli hill, the temple provides a peaceful environment, making it popular for worshippers and tourists seeking a calm atmosphere.
One notable feature of the temple is its location within the fort walls, which offers a vast and beautiful view of Jaipur city, making it even more attractive.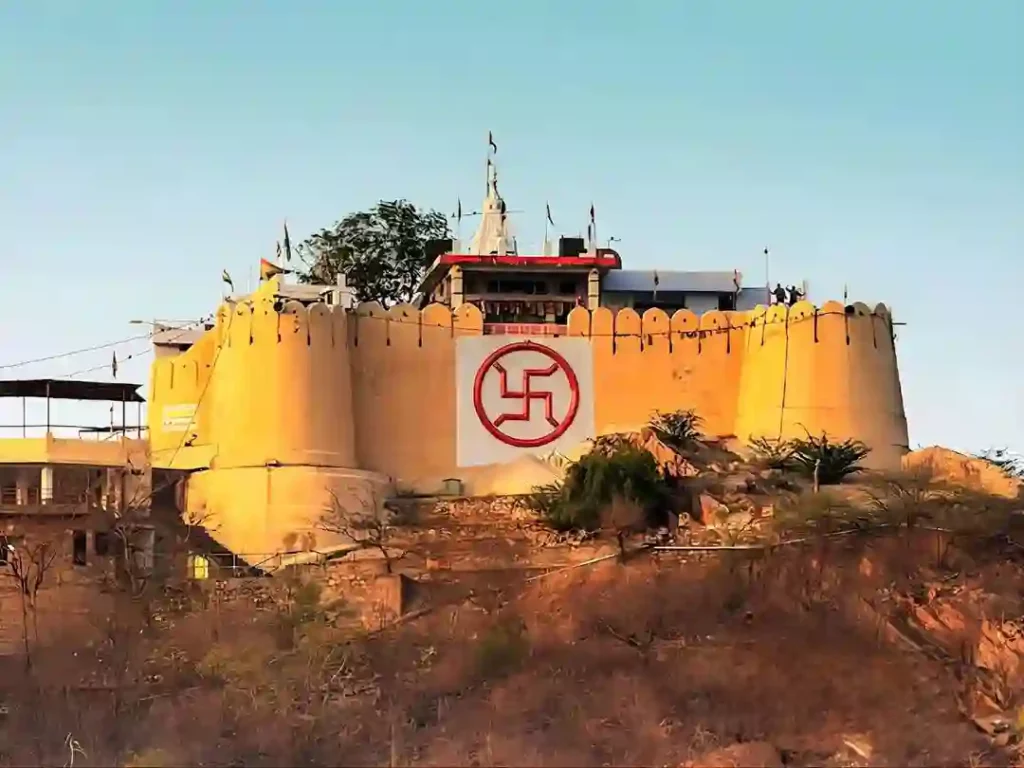 How to Visit Jal Mahal Jaipur
Traveling to the charming Floating Palace India Jaipur near the middle of Jaipur is straightforward because of the city's efficient transportation service.
It's easy and satisfying to get to this architectural treasure whether you travel by car, train, or airplane.
By the way, the Jaipur to Delhi distance is above 300 km, and the Jaipur to Jal Mahal Distance is 10 km. Here are some details about how to reach Jal Mahal Jaipur:
It is 18 km far from Jaipur Airport. You can use public transport or cab services to get to the place.
Jaipur Railway Station is less far from this palace than the Jaipur airport. Jaipur Railway Station to Jal Mahal Distance is 10 km.
Jaipur has a good road network to neighboring cities and states. Jal Mahal is accessible by car, taxi, or auto-rickshaw from Jaipur. Intercity buses or private transportation are available for out-of-town visitors.
Jal Mahal Jaipur Address
Where is Jal Mahal? Heritage Palace Jaipur stands on Amer Road, close to the famous Nahargarh fort in Jaipur. This stunning palace is a prominent tourist attraction in Man Sagar Lake's center. Below, we have provided the Jal Mahal location:
Man Sagar Lake Jal Mahal Amer Jaipur Rajasthan 302002
This famous palace is on Jaipur's major road, Amer Road, making it accessible all over the city.
The address is a good starting point for exploring this unusual jewel by vehicle, taxi, or public transit. By the way, hawa mahal to jal mahal distance is 5 km. Check out Hawa Mahal ticket prices and more information about the palace on this blog.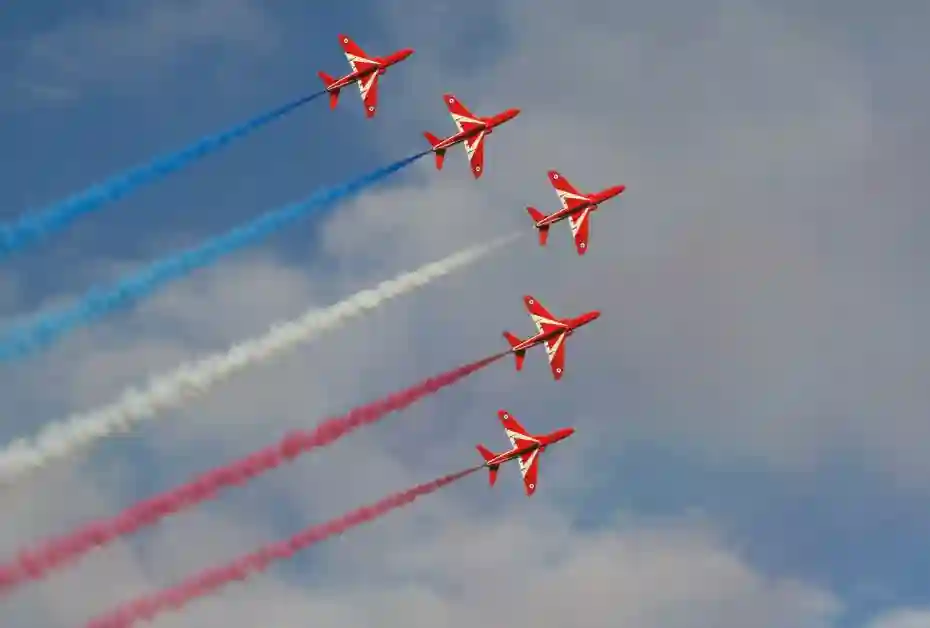 5 Best Hotels To Book Near Jal Mahal Jaipur
Jalmahal Palace Jaipur is a stunning architectural marvel, and learning more about Jal Mahal Jaipur by visiting the area around this well-known site will improve your impression of Pink City.
Thankfully, several luxurious hotels provide outstanding lodging, service, and breathtaking views of Jal Mahal and its tranquil surroundings.
The hotel in front of Jal Mahal Jaipur. The top 5 Jal Mahal Hotel Jaipur or Best Hotels near Jal Mahal Jaipur and Oyo Rooms near Jal Mahal Jaipur to think about staying at are as follows:
11 Must-Have Items for the Jal Mahal Trip
Are you arranging a visit to Jaipur, India's magnificent Jal Mahal? Being well-prepared is crucial to get the most out of your visit to this architectural marvel in the center of Man Sagar Lake.
From exploring its rich history to breathtaking views, here are 11 essentials for a comfortable and unforgettable vacation at the Palace Jaipur.
FAQs
Why Jal Mahal is closed
Legal problems closed the palace. Due to taxes and winnings, a new party challenged Rajasthan's 2003 Mansagar Lake near Jaipur and Water Palace reconstruction. Some blame politics. The castle is closed until the court rules.
Jal Mahal owner
A wealthy businessman named Navratan Kothari has contracted to use Water Palace and the area around Man Sagar Lake for 99 years. This contract also allows him to use 100 acres of land around the lake.
How to go inside Jal Mahal Jaipur
Sadly, visitors cannot go inside the Jal Mahal to see its beauty because entry to the palace is completely prohibited.
What is Jal Mahal also known as?
It has many names, like Jal Mahal Underwater Palace, Floating Palace, or the Water Palace. It's considered one of the world's best examples of Rajput and Mughal architecture.
Which metro station is closest to Jal Mahal?
The nearest metro station is:
Chandpole Metro Station
Ajmeri Gate Metro Station
Restaurants near Jal Mahal Jaipur
Here is the list of Jal Mahal Restaurant Jaipur:
1. Royal Rajwada Multicuisine Restaurant
2. Rainbow Restaurant
3. The Grand Peacock Restaurant
4. Kokum Bistro
5. Green Pigeon Restaurant
What kind of activities can we do near Jal Mahal Jaipur?
Here are a few suggestions for enjoyable activities near the Jal Mahal Jaipur:
1. Take an Elephant Ride at Amer Fort.
2. Enjoy the exhilaration of a Hot Air Balloon Adventure.
3. Indulge in delicious Traditional Rajasthani Cuisine.
4. Explore the vibrant city of Jaipur.
5. Visit the Elephant Village for a unique and memorable experience.
Jal mahal Jaipur price
Entry prices do not exist as the government has restricted entry to the lake.
You can also read: