Birla Mandir Jaipur Information
Birla Mandir Jaipur is also known as "Lakshmi Narayan Mandir" Because of this place dedicated to world creator "God Vishnu" and "Goddess Lakshmi Ji" which is the idol of wealth in Hindu Dharma.
[toc]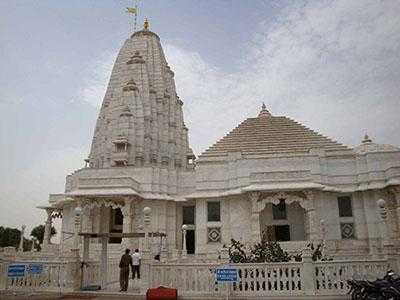 This temple is also called Lakshmi Narayan Ji Ka Mandir, Vishnu temple, Birla Mandir, etc.
Birla Mandir Jaipur Address
Tilak Nagar(302004.), Jaipur, Rajasthan
Constructed By
Ghanshyam Das Birla in 1985.
Famous For
God Lovers, Experience Seekers.
Opening and Closing timings
Temple on in the morning at 6:00 – 12:00 and 3:00 PM – 9:00 PM
Visit Duration
1 Hours
Best Time To Visit
You can visit it anytime, but according to Jaipur temperature most of the visitors are comes in October to March.
Guide Availability
Quickly you can follow the guide for a visit to the temple.
Camera/Videography
Restricted prohibited inside the temple
Shopping Market
In the temple area, there is a mini shopping spot at the outside basement of the temple. Where you can get much more material like bangles, Kurtis, and pooja or Dhawan material like Mala, god icons any many cosmetic things.
Food
Panipuri, Pav bhaji, juice many fast food stores are available there.
How to reach
Many transportations are available to reach there.
Places to Visit Around Birla Mandir, Jaipur
Albert Hall Museum
Jaipur Zoo
Dolls Musume
Moti Dugri Ganesh Temple
History of Birla Mandir
The construction of Birla temple started in 1977 by Ramanauj Das who was the great constructor of that time. The construction of this beautiful place was complete in 1985.
This temple invested in "Birla Family" which is a famous industrial group in India, always count in one of a business tycoon in our country.
They made various temples in favorite cities of India like Delhi, Calcutta, Gujrat, etc. The area of Birla Mandir was brought by Ghanshyam Birla from Maharaja Man Singh II only in 1 INR.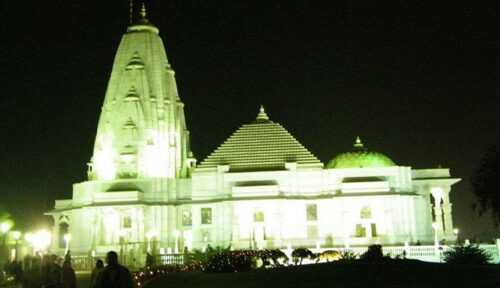 Birla Mandir Jaipur is a famous landmark of the pink city which situated near Moti Dungri Fort.
According to some historical sources in 1904, Shree Rang Ramanaujdas who more built this temple had seen a dream in which God Vishnu told him about this location for construct his temple with his wife, Lakshmi Ji. So this is also a reason to called Lakshminarayan Mandir to this temple.     
Festivals Of Birla Mandir Jaipur
Some festivals which celebrated here listed following
Diwali: Diwali is the most significant festival of Hindu Dharma and on "Lakshmi Narayan Niwas" this is celebrated with happiness. Peoples are coming here with "Diyaas"(A small pot of soil made) and participate in the "Pooja and Hawan" process.
Janamashtmi: This is the birthday of Lord Shree Krishna, but Shri Krishna was also the various character of Vishnu Ji, so this day also celebrates here.
Legend of Birla Temple
As everyone knows that God Vishnu is the creator of the world, every religious history of the Hindu religion-related to his several life durations. And his wife goddess Lakshmi Ji is the goddess of wealth.
At that time there was not any particular Lakshmi Narayan temple in Jaipur, So the Birla group(who made several temples at many destinations of India) was formed this temple on 22 February 1985 for a public tourist spot.
The Architecture of Birla Mandir Jaipur
Birla Mandir is a well-known landmark of Jaipur looking beautiful from its every corner.
Temple is spread out in a large area with shopping stoles, food stoles, garden area, basement museum, etc.
Some particular parts of the temple given as following
Temple:
The whole area of the temple is constructed by white marble which gives an adorable look to this region. On the walls and pillars of the temple, you have to look at traditional art designs on its out and inner wall area.
Interior:
The inner hall of this temple is also huge which is also gives attractive looks to this temple Because the roof of this temple is in tomb shapes designs which are given interactive sight to temple visitors.

The internal roof area of tombs decorated by traditional arts and beautiful flowers and temple walls designed in some paintings which are related to Lord Shree Rama, Shree Krishna and some pictures of the history of Hindu Religion.
Garden area of this temple fulfilled with greenery and various kind of flowers, Entry in the garden area strictly prevented because this temple is one of the neat and clean unhygienic areas occurred temple.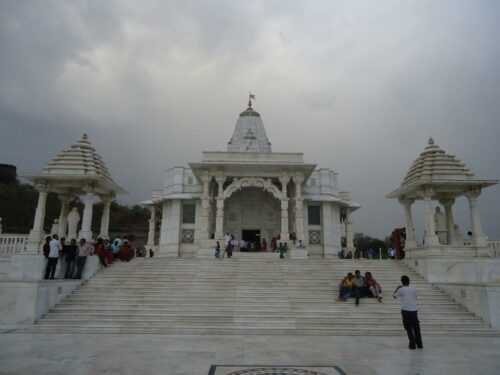 Special Facts About Birla Mandir Jaipur
Birla Mandir is one of the beautiful and unhygienic temples of the pink city.
It is one of the important investment properties of the Birla group in Jaipur.
This is one of the oldest icons of Lakshminarayan.
Also, count important proud property of Jaipur.
The situated basement museum stored much historical material and some essential things which explain the temple history and some apparent facts related to Birla Family.
Jaipur Birla Mandir Facts By Mysterioustrip
We are sharing those tips with you in the following lines
Photography and videography strictly prohibited in Mandir Pariser. Means you can't take pictures of the Lakshminarayan statue.
Shoe racks are also available there so you can't go with shoes in the temple area of the marble floor.
Reference Wikipedia
Are you looking to book your next trip? Check out the following services we use and love or click the previous link to read more!
Booking To find best hotel deals.
Best International Flight Deals to Book in 2019.
World Nomads to insure your trip.
Hostelworld to find a budget hostel.
Jetradar book Flight at cheap price.
GetyourGuide Guided Tours.