Amar Jawan Jyoti, the flame of immortal soldiers, an Indian memorial built after the Indo-Pak war in 1971 to show respect to the martyred and unknown soldiers of the Indian armed forces that died during the war.
The Amar Jawan Jyoti memorial was built in December 1971 and inaugurated by then prime minister Indira Gandhi in 1972.
[toc]
Amar Jawan Jyoti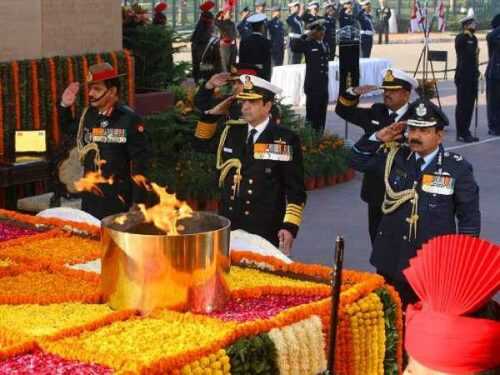 She paid homage to the soldiers on India's 23rd Republic day. Since then, it has been customary for the prime minister and the president to visit the memorial on state occasions.
Amar Jawan Jyoti is located under the India gate at Rajpath, New Delhi, and the cenotaph on which it is situated consists of a marble pedestal.
Amar Jawan Jyoti History
Initially, The primary structure was constructed by Edwin Lutyens in 1921. Amar Jawan Jyoti added in 1971 under the India gate.
India had a military confrontation with Pakistan during the liberation war in East Pakistan from 3rd December – 16 December.
In December 1971, Indira Gandhi, the then prime minister of India, helped pay to construct the Amar Jawan Jyoti under the India gate to show respect for the dead and unknown soldiers who died fighting for the nation.
On 26 January 1972, officially inaugurated by Indira Gandhi. Since then, every year on republic day, before the annual parade, it has become customary for the prime minister and the president, and three heads of the armed forces to place a wreath and pay homage in honor of the soldiers.
Construction
Amar Jawan Jyoti is India's tomb for unknown soldiers. It consists of a marble cenotaph.
"Amar Jawan" is scripted in gold on all four sides of the cenotaph along with a rifle and a soldier's helmet.
The helmet and the guns are said to belong to an unknown soldier who lost their lives during the war.
There are four flames on each side of the cenotaph, but only one fire burns throughout the year.

Amar Jawan Jyoti Timing
Open 24 hours.
Amar Jawan Jyoti Location
Near to India gate in central Delhi
Nearby Attractions
India Gate (1.3 km)
Rashtrapati Bhawan (4.5 km)
Parliament House (2.3)
Qutab Minar (11.1 km)
Jantar Mantar (2.9 km)
You can also read:
Are you looking to book your next trip? Check out the following services we use and love or click the previous link to read more!
Booking To find best hotel deals.
Best International Flight Deals to Book in 2019.
World Nomads to ensure your trip.
Hostelworld to find a budget hostel.
Jetradar book Flight at cheap price.
GetyourGuide Guided Tours.