Brown Lady of Raynham Hall
Every town has its different story to tell, no matter what category the story is from my point is every town, city, place holds a story to tell! In Norfolk, England there's a manse called as the "Raynham hall" which is allegedly haunted by the 'brown lady,' claimed by some people that it is the spirit of Lady Dorothy Walpole, who became the mistress of Charles Townshend.
After her death, she is now haunting the manse and known as Brown lady of Raynham Hall. But who was this Brown lady of Raynham hall aka Lady Dorothy Walpole? Let's find out.
Lady Dorothy was born in 1686, her father was a member of parliament, and her brother was, Sir Robert Walpole, was the prime minister.
Lady Dorothy was raised in a decidedly wealthier and accessible manner and said to had been fallen for Lord Charles Townshend.
But her father forbade the marriage as he didn't want the discount to seen as excessively influencing his daughter. Upon the rejection,Charles Townshend married lady Elizabeth Pelham, but she died in 1711 which made Townshend free to marry his love, Lady Dorothy. Everything seemed like a wish coming true.
Although, Dorothy, while Townshend had been a married man, she allegedly had an affair with Lord Thomas Wharton who was a dissipate and lazy and irresponsible kind of person, soon left the country because of his debts.
But, things took a toll, after the death of Townshend wife, Dorothy and Townshend tied the knot. After being happily married for 13 long years, Lord Townshend learned about his wife's affair before their marriage which she never told him.
Upon discovering the betrayal, anger and madness crippled his mind, and he allegedly locked her in one of the rooms at Raynham Hall, forbidding her even to see her children.
On March 29th, 1726 she passed away from smallpox, though rumors were, she died a violent death. Legends also say that her funeral was fake and staged and she's still alive locked in a concealed room somewhere in the hall.
There were numerous reports centuries after centuries that her apparition, dressed in a brown barcode, wandering the hall. Prince regent himself saw her specter in 1815 while visiting the Raynham hall.
This personage drills a substantial similarity to a painting of lady Dorothy that was hanging in one of the bedrooms.
Read Also
Another incident took place in the year 1836 with novelist Friedrick Marryat. He believed the ghost sightings are nothing but some smugglers. So, he slept in a room where the portrait of Lady Dorothy was hanging, with a pistol under his pillow.
One night while he was walking down the hall, he saw a woman approaching with a lantern. Assuming it was a woman who was walking upstairs to visit the nurseries.
As she came down, he at once, recognized the lady by her features and her brown dress, she stopped at his bedroom door and grinned in a vicious and wicked manner at him.
Marryat then took his pistol and aimed at her and shot her but the ghost disappeared. He later found his bullet lying in the opposite door.
With all these ongoing haunted events inside the Brown Lady Of Raynham hall, it soon became a worldwide phenomenon after the country's life did a feature on the infamous hall in 1936.
Country life is a British weekly magazine, which published the photographs taken by Provand and Indre Shira who was his assistance in December 1936.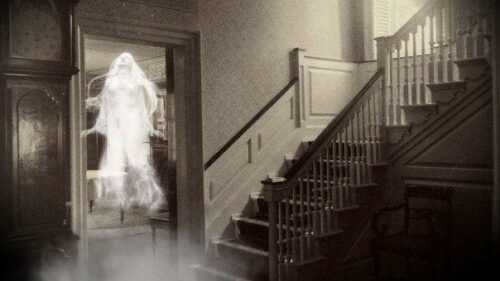 Provand and his support Shira were appointed by the weekly magazine to shoot a couple of photographs for the magazine. While clicking the grand staircase of the hall, the brown lady appeared once again.
As Shira recalled the incident; he was standing with the flashlight pistol, behind the camera by Provand's side who was focusing on another exposure. When Shira looks up the stairs, he detected an unclear light from coming down the stairs.
He pressed the flashlight pistol. After Provand developed the photo, he saw a ghostly image coming down the stairs. This picture soon accumulated grave attention from the public and soon, featured in Life magazine.
The press coverage regarding this picture caught the attention of Mr. c.v.c Herbert, who was a psychical researcher and investigator. He interviewed both Provand and Shira asking about the experiences inside the Raynham hall.
He found out that Shira was in fact not a very skilled photographer rather he was someone with a sound business mind and using a fake name, though it never revealed as to why he was living a pseudo-life.
Provand told Herbert about his camera complications. He said that the bellow in the camera was faulty and he was afraid the lights might enter into it.
While examining the duplicate picture of the ghostly image, Herbert found some oddity towards the border of the frame. The angles indicated that the camera had shaken and accidentally took the staircase photo twice.
Although, Provand did admit that he placed the camera in an unsteady marble table and he removed the lens cap hastily, which might be the reason for the shakiness of the exposure. According to Herbert's report, it was all because of overexposure due to daylight.
Few other experts who interviewed them seemed content with the two photographer's honesty. Notwithstanding herbert's doubtful reviews, the photograph still is universal.
What do you think? Is this brown lady of Raynham Hall is a hoax? Though, it's pretty hard to fake an image like this, that too, in the 1900s.
It involved more than what we do nowadays with Photoshop. Skeptics might come up with new arguments shortly.
Are you looking to book your next trip? Check out the following services we use and love or click the previous link to read more!
Booking To find best hotel deals.
Best International Flight Deals to Book in 2019.
World Nomads to insure your trip.
Hostelworld to find a budget hostel.
Jetradar book Flight at cheap price.
GetyourGuide Guided Tours.