Akshardham Delhi
Akshardham Delhi, also known as Swaminarayan Akshardham is a landmark in the city of Delhi and one of the most esteemed places to visit.
It is a spiritual complex that displays millennia of Hindu tradition and culture. Swaminarayan Akshardham is a live example of remarkable architectural excellence. It was created by Pramukh Swami and inspired by Yogiji Maharaja.
Akshardham (Delhi) was completed on November 6, 2005, and inaugurated by Pramukh Swami Maharaja in the presence of Dr APJ Abdul Kalam, Manmohan Singh, L. k. Adwani and B.L. Joshi. It is located in Noida, New Delhi is a successor of Akshardham Gujarat.
There are various exhibition halls which give information about the life and work of Swaminarayan which is a treat to watch.
Akshardham Delhi features Abhishek Mandapa, Sahaj Anand water show, a thematic garden and three exhibition halls namely Sahajanand Darshan which is a hall of values, Neelkanth Darshan, an IMAX film on the early life of Swaminarayan as the teenage yogi, Neelkanth and Sanskruti Darshan, a cultural boat ride.
'Akshardham' means the abode almighty Lord Swaminarayan according to Swaminarayan Hinduism and believed as the temporal home of god on earth and haioed as an eternal place of devotion, purity and peace.
Darshan timings are from 9:30 am to 8:00 pm and Arti timings are from 10:00 am and 6:00 pm.
How Akshardham Delhi was Made?
The Hindu house of worship was built under the guidelines of Vastu Shasta and Pancharatra Shastra. Its main shrine maintains the central position of the entire complex.
The architects have adopted modern modes of communication and technology to put various exhibition halls into place.
It is a hand carved stone temple, constructed without steel in five years by eleven thousand artisans. It is an extraordinary example of remarkable and ageless art and borderless culture and timeless values and ethics.
Akshardham Mandir has no support from steel and concrete, instead, Rajasthan sandstone and Carrara marble are used.
Who Built Akshardham Temple?
Akshardham Delhi was built by BAPS. Bochasanwasi Akshar Purushottam Swaminarayan Sanstha, Popularly known BAPS, is a religious, social and cultural organization within the Swaminarayan cult of Hinduism.
It was established on June 5, 1907, by Shastriji Maharaja. It developed as a cultural campus dedicated to devotion, learning, and harmony.
How to reach Akshardham Delhi? How to reach Akshardham by bus?
Akshardham Delhi is accessible by Delhi Metro through its proximate Akshardham Metro Station.
It can be reached in forty minutes from New Delhi Railway Station and in forty-five minutes from Old Delhi Railway Station.
It takes One hour and thirty minutes from the airport to step into this holy complex, depending on the traffic. There are various other routes to make access easier.
Why Akshardham Temple is Famous?
Akshardham Delhi is famous for its spiritual significance as it is a humble tribute to Swaminarayan Avatars, Devas and great sages of Hinduism.
This divine place echoes with spirituality. It has over two hundred murtis, representing many of the spiritual stalwarts.
Akshardham Delhi mandir is the main attraction of complex which is forty-three meters high, ninety-six meters wide and 109 meters long. This building is carved with flora, fauna, dancers, musicians and Deities.
It is a blend of architectural styles with two hundred thirty-four ornately carved pillars, nine domes and twenty thousand murtis of Sadhus, Devotees and Acharyas.
Under central dome lies eleven-foot high shrine of Swaminarayan seated in abhayamudra, to whom the temple is dedicated.
Sahajanand Darshan, also known as the hall of values features lifelike robotics and dioramas which depicts true incidents from the life of Lord Swaminarayan, portraying his preaching about the importance of peace, harmony, and humanity.
Nilkanth Darshan (theatre), houses Delhi's first and only large format screen. Its dimensions are sixteen meters by twenty meters, shows a forty-minute film depicting Neelkanth yatra to recount seven years pilgrimage made by Swaminarayan in teenage.
Akshardham temple history
Sanskruti Vihar (boat ride) is a twelve-minute journey through ten thousand glorious years of heritage using life-size figures and robotics to display life in Vedic India.
Musical fountain, also known as Yagnapurush Kund is India's largest step well. Musical fountain show, named Sahaj Anand is a multimedia Water Show at night.
It is the twenty-four-minute representation which combines a variety of advanced media to bring to life breathtaking story from Kena Upanishad.
Garden of India, also known as Bharat Upavan has lush manicured and well-maintained lawns, trees and shrubs with notable figures like Mahatma Gandhi and bronze sculptures of people who contributed to India's Culture and history.
Neelkanth Abhishek is an offering made by devotees on murti of Neelkanth Varni to express their reverence and prayers.
Yogi Hraday Kamal, shaped like a lotus from above features large stone engraved thoughts of world luminaries like Shakespeare to Swaminarayan.
Who is the god in Akshardham?
Swaminarayan Akshardham
Narayan Sarovar is a lake that surrounds the main building. It is believed to contain pious water of 151 rivers and lakes and being sanctified by Swaminarayan.
Premvati Ahargruh is a food court and ayurvedic bazaar from Maharashtra that serves vegetarian traditional dishes.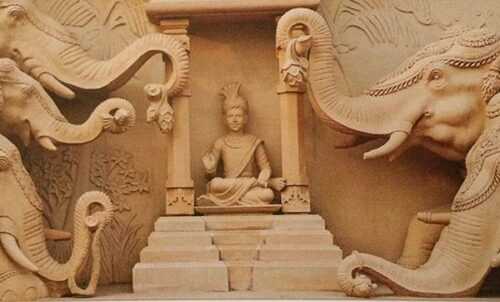 AARSH center, Akshardham Center for Applied Research in Social Harmony, conducts studies on rural welfare, ecology, education, and culture.
Bhakti Dwar, regarded as the Gate of devotion which rejoices the Vedic tradition of dual devotion. It is deemed that offering dedication to god and his superior devotee is the pure form of worship.
There are about 208 carved dual structures of god and his followers in this magnificent gate.
Ten Gates are the depiction of the ten principal directions described in the Vedas. It displays the Vedic views of inviting serenity and joy from everywhere to everyone.
Footprints The footprints of Swaminarayan has been placed amid the two Mayur Dwars, in the memory of his personification on earth.
The footprints are sculpted off of white marbles, as well as, carry the 16 consecrated signs of God. Sprinkling water from 4 directions in a consistent process is involved, as well.
Guinness world record On December 17, 2007, Guinness World Record was presented to Pramukh Swami Maharaja, leader of BAPS for world's largest comprehensive Hindu temple that is Akshardham Delhi. 850 volunteers work daily and it has 100,000 visitors a week.
How much is Akshardham Delhi Ticket?
Mandir Darshan is absolutely free and other charges are kept minimal and are used for maintenance and development of Akshardham Delhi.
Exhibition tickets, which includes Sahajanand Darshan and Sanskruti Darshan are as follows:
Adult (above 12) – ₹100
Seniors (above 60)-₹70
Children (4-11 years of age) –₹50
Children below 4 years are free
Tickets for water show are as follows:
Adult (above 12) – ₹80
Seniors (above 60)-₹80
Children (4-11 years of age) –₹50
Children below 4 years are free
Abhishek donation per person – ₹50
How to reach Akshardham Temple by Bus?
Akshardham (Delhi) is connected via various radial routes of the public bus line 540, ML 77, ML 78, 467, 522A, 534 A and many more.
Being the capital of India various government buses and private buses connect it to most of the places of India.
Who is Swaminarayan Akshardham?
Swaminarayan also known as Sahajanand Swami, believed as a manifestation of God, was a yogi whose life and preaching brought a renaissance of central Hindu practices of Dharma, Ahimsa and Brahmacharya.
He was born in 1781 in Uttar Pradesh, India as Ghanshyam Pande. He began his seven-year pilgrimage and started living a nomadic life and travelled across India at age of eleven, adopting the name 'Neelkanth Varni'.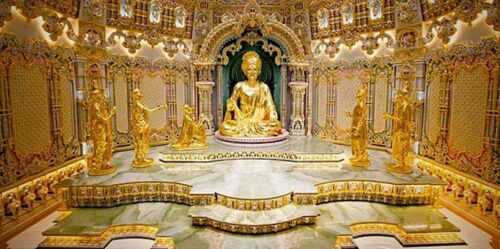 He did welfare activities and after nine years and eleven months of wondrous life settled in Gujarat.
Swaminarayan was indulged into Uddhav Sampradaya by his guru Swami Ramanand and was given the title 'Sahajanand Swami'.
He became a leader of Uddhav Sampradhaya after the death of his guru and taught Swaminarayan Mantra.
Since then he's known as Swaminarayan and Uddhav Sampradhaya became Swaminarayan Sampradaya.
Who Designed Akshardham Temple?
Akshardham Delhi is said to have been designed by Ahmedabad based firm, Kiran Trivedi Group. But there are no authentic sources of this information.
How to reach Akshardham Delhi Temple from Ahmedabad? Akshardham how to reach?
There is three-way from which you could reach Akshardham temple Delhi from Ahmedabad.
You could take a taxi that's going to cost about 650/– or hire an Uber that would cost less than a taxi- 380/-
Or, You could drive yourself which would be cheapest for you and would cost around 200-300/-
How many Akshardham Temples are in India?
Swaminarayan was the founder of the Swaminarayan Sampraday, his temples known as Swaminarayan mandirs.
He established these temples as part of his belief in religion and deity worship. These temples are known as Swaminarayan Hindu temples.
He built 9 temples in the subsequent cities: Bhuj, Junagadh, Ahmedabad, Dholera, Dholka, Muli, Vadtal, & Jetalpur.
He places images of several Hindu gods, such as Lamxinarayan, NarNarayan Dev, RadhaRaman dev, Radhakrishna Dev, Madan Mohan Dev, etc.
One of the most outstanding aspects of the legacy of Swaminarayan is the architecture of the temple. The images inside the temples placed by Swaminarayan are proof of the importance of Krishna.
The temples have lodgings established for sadhus, next to them. The mandirs have walkways similar to other Hindu temples, near the central shrine to enable worshippers to walk around the shrine.
The main area of the shrine is split by railings. One part of the railing is for the women and in front of men's section, there a tiny section kept for hermits and VIPs.
The temple is built without steel, comprising of 234 lavish sculpted pillars, 9 lavish domes, 20 quadrangle shikhars, a stunning Gajendra Pith and 20,000 murtis and sculptures of India's great Sadhus, acharyas, devotees, and great personalities.
Is Akshardham open in Covid?
From what I understand, we were blessed to have the only wedding that has been permitted to be conducted in the inner sanctum of the Akshardham temple. The ceremony itself was peaceful and sacred in so many ways.
The temple is a combination of pink stone and pure white marble. The pink stone depicts bhakti in everlasting bloom and white marble consisting of complete purity and undying serenity.
Within 5 years timespan, Akshardham became veracity with the blessings of Pramukh Swami Maharaja.
At present, there are about over thousands Swaminarayan temples dispersed over 5 continents, which classified either as the NarNarayan Dev Gadi, or the Laxminarayan Dev Gadi.
Are you looking to book your next trip? Check out the following services we use and love or click the previous link to read more!
Booking To find best hotel deals.
Best International Flight Deals to Book in 2019.
World Nomads to ensure your trip.
Hostelworld to find a budget hostel.
Jetradar book Flight at cheap price.
GetyourGuide Guided Tours.