Bikaner district of Rajasthan, famous for camel safaris and the fort, has a unique temple in Deshnok that is a major tourist attraction. Karni Mata Temple Rajasthan, also known as the 'temple of rats,' is a Hindu temple dedicated to Karni Mata.
It was built in the 15th – 20th century by Maharaja Ganga Singh.
It is famous for 25,000 black rats. These holy rats are called 'Kabbas,' while some are white rats.
Many people travel great distances to their respect for these long-tailed rodents. The temple attracts visitors from across the country.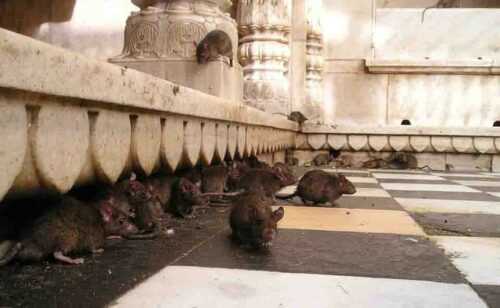 History of Karni Mata Temple
Historians have contrary views about the story of the rat temple in Rajasthan.
Some historians believe that Laxman, Karni Mata's son, died drowning in a pond called Kapil Sarovar in Kolayat while drinking water.
Karni Mata implored Yama, the god of death, to revive his son. Yama relented, reincarnating Laxman and all sons of Karni Mata as rats.
While some historians believe that Karni Mata belonged to the Charin clan, after her lifespan of 150 years, she became a rat after her death.
The followers of the Charin clan believe that after their rat, they will be reincarnated as rats, and once rats die, they are reincarnated as humans again.
This cycle continues. Charin people think that these rats of the fascinating stop in India are their ancestors.
It is considered auspicious to have rats scuttle over their feet. Eating food nibbled on by rats is considered to be of high honor.
If one of the rats is killed, it will be replaced by one made of solid silver.
White rats are considered especially holy, believed to be manifestations of Karni Mata and her sons.
Sighting them is a special blessing, and pilgrims put extra effort into bringing them forth, offering Prasad.
Worshippers make pilgrimages to the freakiest attraction to worship and heal their ailments.
Karni Mata Temple Bikaner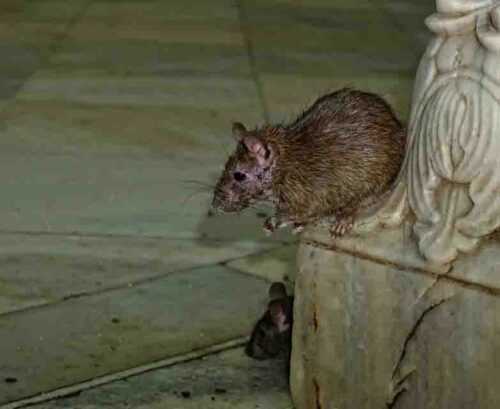 In its present form, the construction of this temple was finished in the early 20th century, following the late Mughal architectural style, under the supervision of Maharaja Ganga Singh of Bikaner.
A beautiful marble facade in front of the temple with solid silver doors.
There are additional silver doors with pictures of different gods and goddesses displayed on panels across the doorway.
The image of Karni Mata is enshrined in the inner sanctum. Worship – Karni Mata temple Deshnok is open to the public early in the morning at 4:00. Charan priests perform Mangla Arti and offer Bhog.
Devotees make offerings to auspicious rats that roam in the temple in large numbers. Two kinds of offerings are made to Karni Mata:
Dwar bhent – Attributed to priests and workers and,
Kalash bhent – utilized for temple maintenance and development.
Karni Mata Fair
Karni Mata fair– organized twice a year at Deshnok – the first and largest festival held in March-April during Navratras from Chaitra Shukla Ekam to Chaitra Shukla Dashmi, while second organized in September -October from Ashvin Shukla Ekam to Ashvin Shukla Dashmi.
At this time, many people travel to the temple on foot.
The interesting fact about Temple is that these rats never leave the temple even though they are free to do so.
You must enter the temple barefoot and walk through a lot of rat poo.
A documentary was shot by Morgan Spurlock Named 'rats 'in 2016. India's strangest attraction appeared on the American reality show 'The Amazing Race. '
There are plenty of ways to reach Bikaner Karni Mata rat temples, such as public buses, which charge Rs.20 approximately and camel rides for Rs. 200 per person. Camel Man provides an excellent guide and a stop at a camel farm.
There are many temples in Rajasthan of Karni Mata. For example, Karni Mata Temple Jaipur, Karni Mata Temple Udaipur, Karni Mata Temple Jaisalmer and Karni Mata Temple Nagpur.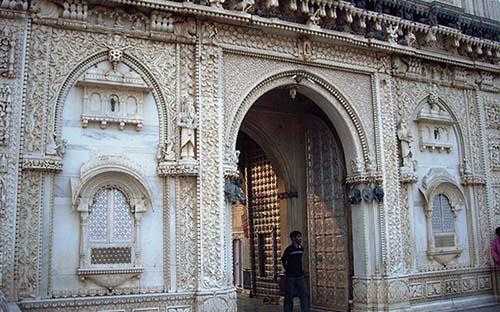 FAQs
What is special about Karni Mata Temple?
It is also called the "temple of rats," a famous temple in Deshnoke, located 30 km from Bikaner in Rajasthan, India. The temple is famous for being home to 20,000 black rats that are respected and considered sacred. These rats are called "kabbas" and live inside the temple.
Karni Mata Temple distance
To see the distance of the temple, click here
Read Also: