Adventure Sports in Jaipur
Summers around the corner and most of you might be out there looking for a Best Adventure sports in Jaipur to cover. When it comes to adventure, Jaipur is the perfect destination.
Apart from being a cultural and historical place in India, the city has to offer you some exciting sports in order to make your vacation more fun.
Here are some of the best adventure sport in Jaipur that you don't want to miss. You can read also Jaipur Travel Guide.
We all Love Adventure Sports And Activity! If You are an Adventure Lover So here I Told You about Some Good Places In Jaipur
Which is the best adventure park in Jaipur?
Where Can You do Adventure Activity in Low Prize?
Hot air balloon Activity in Jaipur?
ATV Ride In Jaipur In Cheap Prize?
Best camel Ride In Jaipur?
Adventures Ziplining in Jaipur?
List Of Adventure Sports In Jaipur
Bubble Bash
Camel Riding
Elephant Ride
Wildlife Safari
Hot Balloon Ride
Paintball
Paragliding
Moto Sports park
Zorbing
Bubble Bash
Adventure sports in Jaipur Organized by the Tao Experiences, bubble bash is an adventurous game in which you would be strapped in a bubble suit, after that you could bump, bounce and bash each other.
This sport lasts about 15 minutes and how well you could play and what guidelines you need to follow would be given by the guides present there.
The ticket price is 350 INR and opens every day from 9 am- 10 pm. You can read also Places For Couples In Jaipur.
You can buy bubble bash shoes with a 30% to 50% discount.
Camel Riding
Adventure sports in Jaipur You're in Rajasthan, and you haven't ridden a camel? Did you ever experience the true Rajasthan then? Your adventure trip is incomplete without the camel ride.
This is one of the most famous sports (though not exactly a sport, however, you could call it an adventure) in Jaipur. You can read also Places to Visit in India.
You could enjoy the desert beauty while enjoying a camel ride. The prices aren't high, as well. You could get to ride them at 100 INR (for adults) and 75 INR (for children.)
It is available every day from 9 am- 6 pm.
Elephant Ride
Adventure sports in Jaipur Amber Fort is the perfect destination to experience an elephant ride discovering the patched pathways and a massive entrance of the fort.
The mixture of Rajput and Hindu creative elements, Amer fort was constructed by Maharaja Man Singh. You can read also Adventure Places In Canada.
Along with the elephant ride, you could encounter the light show organized here every evening in English at 7.30 pm and if you want to watch in Hindi book your slot for 8 pm.
You can buy Women sunglasses with a 50% discount.
Wildlife Safari
Adventure sports in Jaipur For the extreme adventure lovers, this ride won't disappoint you. Those who want to experience the tropical wildlife as boarding on an exclusive wildlife safari in Jaipur.
Visit Jhalana Safari Park and get a Wildlife safari tour in Jaipur.
Spot the leopards, hyenas, desert foxes, chitals, Golden Jackals, and much more other distinct species that you don't get to see every day. You can read also Jaipur zoo.
If you want to witness the desert area, you could do that here, as well. There's a night tour that would give you the opportunity to witness the beauty of the desert in the night time. You can read also Adventure Sports in Los Angeles.
Hot Balloon Ride
Fly over the Jaipur city and undergo the striking view of the forts and Palaces lied amongst the Aravali ranges. Bask into the glut of colors and sounds of the pink city from above.
The hot balloon ride is the most adventurous sport in Jaipur and generally held a few hours prior to sunrise and sunset. Each ride could fit up to 8 people.
Paintball
Paintball in Jaipur is an amazing way to avoid everyday schedule and pressure. This adventure game is best when played in groups, and it proffers an ultimate fun-filled excitement.
Get armed with the German outfit and 25/50 paintball shots along the perfect landscape suitable for the sport. You can read also Best Family Holiday Destinations in India.
It is located in Kukas and opens from 9 am- 9 pm. You can book an adventure trip here Book online. and you can check also Entire Day Adventure Activities at Tao Experience.
You can buy Paintballs guns with a 30% to 50% discount.
Paragliding
Fly like a bird, feel the breeze, watch the sky above your glider. The exceptional experience of paragliding is an amazing Adventure Sports in Jaipur.
This adventurous sport doesn't have any age restrictions. From 6 years old to an 80 years old ride this. You can read also Best Islands in India for Honeymoon.
This will be a perfect gift for you and your loved one if you're seeking an adventurous trip. For adults, the prices are 2500 INR, and for children, it would cost 1500 INR. You can read also Adventure Sports in Gujarat.
Low Rope Course & Swimming
Adventure Sports in Jaipur The swimming and low rope course would be amazing activities to do in Jaipur's Timber Adventure.
The rope courses are for all age groups with an accent on implementing all safety precautions and once you are all drenched in sweat; move on to swimming.
It would cost only 180 INR. You can read also Top Tourist Destination in India.
Moto Sports Park
If you're an ATV ride lover, then you don't want to miss out on the opportunity this Motor Park in Achrol proffers. This park is solely reserved for ATV rides and other Adventure Sports in Jaipur.
Moreover, this park is tremendously popular amongst those adventure-seeking groups. The packages start at 900 INR. You can read also Adventure Sports in Jaisalmer.
Zorbing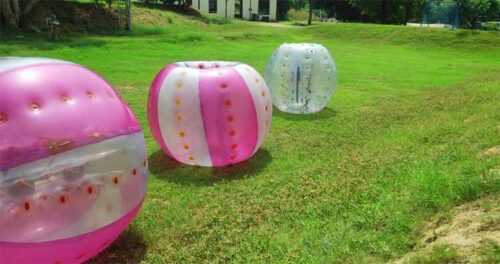 This sport is not known amongst most people; however, if you play this game, you'd find it quite enjoyable. You can read also Best Indian Food for Travellers.
The general idea behind this sport is to get inside the gigantic transparent helium balloon and then have fun in the crowd.
The sports is all about bumping into others and rolling over without any chance of an injury. The ticket price would cost you around 2400 INR. You can read also Adventure Sports in Chopta, Uttarakhand.
Cycling Tour of the Jaipur City
The countryside view of Jaipur city is worth exploring. The city has a lot to offer for its visitors in order to learn about the locals and their traditions. You can read also Best Travel Tips to Asia.
The best way you could take pleasure in the Jaipur countryside is by way of cycling tours that enable you sufficient time and occasion to appreciate the views around you.
We hope that you'd take the listings above into consideration. However, these are amongst the few, we have placed under the top 10 lists; Jaipur is a city that doesn't lack in adventurous activities.
You can check our guide Best Places to visit in Jaipur
Feel free to drop your suggestion in the comment section and let us know about the experiences you've had if you have been there.
Are you looking to book your next trip? Check out the following services we use and love or click the previous link to read more!