Akshardham Jaipur is the new architecture of Jaipur. This is one of Jaipur's most beautiful temples because there are many more specified areas for visitors.
It has a fantastic look in the late evening and early morning. According to tourists, this temple location is like heaven.
And if you are in nearby Delhi, you must visit Akshardham Delhi Temple.
Before Visit Akshardham Temple In Jaipur, Consider These Points
Where Is Akshardham Located, or Is Akshardham Jaipur Distance?
Why is Akshardham famous?
Akshardham Jaipur Ticket Price?
Opening Time Of Akshardham?
Akshardham Jaipur Closing Time
Akshardham Temple Arti Time?
Garden Near Akshardham?
Akshardham Mandir was Built By?
Akshardham Jaipur photos.
Important Information
Bochasanwasi Shree Akshar Purushottam Swaminarayan Sansthan, Constructed many temples in many cities of India and out of India.
Akshardham Jaipur Phone Number
The phone number of the Akshardham temple is 0141 224 6100.
Akshardham Jaipur Timings/Swaminarayan Mandir Jaipur timings
Is Akshardham temple, Jaipur open today?
All days of the week except Monday
Morning at 7:30 am – 12:00 pm
Evening at 4:00 pm – 8:15 pm
Closed for Rajbhog – 10:15 am – 11:15 am
Closed for Thal – 06:00 pm – 07:00 pm
Akshardham Arti Timings
Mangla Arti – 6.00 am
Shangar Arti – 7.30 am
Rajbhog Arti – 11.15 am
Sandhya Arti – 7.00 am
Shayan Arti – 8.00 am.
Buy temple-related items.
Akshardham Jaipur Address
Jaipur is a traveler's delight with its deserted forts, magnificent palaces, and beautiful Havelis. One can find here a perfect blend of Modernity and Tradition. The city is also known as the Pink City because of the color used exclusively in the walled city. It is Jaipur's capital and the largest city in the Indian state of Rajasthan in Northern India.
Akshardham Jaipur is a unique temple complex located in WP2R+V6Q, Vidyut Nagar, Vaishali Nagar, Chitrakoot, Jaipur, Rajasthan 302021
Camera/Videography
Not allowed (inside the temple)
How to Reach Akshardham?
The temple is located in the city's heart and is easily accessible by public transportation. Travelers can take a bus or train to Jaipur and then take a taxi or rickshaw to the temple.
The temple is open every day from sunrise to sunset, and there is no admission fee. Travelers can explore the temple complex at their leisure and should not miss the opportunity to see the beautiful gardens and architecture.
Akshardham temple is an unforgettable experience, and travelers will surely enjoy their visit.
Best Time To Visit & Food
You can visit this temple any time, but the best time is early morning and after sunrise if you want to go there regularly.
But if you come here as a tourist, you must arrive between October and March because, in this period, Jaipur's temperature is medium, and a good time to visit the pink city.
In the temple area, there is a food court named the Premvati food court, and outside of the temple, you can get various types of street food like Golgappa, Chole-Kulche, pav bhaji, etc.
Check out the list of Best Indian Food for Travelers
Shopping Market
The temple area has no shopping market, but you can get many shopping malls nearby.
Akshardham Temple History
"Swaminarayan," also known as "Bochasanwasi Shree Akshar Purushottam Swaminarayan Sansthan," is the founder of "Swaminarayan Sampraday." He has stabilized the many temples, all known as "Swaminarayan Mandir," with various idols of god.
He constructed approximately ten temples in 10 cities like Ahmedabad, Junagadh, Dholka, Bhuj, Muli, Dholera, Vadtal, Jaipur, Delhi, etc.
In these temples, he appoints the various icons of God Swaminarayan.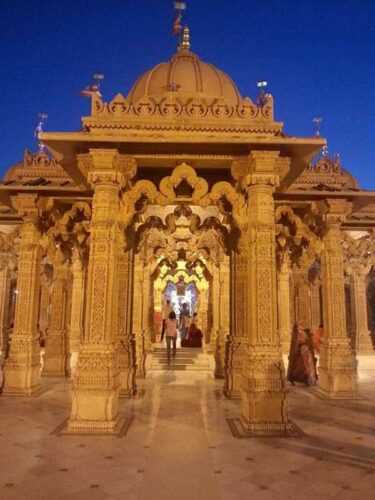 But you will be surprised to know that all Swaminarayan temples are a corroboration of prime concern to Lord Krishna, which means all temples show any unique form of Krishna's life.
Swaminarayan temple in Jaipur gives a lush green view from afar, an attractive symbol for tourists.
Legend of Temple
This temple is dedicated to God Narayan, who worshipped the God of Hindu Dharma.
Akshardham Jaipur Architecture
All series of Akshardham have the same point: all icons of the Lord are situated in a central location of the temple.
Here we give some attractive architectural designs of the temple in Jaipur.
This beautiful temple has a unique location in Jaipur City because it is in the colony.
Temple looks like an old historical period temple.
The garden area of this temple has a fabulous sight for visitors because its courtyard zone is vast in an area adequately covered with lush green beauty.
This temple's walls are painted with motivational, religious lines, giving visitors positive thinking.
The complete area of Swaminarayan temple means the temple's devotee zone, God zone, and courtyard are very neat and clean; that's why thousands of tourists visit this place a week.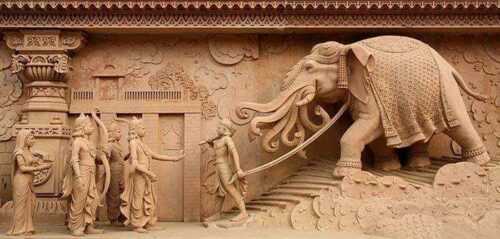 The new beauty of this site is its paintings, Greenery of curving walls and decoration of Swaminarayan idols with silver and gold ornaments.
So to feel a peaceful environment and make your trip beautiful at least once, you must visit this temple.
Special Facts about Akshardham Jaipur
This temple is a series of "Swaminarayan temples" in India and out of India.
"Swaminarayan" or "Akshardhaam" is the world's most significant series of Swaminarayan temples.
These temples are also situated outside India in popular destinations like Sydney, Melbourne, Western Australia, Adelaide(South Australia), Tronto(Canada), Fiji, etc.
Question Hub Of Mysterious Trip About Akshardham Jaipur (FAQ)
1. What is Akshardham Jaipur's timing today?
Morning at 7:30 am – 12:00 pm and evening at 4:00 pm – 8:15 pm, except Monday.
2. is Akshardham Jaipur open today?
Yes, It is open.
3. Akshardham temple, Jaipur opening time tomorrow?
Morning at 7:30 am and evening at 4:00 pm
4. Distance between Akshardham to Sirsi Road Jaipur
The distance between Akshardham to Sirsi Road Jaipur is approximately 9 kilometers. The journey can be completed in about 20 minutes by car. However, the exact time will depend on traffic conditions. If you are planning to walk or cycle, it will take longer to reach your destination.
5. Date of the foundation stone of Akshardham Mandir at Chitrakoot Jaipur.
The exact date of the foundation stone of Akshardham Mandir at Chitrakoot Jaipur is unknown. However, it is believed to have been founded sometime in the early 18th century.
Read Also:
Hotels Near Akshardham Jaipur–
Tips for Visiting: Akshardham Jaipur
Here are some tips to help you make the most of your visit to Akshardham Jaipur:
Wear comfortable shoes as you will be doing a lot of walking.
Bring a bottle of water with you as it can get hot in Jaipur.
Try to avoid visiting during peak times, such as holidays and weekends.
Akshardham Jaipur is open every day from 9:00 am to 7:00 pm. The complex is closed on Mondays.
Be respectful of the temple's rules and regulations.
Take advantage of the free audio guide available in some languages.
If you visit with children, they have a particular play area.
Make sure to see the musical fountain show, which takes place every evening at 6:00 pm.
The complex has many restaurants, ranging from fast food to fine dining.
If you are staying in Jaipur, there is a hotel within the complex.
Best things you can do when visiting Akshardham Jaipur
You can see this place: