Monkey Temple Jaipur (Galta Ji Temple)
Monkey Temple Jaipur Hey, Muskaan here, do you love to visit the traditional and cultural places? Why don't you come to Jaipur and feel the natural vibes with the essence of Indian cultures?
Foreigners love to undergo the traditional Indian cultures and Rajasthan is one of the best states to gain traditional and cultural experience. Jaipur is the capital city of Rajasthan having every kind of tradition.
One can avail the cultures and along with westernization also. Jaipur includes Nahargarh Fort, Amber Fort and many other regional sights to visit.
Galata Ji is one of the most famous temples in Jaipur having a huge range of tourism situated 10kms east to Jaipur. The temple is known as Monkey temple also.
I love to travel a lot. One night, I was sitting and feeling so bored so I thought to plan a trip with friends this weekend to have fun and to come out from the hectic schedule.
I called my friends group at the very same moment to ask for going to visit Galta Ji temple. My friend's group includes 5 members Harshita, Riya, Abhay, Dheeraj and me. We planned for Saturday (the week off) but Riya was having some issues on Saturday.
So we postponed the trip to Sunday. We planned to meet at Abhay's home so that we can move forward to Monkey Temple together. We all are very much excited as we are tired of the classes and offices.
On Sunday, its 9 AM, we met at Abhay's home. Dheeraj booked the cab charging about 450 RS and we started our trip. Galta Ji is situated on the eastern outskirts of Jaipur.
It is a prehistoric cultural pilgrimage site to visit. Aravali hills covered the background of the temple and make the environment natural, peaceful and soothing. You can read also Luxury Swiss Tent Resorts in Jaipur.
Galta Ji includes natural springs, holy Kunds, pavilions and shrines over there. This magnificent temple is the heart of hilly terrains that attracts a wide range of tourism. The temple built with pink sandstones with every wall painted.
After reaching the destination, we found the attracted Suraj gate. The gate is painted by pink color with the white traditional designs printed on it. Near the gate, there are food stalls from where we had our food.
The food items were really delicious and having not much cost also. The 50 Rs Maggie was really worthy due to its spicy and amazing taste. From the Suraj Gate, it took around 20 minutes to reach to the Galta Ji temple.
Avail the Natural View of Jaipur from Galta Ji!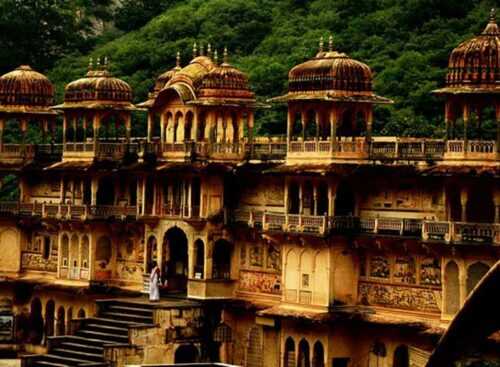 The way to Galta Ji Temple passes through the mountains. The path is very sleepy because of the smooth and sleepy stones. So we have to be very careful and conscious of our every move.
The temple is built by Diwan Rao Kriparam in the 16th century. It is said that Saint Galtav spent his entire life at the same place in doing Tapasya for hundred years.
After watching his devotion, God blessed him and the place too to be known by his name to worship him. To honor Saint Galtav, the temple constructed and named as per his name.
The temple is blessed with natural waterfalls also which gets collected in the water tanks. These springs are natural so they never get dry which grabs the attention of visitors to come there.
We went to the sun temple at first. This is the ultimate place to visit sunset and to get a panoramic view of Jaipur city. One can visit the entire Pink City from this place.
Now, we are almost in Galta Ji The Monkey Temple. The plus point to visit Galta Ji is, there is no fee charge asked to enter in temple. There are 7 Kunds and the main one is Galta Kund, the largest one.
An honorable place for every Indian, People use to bathe in Kund to take the holy blessings of God. It is a saying in Indians, taking deep in Galta Kund means to get out of their sins and get moksha in their lives.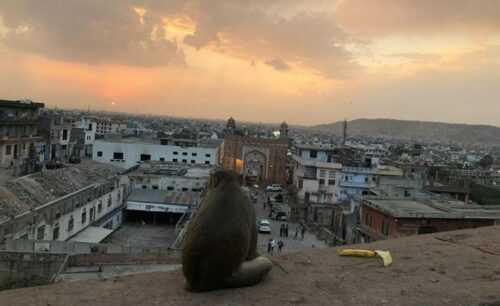 The main attraction is Galta Ji Temple surrounded by a beautiful scenic view due to the Aravali Hills and constructed with Pink Stones. We served Monkeys and they get attracted to us.
Monkeys used to get attracted to shiny properties and food items. Riya got scared when monkeys came around her to get food. It was a very interesting and fun moment of our day.
When we went to Shree Sitaram Temple, the view was historical attracted us. The view of this temple makes us explore the place more.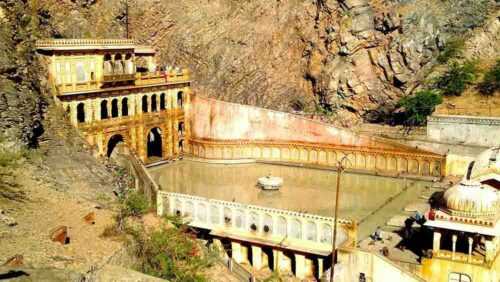 There are many sculptures present of Hindu God and Goddess which are constructed so evenly. The wall paintings were also mesmerizing. The architecture of the temple was amazing to look forward to.
The day is about to end, so we went to the park and relaxed over there. The park is surrounded by a soothing view of mountains with nature.
The place makes us feel so positive and energize again. You can read also the Best Water Park in Jaipur.
Don't Forget about the Mentioned Things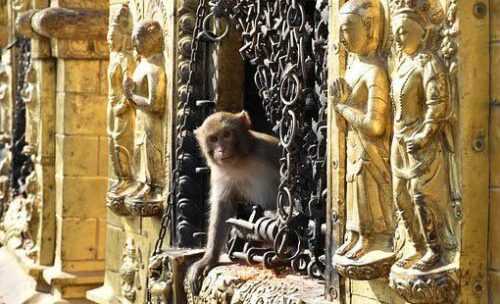 If anyone is planning to visit Galta Ji temple in the summer season, it is really very hot there. It is not so easy to reach there in fancy clothes.
To visit the temple, a few things to keep in mind for making the trip comfortable are:-
Wear comfortable and loose clothes.
Don't try to wear heels and uncomfortable shoes. Go for the sports or any other comfortable pair of footwear to walk.
Keep a water bottle in the bag as it is very hot and you need to climb up.
Sunglasses are also important to keep the eyes protected from healthy sun rays.
When to Visit Monkey Temple Jaipur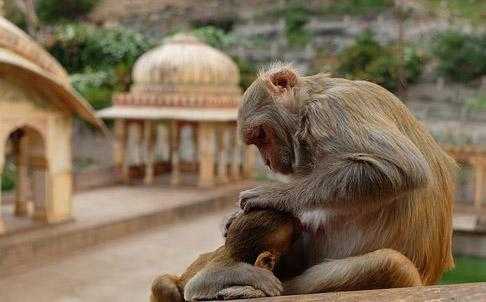 Jaipur is quite a hot city so if the trip is manageable for every season then don't choose the summer season to visit the place. You can read also Jaipur Travel Guide.
Make sure to visit Galat Ji from February to March and from October to December. The seasons are quite cool so it will not mess up with you while watching the temple.
Sightseeing in Galta Ji temple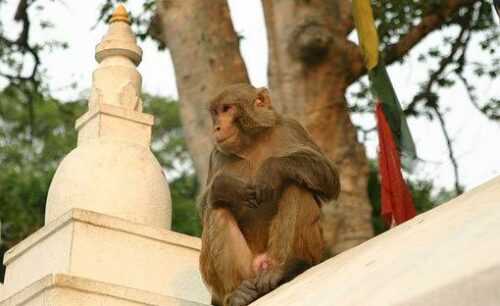 Galwar Bagh Gate, an amazing structure to visit in Galta Ji Temple.
Hanuman Temple, known as the residence of monkeys. Lots of monkeys can be found around the Hanuman Temple.
Brahma Temple
Vishnu Temple
Galta Kund
How to Reach Monkey Temple Jaipur?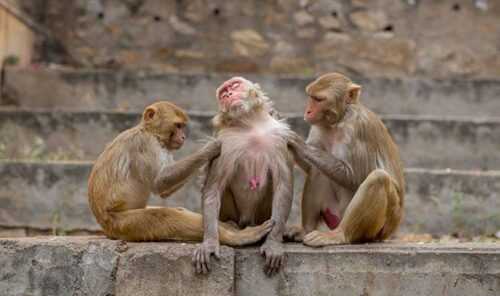 There are many city buses available which make an individual visit Galta Ji (Monkey Temple Jaipur). To make the travel more convenient comfortable, one can book own cabs as well. You can read also Best Jaipur Street Food.
Conclusion
If you are one of them who love to travel, then don't miss the chance to visit Monkey Temple Jaipur. This makes you gain a new and better experience to add in your traveling book.
Are you looking to book your next trip? Check out the following services we use and love or click the previous link to read more!
Oyo To find best hotel deals.
Best International Flight Deals to Book in 2019.
World Nomads to insure your trip.
Hostelworld to find a budget hostel.
Jetradar book Flight at cheap price.
GetyourGuide Guided Tours.