Adventure Sports in Gujarat
Adventure Sports in Gujarat, Do you want a break from your hectic schedule? Do you have enough time to spend on your vacation, such as 15 to 20 days? If you do not have enough days for vacation, then don't worry.
We have a perfect destination for you to visit where you can relax and take a perfect break from the exhausting routine, which is Gujarat.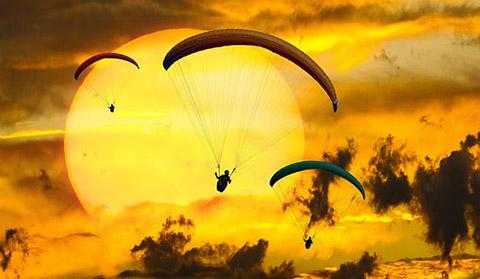 It is not so far, so it will not take much time, and along with this, the tourist attractions and adventures of this place will make everyone have fun at the place. You can also check Best Places in Gujarat.
Gujarat is a perfect destination for visiting different places, but this is not done here. There are many adventure sports and water sports in Gujarat that can be done.
If you want to know what activities you can do in Gujarat the read the details declared below. In the mentioned paragraphs, we will discuss the activities one can do in Gujarat. So let's start the discussion without wasting much time now.
Avail a New Experience in Life – Perform Enthusiastic Adventure Sports Activities!
Paintball
Paintball is an amazing activity to be played by people. In this game, you have to wear the staff's required suits so that you won't get injured. Now when you get ready, guns will give to you with paintballs in them.
In this game, you have to target the opponent team members and shoot them with the balls. It is very interesting to the game can be played in a group.
The arena gave for playing the game is looks like you are going to fight with your opponent. It is an amazing feeling to play this game, which a person should try for sure. It is one of the most loved Adventures sports in Gujarat.
Price
It will charge 150 to 300 Rs per person.
Best Places to do Adventure Activity
Delta 9 Adventures
Bang Bang
Paintball Warfare
Boot Camp – the adventure zone
Approx Time Took
They allow the players to play the game for 20 to 30 minutes last.
Target Shooting
One of the best Adventure Sports in Gujarat, Target shooting, is something that is really very much interesting. If you want to learn shooting, Gujarat is really a very fine place for learning sports.
In this game, you need to target the given subject, which is a very interesting task to be done.
Price
It will charge 200 to 400 Rs per person.
Best Places to do Adventure Activity
Target Rifle Shooting Academy
Aamsaran Rifle & Adventure Sports Academy
Rifle Club Ahemdabad
Rifle shooting training
Approx Timing
10 to 15 minutes max are allowed to the person to do the adventurous activity.
Archery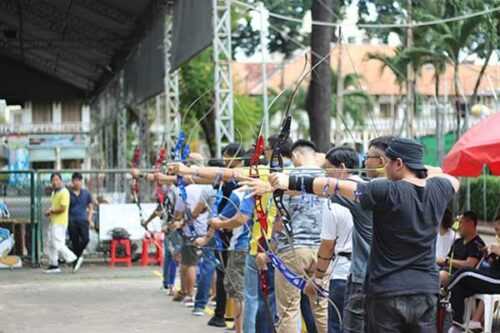 Archery is a target game. It is an art, sports which use the bow to shoot the arrows to the given targets. Archery is basically used for hunting in the historical time, but now it is done for game playing.
There are many people who are fond of targeting adventure activities, and archery is best for them to attain a good experience. You can also read Adventure Sports in Chopta.
Price
It depends upon different academies that how much they will charge from you. Otherwise, 300 will be the average cost for this.
Best Places to do Adventure Activity
Kankaria Target Agency
Master Agencies Private Limited
Eklavya Academy
Valam Hall
Approx Time
For doing Archery, the academy will give you 15 to 20 minutes.
People who want to enjoy adventure activities in Rajasthan check below
Body Zorbing
Adventure Sports in Gujarat, Body zorbing is a unique and enthusiastic adventure activity in which the person is put into a plastic ball rolled on the ground.
Some balls only cover the upper body, by which the person can also play some games. It is a very funny but interesting activity.
Price
For playing this activity, one needs to pay near about 200 to 300 Rs.
Best Places to do Adventure Activity
Boot Camp – the adventure zone
There are some other places to do body zorbing.
Approx Time Taken
To do the body zorbing, one is allowed to do activity for 30 minutes, at least.
Trampoline
It is a fun activity for kids. Trampolines are of different sizes made for elders as well. A trampoline is a way to loosen up the body freely.
You have to jump over it. This makes you feel so entertaining and interesting.
Price
100 to 150 Rs for playing on Trampoline
Best Places to do Adventure Activity
Adventure Arena
Vishvakarma
Amusement Games
Bang Bang
Delta 9 Adventures
Approx Time Taken
This activity will take only 5 to 10 minutes to enjoy.
Segway
It is a two-wheeling personal vehicle having a platform along with the tires to stand the feet. The handle is surmounted in the middle to tackle the ride. This handle helps to distribute the weight accordingly.
It is an exciting activity that requires training and skills; otherwise, it can injure you. Ensure that you are well and good at self-balancing, then you will be able to ride on it.
Price
Below, 500 Rs is the price for segway activity.
Best Places to do Activity
Boot Camp
Delta 9 Adventures
Approx Time Taken
15 minutes is the highest time to play this activity.
ATV Bikes
Adventure Sports in Gujarat, ATV bike ride, is a very interesting quad bike ride. ATV (all-terrain vehicle) is a very heavy bike that requires a high strength to handle.
The person has to put efforts to tackle its heavy handle. This bike ride is exciting and is a way to bring a new riding experience for you.
Price
The activity charges only 150 to 250 Rs.
Best Places to do Adventure Activity
Gaps Outback ATV adventure trails
ATV biking
Indian Motorcycles in Ahemdabad
Approx Time Taken
The area is fixed, where you have to take the ride. It will take around 10 to 30 minutes only to take one round.
When you want to get out of the hectic schedule, come to Gujarat and do all these Gujarat Adventure sports to enjoy and revive the energies again.
Enjoy Adventure sports outside India
Are you looking to book your next trip? Check out the following services we use and love or click the previous link to read more!
Read Also: