Auli Tour Plan
Auli tour plan, Auli is a small hill station near Joshimath ( Jyotirmath ), about 16 km. This place is perfect for planning a trip because of its very calm and gentle nature.
For those who are tired of city chaos, the place will work out for them. Me and my friends planned for this trip.
How to Reach?
To reach Auli, we have to reach Haridwar Railway Station and from there, book a Taxi. This will be the most convenient way to go and add fun to the trip, otherwise, you will get hassled.
From Jaipur, we booked our ticket on the 3 AC train for just 900 INR. After reaching Haridwar, we booked a taxi over there for 3000 INR, and here we started to execute our Auli Trip Plan. You can also do the Auli tour plan from Kolkata. If you come here, you can also roam Rishikesh. You have come here; read here the best places in Rishikesh.
When to plan a trip to Auli?
So if you plan to visit Auli, try to set up your trip between December to March. This is the peak time of tourism attracted to its snowfall.
Many of the folks there are not fond of snow much, and they want some time to get out of their hectic schedule. So Auli is something that can be visited throughout the year. The temples of the nearby city (Rishikesh) are also worth visiting; read the full details here.
Between the time period of April to July, you can avail yourself of the experience of green and beautiful landscapes and clear blue colour skies with peaceful white clouds.
My Experience
So here we started our trip to Auli. So here we will cover up the places where we visit Auli. So let's get started.
Auli Artificial Lake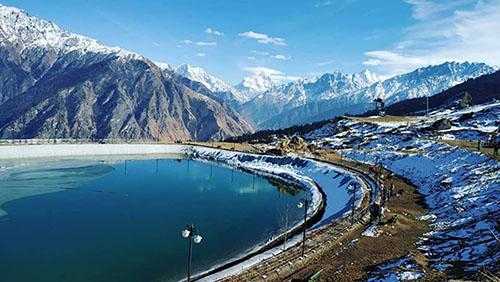 Auli tour plan, We started at Auli Artificial Lake. Auli Artificial Lake is one of the highest manmade lakes in the world. This is one of the best places to visit in Auli. The water in the lake is used to fuel the snow guns.
The lake is built with an artificial ski slope. It is a very adventurous designation, which is a must for all people to watch. This lake is situated next to the clifftop club hotel.
An ideal place to watch and encourage tourism activity. This lake is surrounded by mountains with a beautiful view, people spend their peaceful time here. And also it is the Auli tour's best time.
It is the best place for nature lovers because the view around this lake is like makes you feel that you are in heaven. We spent around 1.5 or 2 hours there. One such magnificent place is Mussoorie, if you are interested in going there, then here we will give you complete details.
Joshimath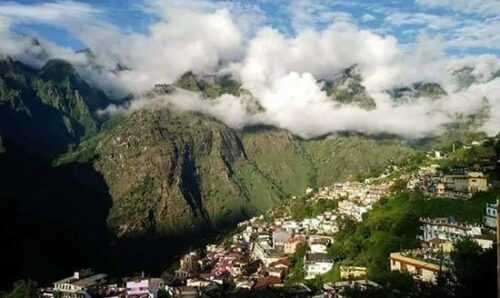 Now to Joshimath is located in the Chamoli district of Uttrakhand. This place is situated very near to Auli and is one of the best tourist places. If someone will tell about Jyotirmath, then don't get confused; it is another name of the place.
This point is the beginning of a Himalayan journey involves ropeways to Auli. It is the trekking trail to Badrinath. The aura of this place was amazing and even if anyone is not a nature lover then also they can stay at the place easily for many hours.
There is a Tapovan Hot Spring which is very fascinating to attract everyone. This is the place which is popular for adventurous activities. We did camping here and nature's view, we watched was great at all.
The beautiful sky with the sounds of insects, cool winds, everything loved there, and it is the feeling which a person should feel at least once in their lifetime. Let us tell you the information of the best hill station in India.
Gurso Bugyal
Auli tour plan, If you are one of those who love the offbeat destination then it is the best place to visit. This place involves a short trek but still, it is adventurous enough which is about 3KMs. It makes you land on the Gurso Bugyal.
The view from this place is really majestic due to the beautiful mountains with a panoramic view of skies. If anyone is there who is not fond of snow and they want to take a view of green valleys, in the summer season just visit this place for once. If you also have thoughts of traveling to Mussoorie then you can read Mussoorie travel guide.
In summers, the region will automatically get transformed into endless green meadows and the beautiful mountains. Our Auli Tour Plan was going well and we had a lot of fun till this particular money and now much more is waiting for us.
We had our breakfast in the Hotel so now this is the time to have lunch. We are very near to the end of Auli near about 1.5 km.
Many stalls were situated near the place so we planned to have something. We ordered Maggie and momos over there which are very tasty to have. You can also read the Dehradun Auli package at Dehradun Travel Guide.
Nanda Devi Peak
It is one of the highest hill stations near Delhi. Auli is located in between the tallest and huge peaks. The place offers an amazing to Auli.
From all of the peaks, it is one of them and having a very scenic beauty view. This peak is surrounded by the Nanda Devi Park and makes you catch the best views of Auli. You can also read Mussoorie Tourism: Best Mussoorie Trip.
When we went there, we found a peaceful and pleasurable environment over there that offered peace to the inner soul. Flora and fauna of the place were so mesmerizing. It is the second-highest peak in India. Auli weekend trip is the best moment in my life
Auli Ropeway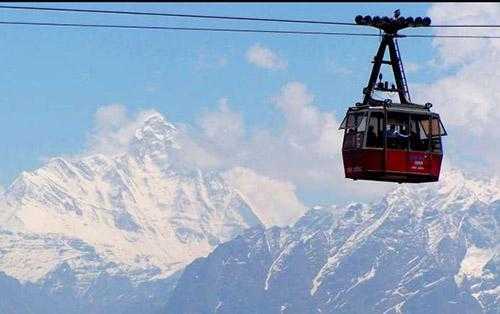 The Auli Ropeway connects Joshimath to Auli. It is one of the highest and longest Ropeways in India. After Gulmarg in Jammu and Kashmir, it is one of the popular ones. This ropeway covers around 4 km.
When we went to take the experience of this ropeway, we found this as one of the best must-try things to do in Auli. From this ropeway, one can visit the entire places from a great height and made us visit the place from a different angle.
Chttrakund
Auli tour plan, Chttrakund is situated at a height of 3300 meters. In Auli, the clear crystalline lake adds charm to Auli. This place is really awesome to visit. If you will follow up on the pathways, one will find a beautiful lake where the visitor will find peace.
If you want to get out of the city chaos, this place is very perfect to come. Now we are done with the entire day so we though to get back to the hotel room. We had our dinner over there and took rest for the entire night. You can also read Sahastradhara Dehradun.
Chenab Lake
Auli tour plan, Now again in the early morning, we went to the Chenab Lake. We found the most beautiful view there. This is the best place for serenity. In the area of Chenab Lake, one can explore different corners.
It does not matter, you are with your partner, your friends or with your family, the place is perfect for everything in the Gharwal Himalayas. You can read also Best Places to Stay in Chopta, Uttarakhand.
The place includes unexploited beauty of nature. When we visited the lake in the morning, the experience we felt was beyond the expectation.
Auli Ski Resort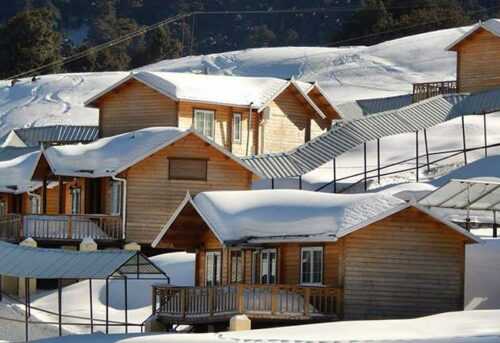 It is a perfect designation for skiing in India. In the peak months, ski enthusiasts can visit the place. The Auli Ski Resort provides accommodation facilities to every day.
The scenic beauty of this place is beyond the expectation because the mountains and even the resort are also fully covered in snow.
At peak times, the surroundings will get covered by the snow totally. This scenic view offers a feeling to live in a resort. You can also read Har Ki Dun Trek – Trekking in Uttarakhand.
Trishul Peak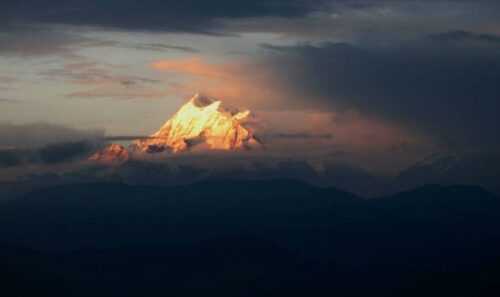 3 day trip to Auli, In the Garhwal Himalayas, there are many peaks situated which are very pretty looking and majestic even also. Trishul peak is one of the most famous peaks which are famous for every tourist as it has three different faces as well.
It is the most attractive tourist attraction where visitors gather for adventurous sports skiing. We went to Auli at the time of late December, so we found a snowy area over there.
Trishul Peak is in Kumaon Region where it was too cold but still, it was soothing and making feel so good. I found this site as the prettiest place over there and it is a must-visit place in Auli as well.
Vishnuprayag
Vishnuprayag is the most ideal place in the mountains where you can find the fast-flowing water throughout the year. This place is a holy town.
When we went to the place, the two tributaries were clearly visible Alaknanda and Dahuliganga. The place is in the Chamoli district of Uttrakhand and set at an attribute of 1372 above the sea level.
Visit Auli for Sure – Final Verdict!
It does not matter that you have been to Auli or not, but for now, if you will plan any trip, then choose Auli.
It is the perfect place to visit due to its scenic viewpoints and many more adventurous sports to do. So visit Auli and gather new and fresh memories for your lifetime.
Read Also:
Are you looking to book your next trip? Check out the following services we use and love, or click the previous link to read more! You can also read Places to Visit in Himachal Pradesh.
Oyo To find the best hotel deals.
Best International Flight Deals to Book in 2019.
World Nomads to insure your trip.
Hostelworld to find a budget hostel.
Jetradar book Flight at cheap price.
GetYourGuide Guided Tours.