Making sure you take along a GPS Navigation device on your camping trip is now more necessary than a convenience. Take a wrong turn, and your camping GPS device becomes the essential item in your pack. The luxury of technology is the ability to travel anywhere you wish without worrying about getting lost.
Many hikers and campers believe that a smartphone works just as well as a handheld camping GPS device. In many ways, smartphones are comparable until there are no nearby cell towers. A GPS device only needs a signal from a satellite to find your exact position.
How Do I Choose the Best Camping GPS Device?
Global positioning devices are no longer revolutionary; they are now in everything from drones to dog collars. Lists of devices are everywhere with an exhaustive number of features.
Here are a few attributes you should consider:
Screen size is all important. As the screen increases, so do the size and weight of the device. Always look for the best trade-off of weight to screen size.
Touch screen or buttons, this feature is mostly about personal preference. However, if you do most of your camping in the winter, a device with regulators will be more convenient with gloves on.
An essential Camping GPS device is just that basic, meaning fundamental navigation only. As technology becomes more complex and smaller, so does the number of features on a GPS. If you load up on capabilities, be prepared to pay a hefty sum, also, consider if you need to communicate with each other.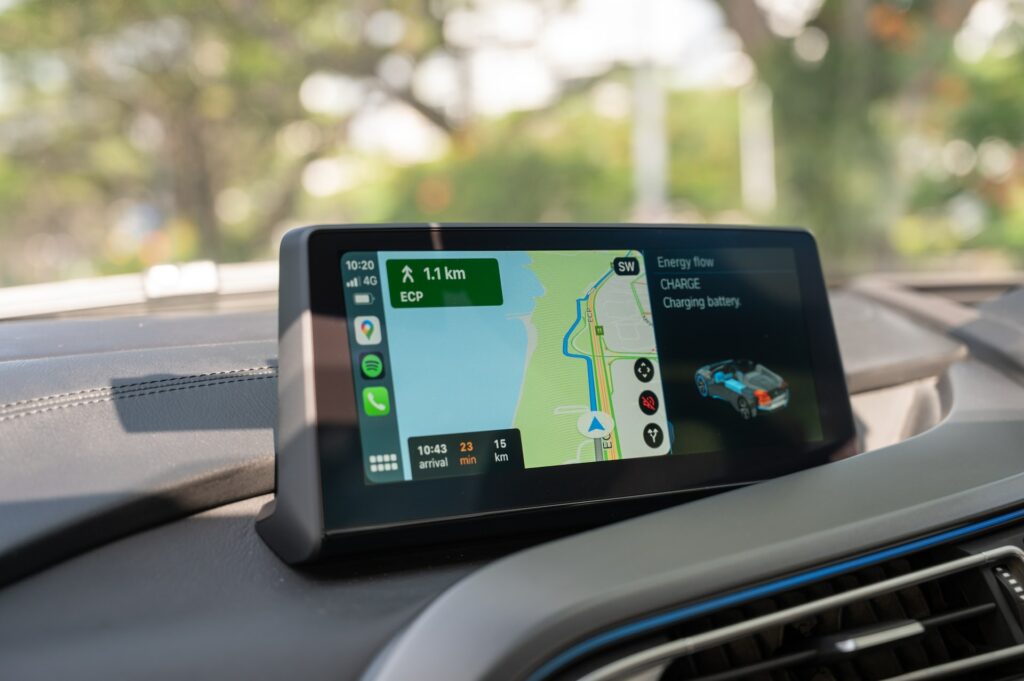 Consider these features when making your purchase:
Wireless data transfer
Preloaded maps
Waypoint and memory
Garmin is the name to consider when starting your search for quality gear. The company has seen a meteoric rise since its founding in 1983.
Products range from wearables to automotive, marine, and aviation, with a strong presence in camping GPS navigation devices. Garmin is a highly innovative manufacturer where you can purchase a single product and stay with them for a lifetime.
Garmin Montana 750i GPS:
This is a navigator to consider if you are looking for a device that does everything. In Reach, Satellite technology allows the 750i to communicate anywhere in the world.
The iridium satellite network lets Garmin text message, send emails, and discover waypoints around the globe. In an emergency, the user can automatically trigger an SOS signal.
The Built-in eight-megapixel camera, touch screen, and 16 MP data cards are all part of the 750i. The Garmin comes preloaded with TOPO maps of North America, making the 750i an exceptional value.
eTrex 10 Worldwide GPS:
Garmin's affordable camping GPS device has plenty of features that make this navigator one of the best. A large 2.2" display and easy-to-use interface allow users to read navigation readouts anytime.
One of the great features of the eTrex is its support of Geocaching. Have fun while on your hike or camping trip with Geocaches, a digital form of treasure hunting. HotFix satellite prediction and WAAS enabled are just a few of the advanced features of the eTrex.
Day hikers are the most vulnerable group to veer off the trail and get lost. It is not the hikers going deep into the woods but the casual hikers planning an enjoyable trip a mile away from home.
Most of the lost hikers have decision points on the trail that take them off course. It could be junctions in the track, a path that leads to an overlook, or a half dozen other options.
Hikers are likely to take along a camera rather than a GPS device because the notion of getting lost is so far from their minds. The affordability and functionality of these navigators mean any hiker should never leave home without knowing exactly how to get back to the trail.
Most GPS handheld devices built by Garmin come with Topographical maps with waypoints on many of the nation's hiking trails. These maps and updates are readily available from the Garmin site.
Garmin GPS Map65:
Affordable and packed with features, the Map65 has everything a Day hiker or camper would need for a safe trip. Multi-band support means you are never out of range. Plenty of TopoActive mapping for the US and Canada is included in Map65. Smart notifications and Geocaching make life on the trail much more manageable and fun. Plenty of data is available on the Map65 with a 32GB data card.
Many people get caught up in all the advanced features being added to camping GPS devices; they forget what is truly needed when camping. As technology continues to enhance GPS devices and anything electronic, so does campers' bewilderment in choosing the right one for their needs.
Consider enhancements such as a camera or Geocaching, but do not forget what is needed. Stellar satellite positioning, long battery life, touchscreen or buttons, weight, and size should be at the top of your list. Once satisfied with the basic configuration, look for the add-ons.
Garmin Tread Base Edition:
The Tread Base is the answer if you want an outstanding device with all the enhancements and stellar basics. One of the strong points of this device is its distinctive mapping features; topographic, public, and private land info, forest service roads, and trails are a small part of its capabilities.
A rugged, weather-resistant device that can last a lifetime. A large 5.5-inch touchscreen display and direct Birdseye satellite imagery can be downloaded to the Tread Base. The Garmin comes with a power mount and a complete wiring harness.
Trekking through the wilderness, cut off from the rest of the world, may sound exciting to some. However, one wrong turn and the excitement may turn into tragedy if you go it alone without a camping GPS device. Camping and hiking are beautiful sports; any experienced camper will tell you the same thing.
Never leave your home without a way to communicate and the ability to position yourself. You may not always use it; however, knowing a GPS device is in your backpack is a good failsafe.
Also Read:
Physical and Mental Health Benefits Of Hiking
Essential Survival Gear for Winter Hiking