If you love to chase down the most beautiful views, you can't go wrong by picking hiking trails in US National Parks. If you want to see forests, waterfalls, lakes, and mountains (and sometimes all of them at once), there are plenty of options to choose from, at varying difficulty levels.
We'll give you some tips on how to plan your next hiking trip, especially if you're new, and our top 5 recommendations for incredible hiking trails in US National Parks to try out.
How to Plan Your Hiking Trip
If you're new to hiking, there are a few things to keep in mind.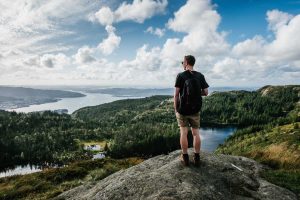 Get Prepared
You'll need some decent gear if you want to get into hiking trails in us. It doesn't have to cost a fortune, but there are a few things that are worth investing in, including:
A comfortable backpack with padded straps. It should be big enough to hold your essentials without being so heavy that it overloads you.
A large water bottle or water bladder to keep you hydrated, especially if you're going for a long hike.
A robust pair of shoes or sandals. It can be difficult to figure this out, so look for a guide, like this one: What Are the Best Sandals for Walking and Hiking?
Choose Your Trail Wisely
Always pick your trail with your fitness and experience levels in mind. Research what other hikers have to say about each trail. How did they find the experience? What are the difficult moments?
What are the hazards you need to be aware of? This insider knowledge is crucial, especially if you're new or you're planning a hike with your children.
Plus, before you go, take a moment to check the weather forecast so you can prepare.
Stay Safe
There are a few things you should do to stay safe on the trail:
Hike in groups if you can. If something were to go wrong, you'll have other people to rely on to get help.
Let someone know where you are going and what time you expect to get back if you have to go alone.
Take plenty of water to keep you hydrated, and pack some small high-protein snacks to give you energy.
5 Excellent Hiking Trails in US National Parks
There are so many amazing hiking trails in US National Parks, that it's hard to narrow it down to just a few. Some of them are difficult, but they'll reward you with amazing views and the sense of achievement that can only come from hiking a tough trail.
Here are some you could consider checking out:
1. Grinnel Glacier
Grinnel Glacier is located in Glacier National Park. With a distance of 10.6 miles, it takes around 5-7 hours. It's not a trail for beginners, but it's worth it for the unbelievably stunning views.
As well as a famous glacier, you'll see waterfalls, gorgeous lakes, mountains, and wildlife. For more experienced hikers, this is a must-visit.
2. Half Dome
Half Dome is not a trail for the faint-hearted. It's one of the toughest trails you can tackle. You'll need to apply for a permit to visit, and these are given out as a lottery at the beginning of the season. A whopping 17 miles, it takes 10-14 hours to complete.
Located in Yosemite park, you'll view the Vernal and Nevada waterfalls along the way, and when you get to the top of Half Dome, you'll see the most incredible view across Yosemite.
3. Notch Trail
Not all of the best hiking trails in US National Parks are difficult. Notch Trail is suitable for beginners. Located in Badlands park, it takes about 1 hour, with a distance of 1.5 miles.
You'll walk through a beautiful canyon, enjoying the scenery as you go. It's even suitable for older kids, although it does involve climbing up a wooden ladder and walking along a cliff trail, so that's something to keep in mind.
4. Sky Pond
If you want to hike in Rocky Mountain National Park, Sky Pond is a dream trail to try out. It's pretty difficult, with a length of 9.5 miles, taking around 4-5 hours to complete.
Sky Pond will reward your efforts with waterfalls, lakes, mountains, rivers, and streams. Getting there will involve a rock scramble up a waterfall, so we wouldn't recommend it for beginners.
5. Skyline Trail
Located in Mt. Rainier National Park, Skyline Trail is fairly strenuous, taking around 3-5 hours to complete the 6.2-mile trek.
It's worth the effort to see Myrtle Falls, forests, and then a gorgeous panoramic view from Mt.Rainier. You may be able to see as far as Mt.Hood, but every single step of the trail is beautiful.
We hope this has helped you to plan your trip to the best hiking trails in US National Parks!
Also Read:
Physical and Mental Health Benefits Of Hiking
Essential Survival Gear for Winter Hiking