Adventure Sports in Jaisalmer
Jaisalmer is known as the "Golden City," the heart of the Thar Desert. Jaisalmer is a popular place in Rajasthan to visit. If you plan a trip to Rajasthan, you must plan for Jaisalmer and see Adventure Sports in Jaisalmer.
It is an interesting place where you can meet with monuments, deserts, and adventure activities. Many folks think of finding a place where they can be in touch with cultures and do lots of adventurous activities.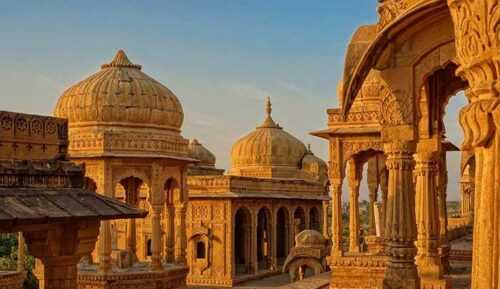 If you are looking at Jaisalmer as the best place for doing adventure sports activities, then we are here to help you out in this situation.
We will declare some adventure sports in Jaisalmer to learn about how and what you can do there. So, here we are on with our discussion.
Parasailing in Jaisalmer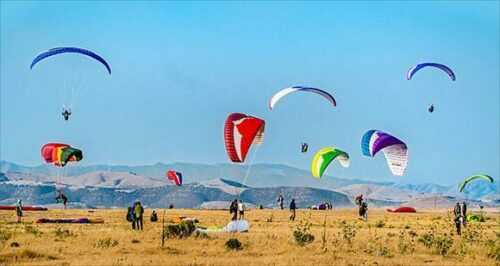 Adventure Sports in Jaisalmer, Parasailing is a thrilling activity. After doing this activity, the memory will stay in the head and heart forever. In just 15 minutes, you can get over the fear of heights.
Try parasailing over the desert and avail yourself of a new and unique experience in life. Up To 1000Rs is enough to take the ride. You can also read Adventure Sports in Chopta, Uttarakhand.
Don't worry about the safety measures because the staff hired for this activity is well trained and professionalized with their work and will take care of all the measures for safety.
Jaisalmer Desert Camp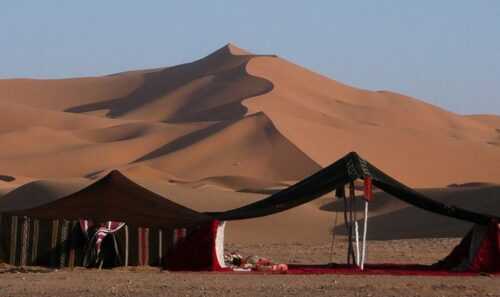 Adventure Sports in the Jaisalmer Desert is something for which Rajasthan is famous. If you want to explore the deserts, then the idea of doing Jaisalmer desert camping is best.
No doubt deserts are much too hot during the daytime, but when it comes to camping at night, I'm sure you will seriously love this activity. You can also read Adventure Places In Canada.
Deserts used to get colder, making you feel better staying at that place comfortably. Many desert camping packages are available to choose anyone that suits the budget and requirements.
Quad Bike
It is exciting to do. People used to drive cars and ride bikes, but taking quad rides is different. A classy bike looks fantastic, and riding offers you a new experience.
The main issue with this bike ride is handling the bike. The handle is hard to tackle due to its stiffness and heaviness. But the staff will let you know about how you need to handle and start the bikes.
If you find an imbalance during the ride, don't worry because they are here to help you out in that situation.
The staff members will come across and help you to ride the bike properly. So one should take a ride on an ATV and avail of a new thing in life. You can also read Adventure Activities at Tao Experience.
Dune Bashing
Adventure Sports in Jaisalmer, Dune Bashing, is a fun and entertaining activity to be performed. The driver must be very careful because it can be a little scary.
The staff members who are there to handle every aspect will take care of your safety as it is their priority. You can also read Adventure Sports in Los Angeles.
If you are not interested in thrill activities, you might avoid them, but those who love thrills and adventure must take a drive. Trust me, you will feel amazing during this drive when you perform this activity.
It is a beautiful feeling when you will do the task. Do you love roller coasters? It is a kind of roller coaster ride. You can wear any comfortable shoes you want because you will be in the car most of the time while driving.
Dune Bashing activity entirely takes hardly 30 minutes, which is enough to build up an unforgettable memory in a lifetime. You can also read Adventure Sports in Gujarat.
Jaisalmer Desert Safari
Adventure Sports in Jaisalmer, Jaisalmer Desert Safari, is something; without this, your entire trip is not completed. In this safari, you will be taken to the deserts, and the staff will show you every corner of the desert.
It is a must-do activity if you are in Jaisalmer because it is famous for its deserts. There are many packages available for the safari. You can pick anyone as per the budget and requirements.
It does not end here; do you know this safari can also be completed with a camel ride? Yes, jeeps and camel ride, bother options are good for this activity.
This activity will let you feel like you are actually in Rajasthan, with the golden desert, aura, and everything that is soothing to visitors' hearts and minds. You can also read Adventure Sports in Jaipur.
Jaisalmer Tent
Adventure Sports in Jaisalmer, The safari does not end here. Do you know you can set the camps in the deserts also? The hotter desserts will be during the day, the better cold weather deserts will have at night.
The environment will get change after sunset, and it is too excellent. So, in the desert, there is a facility for camping in the Jaisalmer deserts. One can take advantage of that.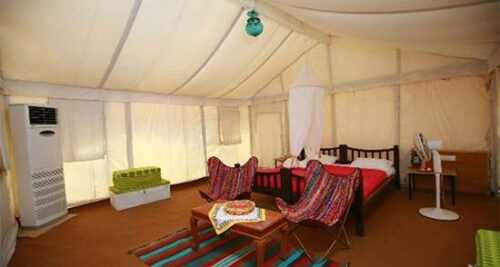 The tents are so beautifully designed with all the facilities required for the night. Lightening and fresh air are soothing; they make the person feel like he is in heaven.
Have you heard about the Swiss Camp Stay? It is a luxury camp stay, which gives you a royal feel. If you are good with the budget, you can also choose this option for the trip.
Final Verdict
Now we are done here. Jaisalmer is the best place to get the stunning experience of Rajasthan. The place has its best desserts and accommodation facilities are also up to the mark.
The Jaisalmer trip is best to get out of the hectic schedule and spend quality time with family. We have shown different activities you can do there, after reaching, you can explore more.
So, for now, pack your bags, book your tickets and attain a new, exciting, and stress-free vacation. You can also check Best Water Sports in Lakshadweep.
Read Also: