9 Wine Barrel Accommodations
Wine Barrel Accommodations, Imagine a barrel room outfitted with a king-sized bed, bathroom, private terrace facing a nearby vineyard.
It is more like a dream come true for wine aficionados who can plan a winey honeymoon or a bachelorette. You can read also Best Things to Do In Manali.
A vineyard in Portugal has come up with an amazing lodging idea inside a huge wine barrel. Here, you can sleep in luxurious oversized wine barrels in the heart of Duro valley.
Winners and hoteliers from Germany to Chile are offering wine-country stay outfitted with a king-sized bed, a full bathroom, private terrace plopped with vineyards. You can read also Auli Tourism: Best Auli Tour Plan.
If you wish to have a wine-barrel accommodation that is both cozy and chic, then come with me as I take you to splendid places across the world where you can spend the night in a wine barrel.
9 Places to Explore the Pleasures of Wine inside a Giant Wine Shaped Barrel
Wine Barrel Accommodations, A night in a barrel is extremely special when you have your beloved right beside you!
I bet you can feel me if you've been dying to experience a warm and cozy stay with your S.O. in a wine barrel! You can read also Things to Do in Patnitop.
So, let me start the list with my favorite location. Trust me, it will be on your wishlist as soon as you finish reading the article.
Quinta da Pacheca, Portugal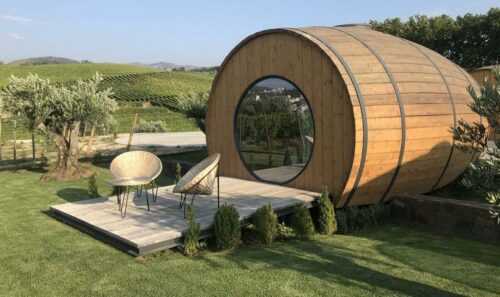 This wine house hotel nestled in the Douro valley is spacious and elegant. It gives you a unique experience of contact with nature and monumental reality of the lush green valley.
Quinta da Pacheca is an estate that created a huge ruckus for its luxurious wine-barrel accommodation. There are 10 barrels, each about 270 square feet. You can read also at Hill Station near Katra.
These barrels are equipped with a high-end bedroom, private bathroom with a walk-in shower, cozy round beds for a romantic night, private terrace for stargazing, and the estate's century-old vineyards for a quick walk.
Yeatman in Porto, Portugal
Wine Barrel Accommodations, This luxury spa hotel is located in the heart of Europe's most important wine capital and is a prime destination for people wishing to soak into the pleasures of port wine.
You may find the most comprehensive collections of Portuguese wines and intriguing wine-barrel shaped suites filled with exquisite pictures and objects that speak about the winery's unique history.
Book your stay at the ADF suite that has an original barrel top along with a domed oak ceiling mimics. You can read also the Famous Tea Garden in India.
The Master suite 412 has a beautiful furnished indoor terrace, bathroom area, extended terrace with sofa, dining table, and all modern amenities.
Lindenwirt in Rüdesheim Am Rhein, Germany
Along with stunning wine-barrel accommodation, you can explore landmark locations like Brömserburg Castle, Mouse Tower, and plenty of local wineries and bars.
Take part in a wine-tasting session or just wander around at a nearby vineyard. Anyway, you have plenty of things to explore. You can read also New Tourist Places in India.
This is a historical place for a unique travel experience. The hotel offers a small living room, private bathroom, twin beds, and complimentary breakfast. Voilà!!!
Schwarzrinderseen Weindorf Betriebs, Germany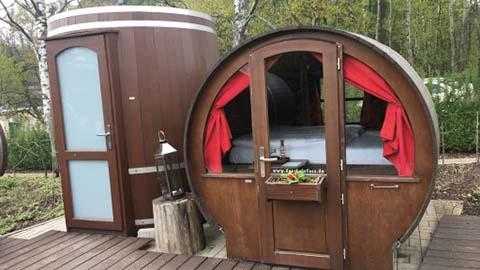 Wine Barrel Accommodations, This is another dedicated wine hotel in Germany located near Schwarzrinder lakes at Weiskirchen. It has 16 units with a different barrel for your bedroom and bathroom.
Want a family barrel? You get it all as they are equipped with air conditioners, heater, Wi-Fi, and more for a perfect family stay. You can read also Recommendations for Traveling to India.
Vrouwe van Stavoren, Netherlands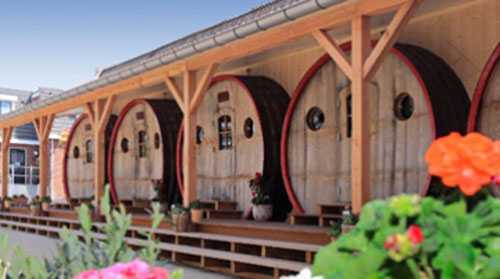 How about this?
Hotel Vrouwe van Stavoren has 12 original wine barrels converted into accommodations that include eight 23,000 liter barrels and 15,000-liter barrels, each equipped with comfortable accommodation and a picturesque view from an individual barrel.
Hoping for a laid back vacation in the Netherlands? This amazing hotel has 12 original wine barrels turned into bedrooms.
Each room has a private bedroom, sofa, TV along with an exceptional view from your room. You can read also Hiking/ Trekking in Himachal Pradesh.
In addition to it, there is a ' wellness wine barrel' consisting of a sitting room, indoor jacuzzi, walk-in shower, steam cabin, and more. That's what you call a 'perfect holiday' now!
Coup 2 Foudres in Saint-Sulpice-de-Faleyrens, France
Wine Barrel Accommodations, Nestled in the heart of the quintessential Bordeaux vineyards, you would fall in love with these wine-barrel shaped cottages.
Get cozy in your double-bed with a glass of classic French wine that will surely soothe your nerves. You can read also Best Indian Food for Travellers.
The cottage has a large bedroom, living room, kitchenette, walk-in shower, and other high-end amenities to make your stay worth.
Cava Colchagua, Chile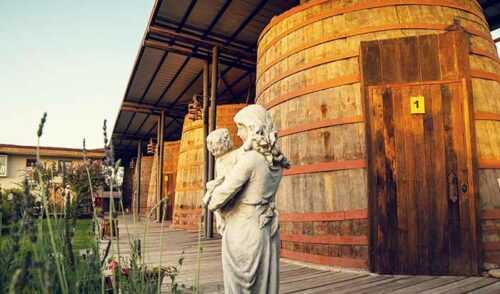 This amazing premium hotel boutique is a two-story wine barrel over a vast property that once produced wine in the state. You can read also Places to Visit in Kasol.
Each barrel is 100 years old with different sized beds, including a ravanal premium room, room icon, and the grand reserve room that are apt for newlyweds and family.
The barrels offer various luxurious amenities like Wi-Fi, satellite television, and private bathrooms.
If you plan to move out of your barrel, then the estate has a spa, pool, and lagoon too. You can read also Best Travel Tips to Asia.
Wine Village Glamping, Slovenia
Wine Barrel Accommodations, Heading to the town of Ptuj in Slovenia? Then, how about spending the night inside a splendid wooden wine barrel!
The Wine Village Glamping offers comfortable and fascinating dwellings with a communal fireplace that is apt for couples or private groups.
Explore the town's age-old winemaking heritage and soak yourselves into hot saunas and pools for an amazing vacay. You can read also Best Places to Visit in Dehradun.
Schlaf-Fass Blauburgunder Jenkins in Jenkins, Switzerland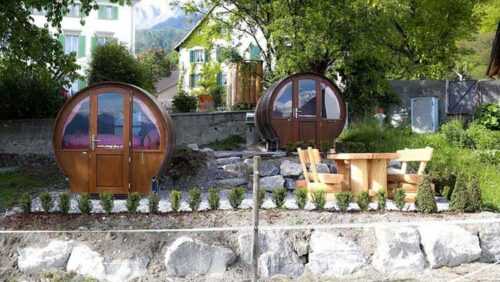 Wine Barrel Accommodations, For an exclusive, unforgettable, and fascinating experience, come to this beautiful wine region of the Grisons.
Here, you will have a memorable experience of staying inside 8,000 liters of wine barrels in your chosen location. You can read also Top Tourist Destination in India.
Whether you choose to stay among the vineyard or wanna enjoy togetherness in a secluded location, the choice is all yours!
You will be pampered with a beautifully decorated wine barrel that is perfectly heated for a good night's sleep. You can read also Best Islands in India for Honeymoon.
If you wish to explore outside, then sit at the lounge area with a campfire. Or, explore the vineyards and bars and seduce your taste buds for the finest delicacies. You will love it all!
Adding to it, Grisons is home to excellent wines and the children's book character Heidi. Don't hold your family vacation for long, Schlaf-Fass Blauburgunder Jenkins is your ultimate choice! You can read also Andaman Itinerary.
A Night to Remember!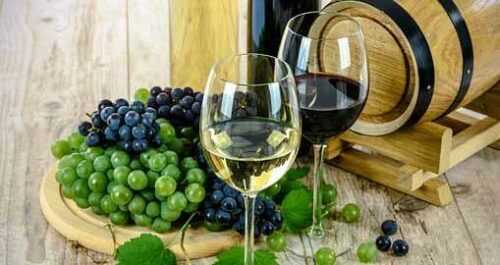 Cheers to good times inside a wine-shaped barrel!
If you have ever dreamt of living inside a huge wine bottle, then there is a place where every oenophile all can fulfill their dreams! You can read also Best Family Holiday Destinations in India.
During your stay, if you don't want to get out of your bed, then just gulp down a few glasses of your favorite wine and relax inside your barrel, adoring the exclusive artifacts or get your hands on the best local delights.
If you wish to get out of your bed for some time, then take a hot bath inside a giant wine barrel (if you have the option) or go on a stroll into the vineyards to enjoy wine tastings and locally made olive oil and jams.
Get locked up inside a huge wine-barrel or linger around the place, it's all on you! At the end of the day, this is definitely a bucket-list experience! You can read also Places to Visit in India.
Author Bio:
Rachel Moore works as a Marketing Manager at Rocky Mountain Barrel Company. She loves her combination of nature, wine, and nerdy friends who appreciate her homemade wines.
You may find her either preparing wines in her wine cellar or either hosting a wine party.