The Home backyard is your little piece of heaven. You can use a personal outdoor area to create a splendid garden, a fun playing space for kids, and more.
What you do with your garden and how you use it has a severe impact on whether you can enjoy this little piece of outdoors you have. Not everyone is blessed with a perfect backyard, so if you do have one, make it count.
If you are not sure what you can build or have in your outdoors, here are a few suggestions. These will make your home backyard a paradise and a heaven for relaxation, fun, and more.
Add a trampoline
Adding a trampoline is a great way to get your kids away from the screen. It provides them with something to do in the backyard and an excuse to spend time outside. During holidays or parties, having a trampoline can double the fun.
The trampoline is a perfect way to introduce a bit of exercise into your kid's regime, as jumping up and down helps them stay fit. If you buy a trampoline online, install it in an area of your home backyard with a soft landing and not on a cement floor. That can lead to injuries.
Outdoor games
Your backyard must have a few outdoor games for kids and adults. For instance, kids can have fun playing on their trampoline or even a cubby house, which you can set up in the home backyard.
For adults, how about having a bowling set-up? You can create this yourself or take help from professionals. Also, there must be enough space and furnishings to play games in the backyard, like cards.
Lastly, there is always a good reason to play soccer or basketball in your backyard. So, have a ring put up to enjoy family games outdoors.
A summer kitchen
With an incredible backyard, you can never say no to having an impressive summer kitchen. It has so many purposes, like you can cook during the night outside and enjoy dinner while enjoying the view.
Moreover, it's perfect for making barbeque. Of course, it helps you be outdoors and spend time in nature. However, the best purpose for building a summer kitchen in the home backyard is to have outdoor parties.
This kitchen ensures the house's interior is clean when you have parties outdoors. Also, you don't have to worry about cooking inside and serving outside, saving time.
Include these items in your outdoor kitchen to have the best summer kitchen. A grill, cabinetry, refrigerator, a massive counter space, a bar, and anything you think will make life easier for you when having an outdoor party.
A pool house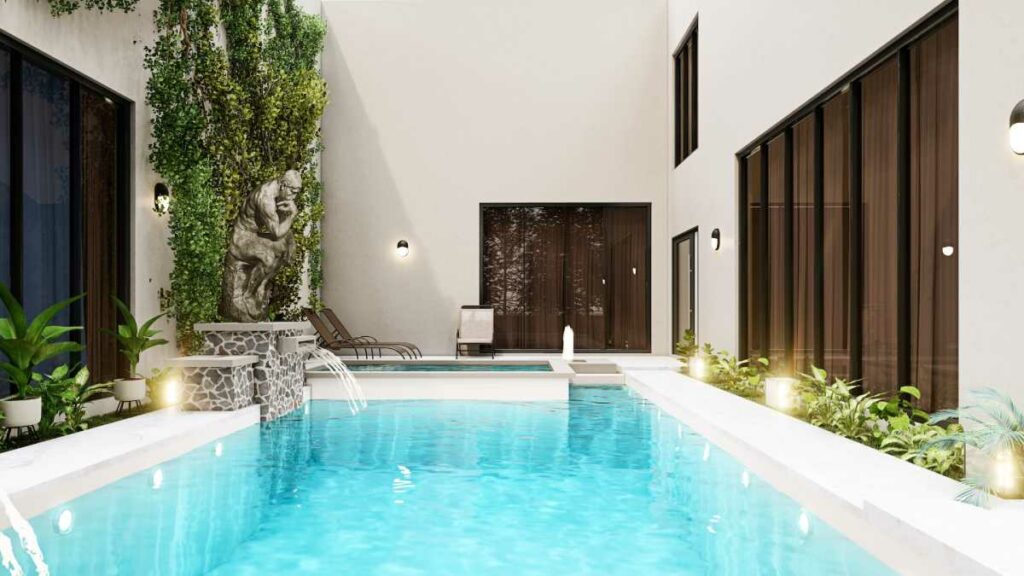 You undoubtedly need a pool house if your house has a swimming pool. Build one near the swimming pool to ensure every pool-related item is organized. You can use it to keep chemicals, toys, and even cleaning supplies in one place.
If you are up to it, build a massive pool house with bedrooms, laundry, kitchen, and bathroom. Why? For starters, it provides extra space for guests. Also, you can use it if you are looking for privacy for one of your projects.
A hammock
Lying around in the hammock on a sunny day, enjoying the weather while sipping your iced tea, is the dream. Right? For this, your backyard must have a massive hammock that is big enough for two people.
It will allow family members to share the hammock without arguing over whose turn it is. A hammock is available in multiple sizes and shapes, so pick the one that best suits your theme, comfort, and needs.
A projector screen
Turn your home backyard into a movie theatre. Add a projector screen to enjoy a movie night with all your loved ones. The experience of watching a movie outdoors with lots of popcorn is worth buying a projector screen. Ensure there are enough comfortable lawn chairs to execute this properly.
Which one of these ideas intrigues you the most? Comment below. Also, you can add more than one thing in your backyard, like a sweet little vegetable garden, along with adding a trampoline for your kids. This way, you use the space for many things and have the best time.
Also Read:
How To Clean A Comforter at Home: The Ultimate Guide
How To Keep Your Home Safe When You Travel