Hill Station near Katra!
Hill Station near Katra, Katra is a small town located in the foothills of the Trikuta Mountains in Jammu and Kashmir.
Katra is a pilgrimage place that attracts lakhs of tourists throughout the year. The town is made for the holy places.
Mata Vaishno Devi Temple, Shiv Khori, Baba Dhansar, and many more holy places are situated here in Katra. You can read also Best Travel Tips to Asia.
Not only is it famous for its Holy place but also famous for its sightseeing and natural beauty as well.
Hill station near Katra involves beautiful scenic views that grabs the attention of everyone. These hill stations are very calm and mesmerizing, which makes the person get relief from their hectic schedule and get relaxed here.
From the noise of the city, it is the best place to visit. There are many hill stations near Katra to visit as Patnitop and Natha top.
So let's talk about the best places to visit in Katra to have fun there with your companions. You can read also Top Hill Stations in India.
Patnitop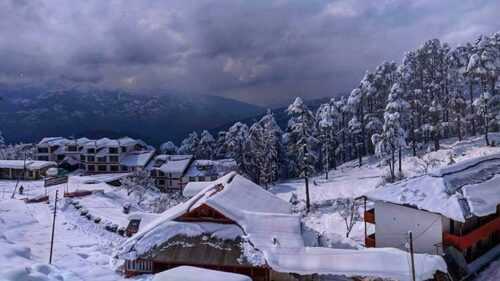 Hill station near Katra, Patnitop is located around 37 km away from Katra at an altitude of 2024 meters above sea level.
The place is entitled to the beauty of nature. The place is very humble and makes the visitors feel peace in their life. You can read also Top Tourist Destination in India.
If you want time just for yourself or to spend quality time with the partner, this is a perfect place to visit in Jammu and Kashmir. Patnitop is situated far away from the city chaos and having a calm nature.
In summers, the grasslands shine in its green color and make the landscape of Patnitop looks amazing. If you love snow, then in winter, this place gets covered with snow entirely. You can read also Things to Do in Patnitop.
The land is perfect for skiing in winter. The land is perfect for clicking pictures that offers a great view of the mountains. Patnitop is a natural place that is best for adventure lovers to visit.
Visiting this place is best throughout the year. It is all about one's wish that they like to visit the place in summer with a green landscape or in winter with snowfall. You can read also The Ultimate Guide to Bokor Hill Station.
Natha Top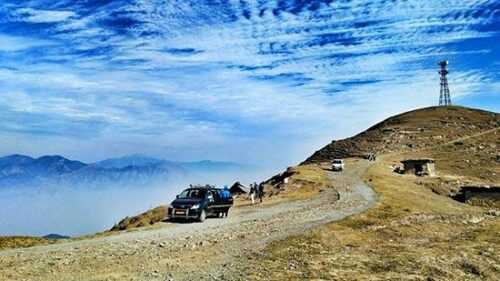 It is a short trek from Patnitop. The place will get covered with snow in winter and enhance the beauty of the place two times more. Skiing is a perfect activity for Natha Top.
People who visit Katra and Hill station near Katra, especially visit this place for paragliding. You can read also Best Islands in India for Honeymoon.
Even from the different corners of the country, people come here to gain a better experience with exploring the beauty of nature.
From the peak of the mountains at NathaTop, one can get a clear view of Himalayas. 2711 meters is the altitude of this place.
There are many roadside food vendors situated who sell delicious dishes which fill up the stomach of visitors. You can read also Best Snow Places in India.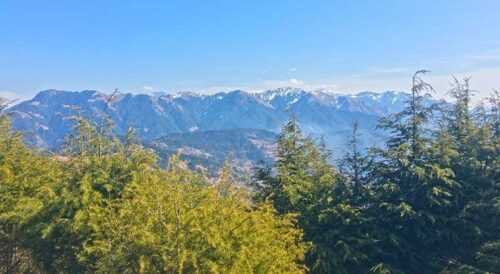 The weather is so pleasant to hang out with friends and with your partner. It is a must place to visit for the nature lover and for those people also who love to sit at a place for hours to view the scenic beauty of nature.
It is the best way to come out of the hectic and rush life of cities. This place is so amazing as it changes; it looks entirely when the climate gets changed.
The fully snow-covered landscape will get changed into a lush green landscape at the time of summers. You can read also Best Places to Visit in Kasol.
Sanasar
Hill station near Katra, Sanasar is known as the Mini Gulmarg of Jammu and situated 20 km away from Patnitop. Sanasar is named on Sarovar in the lush green landscape.
The place is surrounded by huge trees which make it look natural. You can read also Recommendations for Traveling to India.
The water bodies around the trees enrich the value of the place. If you are having a restricted budget but want to capture the night view of these natural surroundings, this place is best for it.
The accommodation at this place is cheaper as compared to Patnitop so one can come here after watching Patnitop to take the feel of the nice and cold weather.
Visiting Patnitop and skipping this place to visit is not worth it, so one should come here and taste the local cuisine also of this place. You can read also Best Things to Do In Manali.
Vaishno Devi Temple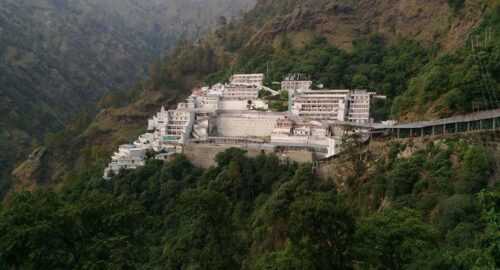 Hill station near Katra, The primary thing to keep in mind is that one has to take the registration pass to move forward for Maa Vaishno Devi Temple.
The way to go up to Vaishno Devi temple is straight, so it takes little effort to mount towards the direction. You can read also Hiking/ Trekking in Himachal Pradesh.
The aura of the way to Vaishno Devi Temple is as mesmerizing as it gives peace to the inner soul. There is a temple, and from that temple, it takes 740 steps to reach Vaishno Devi Temple.
Don't worry about your hunger when you are taking forward steps. The entire way is full of cafeterias, and food stops where one can rest and can have food. you can read also Mata Vaishno Devi Travel Guide.
Shiv Khori
Hill station near Katra, Shiv Khori is a famous cave shrine of Lord Shiva where lots of Hindu Devotees come to visit. This cave is situated in the Reasi district of Jammu and Kashmir.
Reasi district includes much cave such as Vaishno Devi, Baba Dhansar, and Shiv Khori. You can read also Places to Visit in Mussoorie.
This district attracts a huge amount of tourism located about 140 km away from Jammu. The cave is natural made 200 meters long, 1 meter wide, and 2-3 meters with its height.
Do you know how big its entrance is?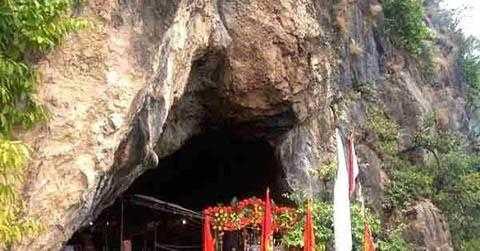 Around 300 people can stay at the entrance at one time. The main inner chamber of this cave is smaller. The way from the outer side to the inner chamber is small, and it gets divided into two parts at one point.
The one way reach Amarnath temple is closed now. The reason why that one way gets closed is that some Sadhus tried to go in this cave, but they never get returned from it. You can read also Cheap Holiday Destinations in India.
Mansar Lake
Hill station near Katra, Mansar Lake is about 62 km away from Jammu. This lake is covered with forests having a mile of length and a half-mile of width.
There are two temples situated, Umapati Mahadev and Narsimha; both are of Maa Durga in the area of Mansar Lake. You can read also Best Indian Food for Travellers.
It is a small lake settle in between the mountains having holy faiths. The best part of this lake is the big fish near the shore of the lake. The fishes with their big mouth catch the small fish for their meal.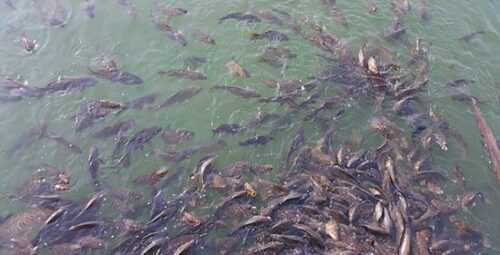 It is a nice place for children to play and a quite good picnic spot as well. One can enjoy the boat rides at this place to visit the temple situated nearby the lake. you can read also Top Hill Stations in India.
Baba Dhansar
Hill station near Katra, Baba Dhansar is a small hidden place that involves a beautiful waterfall in it also. It is a holy place where one can take the blessing of God.
Along with this, it is a beautiful picturesque place so an individual can click lots of pictures there to keep in their memory boxes.
It is an extremely beautiful Lord Shiva Temple, which is a must place to visit in Katra. If you have gone to visit Vaishno Devi Temple, divide your time and visit this place also.
The formation of a cave and a beautiful waterfall makes everything so beautiful. You can read also Places to Visit in Jaipur.
Bahu Fort
Hill station near Katra, Places near Katra are not only famous for its scenic beauty and holy temples, the place includes some history as well.
Bahu Fort is a historical monument of Jammu and Kashmir, which is constructed at the banks of Tawi River. You can read also The Ultimate Guide to Chopta Chandrashila Trek.
It is a very ancient fort constructed by Raja Bahulochan around 3000 years ago. This place is also a religious place having a temple in itself of Maa Kali.
In the nearby locality, the temple name is known by "Bawe Wali Mata Temple." You can read also Darjeeling Travel Blog.
There is a big fountain in the fort where people sit and rest for some time. The fort is quite a good and cool place to visit. The fort is surrounded by the terraced garden "Bagh-e-Bahu."
In this garden, there is a huge aquarium situated in which around 400 varieties of fishes exist. The Bahu Fort is one of the best tourist attractions in Jammu.
The place is quite good for taking historical pictures as well. Those who love history should watch this place as they will enjoy the place for sure. you can read also the best Family holiday destinations in India.
Raghunath Temple
Hill station near Katra, Raghunath Temple is a holy place in Jammu that includes 7 Hindu shrines. The temple was constructed by the first Dogra ruler Maharaja Gulab Singh. The temple was completed in 1860 during the Dogra rule.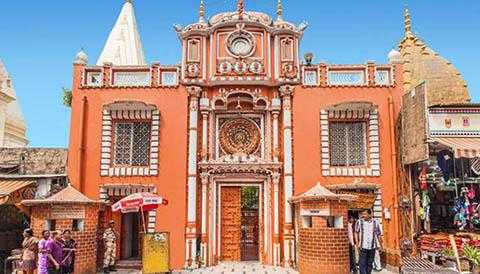 The temple has different shrines, but the main shrine is of Deity Rama. The shrines of gods were decorated with 300 crafted icons of gods.
Most of the crafts were made on the shrines related to Lord Rama and Lord Krishna. You can read also Places to Visit in Jaipur.
The temple was attacked by terrorists two times in 2002 in March and November. 20 Devotees died in this incident, and 40 people were getting injured as well.
The temple is made so beautifully with great architecture, so one should definitely visit the place. You can read also the Most Attractive Places in India.
Best things to do: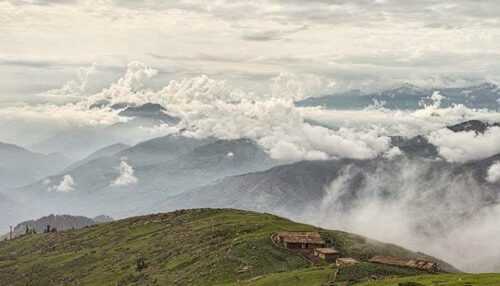 Jhajjar Kotli
Nau Devi cave temple
Main Bazaar
Trekking
There are many more things one can do in Katra to make their trip much better.
How to reach Katra?
It is up to one's wish that which transportation they will choose for them to reach Katra. One can take the bus route, train one. If the visitor is good with their budget, they can reach the place via airlines as well.
So these are the major attractions of Katra. If you will ever visit the place, don't forget to visit these places for sure as these are so fascinating in their natural beauty and their sightseeing. You can read also Best Islands in India for Honeymoon.
Looking for hiking & trekking guide form Asia? Check out Hiking in Himachal Pradesh & Tiger's Nest Bhutan & Trekking in Nepal.
Are you looking to book your next trip? Check out the following services we use and love or click the previous link to read more!
Oyo To find the best hotel deals.
Best International Flight Deals to Book in 2019.
World Nomads to insure your trip.
Hostelworld to find a budget hostel.
Jetradar book Flight at cheap price.
GetyourGuide Guided Tours.