Top 10 Mysterious Places In India
Top 10 Mysterious Places In India: India is the country with top secrets and mysteries buried within its geography.
We can say India is a home of many mysterious places.
We often hear about mysteries, but we don't know where these mysteries take place and where is the origin of these mysteries.
Here, we have listed down the top 10 mysterious places in India.
Jatinga Mass Bird Suicide
It would sound weird that birds too commit suicide. I know you are shocked by this statement, but it's true.
Birds commit suicide every year between the month of September and November in Jatinga Bird Suicide, Assam.
It happens only on the moonless nights between 7 pm to 10 pm.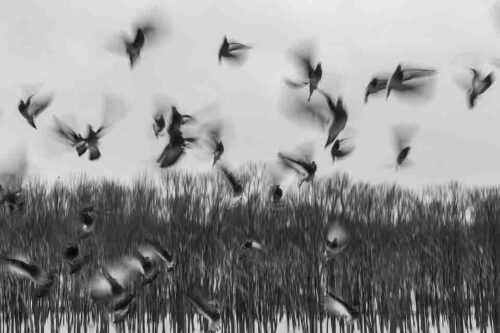 Many scientists have tried to explain this weird phenomenon, but they are unable to reach its depth.
As the sun begins to set at the place, the birds start to fall from the sky.
That's why this place comes under the list of Top 10 mysterious places in India.
Local people believe that it happens due to some evil spirits. So, whatever is the reason behind birds' suicide, this place inevitably comes under the top mysterious sites of India.
Best Time to Visit Jatinga Bird Suicide?
So, you can visit this place in from September to November to see this weird scene.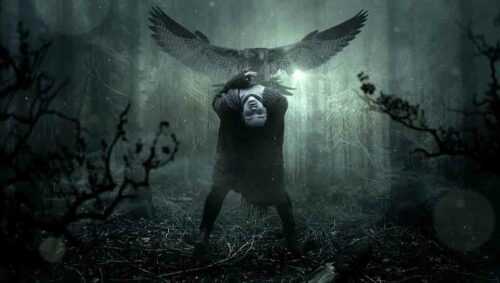 Near By Places:
Haflong, Shillong, Bishnupur, and Imphal are the nearby places to visit along with Jatinga.
You can also visit Shiva Mandir and Silchar in Jatinga.
How to Reach Jatinga Bird Suicide?
Jatinga is located at 9-10 km away from Haflog town so you can take a taxi from there to reach Jatinga.
Tale of Twins, Kodinhi
How would you describe your feeling when you start seeing everything double after visiting this place?
This may happen to you after visiting this fantastic place. It an ordinary village in Kerala, where there are around 400 pairs of twins or triplets.
Due to twins all around the village, this place is called "twin village," and this factor brings it in the list of top 10 mysterious places in India.
Scientists from all over the world are attracted to this phenomenon, but they failed to find the reason behind this mysterious phenomenon.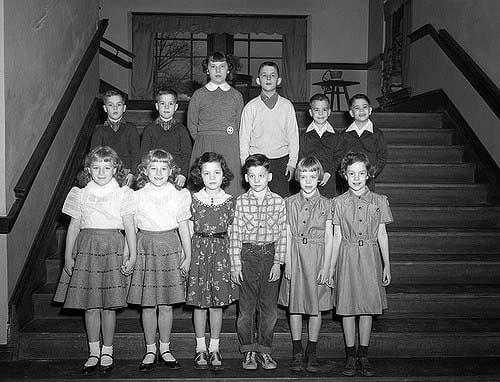 Some people said that it is because of the chemicals present in the water of that area.
However, this reason is not valid because doctors and scientists have denied this factor. One should explore this place as it is one of the top 10 mysterious places on Earth.
Nearby Places:
You can also visit some nearby places to this village like Kamaragiri farm & Nature Camp, Nilambur Teak Museum, Nedumkayam, Thirumandhaamkunnu Bhagirathi Temple, and Padinharekara Beach.
Magnetic Hill
This is one of the mysterious places in India out of many beautiful places in that area. This place has left many people mystified.
Magnetic Hill is located at an altitude of 11,000 feet above sea level.
This feature makes the extraordinary hill place which must be visited once.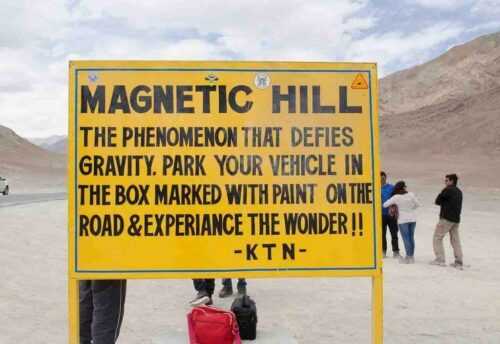 The magnetic hill has got designed in such a way that it creates an optical illusion that this downhill road is an uphill road.
Hill has got designed in such a way that it creates an optical illusion that this downhill road is an uphill road.
The cars moving on the road appear to be rolling uphill, but in reality, the vehicles are driving the downhill.
Locals believe that this place has a strong magnetic force which pulls the cars upward.
Tourist drivers stop the engine of the cars from making the visitors experience this phenomenon.
This mystery thing makes this place as one of the top 10 mysterious places of India.
This magnetic hill is situated in Leh-Kargil-Srinagar National Highway, Ladakh.
Best Time to Visit the Magnetic Hill:
You can do many activities like Amazing photography, Mountain climbing, Yak Safari, and Mount tracking at Magnetic Hill.
Read also best Trekking in Himachal Pradesh
Magnetic hill is 30km from Leh so that you can visit there either by road or by air.
Kongka La Pass
Kongka La Pass: We used to listening stories of aliens or the crop circles, and we wish to happen all this in our real life.
We have such a mysterious place in our country which gets barely gets attention.
This area is also called a permanent UFO base.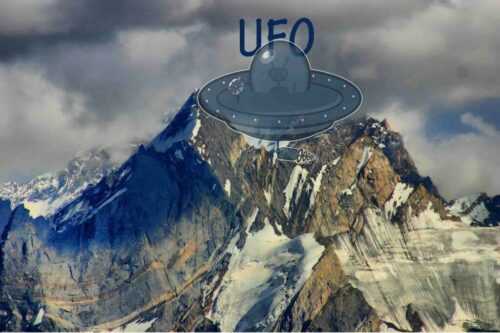 It is a mountain at India China Border, Himalayas. India or China do not patrol this region. Moreover, it is believed that this mountain is the home of the aliens.
Many people said that they have seen UFO's coming out of the ground at this mountain and they also said that this mountain has an underground UFO base.
The Floating Stones of Ram Setu Bridge / Adam's Bridge
This temple is situated at the end of the Vittala Bazaar. So, from Hampi Bazaar, you can walk along the river bank.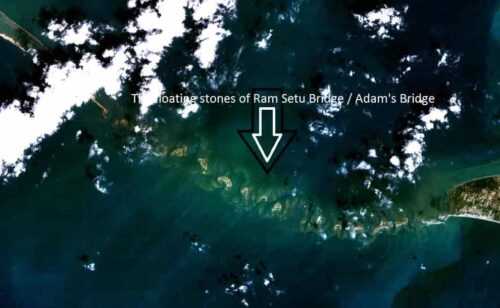 How to Reach Ram Setu Bridge?
Also, then you can take an auto-rickshaw from Hampi bus stand to reach Vittala Temple. You will get rickshaw in Rs. 50/-.
Chir Batti Ghost Light
How would you feel when you see the colourful lights in the sky, and there is not even a source of lights.
It will be a very fantastic, cheerful, and romantic scene. Also, you would be inspiring to enjoy this moment.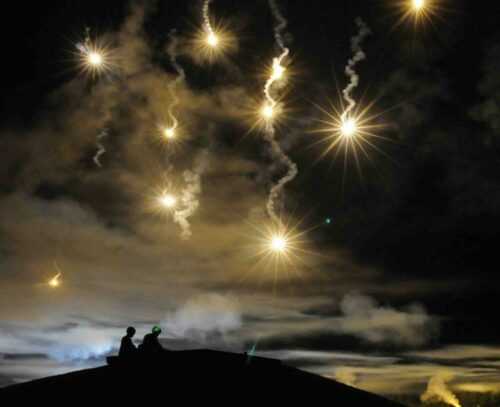 I think you may have guessed that we are talking about Banni Grassland in the Kutch, Gujarat.
At this place, you can enjoy this scene. Every night of the particular area after the monsoon has a beautiful decoration with these lights in the sky.
Locals said that these are ghost lights. It is because this place is called "Chir Batti." In Gujrati language, Chir means ghost and Batti implies light.
People also call these lights as dancing lights because these lights do not have any particular shape. These lights are seen in various structures.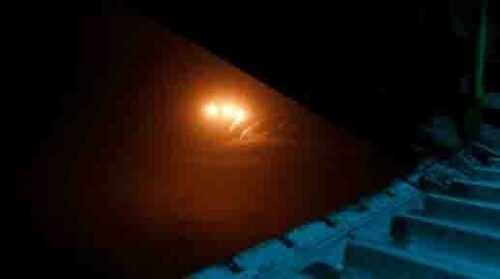 These lights fly up to 10 ft. from the earth. However, according to technology, this lighting process is the part of the releasing function of methane gas which is the result of decomposition of plants in the boggy soil.
Light Shetti Halli Rosary Church
Shettihalli church is a floating church then how will you get inside it. This strange place is located in Hassan, Karnataka, India.
It is an ancient church which Is constructed in the year 1860 in Gothic architecture.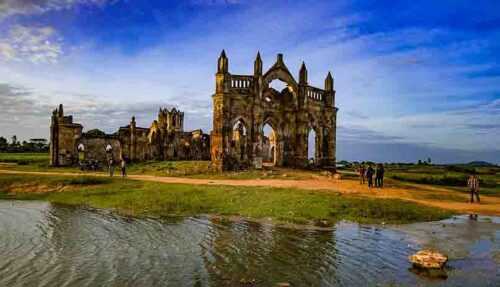 After 100 years of its construction, the Hemavati Dam and Reservoir were built there in 1960. Since that time, this church became a brilliant place for tourist.
This church sinks in the water during monsoon because of the rain. Also, it stars floating in that area of water. You can enjoy this beautiful sight in the monsoon season at Karnataka.
Roopkund
When you dip your hand in the lake and get your hand out, then you get any skating part of the human body from the lake.
What would be your reaction after seeing this?
Do you feel crazy to experience this kind of adventure, the Skeletons Lake or Roopkund Lake is waiting for you?
This lake in Chamoli, Uttarakhand, India is best known for this strange reason. This lake has attracted much tourism because the skeletons float in the water of this lake.
Almost all the times, snow covers the lake but as the snow starts melting, the skeletons begin to float in the water of the lake otherwise these frames remain in the deep water but still visible to us.
You can even see the skeletons from outside without putting your hand in the water.
The sudden death of people in the 9th century is the scientific reason behind this phenomenon.
The people suddenly died due to the violent hailstorm in that area. Every year the counting of skeletons increases by approx — 300 to 600 frames per year.
You can best visit the lake before and after the monsoon. You can also enjoy trekking and ride adventure there.
and you can check out the Ultimate Guide to Trekking in Himachal Pradesh.
Now, you would be searching for many more mysterious places in India.