Kuldhara village, located in the Jaisalmer district of Rajasthan, India, is full of history, Kuldhara mystery, and folklore. The terrifying stories and superstitions surrounding the abandoned settlement called it "Kuldhara Ghost Village in Jaisalmer."
Centuries ago, Kuldhara Rajasthan Village was a prosperous and vibrant settlement inhabited by Paliwal Brahmins, a community known for its expertise in agriculture and trading.
The villagers planned the village well, with narrow lanes and well-designed houses made of sandstone and clay.
The Paliwal Caste History was known for developing advanced agricultural techniques, including a unique rainwater harvesting system through sizeable underground water reservoirs called "Khareens."
However, the beginning of the nineteenth century saw its glorious age darkened. Local People claim that Salim Singh, the area's monarch, was notorious for his heavy taxes and unfair treatment of the inhabitants.
The Paliwal Brahmins decided to flee the village overnight since they were experiencing extreme misery under his tyranny.
Before fleeing, the villagers cursed the village and declared that anyone attempting to resettle there would face ruin. As a result, Kuldhara Jaisalmer became a deserted and Jaisalmer haunted place.
Village in Rajasthan where no one lives, is a mesmerizing and well-liked site for visitors and ghost seekers because of villager escapes and supernatural occurrences. Many people have seen ghosts and experienced unusual things in the town.
The Rajasthan government has begun to pay more attention to Kuldhara India. The historical architecture of the village has been restored and preserved. As part of a public collaboration with the Rajasthan government, Jindal Steel Works assisted in rehabilitating Rajasthan Cursed Village.
The Indian government now acknowledges Kuldhara Heritage Village as a well-preserved archaeological monument. The Archaeological Survey of India (ASI) maintained this site.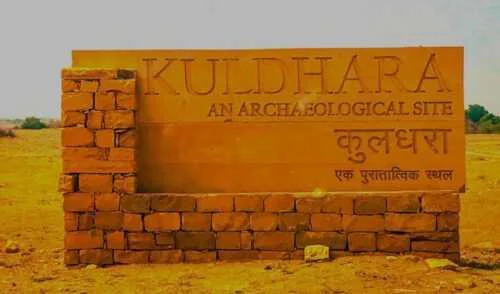 Kuldhara Village History
It is a village in Jaisalmer, one of the notable places to visit in the Rajasthan district.
The Paliwals Brahmins established this Jaisalmer village, Kuldhara, Rajasthan, around the 13th century, turning this area into a prosperous town.
So, this was the original discovery of Brahmins. Also, these Brahmins migrated from the Pali region to the District of Rajasthan, Jaisalmer.
Thus, people popularly started calling these Brahmins Paliwal.
Lakshmi Chand wrote a book named Tawarikh-i-Jaisalmer includes the information that these Paliwals consisted of a person named Khand. He was the first person from Paliwals, the settlement of the Rajasthan ghost village Kuldhara.
This person named Khand dinged a pond called Udhansar, which was part of the town, Kuldhara Horror Village in Jaisalmer.
Even the communities, the abandoned village of Rajasthan, consist of a ruin that includes three grounds of cremation, and those ruins consist of many Devils that are memorial stones.
Two of the Devils scripted the settlement of this village, Kuldhara Rajasthan the abandoned village, in the 13th century.
Then these inscriptions were dated on the Bhatti Samvat, according to the era of the calendar at the start of the 623CE.
Then those two residents' deaths were recorded in 1235 CE and 1238 CE.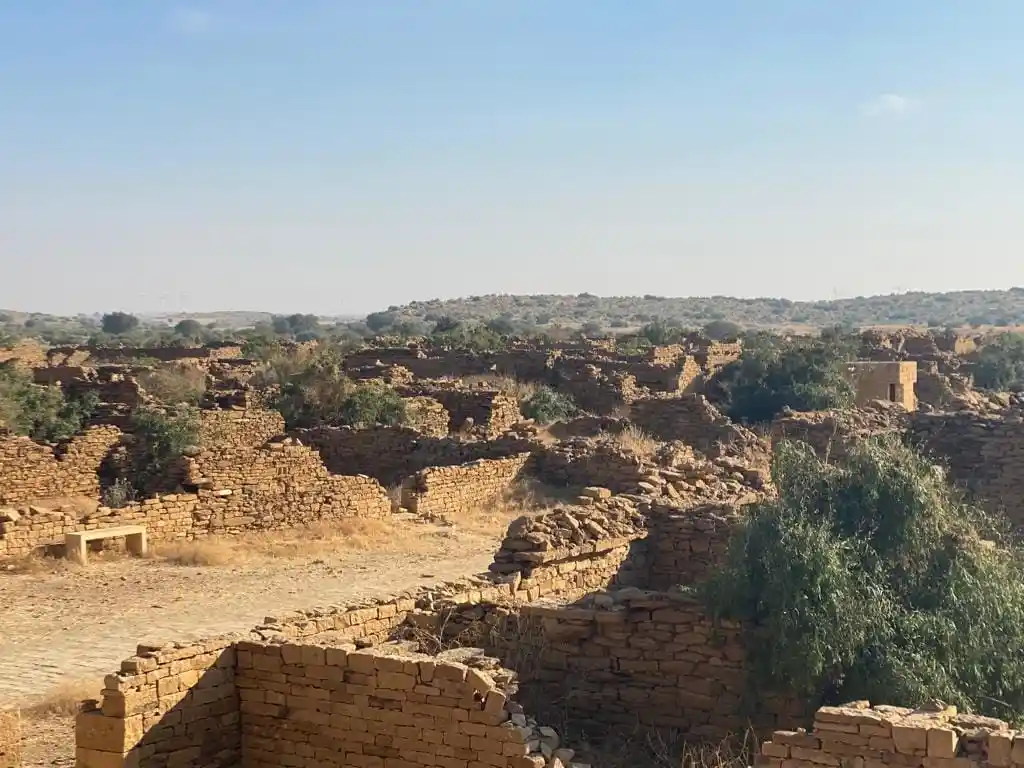 Kuldhara Abandoned Village Jaisalmer
In the 19th century, this Jaisalmer horror village in Rajasthan got abandoned for unknown reasons.
So, some of the ideas undertaken in the 20th century led to this quit, which also included the lack of water. Diwan of the atrocities named Salim Singh for the abandoned reason.
In 1815, the well in the village of Kurihara had dried up, and then in 1850, only two wells—the stepped well and another deep well—had not dried up and were still working.
So, due to these problems with the water supply, the agricultural process ultimately started reducing, and the Jaisalmer state considered no reduction in tax.
So, this thing forced Paliwals to shut the place. Even some locals claimed that the cruel minister named Salim Singh of the state Jaisalmer increased the taxes on the village, which led all things to decline.
Even due to these problems, people noticed a decrease in the population from the 17th and 18th centuries to 1890 and a decrease from 1588 to 37. Also, they claim that the village got abandoned at night.
Salim also had an eye on the girl of the town. So, he sent his guards, and the villagers claimed them to return the following day, and during the night, villagers abandoned.
Kuldhara Village Timings
Kuldhara village Jaisalmer Rajasthan, a historical site, is located in the Indian state of Rajasthan. Visiting hours for historical sites are often particular. The visiting hours are subject to change, depending on the time of year and any applicable municipal rules.
Kuldhara Village Opening Time: 8:00 AM
Kuldhara Village Closing Time: 6:00 AM
Monday to Sunday
How to Reach Kuldhara Village
Travel to the historical site of Abandoned Village in Jaisalmer, India, which is a part of the Rajasthan state. There are numerous routes to travel to the village from Rajasthan or other parts of India.
Roads connect Rajasthan cities to Cursed Village. Kuldhara's closest major city is Jaisalmer. Take a taxi or bus to go to Kuldhara Village Horror from Jaisalmer.
Jaisalmer Railway Station is the nearest (25.5 KM) to Haunted Kuldhara village Rajasthan. To get there, you can use a taxi or rickshaw.
The distance from Jaisalmer Airport to Kuldhara Village in Rajasthan is 23 kilometers.
Kuldhara Village Haunted Story
People consider this village, named Kuldhara Haunted Village in Rajasthan, the most haunted place near Jaisalmer, and they also claim that it is impossible to spend a night there.
So, due to these claims, many people try to break the ravel of the mystery around the village.
Rajasthan Kuldhara Village Story? So, some people in Delhi's paranormal society decided to break out of the magic. Kuldhara abandoned village tours was so horrible; It is the best ghost village in India.
So, they visited the town of Kuldhara night stay(Rajasthan Horror place) under the Gaurav Tiwari leadership.
Thus, these bold and brave people decided to spend the entire night in the mysterious haunted village Kuldhara, which included around 12 people.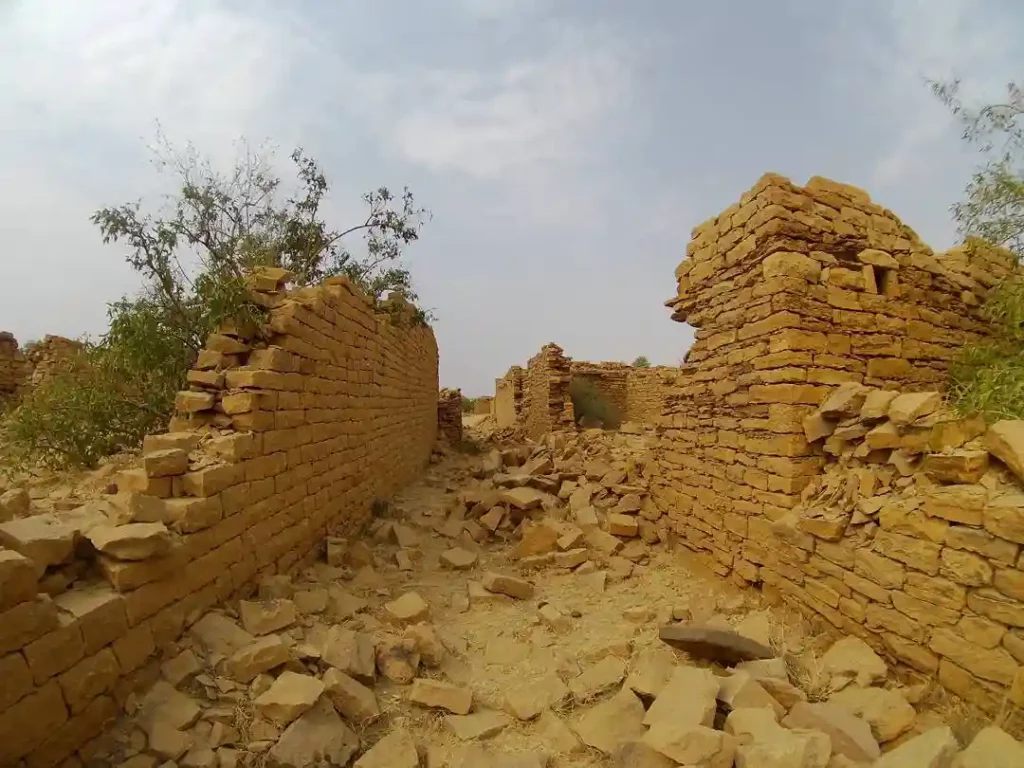 Then this team spent 12 hours which was terrifying. Also, they experience some extraordinary things.
Even this team carried electronic equipment, scanned the entire village, and issued many paranormal activities there.
Unrevealed voices and moving shadows hilted them, and they even found handprints of some children on their cars.
So this also said that this was the first time they had visited Kuldhara haunted place. Even one of the team members felt that someone was touching his shoulder, but when he moved back, he found nothing.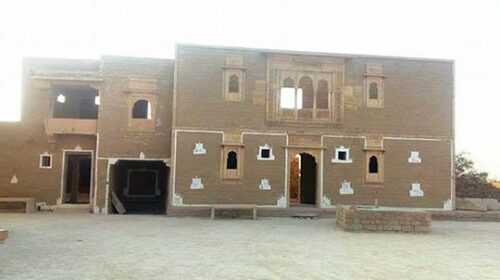 Kuldhara Village Tickets
Jaisalmer Kuldhara Village ruines are worth visiting this weekend. The cursed village of Kuldhara is a place to watch the ruins homes of Paliwal Brahmins and listen to the past events of Scary Village's local villagers.
Kuldhara Abandoned Village Haunted is a must-see location for anybody seeking to escape city life's rush and bustle. The entry fee Kuldhara Village is very reasonable.
For an extra Kuldhara Village Guide Fee, visitors may hire a guide to provide valuable information on the village's history and attractions.
| | |
| --- | --- |
| Particular | Cost |
| Entry Fees | Rs. 10/ Person |
| Entry Fees (By Car) | Rs. 50/ Person |
5 famous places near Kuldhara Village
Deserted Village lies in an enchanting desert region. Mystery and folklore cover the ancient location of Jaisalmer in Rajasthan, India. Your weekend will be more pleasurable if you visit one of these five well-known spots near Cursed Village.
The following is a list of five beautiful locations close to this village.
Jaisalmer Fort
Bada Bagh
Gadisar Lake
Jaisalmer War Museum
Patwon Ki Haveli
Jaisalmer Fort
The magnificent Jaisalmer Fort, Sonar Quila, or the Golden Fort, is in Rajasthan, India. It was constructed in 1156 AD and towered over Trikuta Hill, providing breathtaking views of the Thar Desert.
The fort's elaborate carvings, Jain temples, and Havelis, all made of yellow sandstone, are examples of the skilled craftsmanship of the past. It continues to be a thriving living fort with lively marketplaces and a flourishing community inside its walls, and UNESCO has listed it as a World Heritage Site.
The charm of a golden-hued stronghold steeped in history and culture surrounds visitors to Jaisalmer Fort, taking them back in time.
Bada Bagh
You can find a medieval garden complex called Bada Bagh, 8 kilometers north of Jaisalmer in Rajasthan, India.
It was constructed in the 18th century and now serves as the cenotaph for the Jaisalmer kings. The compound has stunning sandstone chhatris with detailed carvings.
Visitors can stroll around the calm area and enjoy breathtaking sunset views over the desert. Bada Bagh offers a fascinating look at Rajasthan's extensive architectural and cultural heritage.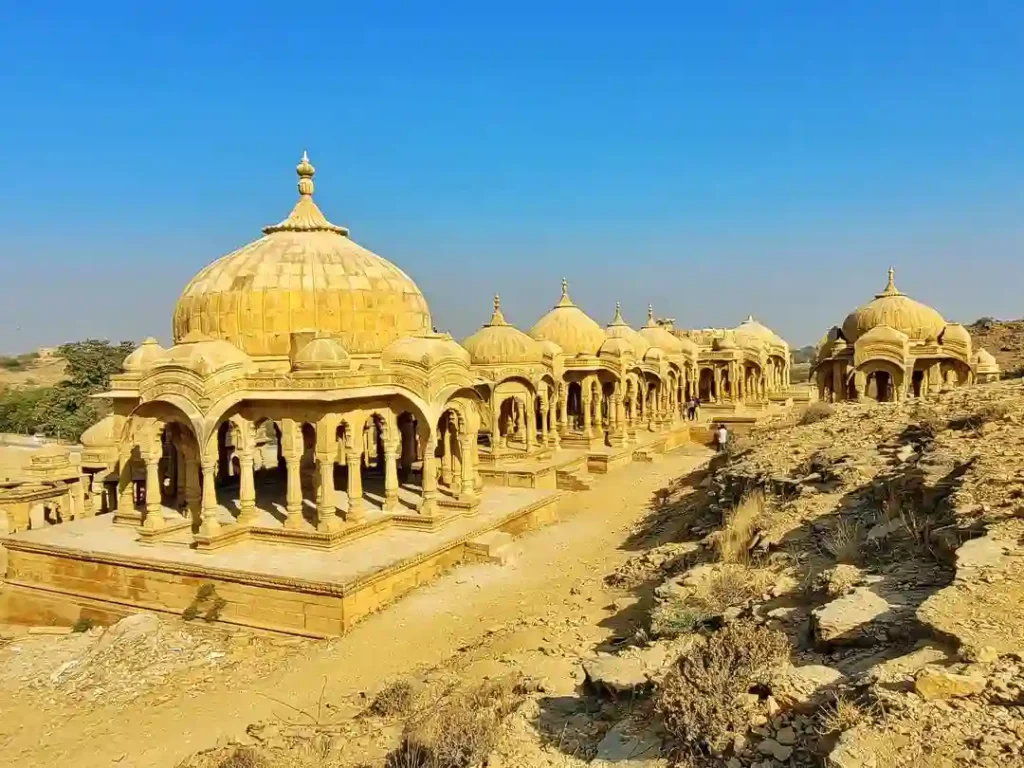 Gadisar Lake
Gadisar Lake is a historic manufactured lake built in 1156 AD near Jaisalmer, Rajasthan, India. Rawal Jaisal created it, serving as a crucial water source for the dry area. The stone embankment, temples, and chhatris (cenotaphs) that line its banks enhance the lake's architectural attractiveness.
In the tranquil oasis, visitors can take leisurely boat trips and engage in birding. Because it hosts events like the Gangaur Festival, Gadisar Lake is very significant culturally.
Providing a look into Rajasthan's rich past and natural beauty, it is still a beloved destination.
Jaisalmer War Museum
In Rajasthan, India, close to Jaisalmer Fort, the Jaisalmer War Museum honors the bravery of the Indian Armed Forces during the Indo-Pak Wars.
It was founded in 2015 and exhibits weapons, gear, uniforms, and multimedia displays that tell stories of soldiers' bravery. Tanks and other military vehicles are on show outside.
The museum promotes pride in one's country and respect for the military's sacrifices—a must-see location for appreciating India's armed forces and learning about its military history.
Patwon Ki Haveli
In Jaisalmer, Rajasthan, India, there is a collection of five magnificent havelis called Patwon Ki Haveli. The affluent Patwa family erected the elaborate havelis, which feature artistic carvings and jharokhas, in 1845. Visitors can find richly decorated gardens, murals, and mirrorwork inside.
They have transformed a haveli into a museum that showcases historical artifacts.
It offers a look into the luxurious ways of the merchants in the past and is a well-liked tourist attraction.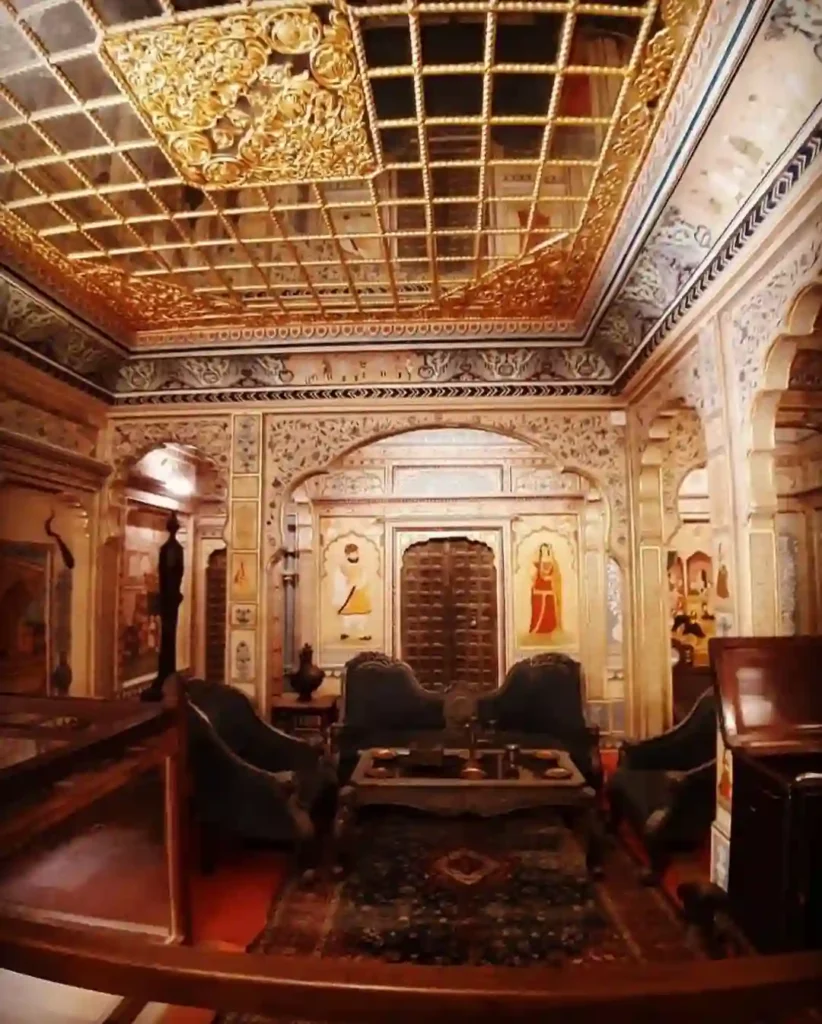 Kuldhara Village Facts:
Deserted Village in Rajasthan's Jaisalmer district is an ancient and deserted settlement. It has a distinct history and beliefs. Abandoned village facts:
Abandoned Village is known as the "Ghost Village Rajasthan." Early 19th-century residents unexpectedly left the village.
The Paliwal Brahmins, a wealthy family renowned for their skills in agriculture and trade, initially lived in the area.
The Paliwal Brahmins cursed the village, according to history. Salim Singh's hefty taxes led the locals out and cursed the village.
The settlement has been abandoned for more than 200 years and is a silent reminder of times gone.
The Indian government has declared kuldhara as a conserved archaeological site. The Archaeological Survey of India (ASI) preserved this site.
Kuldhara Village Near Jaisalmer
So, this village is 18 kilometers southwest of the Jaisalmer district of Rajasthan.
This village was dimensioned 861 meters in length and 261 meters in width and rectangular-shaped, aligned in the north and south direction.
This village consists of longitudinal roads, and these longitudinal roads cut off the narrow lanes which were latitudinal.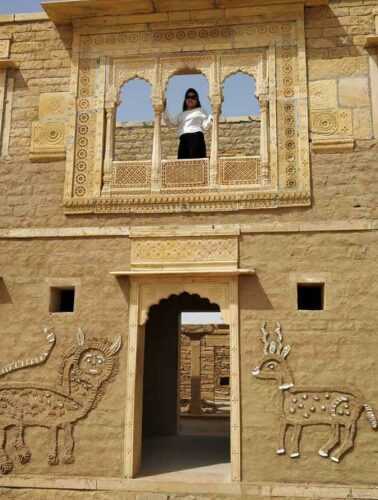 The part of the city walls could get seen in the north and the south on the sites.
The eastern side of this small village faces the river bed, which is dry, which is of the Kakni River Jaisalmer, and the left-western side of the town gets protected by the completely back walls of some of the humankind structures they make.
This village consisted of the population of the Paliwals, who were almost farmers, some of the others were bankers, and the leftovers were traders.
They were a keen user of ornamented pottery which got made with the use of clay.
The village people used the River, Kakni water for their agricultural purposes.
They also used the water from another river, Khareen, which they dug up.
When the water in the Khareen dried up, it left fertile soil ideal for raising crops like Jowar, Wheat, and Gram. South of Kuldhara , there was a 2.5-kilometer Khareen.
New Life To The Kuldhara Haunted Village
What is Kuldhara like Today? We all hear and vision Kuldhara's ghost stories, and it makes fear about Kuldhara village in our hearts. But the news that is coming now is that the Rajasthan government actively promoted the town as a tourism destination in 2015.
They are working together as a public-private partnership on the development project with Jindal Steel Works. Various guest amenities, including a cafe, a lounge, a space for folk dance performances, night-stay cottages, and stores, are part of the concept.
Nowadays, the Indian government has recognized Kuldhara as a preserved archaeological site. The Archaeological Survey of India (ASI) maintained this site.
The authorities consider this place as a plan to provide some facilities for tourists, such as incorporating the same establishment of the cafe, a lounge, or dance performances.
5 Interesting Things to do near Kuldhara Village
There are a variety of exciting activities and locations to check out close to Abandoned Village. You may do various activities to make your trip to Kuldhara more enjoyable. The following are some of the events and attractions:
Visit the Jaisalmer Fort (Sonar Quila), a UNESCO World Heritage Site with breathtaking views of the city and desert.
Visit the Sam Sand Dunes, 35 kilometers from Kuldhara , to see the magnificent desert environment. Experience a camel safari, stunning sunsets, and desert traditions.
Spend a night beneath the stars in luxurious tents or traditional mud huts in Kuldhara's desert.
To experience Rajasthan's unique cultural legacy, attend conventional music concerts and cultural performances in Jaisalmer.
Spend some time at Gadisar Lake, a tranquil lake surrounded by shrines and chhatris (cenotaphs). This attractive artificial lake offers a serene escape.
5 Best Hotels To Book Near Kuldhara Village
Deserted Village in Rajasthan's Jaisalmer is famous worldwide for travelers and paranormal activities enthusiasts. Here are a few hotels near this village that are listed.
These best hotels near Deserted Village offer various services to provide a comfortable stay while visiting this village.
Kuldhara Village Address
Where is Kuldhara Village? Cursed Village has become one of the most well-known tourist destinations in Jaisalmer. Nearby is the Jiyai region. It is the ideal location for those interested in paranormal events to see supernatural occurrences.
Additionally, you can photograph the abandoned homes of the Paliwal inhabitants to save your trip's memories.
Below, we provide the Kuldhara Village Location:
Kuldhara Heritage Village Jiyai Rajasthan 345001
11 Must-Have Items for Your Trip to Kuldhara Village
When visiting any historical site, whether in Horror Village or another, it is essential to be well-prepared for a calm and enjoyable experience. The following is a list of things you should consider taking with you:
FAQs
Why Kuldhara village is abandoned?
Due to Salim Singh's rule, the Paliwal Brahmins fled from the village of Kuldhara in Rajasthan Haunted Village near Jaisalmer. People consider their curses to be supernatural occurrences.
Distance Between Jaisalmer to Kuldhara Village
Jaisalmer and Kuldhar are 35 km apart.
Ghost village in India
The famous Rajasthan haunted village in India is "Kuldhara Village" of Jaisalmer.
Is Kuldhara a haunted village in Jaisalmer?
Salim Singh harassed the Paliwal Brahmins, who left at midnight. Villagers' curses before fleeing are considered haunting.
Jaipur to Kuldhara distance
The distance between Jaipur and Kuldhar via Nagaur Road is 590 km.
Salim Singh kuldhara
He was the state's prime minister. He demanded more taxes from the residents and wanted to force the village leader's daughter to marry him.
What is the mystery of the village Kuldhara Rajasthan India?
Dictator Salim Singh drove out Kuldhara's Paliwal Brahmins. Before fleeing, they cursed the village and vowed to destroy it. It's haunted.
Can we visit Kuldhara village?
The village of Jaisalmer is always open and is an abandoned archaeological site. Tourists can learn about the history of the village.
What is Kuldhara famous for?
Because of Salim Singh's tyranny, the Paliwal Brahmins deserted the village at midnight. People see the curses given by the villagers before fleeing as paranormal activities.
What is the time to visit Kuldhara village?
From October to March, winter is the best time to visit Kuldhara Village. Skip the summer months of April through June.
Which village is abandoned in Rajasthan?
India's most haunted village is Jaisalmer's Kuldhara Village. Dictatorial leaders, high taxes, and a water shortage deserted Kuldhara village.
Village Kuldhara story
Kuldhara Paliwal Brahmins preserved water. After a dictatorial minister tortured Kuldhara farmers, they fled overnight in the early 19th century. Cursed Lands inhibited expansion.
The Haunted Village in Rajasthan Kuldhara
Due to Salim Singh's persecution, the Paliwal Brahmins left the area after midnight. Before fleeing, people think of the villagers' curses as supernatural events.
Jaisalmer Ghost Village in Rajasthan
Kuldhara village serves as one of Rajasthan's haunted settlements.
Gaurav Tiwari Kuldhara Village
Gaurav Tiwari and twelve others visited Kuldhara village to look into paranormal activities. The village had odd sounds and things.
Jaisalmer Haunted Village of India
One of the spooky villages in Jaisalmer is Kuldhara village.
Rajasthan Horror Village
Kuldhara's Paliwal Brahmins preserved water. In the early 19th century, a cruel minister drove residents from Kuldhara overnight.
Kuldhara village experience
The village of Jaisalmer, Rajasthan, is a notable village that offers an experience of unusual sights and sounds because of its paranormal activity.
Kuldhara Rajasthan Story
Rajasthan's Kuldhara Paliwal Brahmins stored water. In the early 19th century, a cruel minister compelled residents to depart Kuldhara overnight.
Kuldhara Village Mystery
This village has been deserted for 200 years because the villagers of Paliwal cursed the village before fleeing.
What is Kuldhara village?
Paliwal Villagers deserted the village 200 years ago due to dictator Salim Singh.
Kuldhara Village ghost video
Click here to watch the Kuldhara Village Video
Kuldhara Village Map
Click here to see Kuldhara Village Directions.
Kuldhara Village ghost story
Gaurav Tiwari and his twelve-person crew investigated paranormal activity in Kuldhara. That village had strange sights and sounds.
Distance between Jaisalmer railway station and Kuldhara village
The closest (25.5 KM) railway station to Abandoned Village is in Jaisalmer.
Kuldhara Village Population
Villagers decreased with time. 1500+ people lived there in the 17th and 18th centuries, 750+ in 1815, and 37 in 1890.
Kuldhara Village reviews
Due to its paranormal activity, Jaisalmer, Rajasthan, is a famous village.
Also Read