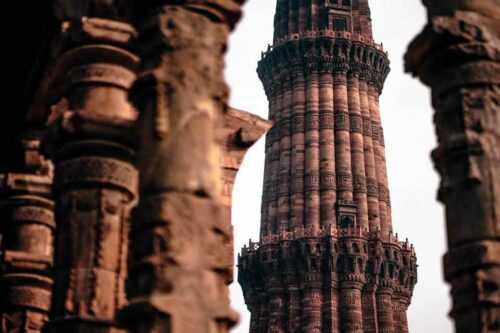 The Mystery of Hanging Pillar in Lepakshi Temple, India
Hanging Pillar of Lepakshi
Lepakshi is a small town in Anantapur district of Southern Andhra Pradesh, located 15km east of Hindpur and 120 km north of Bangalore.
It is a region of shrines dedicated to Shiva, Vishnu, and Veerbhadra. The Veerbhadra temple dates back to the medieval era.
It was constructed by two brothers, Virupanna and Veerana, allies of the Vijaynagar Empire in 1583.
There are 70 pillars in this temple in the Vijaynagar style. It is a very mysterious place.
One of the most interesting features of this temple is the hanging pillar in Tamilnadu.
Hanging Pillar Hampi
Hanging Pillar of Lepakshi is attached to the ceiling but not to the floor.
You can put a piece of cloth underneath and slide it to another side without any Obstruction, proving that the hanging pillar is disconnected from the floor. It is famous as Akaasa Sthamba (floating pillar).
The 70 ft. pillar allegedly has been dislodged by a British engineer in the pre-independence era who unsuccessfully tried to remove it to open the secret of its support.
It is an ancient pillar that defies gravity and is hanging in mid-air.
There is a different version of this theory, as well; the British government decided to do some renovations and endeavored to get rid of the pillars.
However, they couldn't do it since it was set so correctly. They couldn't remove the pillar, so they left it in an odd position.
According to historians, the history of the hanging pillar of Lepakshi dates back to Ramayana.
It was the site where Lord Ram's follower Jatayu fell after being injured by Ravana while taking away Mata Sita. In comparison, Puranic lore has that Agastya built Veerbhadra temple.
Hanging Pillar of Lepakshi Temple
Besides the hanging pillar, there are other attractions as well. Veerbhadra temple is famous for its sculptures. 
It is popular for the collection of mural paintings from the Vijaynagar period. These depict various stories like the marriage of Lord Shiva.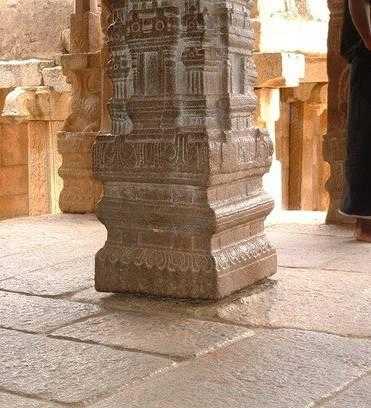 There are several forms of Shiva inside the hanging pillar of Lepakshi. There is a shrine of goddess Bhadrakali wearing serene expressions.
Many old Kannada inscriptions are carved on walls. The interior of the temple is cut out of granite.
There are other brilliant carvings like a cow showing multiple postures in the same sculpture. There is a massive block of granite, 20ft tall with cravings.
Another attraction of the Veerbhadra temple is the Nandi Bull made of single granite stone, India's biggest monolithic Nandi.
The Hanging Pillar and Other Wonders of Lepakshi
Besides the hanging pillar of Lepakshi, the magnificent Nandi is situated approximately a mile before the temple.
This would be the first pillar you would see when you'd enter the temple premise.
It is a massive structure, allegedly India's biggest colossal Nandi. This enormous structure is 27ft long and 15 ft. high.
This grandeur is a perfectly proportioned body with finely carved ornaments.
It faces Shiva linga shielded by a huge serpent. Aside from its record size, the perfectly balanced body, smooth outlines, and finely-carved adornment add to its magnificence.
Once you reach the hanging pillar of Lepakshi temple's outer compound, you'll see an enormous Ganesha- sculpted in stone and inclined against a rock.
It creates a sheltering roof over a black granite Shiva lingam. It is known as the biggest Nagalinga in India.