Ranikhet (Uttarakhand)
Ranikhet is a hill station in Uttarakhand. The state is best for its Himalayan Ranges. The temple of Jhula Devi, the peak points, and ultimate scenic views boost the value of this place and Places to Visit in Ranikhet.
The gardens have such a beautiful view that makes the soul peaceful and calm. Do you know that Mahatma Gandhi Ji stayed in a hut known as Gandhi Kutiya, situated near the Trikhet Village?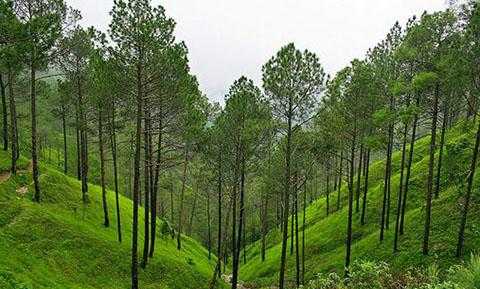 For those who are nature lovers, the place is best for them to visit. The Himalayan Ranges, beautiful Garden, fresh air, chirping of birds attracts people towards it. You can also read Places to Visit in Rishikesh.
Places to Visit in Ranikhet
Ranikhet is a popular tourist attraction place having multiple sightseeing attractions. In the given mentioned paragraphs, we will discuss the best places to visit to make the trip memorable. So let's explore the Ranikhet places to visit:
Chaubatia Gardens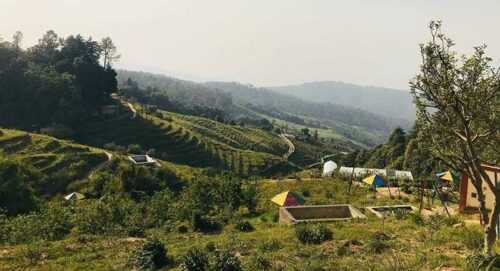 Places to Visit in Ranikhet, The Chaubatia Gardens located about 10 km at the South of Ranikhet. It is situated in the Almora district of Uttrakhand. Chaubatia means the Junction of 4 ways.
The garden is situated above 1800 meters sea-level spread in around 600 acres of land. In this garden, the beautiful orchid flowers and juicy fruit trees of peaches, apples, apricots, and much more are there.
The collection of trees, flowers, and natural beauty are immense over here. The place has stunning sightseeing, which makes the person feel free and relax from their hectic routine. You can also read Temples in Rishikesh.
For those who want to make a bond with nature, a place is a perfect place for them to visit at least once. By this garden, one can take a panoramic view of the Himalayan Ranges. It is considered one of the best Ranikhet tourist places.
Haidakhan Temple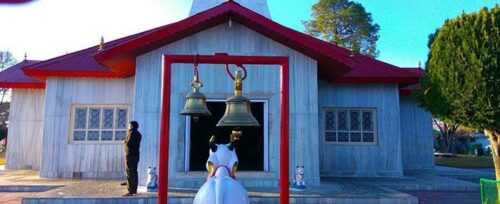 The Haidakhan Temple is garlanded at Chidianaula Ranikhet. It is the temple made by Haidakhan himself. Haidakhan is believed to be the living form of Lord Shiva, so this temple is dedicated to him.
Haidhkhan left his life in 1984 at a very early age. His birth is still a mystery for everyone. This temple shows a huge statue of Lord Shiva and Lord Hanuman.
Many foreigners love to do marriage with Indian Culture. You can also read Places to Visit in Mussoorie.
It is the time where many tourists visit for marriage purposes. When it comes to Ranikhet sightseeing, every place of attraction shows the Himalayan Beauty, and the same goes for this temple as well.
From this temple, one can feel how close they are to nature. For meditation, it is the perfect place because of its peaceful aura and relaxing surroundings.
If you visit Ranikhet ever, go to the place, find positive energy there, and take God's blessings. It is just 5 km away from the main Ranikhet town. You can also read Places to Visit in Dehradun.
Jhula Devi Temple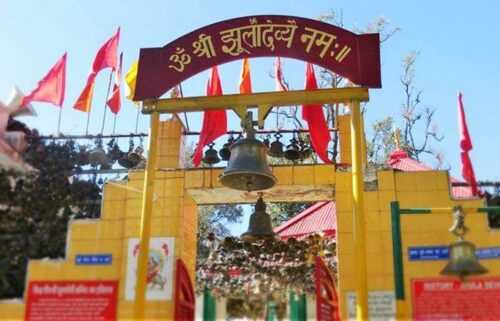 Places to Visit in Ranikhet, Jhula Devi temple is one of the ancient tourist attractions in Ranikhet, which located nearby chaurasia, just 7kms away from the town. There are many wild animals that used to attack the villagers.
These animals live in the dense of the temple, so be careful when you visit the temple. When you visit the temple, you will find many bells hung at the top of the temple. You can also read Places to Visit in Auli, Uttrakhand.
The reason behind those hung bells is that Maa Durga grants the wishes of her devotees. When the wishes get complete, the devotees offer dozens of bells to Maa Durga to thank her.
Upat Golf Course
It is also one of the best places to see in Ranikhet, considered as the highest golf course in Asia. The Kumaon Regiments looked after the golf course and located near the Ghingari Khal.
From Ranikhet, it is about 6kms away, so there is no need to worry about traveling. This golf course offers membership to outsiders. It is a perfect place to play golf. You can also read Mussoorie Travel Guide.
Golf requires perfect contact with nature; this makes to make gaming better. Ranikhet golf course is the place where the player can feel the touch of natural surroundings.
Majkhali
Majkhali is a small village which is about 12 km away from Ranikhet. It is a place which is famous for its natural beauty and scenic views as well.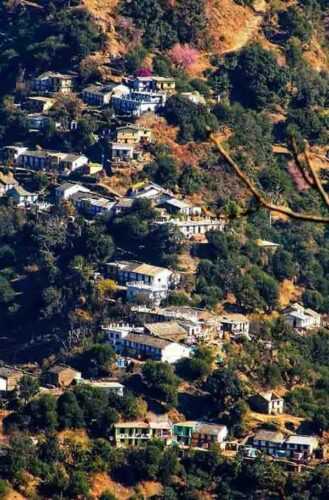 If you are out to visit the golf court, then you must visit the place because, from the golf course, it is just 6kms away, so at the very same time, you can take a look at these both ultimate places.
This place is having a famous temple of Maa Kali. It is believed that in this temple, all the wishes come true. So, one should visit the temple, who knows if your wish gets completed then. You can also read Dehradun Travel Guide.
The places to visit near Ranikhet include numerous spots, and Majkhali is one of them. The natural biosphere and snow-capped mountains make an individual feel like they are in heaven.
Do you love flora and fauna? At this small village, you will find a forest nursery in which different species of flora and fauna. You can also read Auli Tourism: Best Auli Tour Plan.
Bhalu Dam
Places to Visit in Ranikhet, Bhalu Dam is a kind of artificial lake. It is situated in the forest area, which is located near Chaubatia, about 3 km.
If some are coming, especially from Ranikhet, to visit this artificial lake, it will take about 10 to 15 mins to reach the place as it is 11kms away. You won't believe that this dam is ancient as it was built in 1903. You can also read Mussoorie Tourism: Best Mussoorie Trip.
From the Bhalu Dam, one can capture a panoramic view of hills that are covered with snow. For camping and picnic, it is an ideal spot. This place is available all year round.
Keep one thing in mind about this damn that no one can take their vehicle at this place. The road is in poor condition. It is one of the Ranikhet famous places because lots of tourists come here to go camping. You can also read Places to Visit in Chopta.
Mankameshwar Temple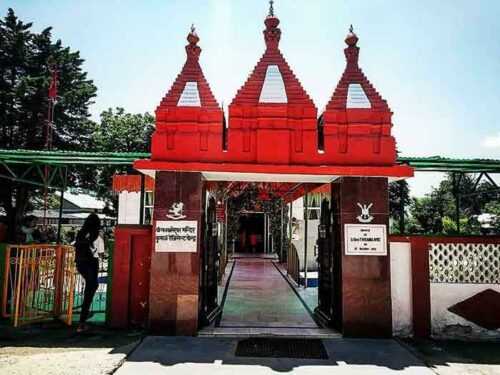 It is the temple which is next to the Narsingh Maidan in the town of Ranikhet. This temple was built in 1978 by the regiment Kumaon which looks after the golf course as well. It is located near Rani Jheel in the army cantonment area.
The holy being of this temple is Maa Kalika, Lord Shiva, and Radha-Krishna. The captivating eye view from this temple makes the visitor be at the place for hours. Near the temple, you will find the Gurudwara and woolen garment factory.
So it might make you love the place. In the factory, you can watch how the clothes are made, and in Gurudwara, you will find a peaceful environment. You can also read Sahastradhara Dehradun.
Tarikhet Village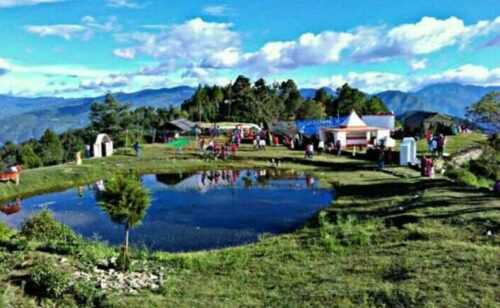 Tarikh Village is a solitary village located 8 km away from Ranikhet. It is the place that reflects "Queens Meadow." You can also read Best Places to Stay in Chopta | Hotels in Chopta
The main attraction of this place is Gandhi Kuti, the place where Mahatma Gandhi Ji stayed when he was struggling for freedom.
All the major activities, which have been taken place in the freedom struggle, the place is the center of those activities.
Dwarahat
The village is located at the height of 1510 meters from sea level. The town is situated in the Almora district and having a great scenic view of the natural hills and greenery over there. You can also read Har Ki Dun Trek – Trekking in Uttarakhand.
The place is famous for its ancient beauty and temples constructed by the Katyuri kings. Dwarahat basically means the way to heaven, and this place is literally as same as its meaning. The scenic beauty with the blessing of God made this place a very beautiful tourist attraction.
Dunagiri Temple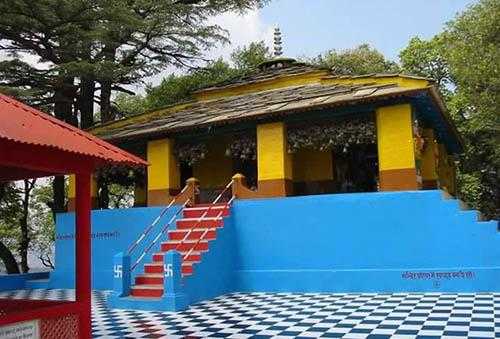 Dunagiri is the temple of Maa Durga, located about 12 km away from the village Dwarahat. It is a belief of people that when Hanuman Ji was carrying "Sanjivani Buti" for Laxman's cure, a piece of it falling. From that day, this place got the name of Doonagiri.
Ashiyana Park
Ashiyana Park is known as the heart of Ranikhet. It is also known as Devdar Udhyan. It is the first-ever theme park of Uttrakhand. You can also read Things to do in Chopta, Uttarakhand.
With the herbal gardens, well-maintained greenery, colorful fountains, beautiful sightseeing, the fascinating flowers, this place is amazing and a perfect place to relax for the mind to get out of the hectic schedule.
Ram Mandir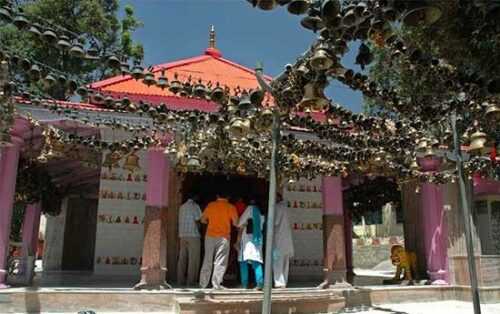 Have you heard about the verdant hill? It is the hill that is dedicated to Lord Rama. This temple is located in the locality of Jhula Devi Temple.
From the Jhula Devi Temple, One can easily reach the place from Ranikhet. By the stairs, one can reach the temple easily.
There are many more Ranikhet famous places in the town, so when you visit the place, the residents of that place will guide you to different sites. You can also read Places to Visit in Himachal Pradesh.
Best Time to Visit Ranikhet
In the starting winter months, such as September, October, and November, will be quite good for Ranikhet's best time to visit. For snowfall time in Ranikhet, December, January, and February will be the best timings.
Ranikhet is a very beautiful and peaceful place. For nature-loving people, it is the best place to visit them. You can also read Darjeeling Travel Blog.
Read Also:
Travel To Top 5 Dream Destinations
Are you looking to book your next trip? Check out the following services we use and love or click the previous link to read more!
Oyo To find the best hotel deals.
Best International Flight Deals to Book in 2019.
World Nomads to insure your trip.
Hostelworld to find a budget hostel.
Jetradar book Flight at cheap price.
GetyourGuide Guided Tours.