Do you love nature? Have you thought of doing camping at any hill station? Yes, camping, sleeping in a tent under the open sky full of stars? You can see camping in Chopta.
Just think about how you will feel when you will sleep in the laps of nature with the fresh cool air, stars above you, and lush green meadows in the surrounding.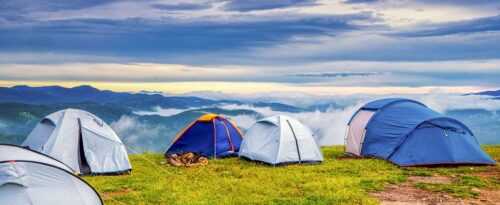 Chopta is a great place where you can find the best destinations for camping. Even the sightseeing and climate of Chopta will make you feel like you are in heaven.
In Chopta, there are many camping sites with all the basic facilities provided to the visitors, which makes them enjoy Camping in Chopta even better. You can also read Hiking/ Trekking in Himachal Pradesh.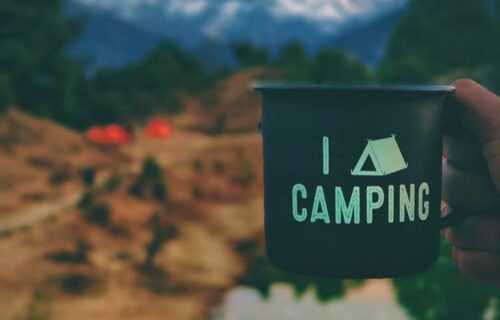 You can imagine how much fun you will have while Camping in Chopta and how you will feel over there even also. We are just starting with a few of the best camping sites in Chopta to make the trip much more exciting. You can also read Best Time to Visit Tungnath.
Camps to Stay in Chopta for an Amazing Himalayan Experience
Chopta is a beautiful place in the Himalayas. Here you can enjoy nature, see stunning views, and have a peaceful time in the Himalayas. It is a great place to experience the mountains.
Magpie Jungle Camp Chopta
Mandakini Eco Tourist and Trekking Camp
Chopta Meadows Heritage Camps
Buzz Eco Camp
Himalayan Resort
Holiday Parking
Magpie Jungle Camp Chopta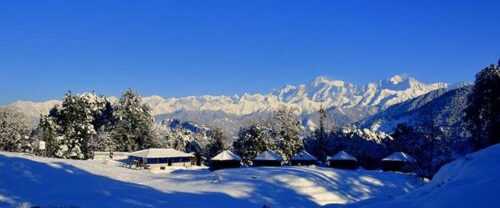 Magpie Jungle Camp is one of the best camps in Chopta and comes at the number one recommendation. The camps are situated mid in the jungle, gives you feel like you are surrounded by nature properly.
The view of the huge trees, the sky full of stars, and the all-around view are very soothing and calm. If you are looking for a place to come out from the city chaos, Camping in Chopta with Magpie is the best option to pick. You can also read Places to Visit in Mussoorie.
Even the staff is also very nice and supportive enough to sort any issues of the visitors. Magpie is considered one of the best camping sites because of its best amenities. You can also read the best things to do in Chopta.
Mandakini Eco Tourist and Trekking Camp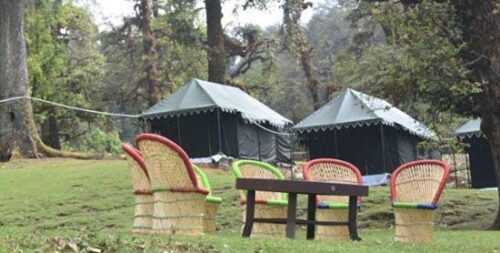 Thinking about camping in Chopta, don't worry, there are several options available that allow the person free of choice to pick any one suitable to their needs and requirements.
If you have your vehicle, don't worry, Mandakini will offer you parking where you can park your vehicle with security.
The caretaker is there who will secure your property. Your entire day meal will also serve by them, which is included in the amount. You can also read Places to Visit in Chopta.
Chopta Meadows Heritage Camps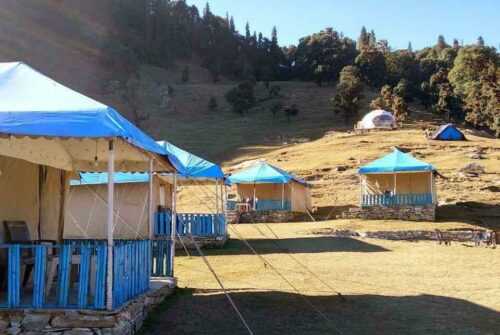 Chopta Meadows Heritage Camps are situated in the lush green forests of Chopta on the main highway of Kedarnath and Badrinath. From this camping site, the view of the Himalayan Range is all clear. You can also read The Ultimate Guide to Chopta Chandrashila Trek.
When you see the view of this Himalayan Range from the dense forest, trust me, this scenic view will become one of the best memories of your life because you might not get a chance to feel the environs from so close.
The camps are all weatherproof. Like the other major attractions of Chopta, I am sure you will love this Chopta camping package. You can also read Chopta Weather & Best Time to Visit Chopta, Uttarakhand.
Buzz Eco Camp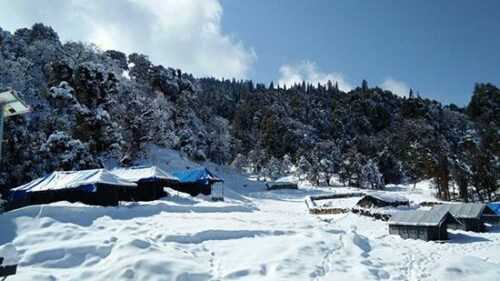 Buss Eco Camp in Chopta also has a good score rating and reviews from people. It is a delightful place that serves peace and tranquility in mini Switzerland. You can also read Adventure Sports in Chopta.
Buzz Eco camps are not only famous for sleeping under the sky, but they also allow jungle camping with hiking and trekking as well. The Buzz Eco camp is surrounded by the panoramic view of the Himalayan Range with the majestic lush green alpine meadows.
They offer clean tents, an eco-friendly environment, a comfortable stay, security to the belongings, parking site, and delicious food items.
It does not end here; they provide yoga sessions for health in those lush green meadows. This place will make the holidays much more memorable in Chopta. You can also read Best Places to Stay in Chopta, Hotels in Chopta Uttarakhand.
Himalayan Resort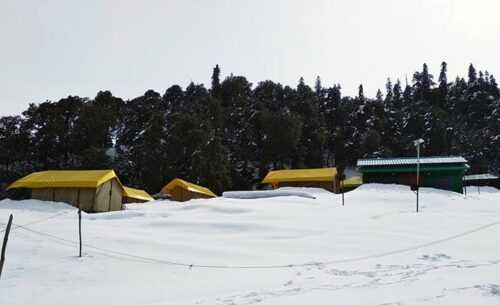 When you see the reviews and ratings of this resort, no words require exploring more about it. It is the best one, and you should go camping in Chopta at this place. You can also read Chopta Trekking: Chandrashila Deoria Tal Trek.
Himalayan Resort offers a clean and hygienic environment with eco-friendly tents. In some of the camps, people have water facilities, but in the case of Himalayan Resort, there is no disturbance of the water.
There are 6 tents, a dining hall, and outdoor space to sit and spend some time with your companions. This camping site ensures an individual have their best time here. You can also read Places to Visit in Auli, Uttrakhand.
Holiday Parking
Looking for the Chopta Camp Booking, why don't you choose the Holiday Parking camp for the stay during the trip?
This camping site is surrounded by dense forests with a great view of the Himalayan Range. It is the starting point of the Tungnath Mandir trek, which can also be a reason to reach there.
Camping in Chopta Uttrakhand, here are many options mentioned to you to select any of them and make travel better. You can also read Best Places to Visit in Dehradun.
So if you choose any one of them, check out that camping site on the internet and pick up the one suitable per the requirements. You can also read Luxury Swiss Tent Resorts in Jaipur.
Read Also:
Guide to Apartments for Rent in Barcelona