Deoria Tal Trek
Chopta is known as Mini Switzerland and is considered as the best place in Uttarakhand for sightseeing and having fun with nature. and see Deoria Tal Trek.
Chopta is not only good at its sightseeing but known for its trekking route also. Many of the tourists even plan for this place only for trekking. If you are a beginner and want to trek, Chopta offers you to make it possible.
The reason being is it's a beautiful and straightforward route. In most of the trekking routes, people find them a little challenging to cover up, and Chopta makes it easier to cover up.
Deoria Tal Trek is considered one of the best trekking trails in Chopta, where almost every visitor comes to avail the beauty of nature with some fun-loving, adventurous activity. You can also read Places to Visit in Chopta, Uttarakhand.
General Info for Deoria Tal Trek
Chopta Deoriatal Trek is situated in Chopta of the Uttarakhand region. It is a 5 days duration trek with a comfortable and perfect overnight stay. The trek is situated at an altitude of near about 13500 ft.
Deoria Lake in between Chandrashila Trek
In Chopta, the trekking route is defined from Kund to Chandrashila's peak. This trek is of around 4 days, and in those 4 days, the trekker can cover up Chopta, Deoriatal Tungnath Trek.
In the Kund to Chandrashila trek, you will visit Tungnath, Deoria Tal, Haridwar, Sri Nagar, and of course, the Chandrashila trek. You can also read Chopta Tourism: Things to do in Chopta, Uttarakhand.
Your overnight stay will be at Kund, where all the set up was organized by the organizers to make you feel comfortable with all the amenities.
In this trekking route, Deoria Lake will come where you can avail yourself of the sightseeing of mesmerizing natural view. You can also read Best Camping in Chopta, Uttarakhand.
Chopta to Deoria Tal Distance
Deoriatal Trek is a very gentle trek with fascinating sightseeing. Chopta to Deoria Tal distance is near about 21 kms in which you will get proper safety measures and other necessary equipment to keep yourself protected.
How to reach Chopta Deoriatal Trek?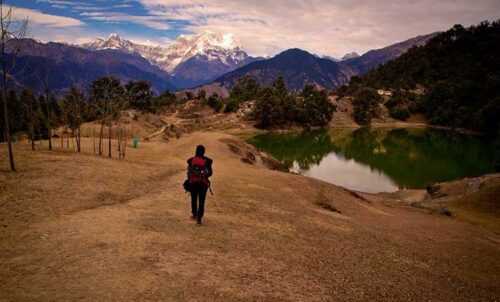 If you want to reach Chopta Deoria Trek, the first important destination to reach is at Chopta. From Chopta, you can continue trekking via reaching to the trek route and for the day avail the sightseeing of Chopta also.
If your motive to come here is only trekking, you can directly reach to Kund via hiring any taxi or via public transportation. Via Rishikesh, you can reach to Chopta or Ukhimath.
Jolly Grant Airport is situated near Chopta. Haridwar Railway Station is the way to reach Chopta for the Deoriatal Chopta Chandrashila trek.
From the airport and railway station, you will find the best and cheapest public transportation facility to reach Chopta or Kund.
For making the more convenient and comfortable, hiring a taxi can also be the right option. Chopta to Deoria Tal is possible to reach easily via taxis and even via the daily routine buses.
If you want to reach the place in your car, then it is up to your call. You can also read Trekking in Himachal Pradesh.
Why go Chopta Chandrashila Deoria Tal Trek?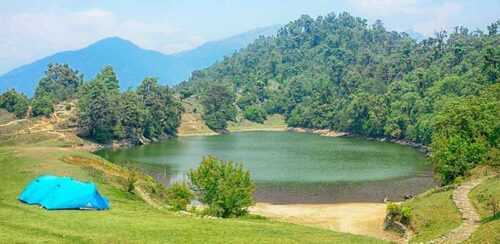 Chopta is well famous for two main reasons which are its sightseeing and the second one is the beautiful trekking trails. The reason behind this trek is also the same availing new experience of trekking.
In addition, take the view of eye capturing sightseeing with the adventurous activity. DeoriaTal Lake is also on the way, which also has very beautiful, clean and fascinating sightseeing.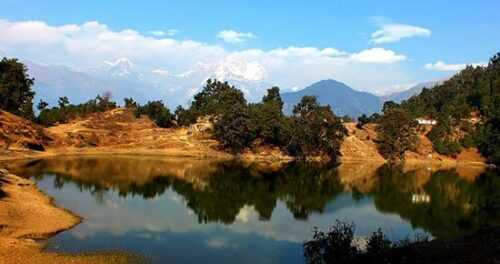 You might think that what is there in the surrounding. The dense forest with huge pine trees, a panoramic view of the clear sky, refreshing air, and everything makes the place to visit. You can also read Best Time to Visit Tungnath.
For nature lovers, this place is like heaven. If anyone wants the vacation to get out of their hectic schedule, Deoria Tal to Chopta trek is a perfect activity for them to boost them up. You can also read Chopta Weather & Best Time to Visit Chopta, Uttarakhand.
Where to stay?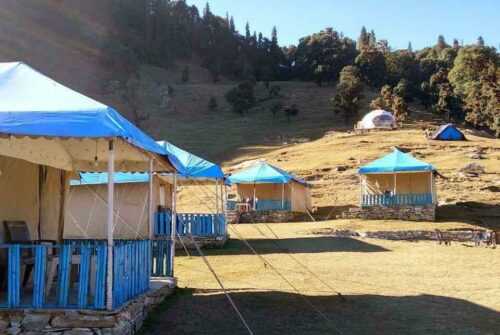 If you are planning for the Deoria Tal Trek Route to explore, then don't worry because the trip organizers are there to help you out. Trek will start from Kund every day and end to different locations.
So at Kund, there are Deoria Tal accommodation facilities also given to the visitors in a well mannered and comfortable way not to let them face any problem.
The best part is you won't face any water problems because they are prepared with a full stock to serve the tourists. You can also read Best Places to Stay in Chopta, Hotels in Chopta, Uttarakhand.
How much will the trek cost?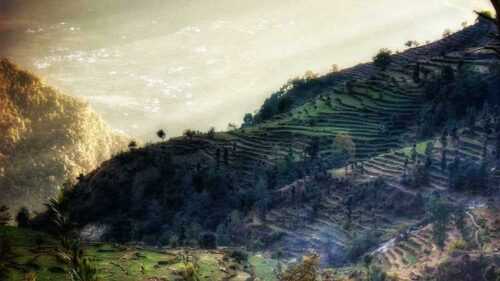 It is estimated that this 4 days trek will cost you around 10000 maximum, which includes such as meals, accommodation, trekking sticks, and other essential equipment, and amenities.
Deoria Tal to Chopta is a fun, entertaining, and exciting trek on which you can feel nature. You can also read Auli Tourism: Best Auli Tour Plan, Uttarakhand.
Due to globalization, the connection between nature and human beings reduced a lot, and the Deoria Tal trek will make it possible for people to re-energize and boost them up with the natural glances of the Himalayan Range. You can also read Adventure Sports in Chopta.
Read Also: