In the middle of the Himalayas, there are many things to do in Chopta and see. You can go on a trek to Tungnath, Or you can trek to Chandrashila. Check out Deoria Tal and the Kanchula Kharak Musk Deer Sanctuary. Sari Village is charming, and Dugalbitta is perfect for quiet time.
You can explore the lesser-known Bisurital Lake or visit Baniyakund, a small village at the beginning of Chopta's meadows. And if you're into it, you can do yoga and meditation to find peace in the calm surroundings.
Chopta Hill Station – Chopta Overview
Chopta is a hill station in Uttarakhand, India. Lovely hills surround it, and it is famous for its peaceful atmosphere and stunning natural views. With pretty meadows, green forests, and snowy mountains, Chopta is a perfect place to start your adventure in the Himalayas. This post contains the best information about things to do in Chopta.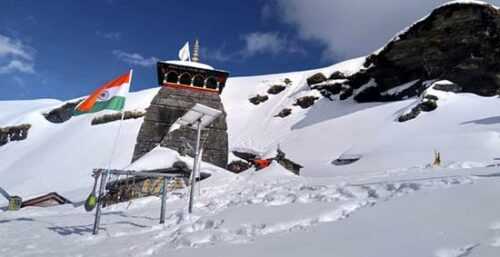 Plan Your Travel To Chopta:
Planning a trip to Chopta, a lovely hill station in the Himalayas. This guide will help you plan your journey smoothly:
Choose the Right Time to Visit.
Book Your Accommodation.
Plan Your Transportation.
Pack Appropriately.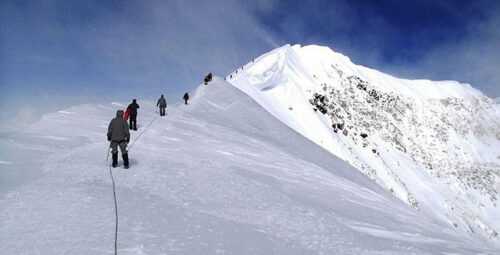 Chopta Travel Essentials:
Weather: Chopta has different seasons. It is nice and warm in summer, not too cold in winter, and colorful in autumn. The best times to visit are spring (March to May) and autumn (September to November), when the weather is good for trekking and exploring.
Ideal duration: Spending at least 2-3 days enjoying Chopta and the nearby places is good. If you want to go on treks, staying for 4-5 days is even better.
How to reach?
By Road: Chopta is connected to Rishikesh, Haridwar, and Dehradun by road. Rishikesh is the nearest central town, which is 94 km away.
From Rishikesh: Proceed towards Badrinath along the National Highway. After 70 kilometers, take a left turn to State Highway Chopta. It takes about three hours to drive from Rishikesh to Chopta.
From Haridwar: Head for Badrinath on the National Highway. About 120 kilometers down, turn left onto State Highway to Chopta. The journey from Haridwar to Chopta takes about 4 hours.
From Dehradun: Go towards Rudraprayag on the national highway. After approximately 90 kilometers, turn left onto State Highway towards Chopta. A journey from Dehradun to Chopta will take about 3.5 hours.
By Train: Rishikesh Railway Station is the central railway station. Getting a taxi or bus from Rishikesh to Chopta is possible. It is about 3 hours of journey.
By Air: The Jolly Grant Airport, which is located in Dehradun. You can reach Chopta by hiring a taxi or bus from Dehradun. The journey takes approximately 4 hours.
Activities to do in Chopta:
Below, we mentioned some of the things to do in Chopta. These activities are very popular and suit all.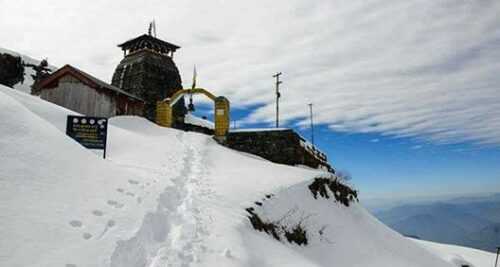 Trekking: Go on exciting treks to Tungnath Temple, Chandrashila Peak, and Deoria Tal Lake. You'll see amazing views of the Himalayas.
Camping: Experience the beauty of nature by camping under the stars in the peaceful meadows and forests of Chopta.
Wildlife Photography: Take pictures of the Himalayas by capturing the different plants and animals, like musk deer, Himalayan monal (a colorful bird), and the rare snow leopard.
Nearby Places of Chopta:
Below, we mentioned some Chopta tourism places located in the shortest distance. These places are also well-known:
Ukhimath: About 45 kilometers from Chopta is Ukhimath, a special place for Hindus. It is one of the four Char Dhams, essential pilgrimage sites. There is an ancient temple called Kedarnath Temple. People visit Ukhimath for its spiritual feel and peaceful surroundings, especially those who love nature and pilgrimages.
Kanatal: Kanatal is a calm lake surrounded by snowy mountains. It is a beautiful place for camping, taking pictures, and enjoying the peacefulness and amazing views of the Himalayas.
Auli: Auli is an excellent place famous for winter sports. In winter, the snow-covered slopes become perfect for skiing, snowboarding, and other fun snowy activities. It is one of the best nearby things to do in Chopta.
Tungnath Temple: Situated at 3,680 meters (12,073 feet), Tungnath Temple is the highest Shiva temple in the world. The trek to the temple offers breathtaking views of the Himalayas, making it a popular pilgrimage site and a challenging yet rewarding trekking destination.
Deoria Tal Lake: Deoria Tal Lake is a calm lake surrounded by mountains in the meadows of Chopta. It is a peaceful place where you can camp, take pictures, and enjoy the quiet beauty of nature, especially with the mountains reflecting in the lake.
Chandrashila Peak: Offering panoramic views of the Himalayas, Chandrashila Peak is a popular trekking destination near Chopta. The trek to the peak offers breathtaking views of Nanda Devi, Trishul, and Chaukhamba.
Weather in Chopta:
Summer (June to August): Warm and sunny days with occasional afternoon thunderstorms.
Monsoon (July to September): Heavy rainfall and lush greenery.
Winter (December to February): Snowfall and temperatures drop significantly.
Best time to visit Chopta Tourism:
Trekkers: Spring (March to May) and autumn (September to November) offer pleasant weather for hiking.
Wildlife Enthusiasts: Spring and summer provide opportunities to spot diverse flora and fauna.
Snow Seekers: Winter (December to February) offers snow-covered landscapes ideal for snow sports.
Chopta Tourism Itinerary:
Day 1: Arrive in Chopta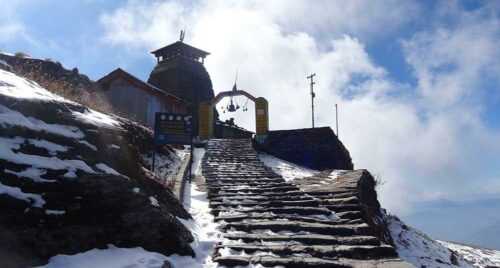 Day 2: Go on a trek to Tungnath Temple and Chandrashila Peak
Day 3: Visit Deoria Tal Lake.
Day 4: Head to Kanatal Lake.
Day 5: Say goodbye to Chopta.
Chopta Uttarakhand Tourism Hotel:
Snow Hills Resort and Camping
Chopta Resort
Hotel Snow View
GMVN Ukhimath
The Meadows Chopta Camp Stay
Mandakini Eco Tourist & Traking Camp
Chandrashila Eco Camps | Rooms & Guided Treks
Himrab Chopta Homestay | Rooms & Caretaker
Chopta Swiss Camp
Amar Resort And Camps
Magpie Jungle Camp | Rooms & Caretaker
The Samaun
Read Also:
Chocolate Mushrooms Gaining Popularity