Sleep in the Arms of Nature in Jaipur!
Luxury Swiss Tent Resorts in Jaipur, When we plan for any trip, the primary thing we notice is the nature of the place. Nature is the most important and beautiful aspect, which can make the trip much more excited.
Nature is something that offers inner peace, and positivity and energizes the body. The best way to keep in touch with nature is to go camping.
If planning a trip to Jaipur, you must consider camping as your to-do activity. Camping allows you to sleep in the arms of nature with so much refreshing air.
Jaipur is the capital of Rajasthan and is known for its forts and palaces. The beauty of Jaipur invites people to come and avail themselves of knowledge about the history and scenic beauty.
There are so many tour packages available for camping, and in Jaipur, you might find several. If you want to go camping in Jaipur, we can help you in this situation.
The forthcoming paragraphs mentioned below will explain a few luxury swiss tent resorts in Jaipur camping destinations where you can spend quality time.
Not only this, we will let you know about the importance of camping trips. Now let's get started.
Luxury Swiss Tent Resorts in Jaipur
Bikamp Adventures
Bikamp Adventures is known as the Bikamp Aravali Camp Resort also. This adventure resort is surrounded by Aravali Hills and Jungle all around. It is a perfect place for camping.
It is quite a creative architectural site, "Bairat" dug up in 1962. If you go to this place for camping, you can plan a day trip to Sariska National Tiger Research.
This research is so beautiful to watch around. One can easily explore the natural beauty of this place. Approximately 2.5 acres, this property is spread.
One can also do several adventurous activities here, such as cycling, trekking, hiking, archery, and air rifling. So not only for camping, but one can enjoy here also different activities.
The day after doing all these activities, prepare for the mesmerizing sunset. Yurt tents are waiting for you there. So reach and avail a new experience with the fantastic sky view.
If you are planning to reach there, Beri K Hanuman Ji Road, NorangPura, is the location of this ultimate place.
Tao Experience

You might head about Tao Experience. This place is trendy for its adventurous activities. Yes, no doubt that it is a cool place for camping, but what will you do during the day?
This place is perfect for 1 day and a 1-night trip. Here in the day, different adventures can be performed, such as rock climbing, zip line, low rope course, body zorbing, and even you can play paintball over there.
You can buy bubble bash shoes with a 30% to 50% discount.
It is a beautiful place to come to have an adventurous experience. In the evening, you can feel in heaven here.
The fresh air blows up your mind; it soothes your inner soul and makes an individual feel peaceful.
The chirping of birds feels so good over there. One can do Night Camping over here at the edge of the jungle. The place is spread over about 7 acres.
If you want to reach this memorable and interesting experience, the location is about 6 km from Kukas Village. You can also read Luxury Swiss Tent Resorts in Jaisalmer.
The Timber Garden Adventure Club
When it comes to camping, we people demand not only the luxury swiss tent resorts in Jaipur but also for adventurous activities.
If camping is done with the fun of adventurous activities, both these things will make the entire day and night unforgettable. Timber Garden Adventure Club offers not only camping but also adventurous activities to do here.
The swimming pool, garden, shared lounge, playground, and much more is here to make the person feel unique. To reach the timber garden adventure club is located in Jaisinghpura near Jaipur.
Rao Bikaji
Rao Bikaji, a wild desert resort, is located at Bikaner-Agra Road in Bikaner. You can reach there from Jaipur via train, bus and air transportation.
It is the perfect place to taste the culture of Rajasthan. It offers you huge ground where you can explore the panoramic view of the sky. Not only this, you can ride a camel on the sand dunes.
If you are a sun lover, this is a fascinating place to come. You can take the view of that fascinating sunset riding on a camel in the desert.
It is one of the best Tent stays in Jaipur. Yes, the location is not right in Jaipur, but still, it is not so far that you cannot reach there.
Sambhar – The Salt Lake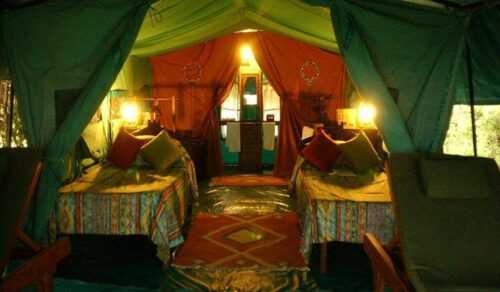 Sambhar – Salt Lake is one of the best places for camping in the Luxury tents in Jaipur. At Sambhar Lake, you have to carry your camping equipment; otherwise, this place is perfect for camping.
Make sure that when you set up the tent, the distance must be 4 to 5 km away from the road.
Not only this, carry your food and water to have something over there. It is also a perfect place to set up the camps.
Hotels are not the only way to stay somewhere. To avail of a new experience, you should try camping.
It is something so fascinating that grabs attention. At night, the view is so beautiful, it really looks amazing—a great experience for Luxury Swiss Tent Resorts in Jaipur.
Read Also: