Camping in Jaisalmer!
Luxury swiss tent resorts in Jaisalmer, Planning for any trip, and booking a hotel to stay in is common in everyone. When it comes to booking a hotel to stay is not something interested because it is common.
You will stay in between those walls. But have you thought what if you will stay under the sky? Yes, I am not joking, because it is possible.
If you are planning to Jaisalmer and want to go camping in those high-temperature deserts, don't worry, it is possible. You can also read Jaipur Travel Guide.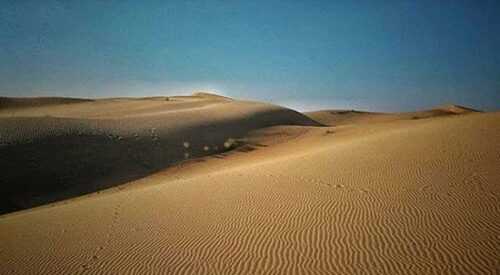 On a day, deserts are hot, but you won't believe it at night, but they will get colder a lot so that camping can be done in those deserts.
You might think about how the camping will be done, for this also there are many options available in Jaisalmer. You can also read Best Camping in Chopta, Uttarakhand.
There are many luxury swiss tent resorts in Jaisalmer situated where the person can enjoy their partner under the sky's panoramic view.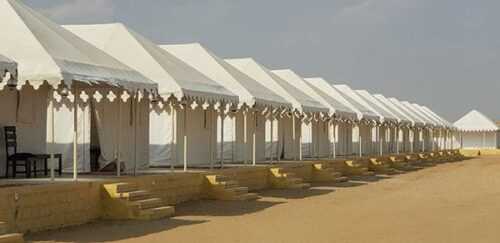 Camping is something that allows you and your partner to spend some quality time with each other. It creates a strong bond between the couple. Camping is best for honeymoon also.
Not only for couples but family trips are also suitable for camping. Here you can spend your time with your kids and can understand them more.
Now, without wasting a single minute, let's talk about those places where you can sleep under the sky. You can also read enjoy River Rafting in Leh.
Luxury Swiss Tent Resorts in Jaisalmer
We Ride Desert Camp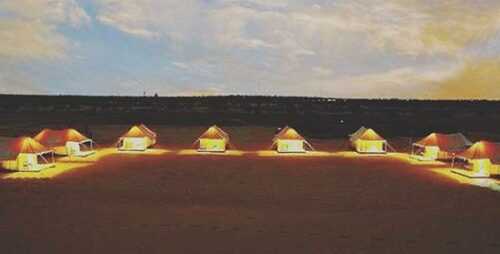 We ride desert camp is one of the most popular camps in Jaisalmer. You will feel great here because the fascinating view of the sky and the surrounding is eye-grabbing. Do you love drinks?
In some of the camps, you are not allowed to drink, but we ride the one which does have a bar where you can enjoy your favorite drinks. You can read also Enjoy River Rafting In Gujarat.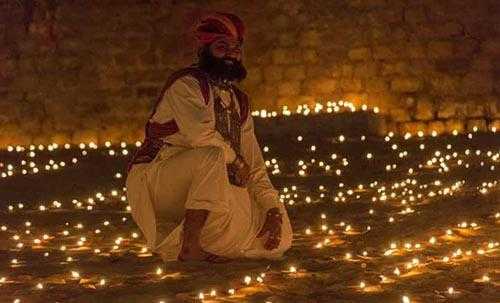 In the place, you will find an open garden where you can sit with your companions and chat with them effortlessly. Don't worry about the meals; you can find your proper vegetarian meals.
If you are planning to reach here, it is located around 1.7 km away from Salim Singh ki haveli, and Lake Gadisar is 2.8 km away from the destination.
You can find one of the best swiss tents in Jaisalmer here to enjoy with your partner. You can also read Best Adventure Sports in Gujarat. 
Hostel Alibaba
Not visiting the Jaisalmer fort when planned a trip to Jaisalmer is not fair enough. If you visit the Jaisalmer Fort, then avail a new experience also by camping under the sky.
Yes, from the Jaisalmer Fort Hostel, Alibaba is located only 1.1 km away. In Hostel Alibaba, you can find the best accommodation facility over there with the restaurant and camping. You can also read places to Visit in Udaipur.
The front desk is available 24 hours, so don't worry about the late and early morning arrivals. Throughout the property, free WiFi is available, which makes the person stay connected with the internet all the time.
This camping destination offers you the exotic breakfast or any continental. You can also read Adventure Sports in Jaisalmer.
Traveler's Camp Safari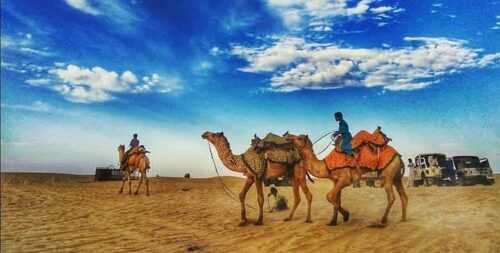 Luxury swiss tent resorts in Jaisalmer, like the Hostel Alibaba, this camping site is located near Jaisalmer fort about 500 meters away.
The traveler's camp safari offers accommodation with a bar at the place as well. Your convenience with this camp safari is quite good due to its 24 hours front desk availability. You can also read New Tourist Places in India.
Rawla Resort Ethnic Desert Resort
The Rajasthan Desert is famous for camping. If you desire to camp overnight, the Rawla Resort Ethnic desert resort is located about 32 km away from Jaisalmer fort.
Every morning, the continental breakfast is to be served to the visitors. The view from this desert is very beautiful as the sky looks mesmerizing from here. You can also read Best Wildlife Experience in India.
Jaisalmer Backpacker Safari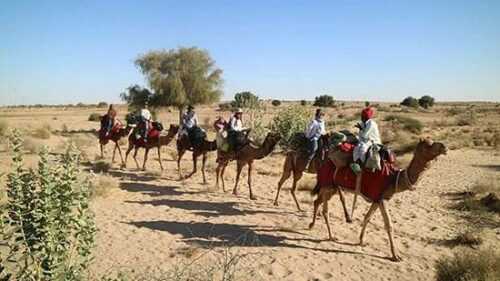 Luxury swiss tent resorts in Jaisalmer, This backpacker safari is quite popular in Jaisalmer. It is situated with the Jaisalmer fort and Patwon ki Haveli.
It offers you an accommodation facility with a continental breakfast, as well. You can find private parking here. Here is the comfortable swiss camp Jaisalmer set up for the visitors. You can also read Kuldhara Village.
Luxury Swiss Tent Stay in Jaisalmer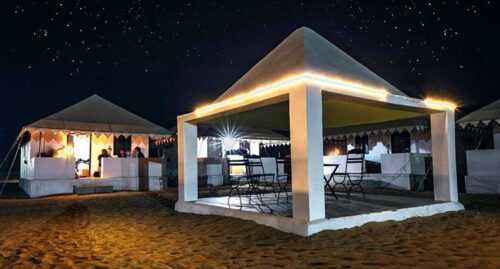 It is the perfect destination for those travelers who want the best luxury tent resort. There are no booking fees you have to pay.
Not only this, you can get an instant confirmation voucher with a money-back guarantee in this group. You can also read Luxury Swiss Tent Resorts in Jaipur.
This place offers the couple to stay here for camping in 16000 Rs per couple. Meals, activities, and accommodation, everything is included in this amount.
Sujan Camping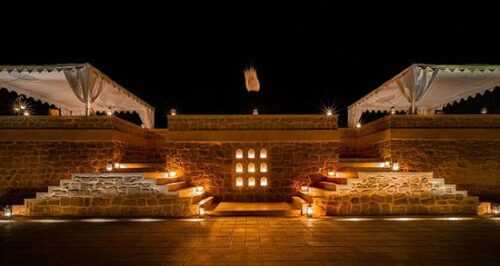 If you want to take the experience of royal swiss tent Jaisalmer, Sujan camping is one of the best options to choose from. At the Sujan Camping, the royal and luxurious tents are set up for the visitors.
This destination is set up in 100 acres and looks so good. It is one of the elegant places in Jaisalmer for camping. The place makes an individual feel the history of Rajasthan. You can also read Recommendations for Traveling to India.
Rajputana Desert Camp Jaisalmer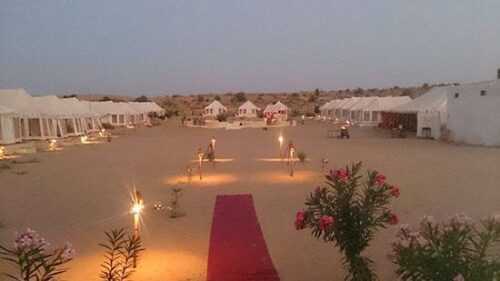 Luxury swiss tent resorts in Jaisalmer, It is in huge demand, and everyone loves to come here. You will not find a chance to go camping again and again.
So make sure to reach here because it is something exciting to do once at least once in a lifetime. You can also read the Most Attractive Places in India.
What activities can be done on camping?
In camping in the deserts of Jaisalmer, there are different activities you can do, such as camel safari, folk music, dance with a bonfire, and DJ as well. It all makes the experience much better.
What about meals?
Don't worry about the meals, in the amount; meals are included. You will get breakfast, lunch, and dinner in it with light snacks also.
What to carry while camping?
There are few things which the person should carry when they go for camping such as:
Sunglasses
Comfortable footwear
Sunscreen
Medications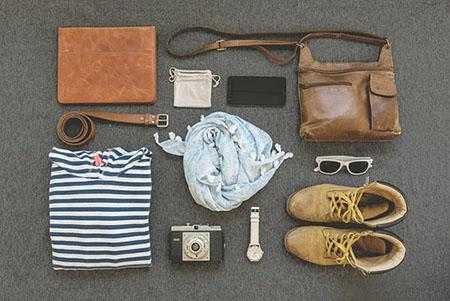 What about refunding policy?
If you got an emergency and need to cancel the policy, don't worry about the amount you have paid. Within 15 business days, you will get back your amount.
So avail of the experience and collect some new and exciting memories in life by coming to the luxury swiss tent resorts in Jaisalmer. You can also read Cheap Honeymoon Destinations in India.