Guide to Travel Phoktey Dara Trek
Phoktey Dara trek: Betting you, the most remarkable and soothing sunrise and sunset view of your journey ever would be there! Yes, it's one of the most stunning, extraordinary, and tremendous treks of the entire world.
That's not the only reason but obviously one of the most substantial reasons behind the consideration of numerous tourists visiting here. Let's have a 360° Theoretical and graphical view of Phoktey Dara trek through our Trek itinerary.
Here one would get the complete guide for Phoktey Dara Trek. Predominantly, Phoktey Dara is a through which goes through a jungle area.
There are so many mountain ranges that you would get at the border of Nepal Sikkim. Basically, it is situated in Uttarey, Singalila Range of Sikkim. Phoktey Dara passes through the Highest altitude of 3733 mt in Uttarey, Sikkim. 
[toc]
Camping and Trekking Opportunities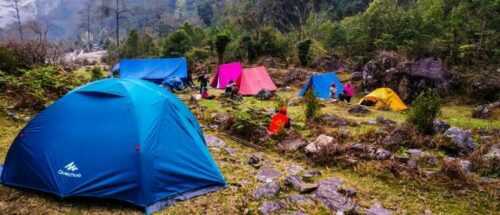 Here you would get the opportunity of Camping in tent houses along with stays in tree houses as well. This is one of the most adventurous views of the Phoktey Dara trek.
There is a very famous sanctuary known as Varsey Rhododendron Sanctuary, known for its thick forest collections and Rhododendron blooms.
Now here is the Best Womens Hiking/ Trekking Products:
Adjoining Forests and Sanctuary
This is a perfectly and naturally designed trek for adventures. Not just that, you would also get the opportunity to interact with numerous forests.
For example, Wet Temperate Forests, Moist Dry Alpine Scrub (Rhododendron and Juniper scrubs), Sub-alpine Birch-Fir, Mixed Coniferous Forests, and Conifer Forest and at its own heights.
There is also a Bird sanctuary that is home to endangered Red Panda, Himalayan Black Bear, Barking Deer (Kakar), Marbled Cat, and many other mammal species. This is also connecting various Sikkim and Nepal villages.
Phoktey Dara Trek is also very famous as Everest- Kanchendzonga trek, Singalila Pass trek / singalila pass and Singalila Range Trek. Phoktey Dara singalila trek is also known as Phoktey Dara singalila Top Trek.
Phoktey Dara Trekking is also extremely famous for Rhododendrons and numerous ancestry of birds. Phoktey Dara Trek is the easiest entrance to the Singalila Ridge Trek / Singalila Range. This is Spread across an area of 104 Square Km.
Temperature Variations
If you are really planning for Phoktey Dara Trekking, you must be aware of its Trek itineraries, like temperatures and variations.
The Day time temperatures of Phoktey Dara Trekking would range from 13-18ºC, and during night time, its temperature would range from –1 to 5ºC.
Uttarey Sikkim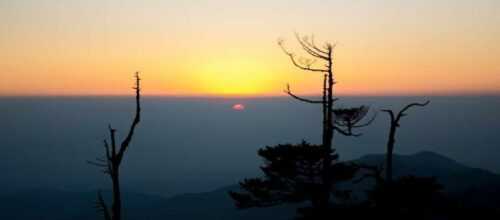 There is a very famous village known as Uttarey Sikkim. Uttarey is a small village close to the Nepal border in the western area of Sikkim.
The Adventurous Journey of Phoktey Dara Trek starts from the village Uttarey, placed in the southern area of the Singalila range in the western part of Sikkim. It is a very popular Village which is the gateway to the Phoktey Dara Trek.
Frequently Asked Queries
There are so many potential visitors who plan to Phoktey Dara trek for having so much fun, adventure, and excitement along the trip.
And on the other hand, there are also so many doubts and queries that might come to their mind. The most frequently asked question regarding Phoktey Dara Trek is –
" Is there a trek route from Phoktey Dara to dzongri? ".
Yeah, there is a route away from Phoktey Dara Trek to Dzongri. The Uttarey Dzongri Round trek route in Sikkim covers the route between the Nepal region and the Sikkim region.
Uttarey Dzongri Round trek route or Singalila Trek route to the hotkey Dara trek route has a barren geographical route, which has many trees, shrubs, and rocky hills. The answer has been given clearance, too – " Is there a trek route from Phoktey Dara to dzongri? ".
" What are the problems of Phoktey Dara Trek? / what are the problems that might come during Phoktey Dara Trek "?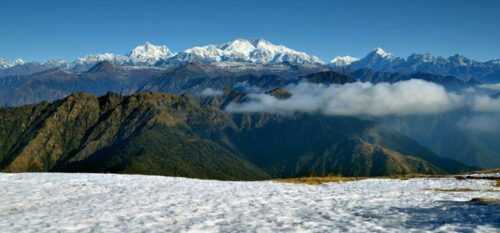 Sikkim's Phoktey Dara trek is one of the prominent and struggling treks in India or Sikkim. This trek is one of the coldest and challenging treks of the Sikkim and Nepal border.
So we can understand that it is one of the main problems that might lead you to cancel the trip or change your mind to switch over to other destinations.
This is situated at the highest altitude and the peak of the mountains and singalila ranges. This Phoktey Dara Trek also involves maximum climb through the thick forest areas with various kinds of trees and shrubs.
When you plan to travel through these kinds of areas, it would be very challenging, struggling, and might be dangerous in some situations.
So these are the problems of Phoktey Dara Trek. Now I think the answer to the question – " What are Phoktey Dara Trek problems?" has been cleared.
Routes for Phoktey Dara Trekking
Phoktey Dara Trek Route By Train :
If you would choose to reach Phoktey Dara Trek by train, you would first have to reach the New Jalpaiguri Railway Station or NJP, a major railway station located in Siliguri District, which is the gateway to North Bengal, Sikkim, and North-East regions of India.
You would get so many trains arrives or pass through the New Jalpaiguri Railway Station or NJP station. You would have to select one of them and then reach to Kolkata.
There are so many trains available who arrive or pass through the NJP Railway Station. If you are planning for the Phoktey Dara trip from Delhi or north part of India like the Mumbai region, state Pune or Western parts of India like state Chennai, state Bangalore or Southern part of India, then You must ensure to book any northeastern train that directly arrives at NJP bypassing Kolkata. It would be one of the easiest ways to reach here.
Phoktey Dara Trek Route By Flight :
If you plan to travel Phoktey Dara Trekking by flight, you should have Flown to Bagdogra, which is the best option you would choose. Bagdogra is just connected with regular direct flights from Kolkata, Delhi region, Guwahati & state Mumbai.
Our Phoktey Dara Trekking Itinerary would enable you all to get the crucial facts and experiences and overview of Adventures that you would get there.
Final Words:
I think this itinerary of Phoktey Dara Trek would help you get the crucial information regarding the Phoktey Dara Trek / Phoktey Dara Trekking.
After going through this blog, U would have known the temperature variations, problems, Trekking Routes, Its Ranges, Adjoining villages or small towns, etc. It's a complete Guide for Phoktey Dara, Singalila Top trek.
Here is the Trekking Guide for Beginners and all:
Here is the Famouse Nepal Trekking Information:
Here is the Uttarakhand Trekking Information: