The Hanging Coffins of Sagada
You might get shocked knowing that the hanging coffins of Sagada came as an interesting Chinese funerary custom which likely began somewhere around the 8th century.
This article will help you to discover some mysterious dark secrets about this place.
History
Just as the name depicts, here families place the body of the deceased into wooden coffins. After this, they are hanged on the sides of cliffs.
Even though not a single person can know how or why the hanging coffins of Sagada came to be as a custom.
Since it attracts many questions so as a result there are many hypotheses about its origin. This origin is most commonly associated with the Bo people.
These people are a part of an ethnic minority that first use to reside in Matangba.
This place is suspected of having witnessed the burial technique which was used by Bo people for either protecting the bodies from animals present on the ground or for shortening the dead people's easy travel to heaven by procuring them as close as possible.
These coffins that were made from entirely hollowed-out tree trunks were seen sometimes supported by some wooden stakes that were stuck into the mountainside.
Rest of them have even left inside man-made caves. These were tightly embedded into the rock or were set on top of rock projections.
During 2015 had archaeologists discovered around 131 hanging coffins wrapped into caves ahead of a 330-foot-high cliff.
You might get amazed to know that they were determined to be 1,200 years old.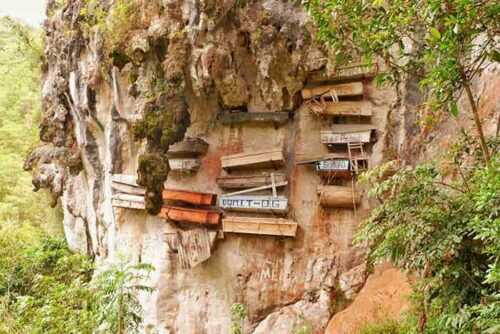 Although it's doubtful that they all were lifted to their final destination where they rested with the help of pulleys and scaffolding system, this was exactly that way how it got up there remains unknown.
Majority of these hanging coffins are seen in China. Still, other iterations of this same practice have been detected in the Philippines and Indonesia.
While in the Philippines, this tradition is still questionable to date back two millennia.
Luckily a statement from one of the living tribe member explained that their elders feared of being buried in the ground.
Also, they did not want themselves to be buried because they were aware that water would eventually seep into the soil that will rot them quickly.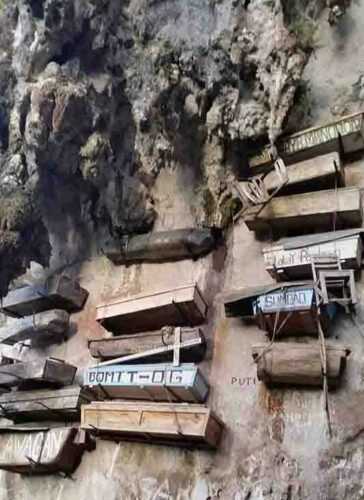 They looked for a safe place where their corpse would be safe and protected.
Regardless of their precarious positions, many tourists have been visited the coffins.
Out of these some even snatched a couple of bones to keep them as souvenirs.
The Sagada hanging coffins are considered as a gem that only some can reach through an exhausting trek.
At the time of the Pre-Hispanic era, all the loved ones and relatives of the deceased used to travel the beaten path to place the coffin inside the Lumiang Cave.
Before all of this, a 5-day pre-burial ritual was performed during which the body was preserved with the help of smoke.
This strange tradition of the hanging coffins of Sagada was considered to have vanished with the Bo people.
This tribe was brutally massacred by the Ming Dynasty's army. Some Bo descendants were still found to be living even in 2005.
Some Lesser Known Facts about Hanging Coffins of Sagada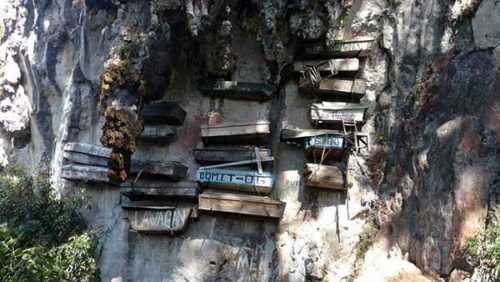 Here is a list of some points about hanging coffins that you would like to know about:
a) There's an unpleasant story behind those chairs
Those tourists who visit this hanging coffins of Echo Valley-Lonely Planet are seen calling it as "Sagada's main attractions."
It is normal to get a bit confused as to why these wooden chairs strapped to the coffins are a center of attraction for people.
This chair is known as Sangadil, or death chair. Not only this it's one of the most important steps in the traditional Igorot burial process for them.
b) The Tiny Coffins Aren't for Babies
Many people think those smaller hanging coffins were made for kids or babies. But No, they aren't.
According to the tradition, a corpse is always buried in the fetal position, so that one can "depart the body in the same way it entered the world."
For fitting a full-sized adult in a coffin with just over three feet height is tough. So as a part of rituals relatives have to break the bones of the dead person.
Horrifying is the first thing that anyone would feel knowing such facts.
Does the other question arise what happens with those longer coffins?
nowadays, Igorots get"afraid to break the bones of their loved ones. So, as per one of the interviews given by one of the elders in 2014, very few choose to go 100% traditional with the historical burial customs.
c) A horrendous ritual also happens on the Way to the Cliff
After the bones are broken into the fetal position, the corpse is then wrapped with another blanket and then carried to the cliff.
If going by the traditions, a small coffin that was carved for the corpse is a hollowed-out log even before death. The coffin is decided which would take the bodies of these tribe members.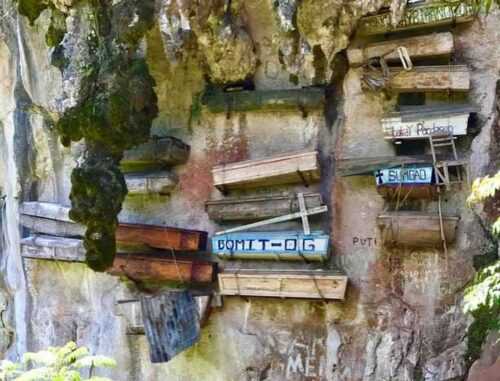 The mourners' group takes the broken corpse. This is done in the hope to get some blood on their hands.
This blood is considered to bring success and even some pass on the skills of the deceased. I know the reasons behind these rituals are weird and scary)
d) Animals also die for these rituals( three or five)
If a person dies to die in this Igorot community, not even animals are spared and are butchered in the name of "community celebrations" before the body is broken into the fetal position.
After all this, the body is placed in a coffin for hanging on the distant cliffs. Going by the strict rituals, three pigs and two chickens are to be butchered. But, some exception cases are made for the poor.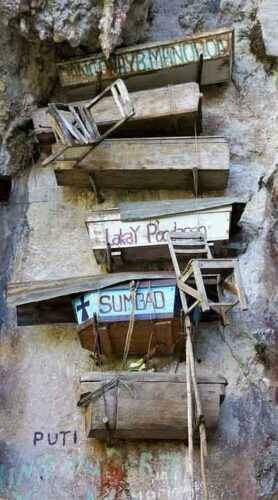 Even though, the number of animals that are slaughtered in the name of ritual has to be "always three or five."
Poor families who aren't able to make an adjustment with this ritual easily often were seen taking two chickens, and one pig for the ritual.
These stories tell how scary the old customs of this tribe were.
I am sure this is something that many of you might have not even heard before and would have left some questions in your mind.
Well, history has the capability of leaving people thirsty of answered that wasn't answered for years. I hope this article helped you know about the hanging coffins.
In case, if you have any queries, feel free to communicate is through your valuable comments below. Happy mysterious learning!
Read Also: