America has over 400 National Parks full of history, natural wonders and, some say, ghosts.
America National Parks are in vast, remote regions with ancient natural landscapes as well as urban centers preserving historic structures and sites. The National Park system ensures these spaces are available for the enjoyment of all Americans, global travelers and future generations too.
But do these parks also preserve the spirits of past inhabitants?
As night falls in National Parks like Yosemite, Yellowstone and the Grand Canyon, the daytime sounds of nature and excited visitors grow quiet and still, the shadows grow long, deep and then dark. If you're lucky, there may be some moonlight or a beautiful star-studded night sky.
Then a stick cracks nearby. An owl is startled from its perch in a nearby tree. And a coyote's cry pierces the stillness.
That's the perfect time to gather around the campfire and share one of these creepy campfire tales about spooky sightings, sounds and unexplained experiences reported in National Parks all around the U.S.
Ghost Stories from America National Parks
The best campfire tales are, after all, inspired by real events.
Full of history and natural phenomenon, America National Parks make the perfect material for a scary story.
So, before you visit, and especially if you are staying overnight, it's important to come equipped with a few ghost stories of your own to entertain and titillate your fellow travelers.
The Headless Bride of Yellowstone National Park
The Old Faithful Inn in Wyoming is named for Yellowstone National Park's most famous feature, the Old Faithful geyser. Its name is fitting. It was the first geyser in the park to be named back in 1870. Today, it continues to be a highly predictable geothermal feature erupting every 44 minutes to two hours since 2000.
Yellowstone is also reportedly home to the Headless Bride of Yellowstone.
She was a newlywed bride with poor taste in men. She had come from money and was marrying a man her parents didn't like. They disowned her, which meant her husband's vision of easy money was out the window.
About this time, she and her new husband checked in to the Old Faithful Inn. She never checked out.
When her body was discovered, it was missing a head. She is still seen from time to time at the Old Faithful Inn carrying her own head, often at the stroke of midnight.
After this creepy story, you might want to check in to a different Yellowstone hotel! (Although some guests often seek out haunted hotels in America. Famous destinations like the Queen Mary in Long Beach or the Hotel Del Coronado in Coronado, both in Southern California, are two such sites.)
Crash Canyon at Grand Canyon National Park
Some America National Parks have been the site of terrible tragedies. Unprepared hikers and foolhardy visitors to the Grand Canyon National Park meet untimely deaths every year, unfortunately.
However, biggest disaster to befall the park was a 1956 collision between two passenger planes over the region now known as Crash Canyon. In all, 128 people died.
You'll find a grave for the victims on the South Rim, near the Yavapai Overlook and a short walk from the Yavapai Lodge. Visitors have spotted eerie lights and apparitions in this area.
While visiting, pay heed to the many signs surrounding the South Rim of the canyon and fencing. You don't want to become the park's next eternal inhabitant.
Yosemite's Fresno Nightcrawlers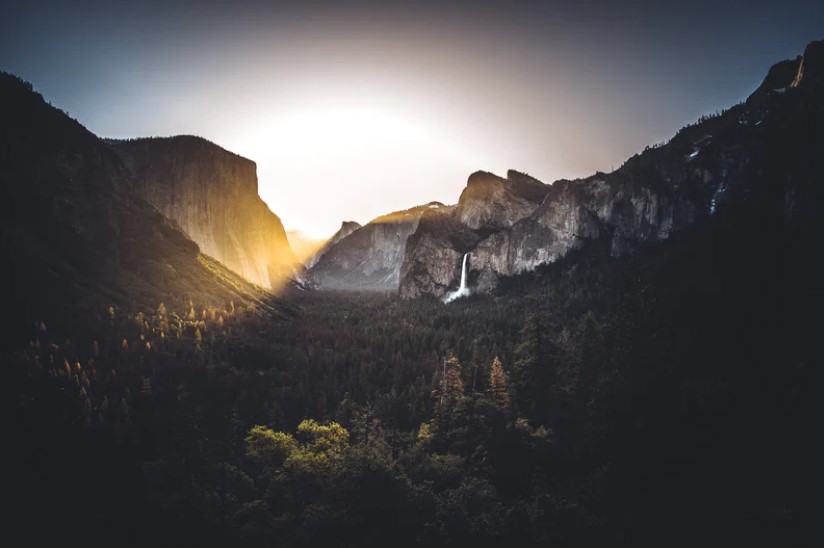 First-time visitors to Yosemite National Park might be more afraid of bears than ghosts. But do they know about the nightcrawlers that made the area Haunted place of America?
The Ahwahnechee and other indigenous American tribes that resided in the area had many legends about spirits in the park. However, these alien-like creatures were not among them.
The Fresno Nightcrawlers were a more recent curiosity appearing first in 2010. Fresno is about an hour and 20 minutes from the South Gate entrance to Yosemite. A resident of Fresno was awakened one night by his barking dog. The man looked out his window and spotted a creepy creature.
In 2011, two of these things were caught on video in Yosemite National Park. A retired couple had set up a security camera to prevent break ins. The camera captured what appeared to be two long-legged—even sticklike—figures, each walking slowly past the home. One looked like an adult and the other a child, but not like any human adult or child.
Nightcrawlers? Stickmen? Either way, the sightings make for perfect campfire fodder.
The Cave of the Evil Spirit in Niagara Falls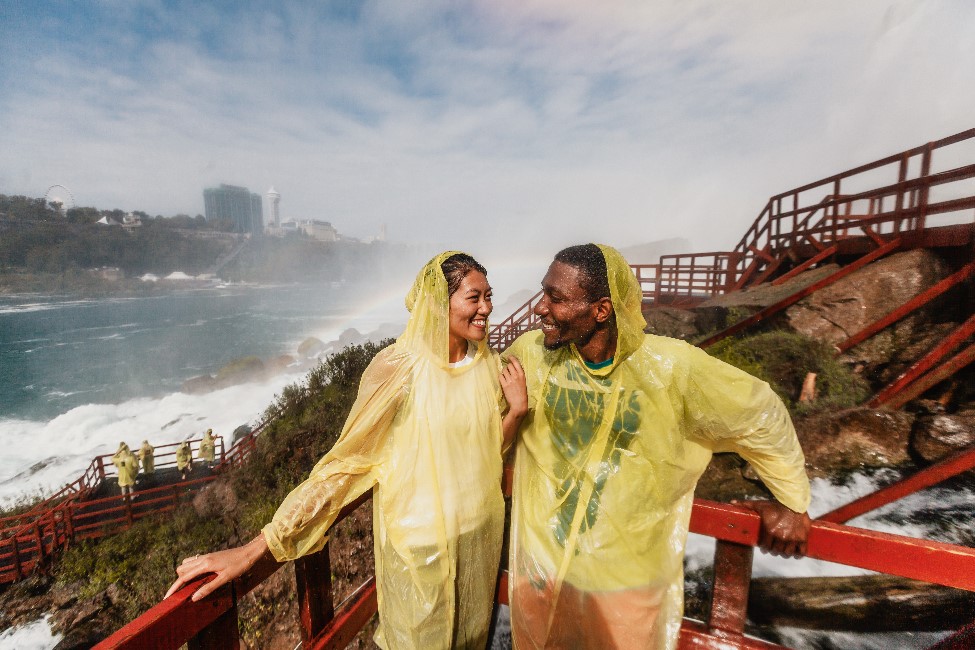 The only thing spookier than a cave is a cursed cave. Four miles from Niagara Falls State Park in New York, visitors will find the Cave of the Evil Spirit in Devil's Hole State Park.
While it's not a America National Park, its proximity to one of America's most famous natural features, Niagara Falls, earns this location its campfire-cred.
The cave's ominous name was given by the Seneca who, for centuries, had told of the evil spirit that inhabited it and the curse that would befall all who dared enter.
In 1669, a Canadian explorer Robert Cavalier de LaSalle entered the cave, against the advice of his Indian guide, and was later killed by his own men.
In 1763, the cave was the site of an ambush where 80 British soldiers were massacred. According to legend, their souls continue to haunt the spot.
Olympic National Park's Haunted Hikes
With over 900,000 acres of preserved wilderness, there is ample room for a spirit or two to be haunting Washington State's massive Olympic National Park.
Legend has it that the park's Spruce Railroad Trail is home to a resident ghost. She's said to be the spirit of Hallie Latham Illingworth. Like Yellowstone's headless bride, poor Hallie was killed by her husband who left her body in the lake.
Hikers have reporter seeing a mysterious apparition along the trail which follows the Lake Crescent shoreline for four miles.
Make Plans to Visit America National Parks
Year round, America's National Parks are an exciting and fun destination. With so much beauty and adventure, these destinations should be at the top of everyone's bucket lists.
Sometimes planning a visit can feel overwhelming. Where to start? What to pack? Where to stay? The planning can be scarier than any ghost story!
To make it easier, take advantage of the many planning tools and sources for visiting America's National Parks available online. Two good sources to consult are the National Park Service and lodging concessioners like Delaware North and its Explorebetter.com site.