Crescent Hotel
One of Eureka Springs' historic hotels, known as the Crescent Hotel, is situated at 75 Prospect Avenue, Arkansas.
This hotel is a popular attraction amongst people because it is tagged as "America's most haunted hotel".
This place offers its visitors a ghost tour for a chargeable fee. The Crescent Hotel & Spa is included as a member of the National Trust (Historic Preservation).
History
In 1886 the Crescent Hotel was constructed as a resort for all the famous and rich people at that time by the Frisco Railroad and the Eureka Springs Investment Company.
Soon it became unmanageable, and as a result, it fell off into despair. After a few years, somewhere around 1908, this place was reopened, but this time as the Crescent College and Conservatory for all Young Women.
In 1924, this institute was closed down and reopened as a junior college in 1930. Again after few years, in 1934, this college closed and was leased to develop into a summer hotel.
In 1937, this place got its new owner. Norman G. Baker was the name of this new owner.
Who soon converted this place into a hospital and a health resort. Baker was a millionaire investor and a popular radio personality.
He portrayed himself as a doctor even though without having any medical training.
He also claimed to have found various cures of different ailments, from as small as cough to major ones like cancer.
Not only this, but many he took frequent attacks over the organized medicines that people used at times. He accused all those medicines of being profit-driven and ineffective.
But soon, in 1940, Baker's scam was caught up, and as a result, he was charged against the fraud. Following this, the hotel again became vacant.
Crescent Hotel Haunted
While every tour visit to the Crescent Hotel, guests are seen visiting the basement area.
This basement area was once served as the morgue while Baker had taken this place. The autopsy table(original) can still be seen there in the morgue.
There was a point when the body parts were kept formaldehyde inside the jars of this room. The Crescent Hotel area is the place where Ghosthunters had captured the figure through a thermal camera.
Being a part of this tour will help you to know about Dr. John Freemont Ellis. During the Victorian era, he was appointed as the hotel physician.
It also said that he is spotted by some visitors in some fine clothing and a top hat. Some even complain of the smell of some smoke near the elevator as he uses to smoke a tobacco pipe.
All these tales of ghosts are connected with the past and take back to 1885. There was more to this place.
While the construction of this place was done, an Irish Stonemen whose name was Michael worked at this place.
He was known to be a flirtatious and very attractive man, but one day he died while trying to get the attention of a young woman.
According to people, he died above a room which is now popular as room no. 218. Hence, it has become one of the most requested rooms of this hotel.
Also, room no. 3500 is famous due to the " lady in a Victorian nightgown". This lady is believed to be a cancer patient of Baker. Not to forget, this room is amongst the most luxurious suites of this hotel.
This room was once the servant's quarters. Afterwards, it became a hospice area for all the critically ill patients of the Baker.
Ghost Tours
People who love mysterious and spooky places will find this part to be very interesting. For all such peoples, this place has nightly ghost tours organized for the visitors.
This tour is limited to 25 people at a time. When one tour group is fully packed, they start another group.
It is highly recommended to get the bookings done in advance to avoid any reservation problems later.
The costing of this trip is done as for children ageing 12 or below $8 and for adults $22.50.
You can find a variety of tours during the night time, these tours also vary according to the demand.
Children that are younger than 16 are compulsorily accompanied by one adult. Tours here are best intended for ages above 8 years.
This historic hotel again became a resort as it was previously intended to be so in 1946. While the time this building got its new owner, this place was again renovated to become its original state.
Once in 1967, this place suffered a major mishap in which the fourth floor got destroyed due to fire. As a result of this fire, a penthouse on that floor got destroyed.
This called for some restoration, and in 1973 this hotel was again successfully restored. The renovation work did not stop there, some strings of improvements happened between 1980 to 2002.
Nowadays, this place has become a major attraction place for tourists to visit. Visitors come here from different parts of countries.
The main attraction point for them is the ghost sighting along with luxury that this hotel provides.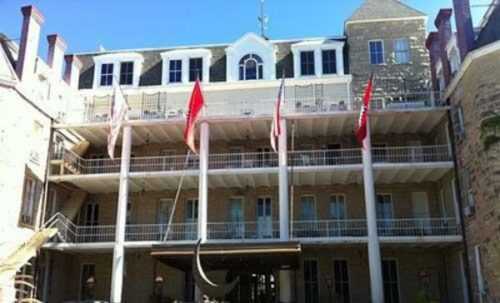 For couples, it is an amazing place to enjoy some good time in the New moon spa. Also, families can make some ghost tours and take their dog on a normal walking trail to the nearest connecting Bark park.
This hotel has become an icon for the Eureka Springs lodging. This luxurious hotel has a total of 72 rooms (including upscale suites) and an additional 4 extravagant cottages.
This place has various additional perks like a spa & salon, SkyBar Gourmet Pizza, hot tub, and many more amenities.
People who love to stay in luxurious hotels and are fond of knowing about spooky adventures are a must-visit for all those people.
Such places are best to visit with friends as fun is doubled while making some lifetime memories with them.
This place can become a perfect holiday spot for all those people who are looking for something beyond those cliché trips.
I hope this article helped you to know some amazing facts about the Crescent hotel. Do let us know about your visits through the comment section below. Thanks, and happy tour!
Are you looking to book your next trip? Check out the following services we use and love or click the previous link to read more!
Booking To find best hotel deals.
Best International Flight Deals to Book in 2019.
World Nomads to ensure your trip.
Hostelworld to find a budget hostel.
Jetradar book Flight at cheap price.
GetyourGuide Guided Tours.