With beautiful and strategically located lights, Abu Dhabi becomes a different, more magical and picturesque city at night.
The United Arab Emirates' capital city is abuzz with activity as soon as the sun sets as well.
These reasons should be enough to entice both locals and tourists in Abu Dhabi to explore the city at night.
Where to Go in Abu Dhabi After Dark
Abu Dhabi's night scene is a mix of various activities and experiences that you will definitely be in for a treat when you go out at night.
The variety of activities to do in Abu Dhabi after dark also makes it impossible for anyone to try all of them in just one evening. As such, be prepared to go out frequently at night when you are in this city.
And if you want to experience the 5 best of Abu Dhabi's nightlife first, put these places on the top of your list:
#1 MAD on Yas Island
The best nightclub in the UAE can be found on Yas Island: MAD on Yas Island.
MAD on Yas Island is the largest indoor nightclub in the country. It was recognised as Abu Dhabi's "Best Club" by the 2016 Time Out Music and Nightlife Awards.
Until now, the swanky nightclub continues to live up to this award due to its modern, innovative features and incredible events it hosts.
MAD on Yas Island features 360-degree projection mapping, massive animated LED screens, and full-colour crowd scanning lasers. It also has an enormous DJ booth with the best sound technology where Abu Dhabi's premier DJs play the latest hits and all-time favourites that won't fail to get you on the dance floor.
The DJ booth also serves as the central point of the dynamic lighting and video displays that guests can see from all corners of the club.
Additionally, MAD on Yas Island has an exclusive VIP area with private bathrooms, the perfect place for you and your group if you want to party sans the crowd.
All these features should make MAD on Yas Island the first place you have to visit at night in Abu Dhabi.
#2 Yas Marina Circuit
The annual Abu Dhabi Grand Prix is one of the few Formula One races that take place at night. If you are in the city during the event, you will definitely have the time of your life.
The Abu Dhabi Grand Prix is a three-day event packed with various exciting activities. You can watch the teams as they practise and during the qualifying rounds.
The highlight of the event, of course, is the F1 main race, which usually starts at nine in the evening and lasts for about two hours.
Whether you are watching practice or qualifying rounds or the main race, or all three, you will be amazed by the beauty of the brightly lit track.
Moreover, you won't fail to feel a natural adrenaline rush as you watch world-famous drivers behind the wheel of the most modern race cars from famous automotive brands engage in wheel-to-wheel racing throughout the circuit.
The Yas Marina Circuit and all of Yas Island also come alive during the Abu Dhabi Grand Prix. Famous international and local artists hold concerts in various parts of the island throughout the three-day event.
Finding a place to stay here during the event won't be a problem since you can choose from various hotels and resorts, including Staybridge Suites Yas Island, an IHG hotel customised to give guests a more personalised stay and experience.
#3 Ferrari World Abu Dhabi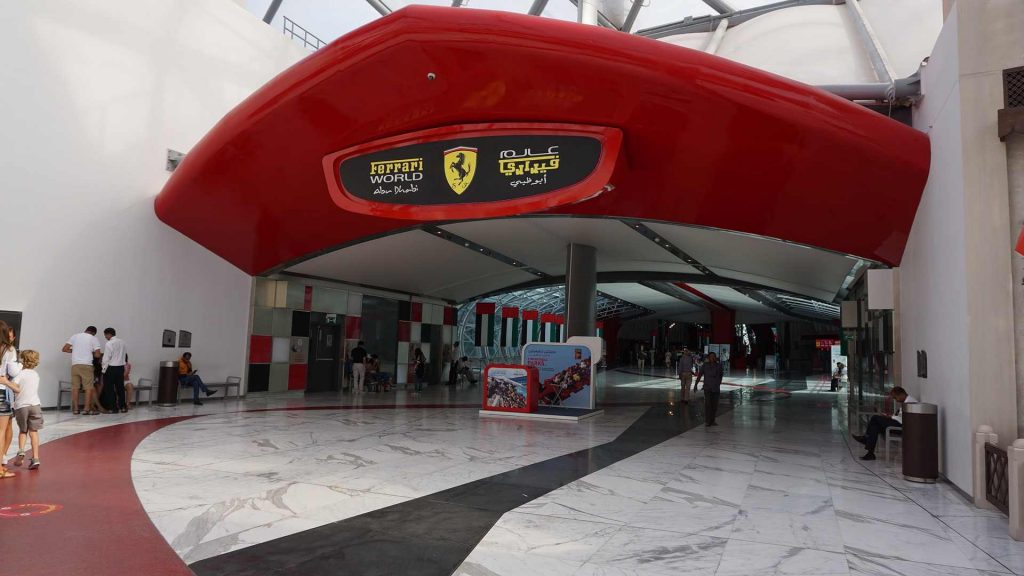 Ferrari World Abu Dhabi is one of the most famous attractions in the UAE and the world.
The Ferrari branded theme park features 43 rides and attractions that cater to people of all ages. It is one of the must-visit family-friendly destinations in the country.
Ferrari World Abu Dhabi is open until 10 in the evening during weekends. If you want to see the theme park lit up at night and immerse yourself in its glowing beauty, try to visit and stay here until its closing time.
Whether you're on the Formula Rossa, the fastest roller coaster in the world, G Force, or Flying Aces, you will enjoy a thrilling ride while treating your eyes to the brightly lit fantastic views of the theme park and Yas Island that you can only see at night.
#4 Abu Dhabi Corniche
If you want to hop from one happening spot to another in Abu Dhabi at night, you can get your fill of the city's fascinating nightlife at the Abu Dhabi Corniche.
The Abu Dhabi Corniche is known for its lovely parks and promenades. However, the various hotels here are also home to some of the best nightclubs, bars, lounges, cafes, and restaurants perfect for experiencing the local nightlife.
These include:
Azura Panoramic Lounge
Breeze Lounge
Catch
Jazz & Fizz
Jazz Bar & Dining
Legends
Ray's Bar
The Tavern
Many of these bars, clubs, lounges, and restaurants feature bands and musicians, making them the perfect venue for a night out in the city.
#5 Louvre Abu Dhabi
If you are looking for something more relaxing to do at night and immerse yourself in art at the same time, visit Louvre Abu Dhabi after sunset.
Louvre Abu Dhabi is already a unique attraction in itself as it floats serenely on its own island. Since opening in 2017, it has become one of the most important centres of the local art scene in the emirate.
This cultural destination is already impressive during the day. However, you won't go wrong with visiting the Jean Nouvel-designed masterpiece at night.
Louvre Abu Dhabi consists of different museum galleries that tell a chronological history of human creativity and the present ideas and issues that shaped and defined humanity from prehistory to the present day.
These galleries feature a selection of around 600 masterpieces from different parts of the world, including the museum's permanent collection. The displays are also regularly updated with art and historical pieces on loan from the institution's international partners.
Feasting your eyes on these art pieces, though, is not the only thing you can do at Louvre Abu Dhabi. With the museum open until late at night, you can hang out at the rooftop bar Art Lounge where you can indulge in your choice of refreshments and breath-taking views.
If you want to try something more unique, you can go on a 60-minute evening kayak tour across the Arabian Sea to see and learn more about the remarkable architecture of the Louvre Abu Dhabi.
Coupled with the clear, starry skies, this kayaking tour is an amazing evening activity you won't forget for a long time.
Whether you are only visiting Abu Dhabi or staying here long-term, know more about the city and everything it offers by going out at night.