Nehru Garden in Jaipur is a peaceful and green place in the middle of the city. It is named after India's first Prime Minister, Jawaharlal Nehru. People go for picnics, relax, and morning walks in Nehru Garden Jaipur. The garden has pretty flowers, a pond, and lovely walking paths.
A big statue of Jawaharlal Nehru is in the garden to honor his essential role in India's history. Kids love the park because there is a particular area with swings and things to play on.
Nehru Garden is easy to get to since it is in the center of Jaipur. It is a great place to take a break from the city's busyness and enjoy nature and the fresh air.
Timings to visit Nehru Garden:
Monday, 6:00 a.m. to 7:00 p.m.
Tuesday, 6:00 a.m. to 7:00 p.m.
Wednesday, 6:00 a.m. to 7:00 p.m.
Thursday, 6:00 a.m. to 7:00 p.m.
Friday, 6:00 a.m. to 7:00 p.m.
Saturday, 6:00 a.m. to 7:00 p.m.
Sunday, 6:00 a.m. to 7:00 p.m.
Nehru Garden Jaipur Address:
Gandhi Nagar(302015), Tonk Road, Jaipur, Rajasthan, India
Nehru Garden Jaipur contact number:
Contact on this number for Nehru garden Jaipur toy train timings : 0141 257 7666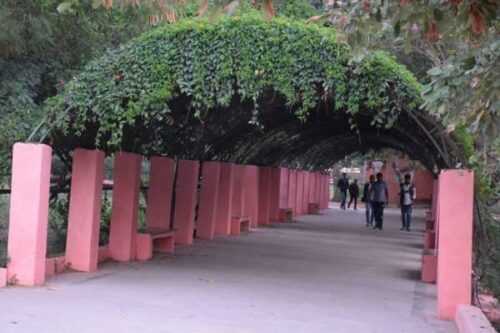 Best Nehru Garden For Kids, Families, And Couples
Nehru Garden in Jaipur is perfect for kids, families, and couples. Kids can have fun in the play area. Families can enjoy picnics, explore the lovely garden, and watch the cool musical fountain. Couples can have a romantic time with boat rides and peaceful walks. The garden's beauty and occasional cultural shows make it an excellent place for couples. So, whether you're with your kids, family, or your special someone, Nehru Garden has something for everyone to enjoy.
Best Time to visit Nehru Garden:
The best time to visit Nehru Garden in Jaipur is during the winter months (October to March). It is not too hot or cold so that you can enjoy the garden comfortably. Go early in the morning or evening to avoid the summer heat and crowds. Avoid visiting from July to September and April to June.
Best Kids Activity Products
Read Also:
Picnic Spots In Jaipur
Adventure Sports in Jaipur
Attractions of Nehru Garden in Jaipur:
Nehru Garden, also known as the Children's Park, is a popular destination in Jaipur, India, with several attractions and features, including:
Musical Fountain: Nehru Garden has a magical musical fountain that lights up in the evening. It dances to music, and the colorful lights make it fun to watch. This is one of the main things people see in the park.
Boating: Nehru Garden has a picturesque lake where visitors can enjoy boating. It is a relaxing experience, and the serene surroundings make it a popular activity within the park.
Gardens: The park has lush greenery, colorful flowers, and well-maintained lawns. It is ideal for walking, picnics, or simply enjoying nature.
Children's Play Area: As the Children's Park, it includes a dedicated play area for kids with various swings, slides, and other recreational equipment, making it an ideal spot for families.
Kids Swing: Many swings are available for kids and adults.
Bird Watching: You can enjoy wildlife Species at Nehru Garden Jaipur, making it an excellent place for birdwatching.
Amphitheater: The park also has a theater where cultural events and performances are occasionally held, providing entertainment and cultural experiences.
Toy Train Ride: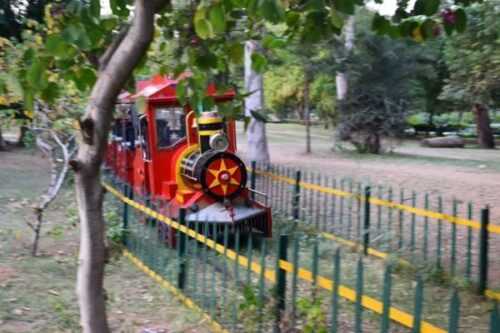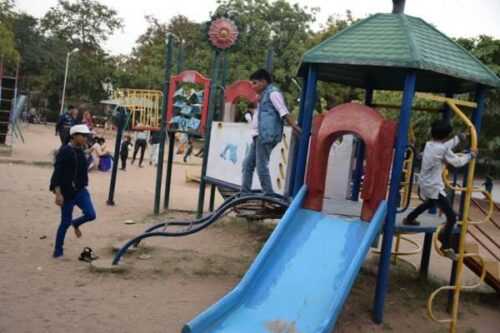 Places to stay near Nehru Garden:
Super OYO Townhouse 051 Lal Kothi
Hotel Mohit Palace
OYO Flagship Hotel Anshu
The BnB World – Boutique Stay
Hotel Triveni Residency
OYO Silverkey Tonk Phatak
EL Dorado Hotel
Red Fox Hotel, Jaipur
Grand Uniara A Heritage Hotel
Hotel Sukhiwas, Jaipur
Rani Mahal
Sarovar Premiere, Jaipur
Hotel Aditya
Hotel Rajasthan Palace
Collection O Hotel Sundew
OYO Flagship Hotel SK Paradise
Things to keep in mind while visiting Nehru Garden:
When visiting Nehru Garden in Jaipur, here are some essential things to keep in mind for a pleasant experience:
Opening Hours: Check the opening and closing hours of the garden, as they may vary by season. Parks like Nehru Garden are typically open during the daytime and closed after dark.
Entry Fees: Be aware of any entry fees or charges for visiting the garden, and make sure to carry cash or the required payment method.
Weather: Jaipur can have extreme weather conditions. Check the weather forecast and dress accordingly. Wear sunscreen, a hat, and comfortable clothing during the hot summer. It can get chilly in winter evenings, so wear a light jacket.
Safety: Always be cautious about your belongings and personal safety. While parks are generally safe, keeping an eye on your possessions is wise.
Check for Updates: Before your visit, check for any updates or changes in park rules or facilities.
Nehru Garden is Popular for:
– Adventure seekers
– Boating
– Botanical garden in Jaipur
– A train ride
– Children actives
How to Reach Nehru Garden:
By Road: Jaipur is well-connected to all around cities. You have to take a bus from your location to Jaipur. After arriving at Jaipur's Bus Station, you can get the local bus, auto-rickshaw, and even a taxi to reach Nehru Garden Jaipur.
By Train: You must take a train from your nearby Railway station to Jaipur Junction. After arriving at Jaipur's Junction, you can get the local bus, auto-rickshaw, and even a taxi to reach Nehru Garden Jaipur.
By Air: You must fly from your nearby airport to Jaipur International Airport. After arriving at Jaipur's airport, you can get the local bus, auto-rickshaw, and even a taxi to reach Nehru Garden Jaipur.
Train Ride Fee:
The train ride is just 15/- rupees only in Nehru Garden.
Boating Fee
Per boat 100/- rupees for two people, 15 minutes only.
Nehru Garden Jaipur map
CLICK HERE: NEHRU GARDE
Best things you can bring for Nehru Garden in Jaipur
Do you want to visit this place:
FAQ's:
What is the Entry Fees of Nehru Garden?
There are no entry fees.