All about Shila Devi Temple Amer, Jaipur
Amer Shila Devi Temple
Shila Devi (Goddess of Amber) is another character of "Durga Maa,". She was the inventor of the whole world even that Brahma, Vishnu and Mahesh also worshiped goddess for the world's stabilization.
As we know that Jaipur pink city is completely based on "Vastu Shastra" rules.
So here we are discussing about "Shila Devi" who is also known as "Shila Mata" and "Kuldevi of Jaipur."
Maharaja Sawai Mansingh had made this temple in 1604.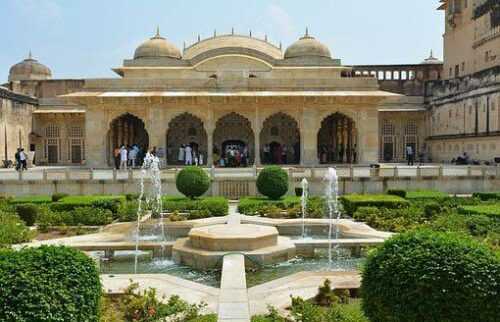 According to our history sources here are two proofs available for the stabilization of this temple. We will discuss about it's history.
So the important thing about this temple is that, this temple is an important part of all festivals and it is an attractive or impressive spot for "Navratri Pooja" in two times in a year.
These nine days of the most significant festival are joyful days of this temple.
Maharaja Sawai Man Singh was a founder of this statue of the goddess.
Shila Devi Amer Temple History
Our ancient sources gives two proofs regarding this temple which we present in following:
Sign Of Victory
In year 1604, a high astrologer of that duration said to Maharaja Sawai Mansingh, that if he does worship of this goddess, he will then never fail in any battle.
So after that Mansingh did a battle with West Bengal ruler and then after married to his beautiful daughter.
Then Bengal ruler had given this black statue of "Kali Maa" as a gift to Maharaja Sawai Man Singh.
Found In Sea
Some sources are saying that Maharaja Sawai Man Singh founded this black stone in the sea. It was floating(as we know that typically stone is never flowing in water).
After when Maharaja Sawai Man Singh saw this surprising view he decided to give shape into a stone as "Kaali Maa" and place it in his palace area.
The two reasons for temple's stabilization are as follows:
Buy temple related items here:
Architecture of the Shila Devi mandir
Not only the interior of this beautiful temple is entirely impressive with the ancient design but also some traditional paintings in here are attractive.
The main gate of this temple is of silver.
Here we are describing every part of this temple's area.
Entrance Gate
At the front of the entrance is present a gate door covers all various characters of "Maa Durga."
Nav Durga, Brahmacharini, Chandraghanta, Kushmanda, Skandamata, Katyani, Kalratri, Maha Gauri, and Siddhidatri designed on the silver gate at one part of the door.
Ten great idol character Kali, Tara, Shodashi, Bhuvneshwari, Chhinnamasta, Tripura Bhairavi, Dhumavati, Baglamukhi, Sri Matangi and Kamala Devi are also painted on the main gate in small size.
A giant size statue of God Ganesha also painted on the main entry gate of the temple.
A music instrument made of silver which is called "Dhol" or "Nagada" is also situated here. It is mostly used in "Aarti Time."
Amer Shila Mata Amer Temple Jaipur Timings
Morning at 6:00 AM to 12:00 PM
Evening at 4:00 PM to 8:00 PM
Is Shila Devi temple open today?
Yes it is open during Covid-19 unlock-down 2.0 during morning hours from 5 a.m. to 8.a.m.
You can see More Nearby places in Shila Devi Temple Jaipur
Amber Fort, Jaigarh Fort, and Nahargarh Fort.