According to research done by Ampersand Travel, 25% of weddings take place abroad, and many couples choose to combine the main ceremony with a Honeymoon. These Destination wedding have on average 48 guests attending and cost in the region of $28,000.
For each guest attending, it will cost them on average $673 in travel costs and accommodation. The most popular destinations are Las Vegas, Hawaii, the South Virgin Islands, and Jamaica.
Traveling to these destinations can leave a heavy carbon footprint. If you are trying to live more sustainably, there are plenty of ways that you can still get married abroad, but in an eco-friendly way.
Cut down your guest list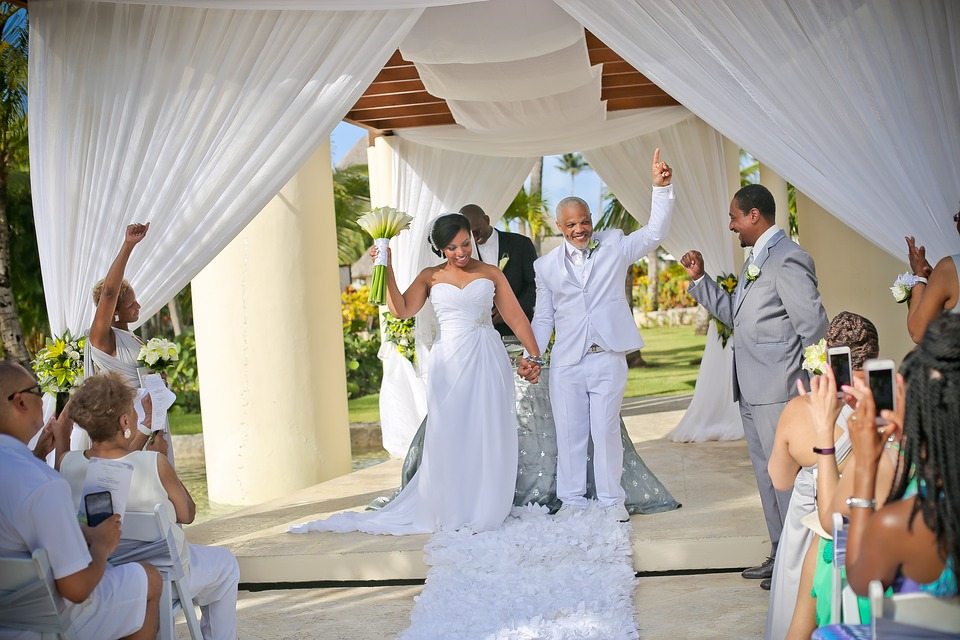 There has been a big rise in popularity of micro-wedding this year – an event with 20-30 people. An elopement is also a good option if you want to reduce your carbon footprint.
Organising a sustainable wedding will be easier if you have fewer guests, and it will give your celebration an intimate feel that is really personal. If you have extended family or friends that want to watch your wedding without traveling there, then this can be organised via video streaming.
You could also host this as a live event on Facebook or Instagram. Many guests will be more than happy to be part of your big day online, but not have the expense of attending in person.
Make travel part of the bigger journey
A staggering 1.9% of global gas emissions come from the global aviation industry. If you are trying to plan a more sustainable wedding, think about choosing a destination wedding that is a little closer to home, rather than halfway around the world.
When you are deciding how to travel, perhaps look at a mode of transport that hasn't got such a large carbon footprint, and just spend longer getting to your destination.
Think of traveling to your wedding as an important part of your vacation – go the slow way and enjoy the journey. You're starting the next chapter of your life together, you don't have to be in a rush on the way there.
Eco-friendly wedding choices
For every aspect of your wedding, there are sustainable choices that you make. Rather than buying brand new wedding attire, you can shop second-hand or vintage.
You could send out e-vites instead of invitations printed on expensive paper. When you are choosing your menu, look for seasonal produce that is farmed locally, rather than ingredients that have had to be transported.
You could even opt for wedding rings made from recycled metal, or from jewelry that has been passed down, or you could even go for alternative materials, such as wood or silicone. 
A destination wedding doesn't have to have an enormous carbon footprint, you just need to choose your destination carefully and think about how to get there.
Also read:
Destination Wedding Photography Tips