Morocco's Marrakech
Are you looking for an exciting jaunt to Morocco's Marrakech? Then prepare your bag pack, set out with buddies and take a box brimmed with chocolates. Sweets like chocolates also boost our bodies with instant energy.
Ramble into the Moroccan restaurants, satiate your hunger with delicious food and have an immensely joyous Marrakech holiday. But if you are a chocoholic or have a sweet tooth like me then, don't forget to visit Marrakech of Morocco.
After a zealous roaming into the scintillating Marrakech souks, have a must-visit to Marrakech sweetshops and restaurants to satisfy your sweet cravings. You will surely enjoy delicious Morocco's Marrakech Desserts.
Marrakech is brimmed with a variety of bakeries or sweetshops where locals and kids are seen enjoying ice creams, milkshakes, puddings, candies, and cakes.
First of all, in your Marrakech travel diary, write Jemaa El Fenna to the top of the must-visit tourist spot. You will have a phenomenal view of the entire Moroccan indigenous culture.
Jemaa El Fenna: A Delightful Treat for Dessert Lovers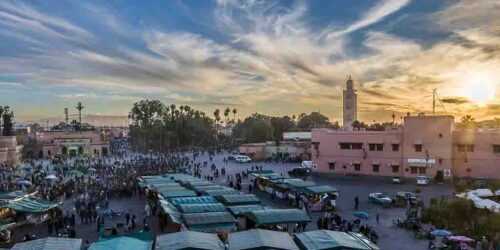 If Marrakech is the heart of Morocco, then Jemaa El Fenna is the soul of Marrakech. It is a sparkling marketplace sprawled with/ jam-packed with cunning shopkeepers, snake charmers, and story-tellers.
This market square is covered with large green umbrellas. It is brimmed with the men wearing djellaba. There are the men who are seen selling everything from fresh fruits to clothes. It's fine if you are not a shopaholic.
However, it is advised to spend quality time in tasting different cuisines and a colorful variety of yummilicious desserts.
Like food items, the dazzling appeal of numerous sweet bakery eatables would surely make you vacillate in choosing the best one among them. This market is filled with refreshing Orange juice stalls and fresh fruits.
Jemma El Fenna is not only a bustling market place but also a treat for sweet cravers.
This market readily serves as the site for many sweetshops where a huge throng of local and foreign people is observed who come here after lunch and dinner for a sweet course.
This market is indeed a desirable place for many bakers and sweetshop owners who find its location really favorable for a smooth and successful run of their business.
Zeitoun Café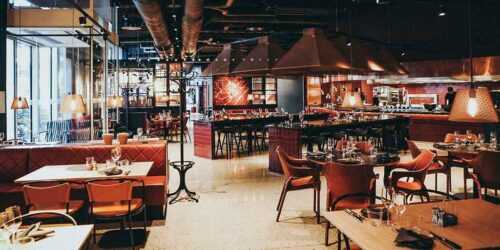 It is a lovely café on the edge of Jema El Fenna Market with awesome food and fantastic service of the café management.
It is a highly recommended spot for your children to create can delicious memories. A delectable homemade ice cream combined with the cotton candy creates a fantabulous texture and superb taste.
Your children or little teeny weenies would definitely enjoy these remarkable desserts. This café was launched in February 2017 in Jema El Fenna with its iconic location and unique recipes.
After gaining ground, it has conquered the Kasbah of Marrakech with its second scenic building near the Saadien 's Tomb.
The menu card of this café displays a mouth-watering list of creamy chocolaty and tooty- fruity desserts that dazzles the dessert lovers. Three-Balled ice cream should be a must-order sweet delice that is truly irresistible.
Moreover, this café holds a specialty in its meticulous and colorful presentation of food and desserts.
You will experience this fact yourself when a waiter comes to you flaunting a cup of LA NOISETTE. It is a sort of Ice-cream dessert stuffed with crunchy hazelnuts.
It would be an unforgettable moment when you munch the crunches of hazelnuts and the ice cream melts in your mouth.
Oriental Legend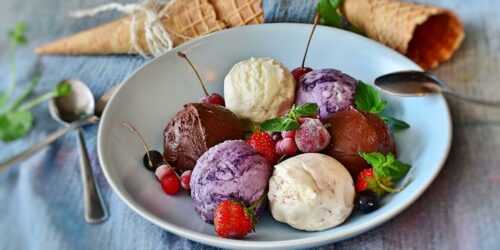 The excellence of the Sweet products here is the fruition of 20 years of experience. This is an illustrious ice cream shop that serves the super tasteful and flavorful ice creams. This ice cream shop serves a variety of ice creams and sorbets with refined and original taste.
The management of the Oriental Legend has taken meticulous steps for the maintenance of hygiene and the purity of organic ingredients in their ice creams. They respect the original taste and guarantee a quality product without dye and preservatives.
Pâtisserie des Princes
It is one of the city's most famous bakeries located around Jema El Fenna.
This sweet market with its scrumptious products makes the dentists' business success with its super delicious biscuits, chocolate and almond cookies, pastries and ice creams.
The small café at the back of this Marrakech souk is a welcome respite for the locals and tourists alike to enjoy the fullest.
On the menu card of the bakery you will find all sorts of Moroccan pastries: pastilla, chebakia, and briouates along with all types of Morocco's Marrakech Morrocon biscuits, massive chocolate milkshakes and much more.
It is definitely a treat for tourists to sit and eat these light eatables to boost up their energy for further wanderlust.
Le Grand Balcon Café Glacier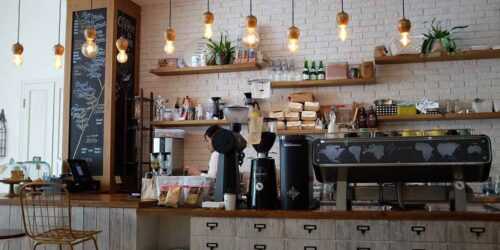 It is another gourmet food hub located in the soul of Marrakech Jema El Fenna. This cafe also offers its tourists a wide variety of delicious desserts, drinks, ice creams, and meals.
Don't waste your time in pronunciation efforts, just step into it, order your favorite or a new flavor of ice cream and devour it.
Your stay for some or at least an hour will double up your amusement. While having your ice cream, you can have an eye-catching view of the sunset from the balcony. This perfect fusion of cooling and warming effects would be a delightful experience to recall.
La Patisserie de la Terrasse Spices
Another Marrakech restaurant located in the south of Jema El Fenna is La Patisserie de la Terrasse Spices.
A restaurant or bakery, with a pretty difficult name, is famously known to travelers around the world for its welcoming, warm atmosphere and decoration. It was opened in 2007 for the busy masses strolling in the buzzing souks of Jema El Fenna.
It is friends and family restaurant and a treat for chocoholics like me. As the chocolate desserts have already become the specialties of this house.
Morocco's Marrakech is replete with countless bakeries and sweetshops to satisfy a love for sweets.
However, Jema El Fenna is the fulcrum of Marrakech Morocco which is more than just a food paradise for foodies and Sweet lovers. Have a can delicious Marrakech holiday in an enchanted world of Jema El Fenna.
Check Our Other food Guide: