Whaley House
Whaley House is a historic house that is situated in the Old Town which is in the neighbourhood of San Diego.
This house was later converted into a museum on May 25, 1960. This museum was managed by the historical shrine foundation of San Diego.
This foundation is a non-profit organization that was led by James R.Eads and June A. Strudwick-Reading in 1956.
In 1960 June Strudwick-reading was appointed as the Director of this museum known as Whaley House museum until his demise in January 1998.
Since 2000, the maintenance of the Whaley house is done by the Save Our Heritage Organisation. To avoid any theft or vandalism, this property is left under a hired caretaker since 2007.
Infrastructure
It is a Greek revival house with the two-story build and designed by Thomas Whaley.
He himself planned out the structure and designing of this house, and the construction began around the month of May in 1856. The work upon this house finally got completed in 1857.
This house cost more than $10,000. The bricks of this building were produced in Whaley's backyard itself, which was in Conde Street.
There was no other house in San Diego as this one. It had its own unique design and was first of its kind.
After the completion of the construction work, Thomas Whaley was noticed saying that his house would be the most comfortable and most handsome of all the houses in town and even within 150 miles from here.
The new house of Whaley was known to be one of the finest builds in Southern California. Talking about this house's furnishing, the best quality woods like mahogany and rosewood furniture were used.
Some amazing details of the house interior included damask drapes and Brussels carpets.
It was even considered to be a mansion because of its beautiful construction and place. This residence was soon converted into a gathering place for San Diego.
Although this place was the Whaley family home, it also had the first commercial theatre of the San Diego's that comprised of a general store and courtroom as well.
Courthouse During October 1960
Around the month of October 1868, one of the family bedrooms situated upstairs was converted into a theatre.
This happened after when Thomas Whaley had rented the same room to the Tanner Troupe. This person was a local theatre troupe who was on a visit to San Diego during that time.
This house's small room was converted into a stage with a few benches to accommodate it for the troupe's opening night.
This place was helpful in astonishing some 150 guests which were mostly a standing room only.
Tragedy struck when the theatre operator, Thomas Tanner, was found dead after 17 days of the opening. As a result, in 1869, by the end of January, his troupe had disbanded.
Later in 1869, the Whaley house also had a country courthouse. San Diego's country had leased the courtroom and three bedrooms that were upstairs for 65 dollars per month.
Additionally, the Whaley House also included a wholesale and retail general store named Whaley & Crosthwaite.
This house in the 1860s and 1870s also got converted into a focal point for battle amongst the residents of New Town (current downtown) and Old Town residents for the control of San Diego.
The Whaley House was rented as the office of the government of San Diego to keep the records. Even though Whaley later offered to sell his house to the country, this offer was ignored several times.
On the other side, new towners appealed to move the country offices and records towards New Town. This issue also became a cause of dominance over local elections.
Where Republicans were seen favoring New Town and Old Town was favored by the Democrats.
The court orders were very conflicting during that time. Things became so aggressive that the Whaley house was ordered to be seized by the local sheriff after a point. Somehow.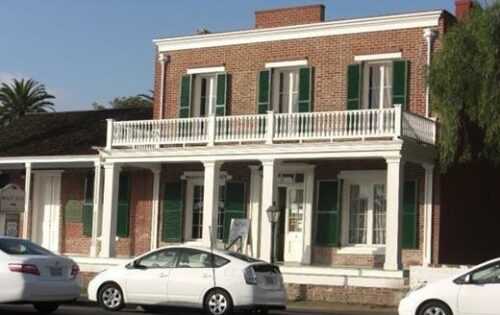 This got refused, and a judge immediately took the bold step of removing the three supervisors amongst the Board of Supervisors.
After all this, another judge even tried to choose three new supervisors instead of them.
This court battle continued for several years, finally, the California Supreme court passed an order of reinstatement of all three original supervisors, those who had ordered the country records to shift to New Town.
Regardless of all the threats that were given by the Old towners, the records were finally shifted to the New Town as of 31st March 1871.
Is the Whaley House Haunted?
This is the most interesting part as it has all the spooky and haunting details in it.
Many visitors and workers have confirmed that this place has the family and other spirits that resided in this historic home.
On a daily basis, these energies are known to make their presence felt to staff and visitors.
One of the most known ghost hunters, Maritza Skandunas, did an after-hours tour of this place. She had some scary revelations to make.
She noticed that this place got creepier as the night use to get close. Even though some paranormal activities were very active at night, the night was even more interestingly scary.
Although Skandunas did share some experiences of the visitors who felt the presence of some energy in this house through the heavy footstep and unexplainable fragrance of tobacco and smoke.
But, she further confirmed that the energy that is present inside the Whaley house is good energy and is not sinister.
Victor Santana is the director of Interpretive Services (Whaley House). He shared the most chilling experience that he ever encountered.
He told while he once was leading a tour a few years back towards upstairs in the nursery.
The nursery had some period-era dolls were displayed, which were not even original to the house.
But, as he gave the tour, he was shocked to see that one of those displayed dolls started opening and closing her eyes.
Things got even creepier for him when he later went back to examine the doll and saw the same doll was painted-on eyes. All these stories leave many mysterious questions unanswered.
I hope all those who are planning to visit this house anytime soon found this article helpful. It is always better to know a bit about a place before visiting.
Do let us know your thoughts on the same through the comment section below! Thanks and happy house exploring ?
Are you looking to book your next trip? Check out the following services we use and love or click the previous link to read more!
Booking To find best hotel deals.
Best International Flight Deals to Book in 2019.
World Nomads to ensure your trip.
Hostelworld to find a budget hostel.
Jetradar book Flight at cheap price.
GetyourGuide Guided Tours.