How Dangerous Is Whitewater Rafting?
Surprisingly, there is a lack of statistics relating to whitewater rafting accidents in the US. Although all injuries are documented, its data are not collected compared with other adventure sports.
Therefore we will rely on New Zealand's statistics. NZ has a thriving whitewater rafting business, and its data are thankfully available online.
According to River Valley, a leading whitewater rafting company in NZ, from 100,000 rafting participants annually, only 106 to 179 people are injured.
What's more, of this figure only 8 incidents are considered serious injuries – like broken bones of some kind.
These figures are shallow compared to other adventure sports. Regarding fatalities, approximately only 1 fatality per 100,000 participants a year are being recorded – which is very low.
Just like any adventure sport, whitewater rafting has its fair share of risks. In fact, these risks are prompting adventurous people to experience this fun-filled sport.
But we understand that safety is still an important factor to consider. We listed a few steps below to keep you and your family safe during a whitewater rafting experience.
Always Choose A Professional Rafting Outfitter
When choosing an outfitter, don't be ashamed to ask questions. Check out how long they have been in the rafting business. Ask them if they have outfitter permits, what kind of training their guides received.
Asking these questions will let you know if you are working with an experienced and professional outfitter. Choosing a licensed outfitter will ensure that safety is a priority.
Wear Life Jacket or Personal Flotation Device
Although it doesn't mean a life jacket will save your life, wearing one can definitely increase your chances.
What's more, a life jacket helps regulate body temperature and keeps your head above water, which helps accidents occur.
Always Wear Protective Gear
Regardless of the level of rafting, you are participating in, always wear a helmet.
Check Out Useful Travel Tips:
Wear The Appropriate Outfit
You may wonder why it's important to take rafting outfits seriously. If you decide to go rafting in early spring, the water may be a little chilly.
A wet suit, splash jacket, and the right river shoes will give you a comfortable trip. On the other hand, be ready for sunny days.
Choose to wear quick-drying clothes. Don't forget to wear sunscreen and of course UV sunglasses. A professional outfitter will have just the right gear for you.
Learn How To Hold The Paddle Properly.
It's important that you know how to hold the paddle as this can be a cause of the injury should accidents happen.
Your guide should be equipped to teach you the proper technique in handling the paddle.
Learn How To Swim – In The River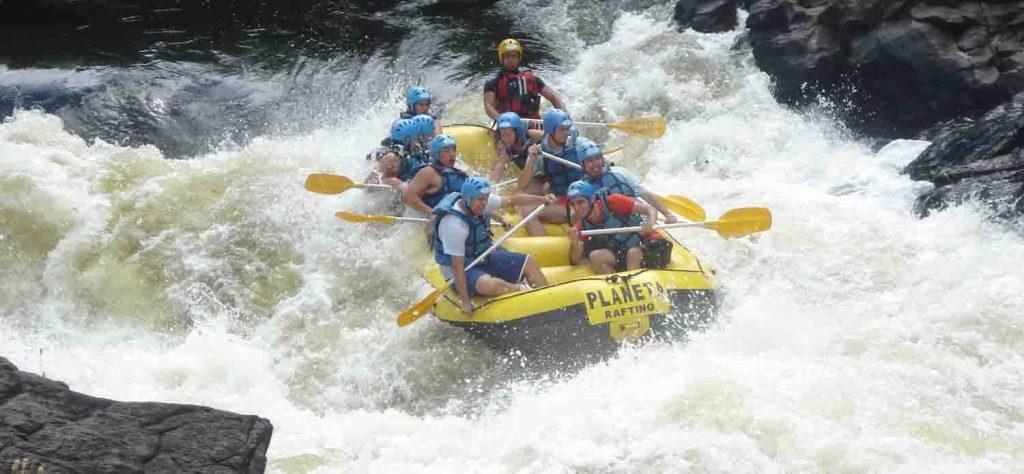 This may sound funny but it's important that you know the proper swimming techniques while whitewater rafting.
A professional guide will teach you how to swim properly to prevent further injuries while on the trip.
There are many instances where you may fall out or jump for fun, but knowing how to swim in a river can save your life.
Listen
Your experienced outfitter will keep you safe throughout the whole trip so pay attention. They are trained and experienced to handle any situation that could come up on the trip.
Whitewater rafting is not risk-free. However, it is a fun and exhilaration adventure. It can be one of the greatest adventures you can enjoy with family or friends.
By following the safety tips and learn to listen, you should be in for a great time. So what are you waiting for? Book your next whitewater rafting adventure now.
Check Out Amazing Rafting Places:
Read Also:
Best Wildlife Experience in India