Camping can be a fun, inexpensive way to spend time outdoors and get away from the bustle of everyday life. The more you plan the comfort camping trip, the more you'll enjoy the experience.
And while getting up close and personal with nature can certainly be rewarding, there's no reason you can't be comfortable while doing it. But if you're not prepared, it can also be unpleasant and frustrating.
11 tips to help boost your camping comfort
1. Choose The Right Camping Gear
There is a lot of gear available for comfort camping, and it can be overwhelming to figure out what you need. Do some research before your trip and rent or borrow gear. This will help you avoid overpacking and make your campsite more difficult.
If possible, try to find lightweight and easy-to-setup items. For example, yurts for glamping (glamorous camping) are the best option if you want a comfortable place to sleep without setting up a tent.
Modern luxury yurts can sleep up to six people and come with all the amenities of home, like air conditioning, heating, a kitchenette, and a bathroom. Moreover, they're easy to set up; you just need a level spot and four stakes.
However, if you're car camping, you can bring along more gear than backpacking. This includes an air mattress, a portable heater, and camp kitchen items.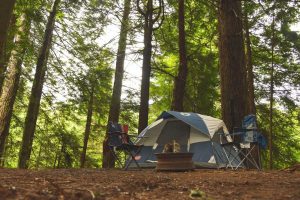 2. Bring Along Comfort Items
A few comfort items can make a big difference on your camping trip. First, bring along a pillow and a sleeping bag that are comfortable. You'll be glad you have them when it's time to turn in for the night.
You might also want to bring along a blanket or shawl. This can be used for extra warmth or as a makeshift picnic blanket.
Don't forget to pack your favorite toiletries. A toothbrush, toothpaste, and deodorant will go a long way toward making you feel more comfortable while camping.
3. Dress In Layers
Dressing in layers is the key to staying comfortable while camping. This way, you can easily add or remove clothing as the temperature changes.
Start with a base layer of synthetic material or wool next to your skin. This will help wick away sweat and keep you warm even if it gets wet. Then add a middle layer of insulation, like fleece, to keep you warm in cooler temperatures. Finally, top it off with a waterproof and windproof outer layer.
It's also good to pack a few extra clothes in case you get wet or dirty. If you're camping in an area with biting insects, pack long pants and long-sleeved shirts to keep them from feasting on you.
4. Wear The Right Shoes
Wearing the right shoes is also important for comfort camping. Choose shoes that are comfortable and provide good support.
If you plan on doing a lot of hiking, make sure to break in your shoes ahead of time. And don't forget to pack socks! Wool or synthetic socks will help keep your feet warm and dry.
5. Bring Your Favorite Food And Drink
One of the best ways to boost your camping comfort is to bring along your favorite food and drink. This will help you feel at home while you're away from home.
Of course, you'll want to make sure to pack food that's easy to cook and doesn't require a lot of preparation. But that doesn't mean you can't bring along some of your favorite snacks and drinks.
On a comfort camping trip, a portable coffee maker or tea kettle can be a lifesaver. And don't forget to pack some marshmallows for roasting over the campfire
6. Choose Your Tunes
Music can also be a great way to boost your camping comfort. Make sure to bring along a portable speaker to enjoy your favorite tunes while you're away from home. This is also a great way to keep kids entertained while inside the modern luxury yurts.
Just be considerate of your fellow campers and keep the volume reasonable. You might also want to bring along a pair of earplugs if you need some peace.
7. Set Up Camp In The Right Spot
When you're choosing a campsite, there are a few things to consider that will help ensure your comfort. First, look for a spot that's level and free of debris. This will make it more pleasant to sleep in and walk around your campsite.
You'll also want to consider the weather when choosing a campsite. If it's going to be hot, look for a shady spot. And if it's going to be cold, look for a spot that's sheltered from the wind. Make sure your campsite is far enough from the bathrooms. You don't want to be too close to the smell.
Once you've found the perfect spot, it's time to set up your camp. Make sure to put up your modern luxury yurts before it gets dark. And if you're car camping, set up your camp kitchen and chairs so you can relax and enjoy the outdoors.
8. Keep Your Camp Well-Lit At Night
A well-lit camp can help you avoid tripping over things in the dark, but it will also deter wildlife from coming into your campsite. You can use solar-powered lights or battery-operated lanterns to light up your campsite.
Just be sure to pack extra batteries in case your lights run out of power.
You might also want to consider using a Camping flashlight. This will free up your hands so you can do things like cook or read in the dark. However, if you're using modern luxury yurts with electricity, you won't have to worry about this.
9. Keep It Clean
Keeping your campsite clean is one of the best ways to ensure comfort camping. This means picking up trash, washing dishes, and sweeping the floor of your tent. A clean campsite will help you avoid attracting wildlife to your area.
10. Don't Forget Your First-Aid Kit
No matter how carefully you plan, there's always a chance something could go wrong while you're camping. That's why it's important to bring along a first-aid kit.
Make your first-aid kit is well stocked with bandages, antiseptic cream, and pain medication supplies. And be sure to pack extra supplies if you need them.
11. Have Fun
The most important thing is to have fun! Camping is a great way to relax and enjoy the outdoors. So, make sure to take some time to explore, play games, and enjoy your time away from home.
Conclusion
Camping is a chance for you to get away from it all and enjoy the outdoors. But it's important to be comfortable while you're camping. By following these tips, you can boost your comfort camping and have a great trip!
Also Read:
Key Features to Look For When Buying a Tent for Camping
Camping Sleeping Bag (How to Choose Right Sleeping Bag)
Helpful Tips For Your First Solo Camping Trip
Best things to do compart Camping
Now that you have your perfect camping compartment, it is time to start planning your trip. There are a few things you should do to make sure your trip goes smoothly. First, make a list of all the activities you want to do while you are camping. This will help you pack properly. Second, make sure you have a map of the area you will be camping in. This will help you find your way around and make sure you do not get lost.
Third, make sure you pack all of the necessary supplies. This includes food, Water Bottle, and shelter. Fourth, make sure you have a plan for emergencies. This includes a first aid kit and a flashlight. Finally, make sure you have a plan for entertainment. This includes games and activities to keep everyone occupied while you are camping.
Best Include Item For Camping