There are several ways you can spend time and go on dates with your significant other or SO. Some classic unique date ideas mainly involve eating outside together, watching a newly released film, visiting a museum, binge-watching your favorite series, etc.
Definitely, the important part is that you're together, right? While these are all romantic and fun in their own way, if you want to deviate a bit from the usual for your next date but don't know where to start, you can check out this list of unique date ideas that can ensure that you and your date have a fun time.
Whether you want to spend time indoors or travel outside, this list has you covered!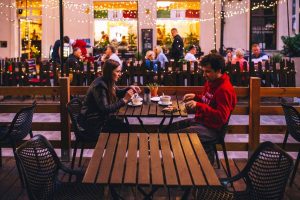 Play horror games together
In the past, perhaps you've had a date where you and your SO watched a horror film that involved lots of screaming and comforting each other.
Now, let's take that a step further by taking part in the horror experience and playing a character in a video game! If you're both into the horror genre, this would be a perfect time for you two to have fun and bond.
If not, don't worry! What better way to have a romantic time than simultaneously having goosebumps together, right? In all seriousness, though, while it's fun and exhilarating to face monsters, ghosts, or zombies alone, you can get the comfort and share some laughs with your SO when you do this for your next date.
If games aren't your thing, but you still want to try something a little spooky, you can stick to watching films or do something a little different, like finding scary numbers to call These ideas are sure to give you a little spook, but at least you're spooked together.
Visit escape rooms
Are you feeling like a detective? How about having a bit of an adventure with this in mind? If you love those games that require you to find clues to advance to the next level or escape a particular room, then you'd love escape rooms!
Your goal is to work with the team of players to find clues, solve puzzles, or finish the required tasks given in a particular room under a time limit.
The theme of the room depends on where you and your so choose to travel to, and there are just so many great escape rooms you can check out. Putting your heads together and working to accomplish the tasks is a great bonding experience and is sure a new Unique Date Ideas!
Watch a local band/singer
This one's a great way to make new memories (or reminisce on old ones). You and your SO can travel to a local bar, cafe, or event place that hosts artists from the locale.
Slightly dance (or just sway, that's cool) and sing along (or headbang if that's what your guts tell you to do) or discover new music that would stick with you for a long time and do all of these with your SO.
Whether you know the local artist who's performing or not, watching talented artists perform, giving them support, and doing all these with your loved one allows both of you to have a great and memorable experience.
Don't forget to have a video clip recorded on your mobile phone. You'll never know… the band might become world-famous soon.
Do some outdoor activities
Staying indoors can be one of the new unique date ideas with lots of fun and romantic too, but if you both like the outdoors or just want to breathe in the fresh air and be one with nature, then go ahead and take your SO out for some outdoor fun! Here's a list of activities you can try: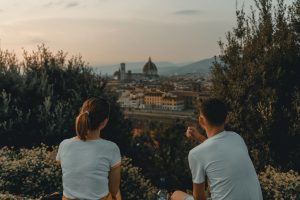 Go biking
Helmet?  Check!  Safety pads and gears?  Check!  Shades?  Check!  Where to?  Wherever, as long as you are pedaling your adventures together.
How about trying that famous juice that bikers have been talking about situated along that bike trail? Plan out the stops in locations you both would want to check out until you reach your chosen picturesque destination.
If there's a park you can travel to, you can just ride separate bikes around this park or find a tandem bike and work on that pedaling coordination!
If one of you doesn't know how to ride a bike, and you/they'd love to learn, then you can try this ultimate bonding experience and help each other learn a new skill!  Enjoy and ride safe!
Go hiking
Thinking of your next outdoor travel destination? How about that mountain peak or that enchanting waterfall with a crystal clear pond?
How about that open meadow on the far side of the town or the newly-opened trail that promises a breathtaking environment? Wherever you decide to go, traveling to an awesome destination and taking a bunch of pictures with your SO sounds fun and romantic, but walking side by side with each other as you get there is better.
Enjoy the journey and destination on this outdoor date.
Go to a waterpark
Swimming is a whole lot of fun and comes with various health benefits. Get both and spend some quality time with your SO by going swimming.
And to make things more fun, you can go to a waterpark! Imagine slides of all sorts, water obstacle courses, water gun wars, wave pools, and more – trying out these unique date ideas that could be fun and thrilling.
If you want, you can also just chill on some kind of lazy river and relax; either way, these are fun activities you can do together while having a great quality time when you go to a waterpark.
Travel to indoor parks/playgrounds
On the other hand, if you both prefer exerting fun physical effort while still staying indoors, or maybe the weather's just not ideal for the aforementioned outdoor activities, you two can still have that much fun together in an indoor park!
Travel to the nearest (or if you're willing to go far, then go ahead!) Jump around in a trampoline park, do some indoor rock climbing, or bring back the childhood fun but do it together now that you're adults and visit other adult playgrounds and have a tiring yet fun time!
Take classes together
No, this isn't about enrolling in the same university and choosing the same courses; the "classes" here mean those that can help you and you SO develop new skills or pick up a new hobby.
Finding available classes, such as cooking, wine appreciation, painting, dance classes, and others, can potentially help you discover new things you have in common and bond with the personal growth that you'll get to experience and witness side by side.
Bake/cook together
Lastly, if going outside and traveling isn't really your thing, you can stay comfortable in your jammies and still have a great time inside your homes! Whip up a fancy dinner or dessert, finally open that almost forgotten cookbook, or try out the fun cooking hacks you saw on TikTok or YouTube with your SO.
Without the pressure of impressing each other and just being yourselves while helping each other make a fantastic dish, you're sure to have a great time together. If you're in a content-creating spirit, you can even make your own TikTok or YouTube videos while preparing the dish.
There you have it for the seven unique date ideas you can try out next time. Find out which activity you both would love to do, plan it all out, and make your date a memorable one!
Also Read:
Best Holiday Destinations for Couples
Romantic Cities in the US: 6 of the Most Couple's Getaway